Sunday saw the second race in this year's Harriers Grand Prix. This race was a trail at South Shields. Unlike most other races in the series this one was only a 5k, a relative doddle me thinks, & listening this week to my fellow harriers making comments like 'I'm not going all the way up there for a 5k' maybe I'll get a few points for this one. 
So out of bed at 7:00am & on the road at 8:00am after shovelling in a geet walla bowl of porridge.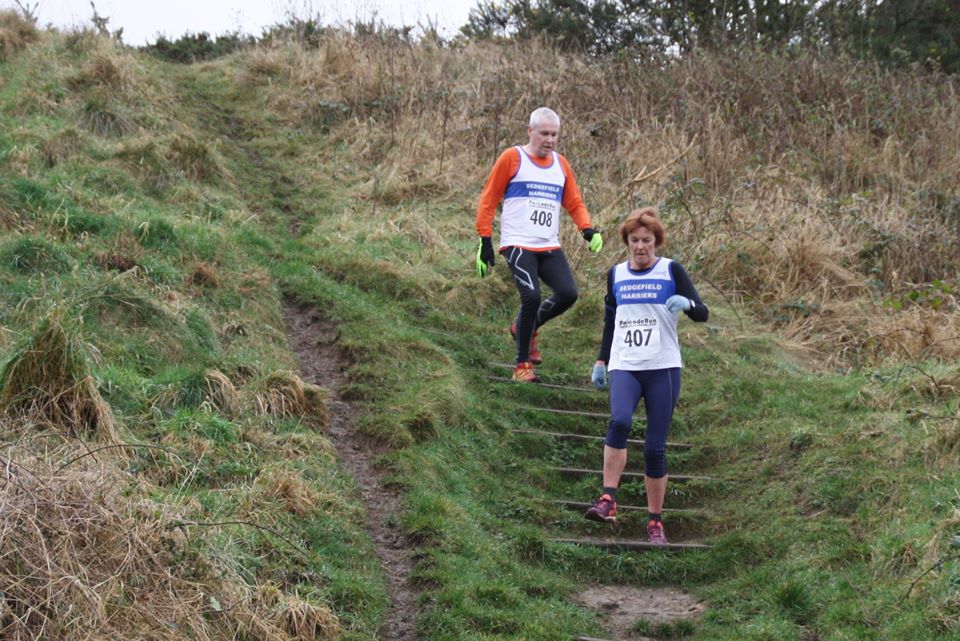 I was first to arrive at the White Horse pub, and soon after some of my fellow Harriers appeared. I started checking out who had shown up from division 2 to work out my expected points haul for the day.
Christine. Well there goes the maximum of 10. 
Ian. Well that's 9 down the pan. 
Paul. Oh flip, remembering being passed in last year's 400m. I decided I would have to be happy with 7, that's assuming no one else turns up. 
Marie & some of the usual Sunday morning crew said they were doing a couple of miles warm up & a few miles after. This would count towards the other challenge a few of us are doing of 500 Sunday miles for the year.  
We set out on the course ready to enjoy the view down to the seafront. A few hundred yards in, there was an arrow indicating the direction… up, up & more up. It was mountainous. Needless to say my 2 mile warm up became 1 mile & I let the others go. 
Arriving back at the pub I had a little smirk to myself in the knowledge that my fellows at the registration desk did not have a clue what lay ahead – as if that gave me some form of advantage! 
So a gentle jog to the start, this time it was downhill which only meant one thing, with the finish being at the pub there was going to be more up than down and plenty of it!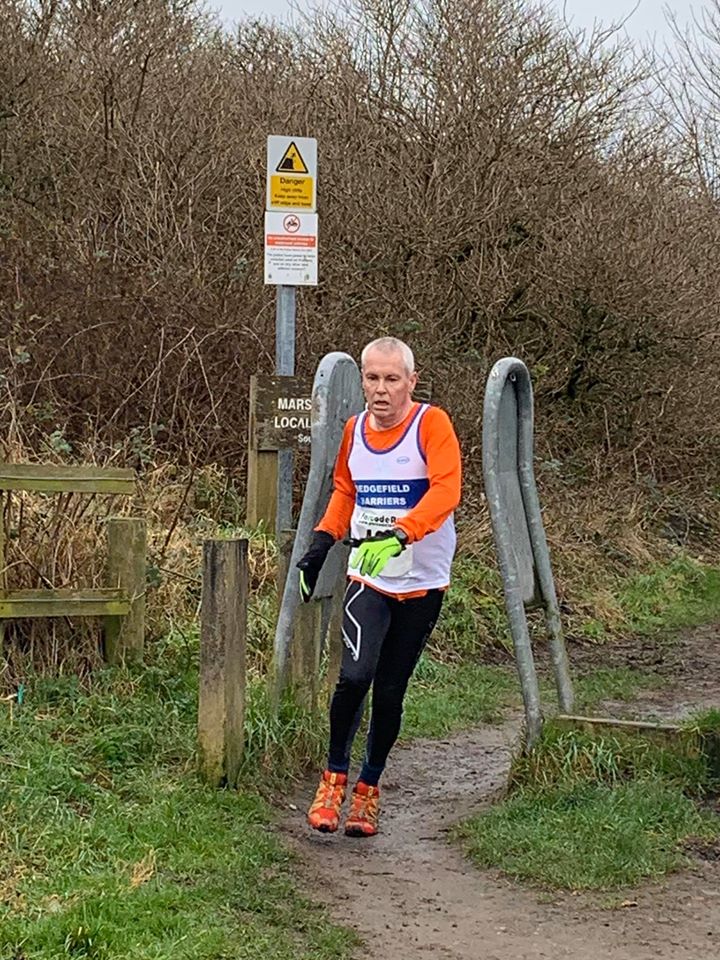 So the race started & we set off on a gentle climb knowing much worse was to come with a harassment of harriers strung out on the course. Soon I was onto the lung busting climbs and decided no one in their right mind would run up here, so like many others, the thought of having two feet off the ground became a distant memory and I began to ambulate (notice how I managed to avoid the 'w' word). 
The downhill bits weren't much better as it wasn't easy on the terrain, still I had my trail shoes on so I gave it my best shot on my already tired legs. And then there were the steps, these were impossible to run down – steep & completely the wrong pitch for my stride length. Towards the bottom I spotted a muddy path just to my right & thought I could have run down that instead. 
So with the expectation of more lung busting pain I started the second lap, this time our swarm was a bit more spread out & after nearly taking a wrong turn & not too soon I arrived at the steps again. I saw the top of the little path & decided that's the route for me… Big mistake. The reasonably steep slope soon changed to what only can be described as north face of the Eiger, and I found myself careering down with arms flailing as if I was doing semaphore with a wasp up my shirt.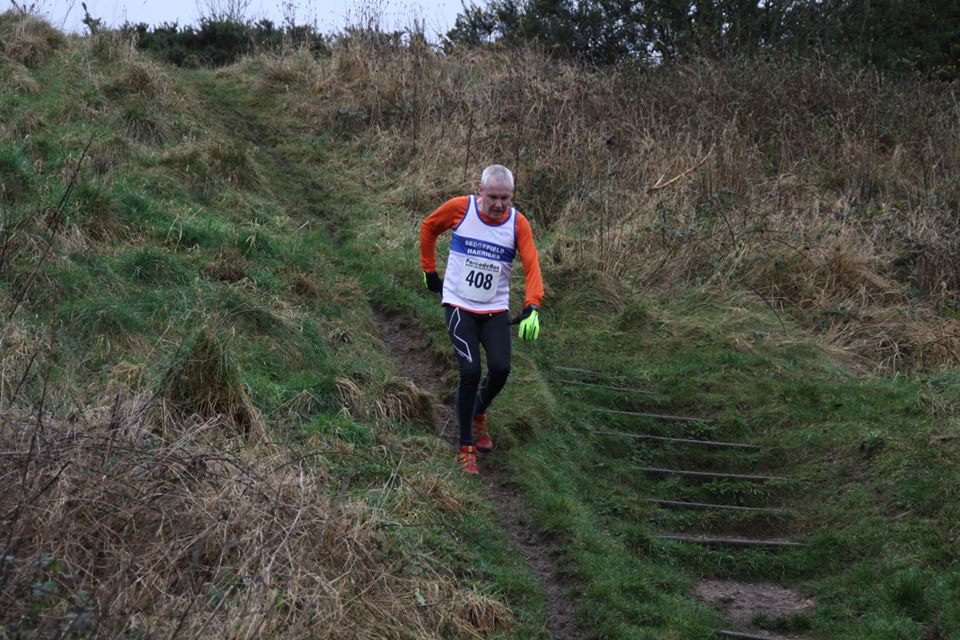 By the time I got to the bit I'd seen earlier all four limbs were now completely out of sync and my running style could only be described as demented. How I stayed upright heaven only knows. The marshal at the bottom was very impressed though, stating 'you negotiated that well'.  (I've never really understood sarcasm).
One more hill & then on to the finish where I collapsed in the usual fashion – 
I survived. That'll do for me. 
After a brief rest I set out with the aforementioned Sunday crew to complete this week's instalment of the Proclaimers 500 club challenge – 6 more miles along the seafront making a total of 10.6 for the day. I was shattered & it was now raining.  Still I had a good day & the blister I discovered later on my little toe didn't dampen the occasion.
Doddle… I think not. 
by Dave Round.