This was a first for me, but both Ray Carmichael and Andy Corfield have done it before and were able to convince me of its appeal. It was a very enjoyable run and one that I would like to repeat in the future. Because it takes place the same weekend as the Darlington 10k, the Harriers' turnout was quite low (just half a dozen of us) but we all had a great time in a lovely setting.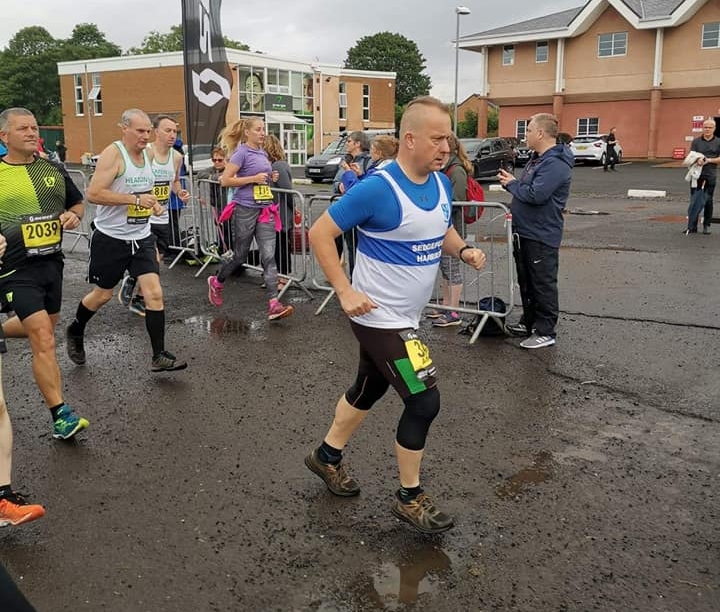 The race is described by the organisers as "scenic, fun, fast with PB potential … (and) only a few inclines", and some of this is true. "Inclines" is one of those words, like "undulating" which makes it sound much more benign that it really is. To my way of thinking and running, the two climbs would alone rule out any prospect of a fast time. But, to me at least, that wasn't the point – this year I am going for scenic and this run certainly fits that description as it snakes through the Derwent Walk Country Park never far from the riverside.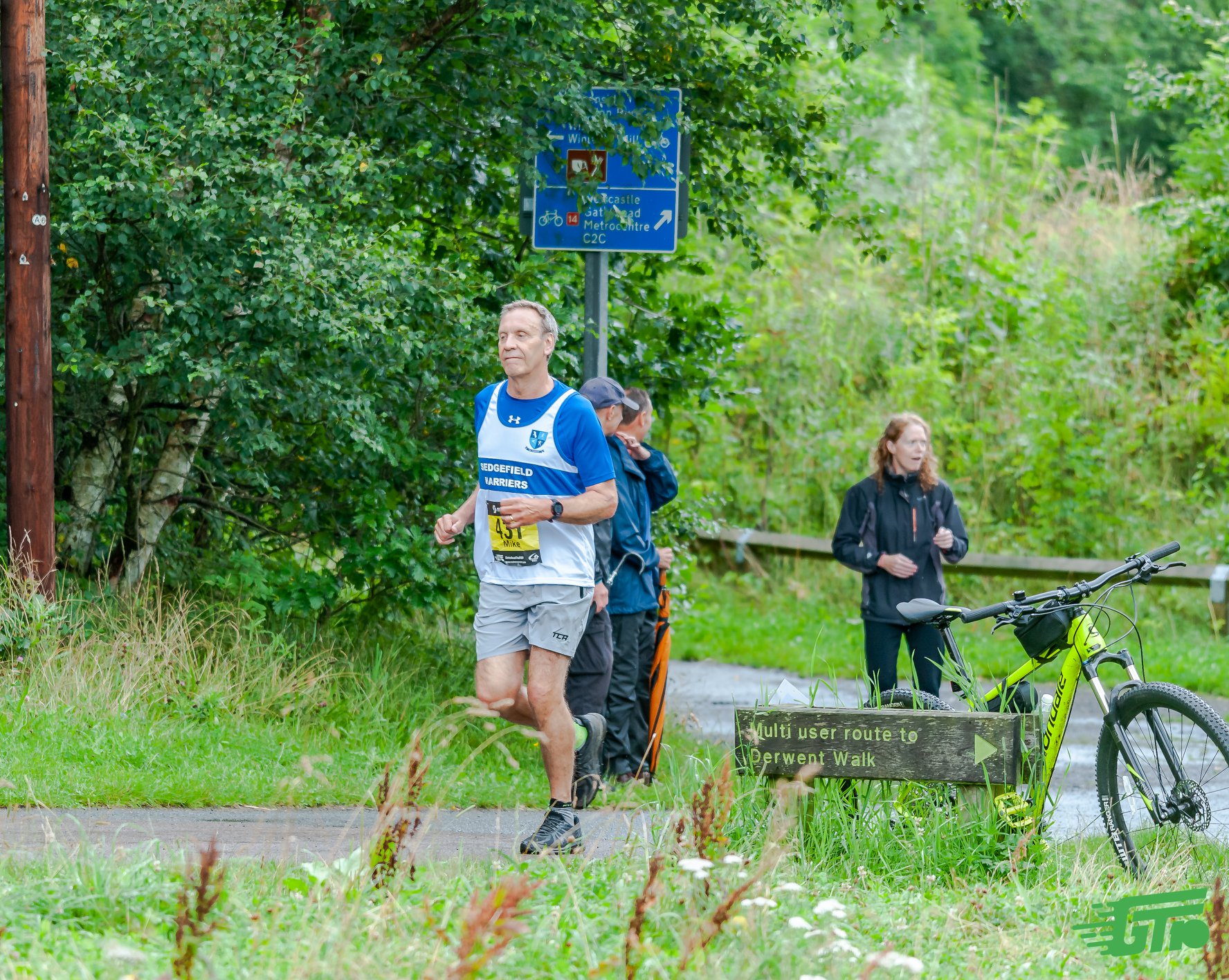 Ray was kind enough to drive and to offer a lift to me and Andy, plus Rosie Warnett. Parking was free and easy and we made our way to the start/ finish area where there was plenty of entertainment, food and coffee outlets. This has become a big event now (it was a sell-out with 1600 entrants) and so a good atmosphere was already building, along with the rain clouds. It was a pleasure to meet up with Aileen Henderson and Karen Killingley, and Aileen's partner took some great photos.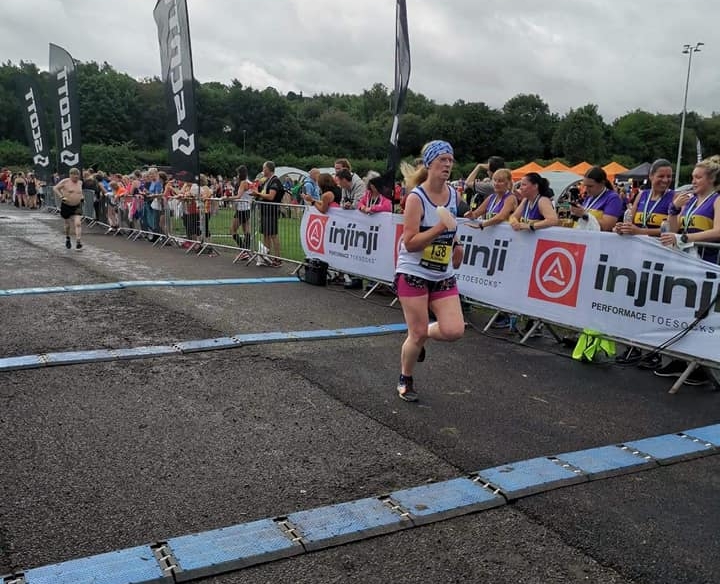 There had been some discussion about appropriate footwear and in view of the amount of recent rainfall and the likelihood of muddy patches I opted for trail shoes but to be honest you could have run in anything. Anything that can handle parkrun terrain can handle this. All the paths are good and surprisingly free of puddles.  As we made our way to the start line, the heavens opened and a good soaking appeared imminent. I was chatting to Andy at the time but he is more hardy than I am and continued on his way while I took shelter under the canopy of a burger van. There were a few other like-minded souls but the discussion about whether this warm dry area was the best place to spend the next hour or so never ventured beyond the purely hypothetical and eventually we trudged to the start. This meant that I started very near the back: didn't matter at all as it was chip-timed, but it did mean that my first kilometre or so was very slow.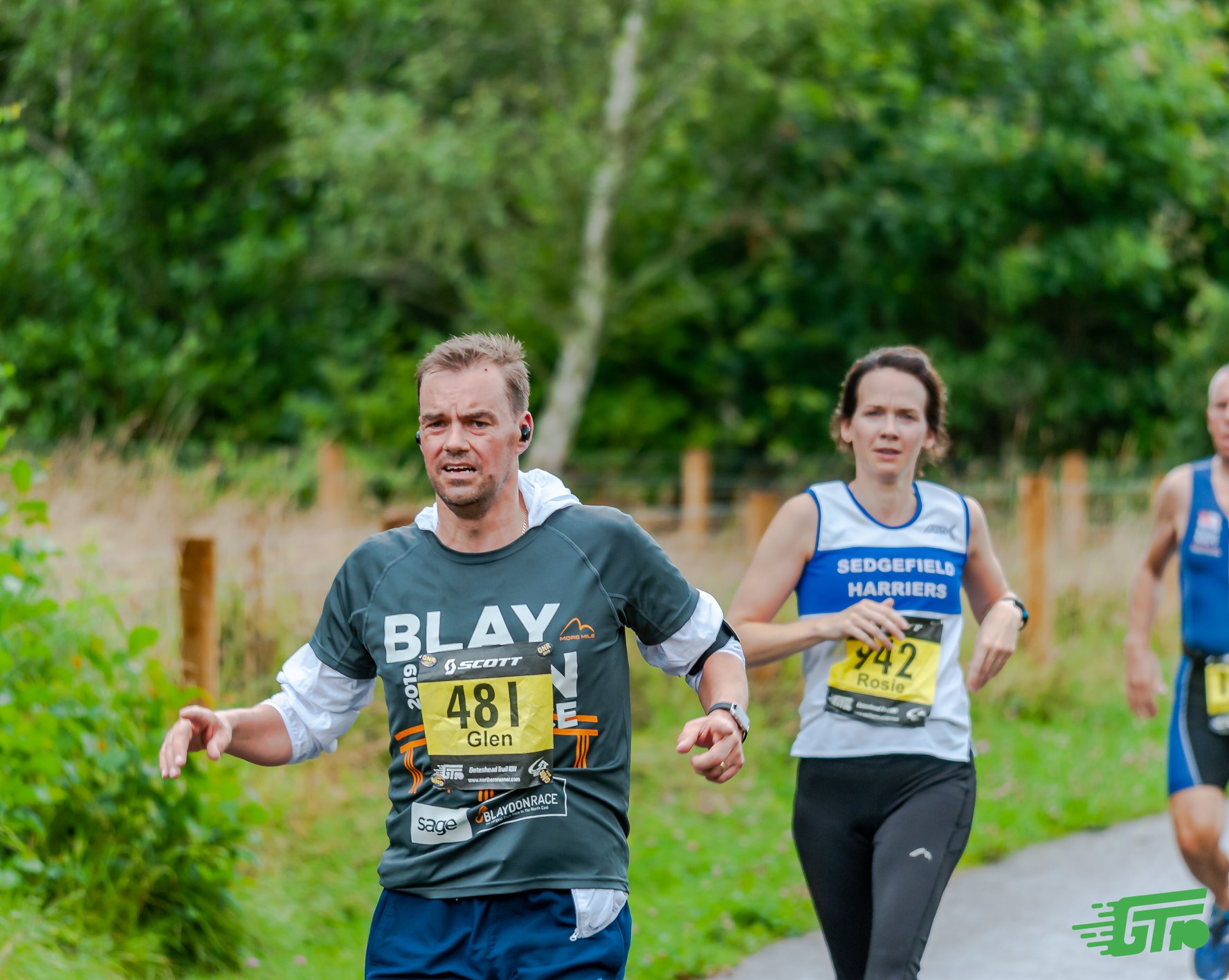 I thought that I was doing quite well until the first hill arrived when I realised that although the rain had stopped the weather remained very humid. About half way up I was passed by two women running together, one of whom said "There's no air, is there". At least, I think that's what she said, although she may have been lamenting the absence of an heir or any hair. By the time I had enough breath to make enquiries to clarify this point, they had disappeared into the distance. I was soon able to pass Andy who just keeps going for mile after mile and is always very encouraging when I run out of puff towards the end of races.  Ray and Rosie, of course, were way in advance of us and I was not to see them for a long time…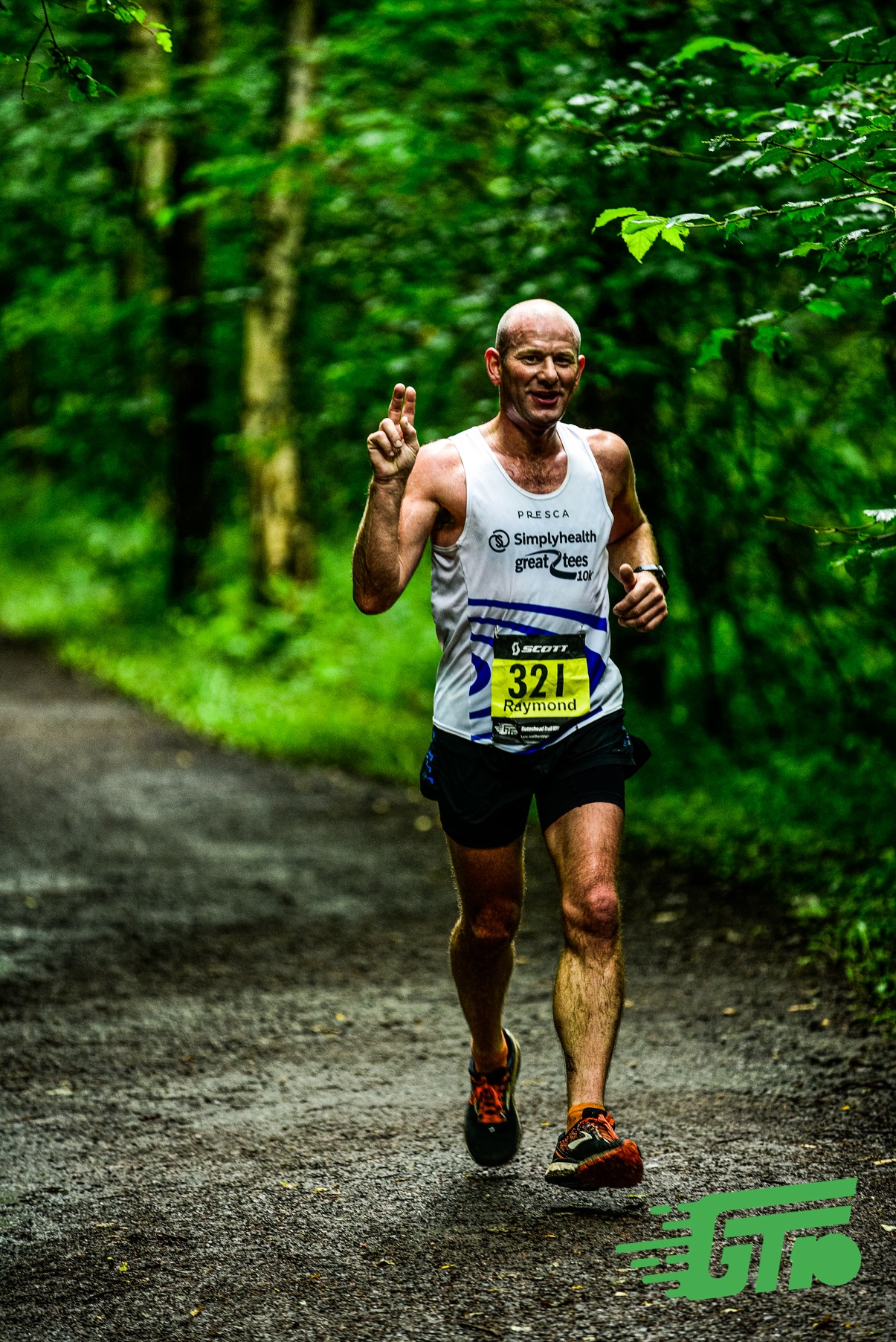 The last 3K is gentle downhill and is tremendous. I will appreciate this more when I do the run again, as on this occasion I could not overcome my fear that there might be another of their famous "inclines". But all was good; the finish line came into sight and although it is one of those runs where you appear to be at the finish and then realise you have to do another little loop round to it, I was feeling good again and able to look forward to that satisfying post-run coffee and very impressive medal.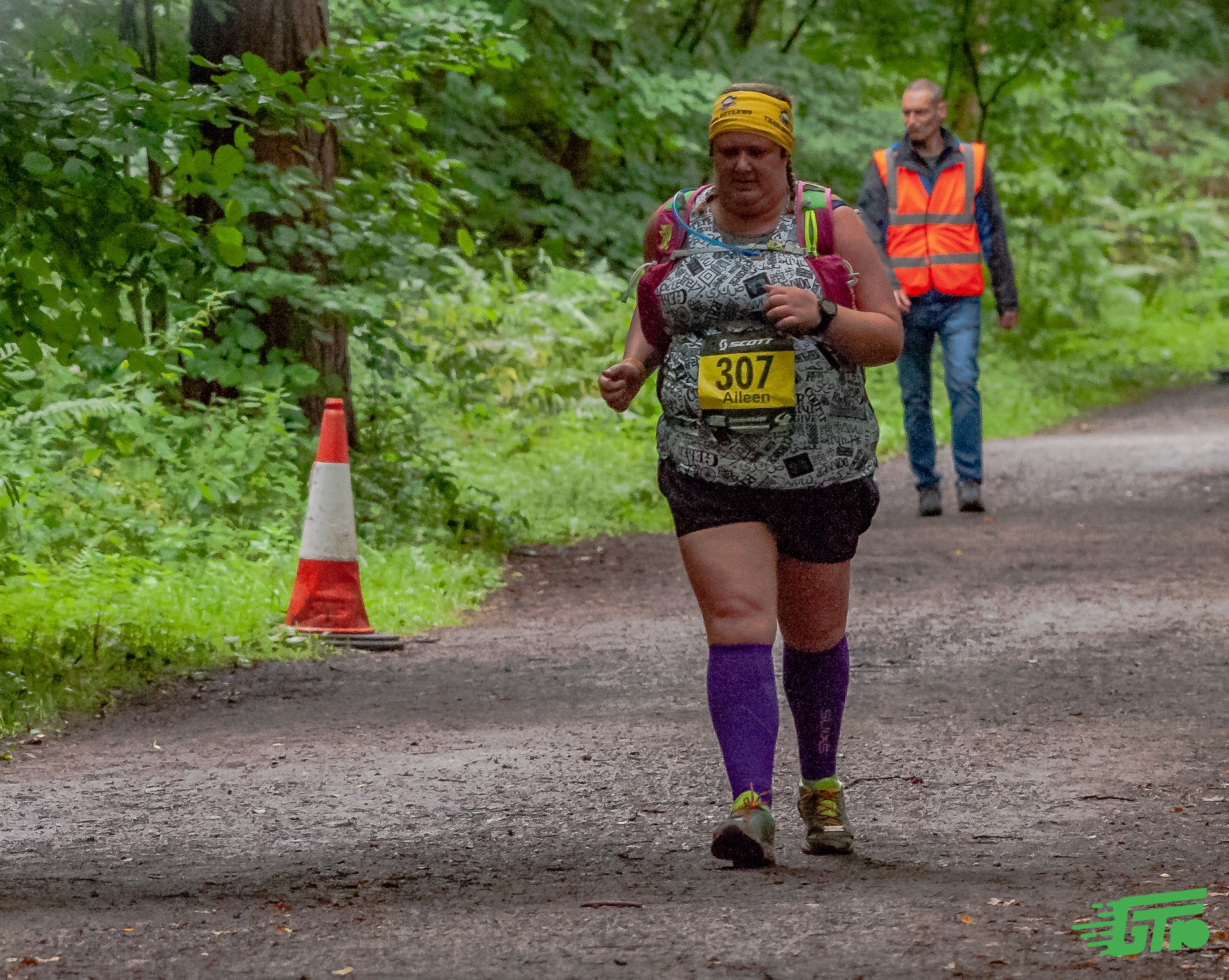 By Mike Wood.