Derwent Valley Trail Race (8 miler)
Sunday 10th July 10.00 am start
Club: Derwent Valley Trail Runners
Location: Dipton Jubilee Centre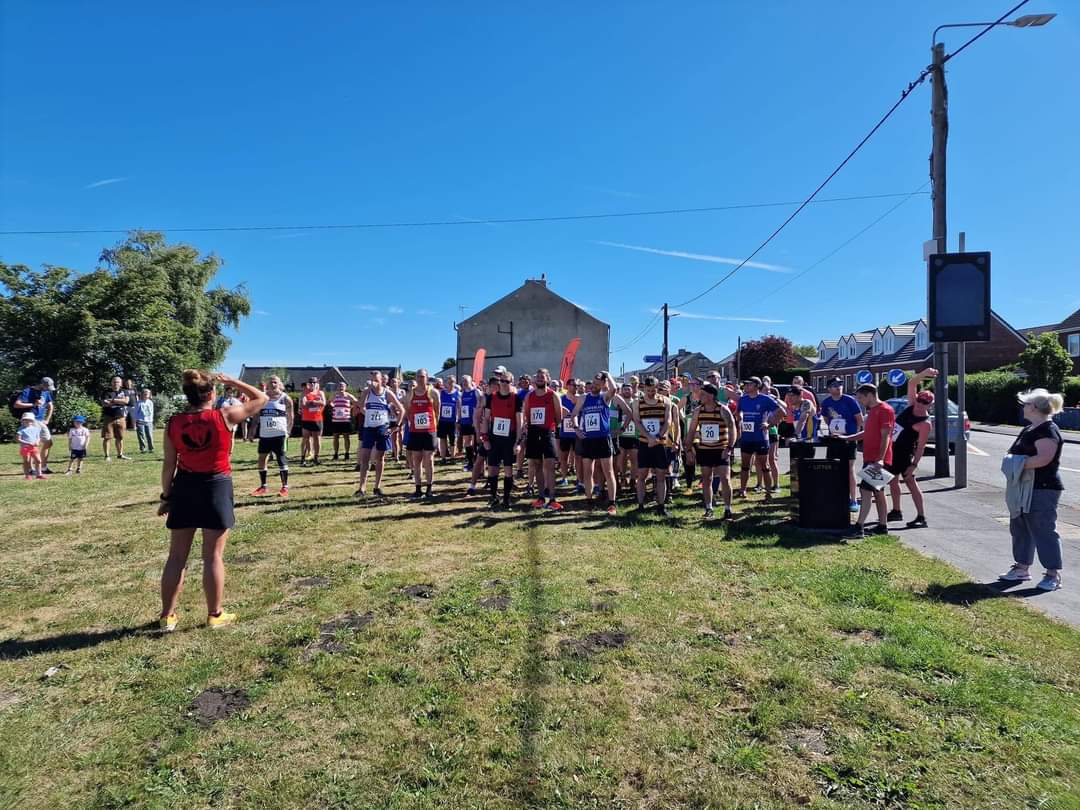 Diary notes…
Saturday 9th July. My best mate's 50th birthday for beer and BBQ.
Sunday 10th July. Derwent Valley 8 Mile Trail Race.
Could the two events be completed without compromise? I seriously wanted to do both!
I am normally awake early on Sunday mornings for our Sunday Social, and my routine was no different. I was feeling a little fuzzy from a good few beers, burgers and sausages the day before, but all was good. Am I going over to Derwent Valley I asked myself? Damn right. It was 7.30am, the glorious sunshine and heat was already a given for the morning ahead as I supped on my coffee outside. I sorted my running gear and drinks belt out and got changed into my Sedgefield Harriers colours.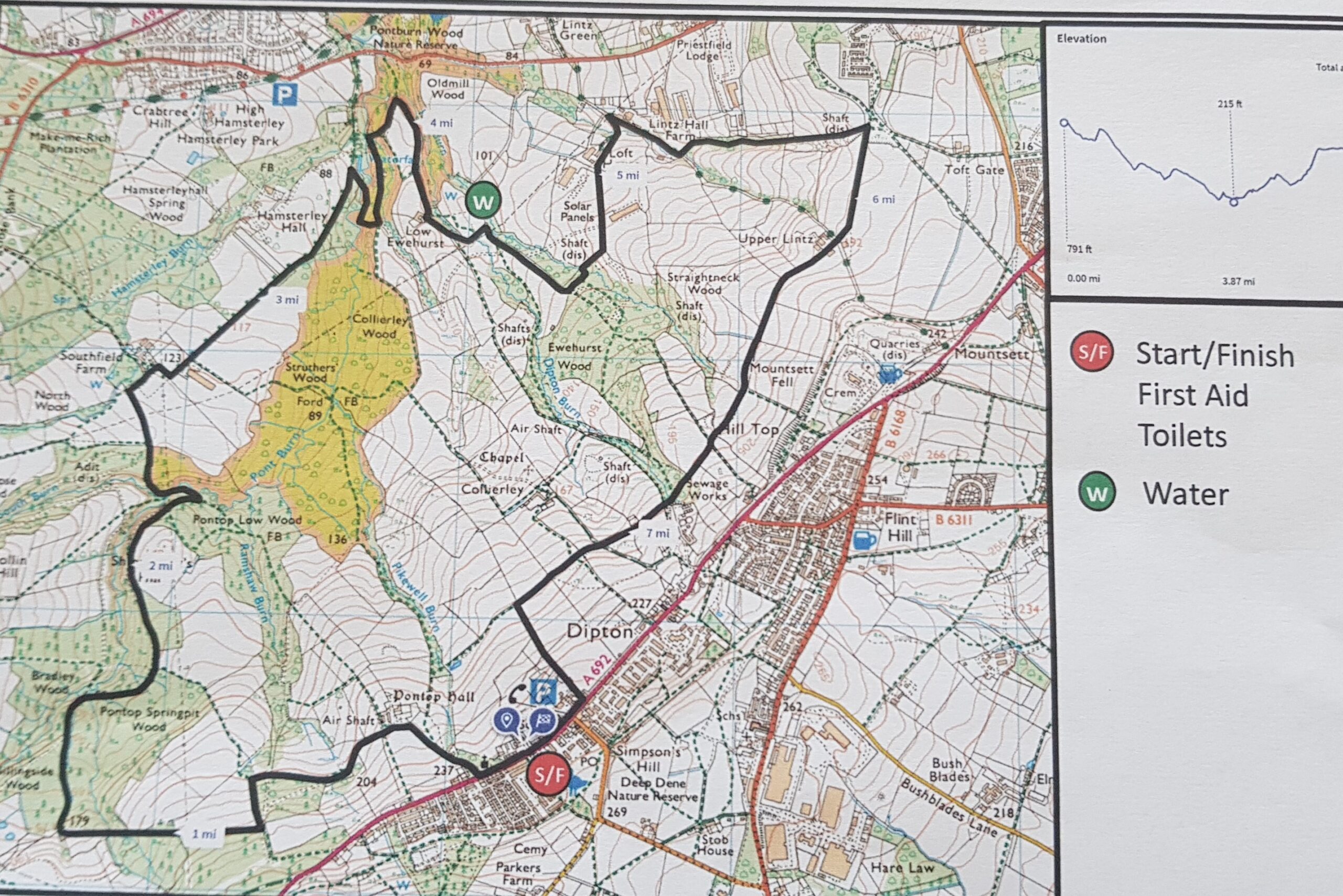 The drive over takes about 30 minutes, through Durham and Lanchester following the A691, winding your way up and across to Dipton, where the race is held. The views as I approached Dipton were stunning to the north and you could see for absolutely miles. In fact I could see scarily "down" for miles too. I parked up and made my way to Dipton Jubilee Centre, where I bumped into Sam Rudd and Karen Killingley. Both in good spirits we briefly chatted before I headed into the hall for race registration. I grabbed my number and pins and whilst I took in the breath-taking views across the valley, clocked a route map on the table. A quick study and the realisation hit home. Those stunning views right across and down the valley were only telling half the story…as I would eventually find out!
As we made our way to the village centre green on the Front Street, we were given our race briefing with some friendly welcome advice and safety info. I had a quiet laugh to myself inside, as the guy kept saying everything would be "aal reeet" at the end, I guess he was only too familiar with what lay ahead. And that was it, the whistle went and we were off.
I was on the front line of about a dozen runners and we headed along the street for 100 yards or so, and took a sharp right after the church onto the public foot-path. Straight down from here at quite a pace, this turned into a bumpy farmer's track, a mixture of gravel and concrete towards Pontop Hall, passing a few runners. Bearing left at the bottom, it was uphill to the left side of a field, with a crest at the top to catch your breath, then another fast-paced 1km run down through the forestry track all the way to the bottom. "Wow this is brilliant I was thinking", as I continued to snake along the track at the bottom, and then navigate the second climb. However, I knew then, that I was so far down the valley and Dipton was so far up the hill that this was going to be a really tough slog, and not to get carried away! Two runners were ahead of me from Washington #1 and Derwentside #2, and over the next few km, I kept pace with them, conscious of how bloody warm it was (understatement!). I passed #1 leading down to Southfield Farm, with my sights clocked on number two. As we entered the next field it was another long slow climb and I managed to sneak ahead of runner #2 with some great encouragement for us both from a family nearby (with two very cute dogs!).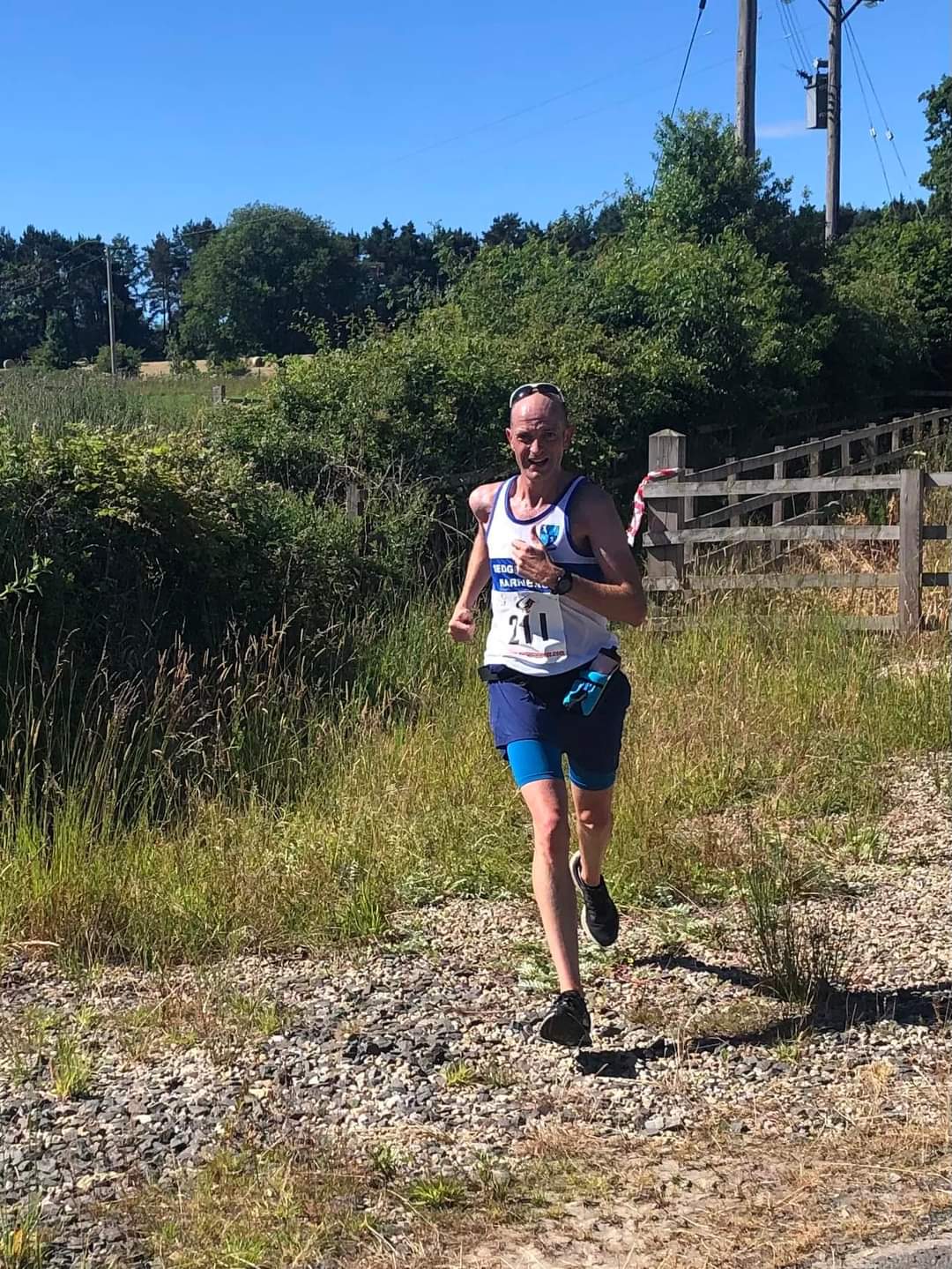 At the end of the next track we entered the woods again, and the marshal kindly pointing out the logs and branches, as well as the stream and steep steps ahead. This was a superb technical section, but you really had to have your eyes open as it was so dark in places, otherwise you could come a cropper.
We exited the woods and onto the next section of tracks and woodland before heading over some glorious fields, over a stile and passing through Loft, a sharp hair-pin (photo opportunity) and then past Lintz Hall Farm. From this point on it was a gradual up-hill climb on a narrow road / track. I remember asking a marshal who was taking photos at the gate "What's it looking like ahead?" To which he replied… "Don't worry it doesn't get any easier". I took comfort from that to be honest. Why worry? My legs were really feeling it now though, with my watch buzzing on 9km. I just kept telling myself to dig deep. Some sections were slow, steep and undulating, so I changed my approach to big walking strides to try and gather some energy and collect my thoughts.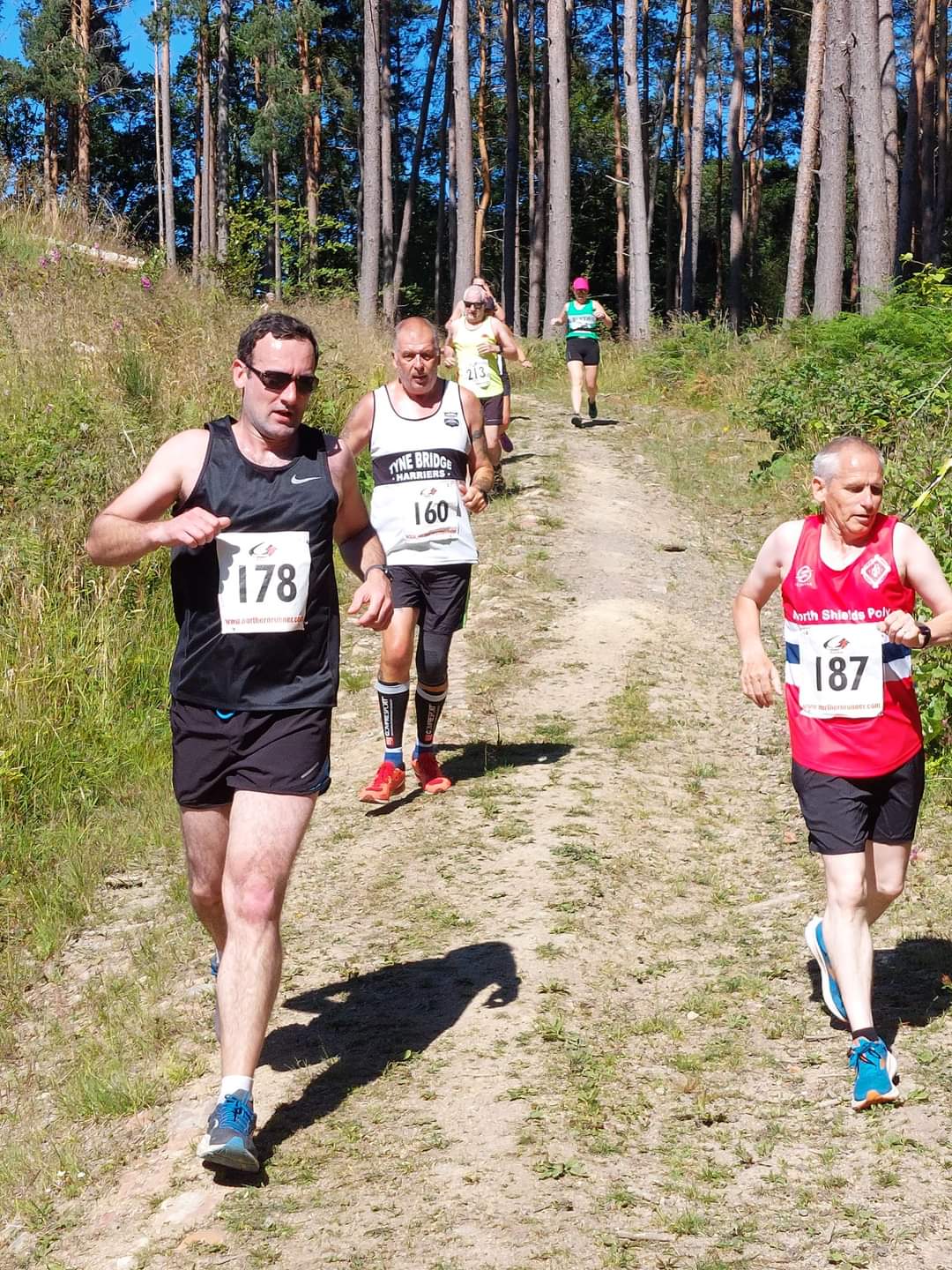 Taking a right turn at a farm crossing, the next section started to level off a touch now, as we made our way along the farm road, through the fields and meadows and across the stiles towards Upper Lintz. Ahead of me were a further two runners, Derwent Valley #3 and Derwentside #4. Could I catch them? Or better still could I make the top 10? I managed to open up the throttle a little and in time caught #3, but #4 was pulling away. A Blaydon Harrier #5 must have taken a wrong turn as I passed him with one final field on the cards, then it was a sharp right turn and steep grassy hill up into Dipton. I was struggling here (big strides needed again) but #3 was getting closer. One last stile and I could see the small crowd, and on to the tarmac I went, but as we got to the last right hander on Front Street, #3 was on my heels. "It's all yours" I said, "take it away mate". I had nothing left in the tank other than to bring it home.
I crossed the line just short of 1 hour and 1 minute, and collapsed on my knees. The heat was just unreal. I was jiggered. That was brutal. We all we congratulated each other, as I took in plenty of water. All done I thought…or was it? I heard a voice mention cupcakes. Damn right! And bloody lovely it was too.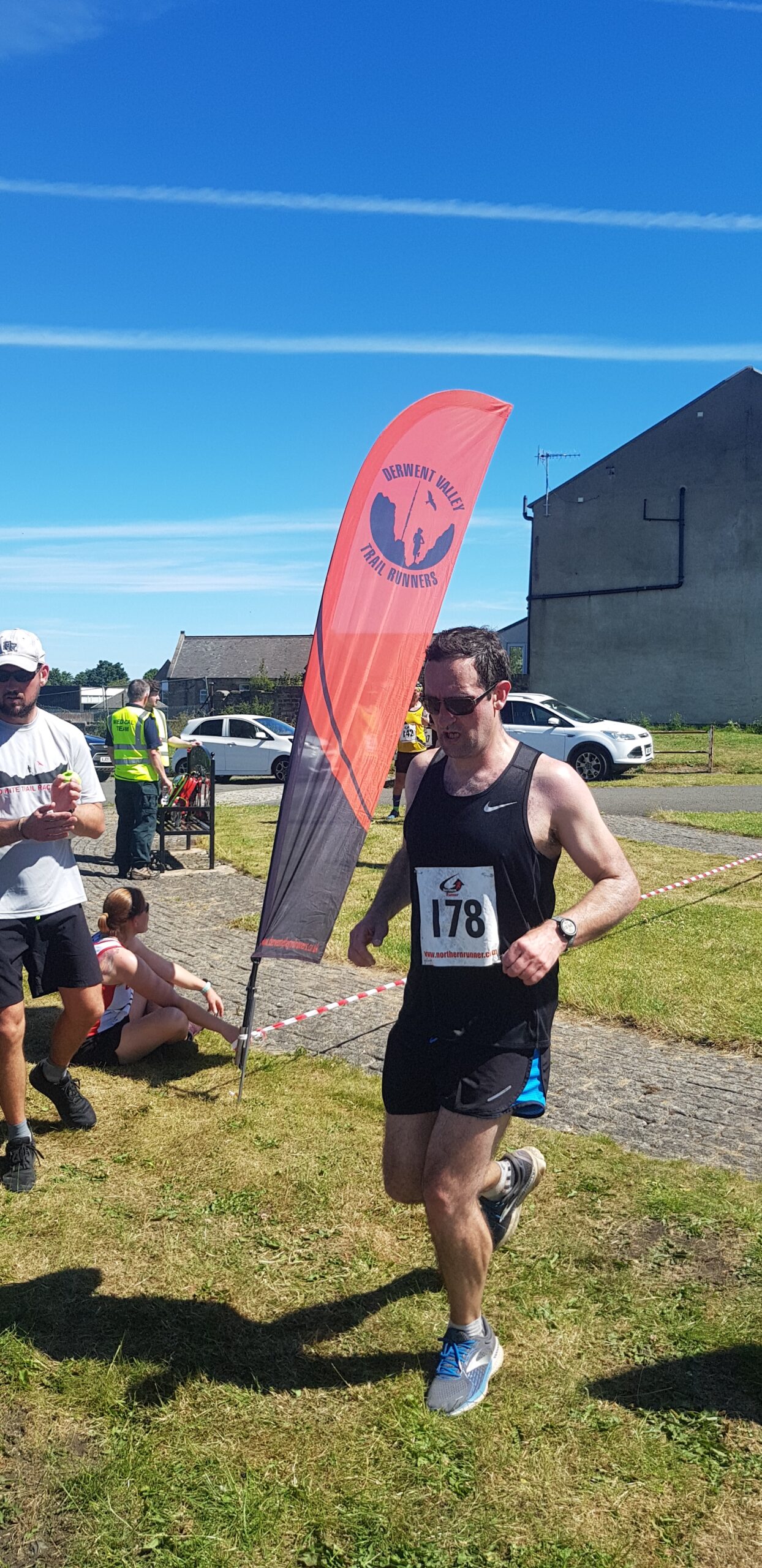 I managed to pull myself together and waited for fellow Harrier Sam Rudd to cross the line. Another sterling effort by Sam in 1 hour and 29 minutes, as we congratulated each other and reflected on the race. An excellent run by Karen also.
Did I make the top 10? News came through on social media, that I had claimed 7th. I was absolutely chuffed. My smile was bigger than the Valley itself!!
Pete asked me for a Race Rundown, and I can honestly say the course ranks as one of the best trail races I have completed. Very similar to Old Monks but over 3km longer. It has everything. Derwent Valley put on a brilliant morning and this was a Covid re-scheduled race from 2020. Entry is £8 affiliated £10 unaffiliated, and you can't beat it. The silhouette t-shirt is a superb souvenir also.
With more and more races coming up, I would honestly put this one in your diary for 2023. It really does deserve more entries, so I hope to see more Harriers there next year!
Thanks for reading
Mil Walton.