Club: Organised by Elvet Striders
Distance 5.3 miles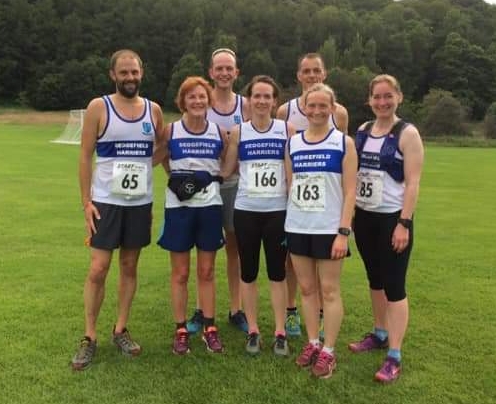 The Willow Miner Trail run is organised by our local running neighbours Elvet Striders, and is a "must" race I have been wanting to do for a few years now, but have always left it too late to register! Not this year though…
This year's entry fee was £7, and I was eager to taste the much-talked about buffet that would follow the race. Then at registration stage, I read the small print, there would be no buffet this year! Oh no, in Dave Walkers words: "it's an unbelievable spread"…and this amazing supper had vanished in the blink of an eye. I had to read it again and again, even making the screen bigger. Not all was lost though, as a set meal of chilli con carne was on offer. Never mind I thought, I had to book and that was it.
The race terrain itself is a mix of woodland walks, field edges, grass paths, river banks, bridges and steps with a series of hard climbs and fast descents. Starting at the Houghall College sports field and running through Great High Wood to the south west, and on to Low Burnhall Woodland Trust, where the aptly named Willow Miner sits, you will loop back on yourself, twisting and winding home to the start / finish line, taking in all of the above features in one form or another – reaching the 5.3 mile race distance (approx. 8.4km).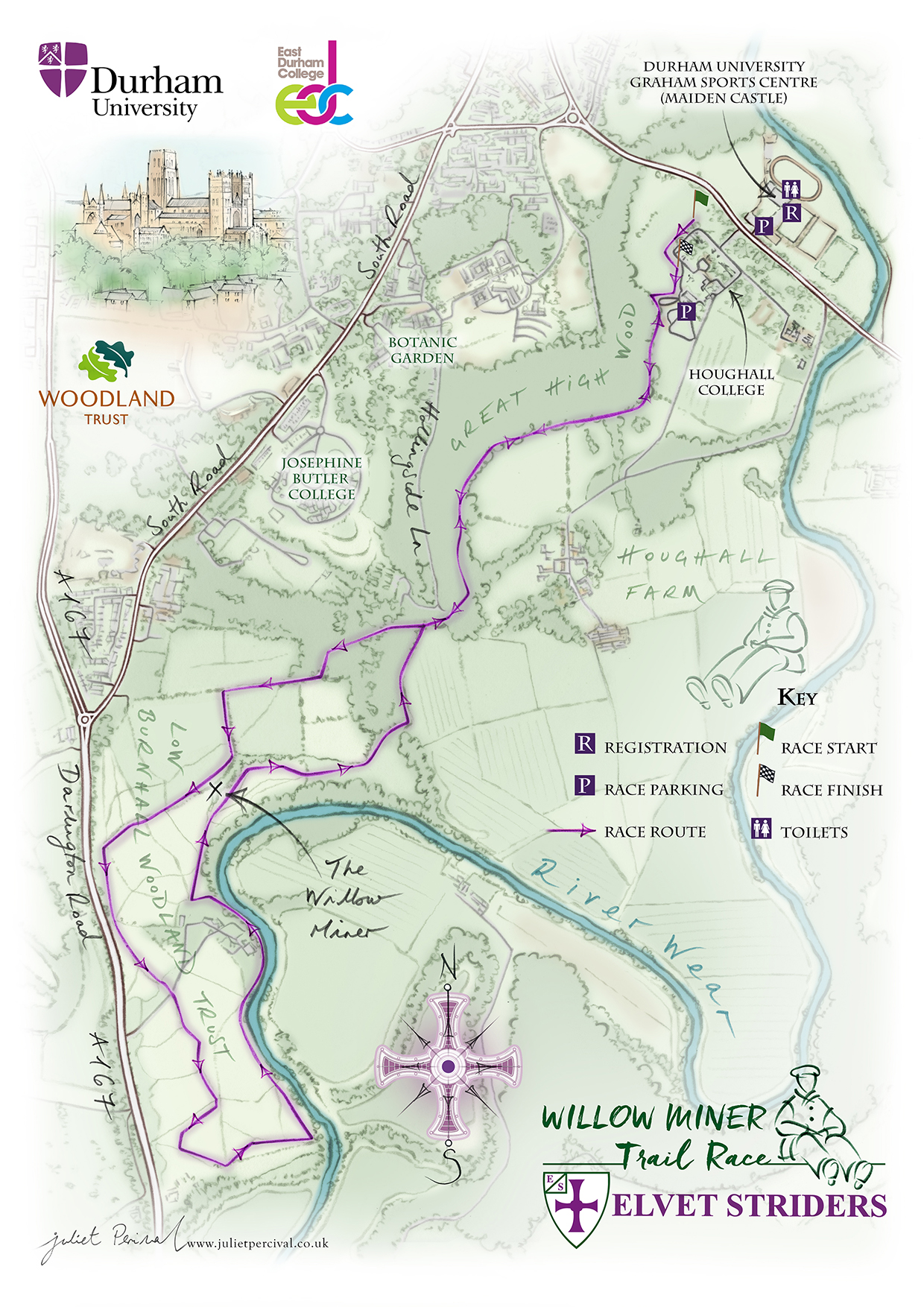 With plenty of high grass, trees and branches to the sides, many of the grass paths towards the Willow Miner can be single file in places, so choosing that moment to pass (if you fancy it) can be tricky. Get it right though, and you're away. There was a fantastic number of local family and friends supporting the runners and clubs on the night, and well marshalled across much of the course, all offering plenty of encouragement, well wishes and direction. Parking is very easy, with hundreds of spaces available to the rear of the Houghall College or opposite the main road at the Durham University Maiden Castle car park. Registration was easy too, simply follow the signs on the night to the old gym hall at the rear of the Houghall College.

The blue and white club vests were donned this year by Tracy Henderson, Rosie Warnett, Chris Hearmon, Marie and Dave Walker, Andy Featherstone and myself. This year I was a little worried that my race plans could be abandoned by a stiff neck 48 hours before race day, and was feeling pretty rubbish. Would a quick phone call to Neil at PPPT be successful? (More on that later). I persevered with Nurofen and my friend Deep Heat, as I was determined to go out and enjoy it at the very least.
Setting off from Coxhoe in plenty of time, I headed for Shincliffe, passing Tracy Henderson at Bowburn's Jet Garage (she looked in the zone with her backpack), not realising she was en route to the event herself!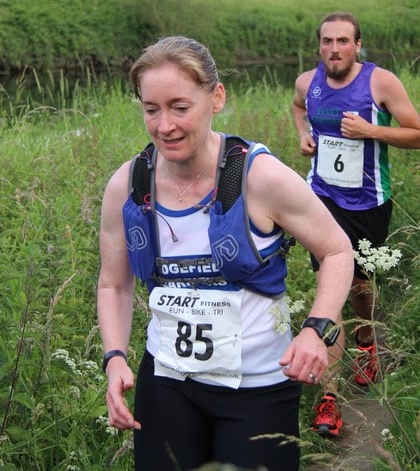 With parking and registration sorted I bumped into a few other Harriers and we headed out to the starting field. Then I got the urge, and a quick toilet stop was needed. No lock on the door. No lights…Well, as all ofus runners know, when you need to go, you need to go.
We all met in the start / finish field and headed over to the start line, where three gentlemen from Elvet Striders had gathered to say a few pre-race words. One Strider in particular, touched us all with his personal brain tumour journey and a moment to reflect. It certainly gave me a lump in my throat.
The start gun went, and we were off, and within a few hundred yards it was out of the field, up the steps and on to the Great High Wood paths, snaking through the various up and downs, and out at the top.  Dave Walker was a familiar partner in crime, and I was hot on his heels as we picked off various runners. Sadly, at 4k, a stitch was knocking on the door, and even though I tried to run it off, it wasn't going to go away.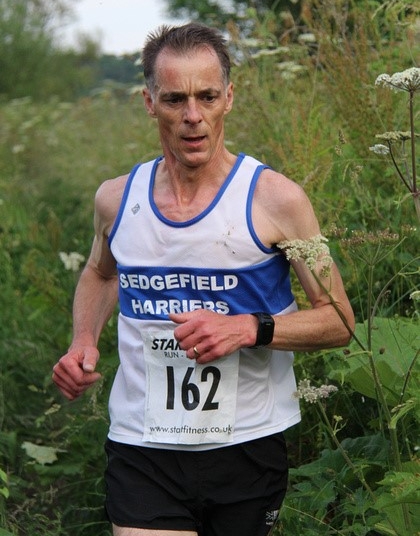 Never mind, "keep it going" I said to myself as we weaved around the tight single file river embankments, opening-up to the last big climb (or so I thought). I passed a Blaydon Harrier at the top and kept pressing, skirting around the edges of the fields, THEN it was the last big climb up a steep stepped hill (catching my breath with a brisk walk), and along the edge of the field footpath. This was familiar territory, as I headed down the steps (a reverse of the first kilometre) and back on to the woodland path again. Head down, weaving through the woods, I popped out at the end, down the steps and sprinted for the finish line (proper big strides too). DW was giving the big thumbs up…around the dog leg, and finish line in sight.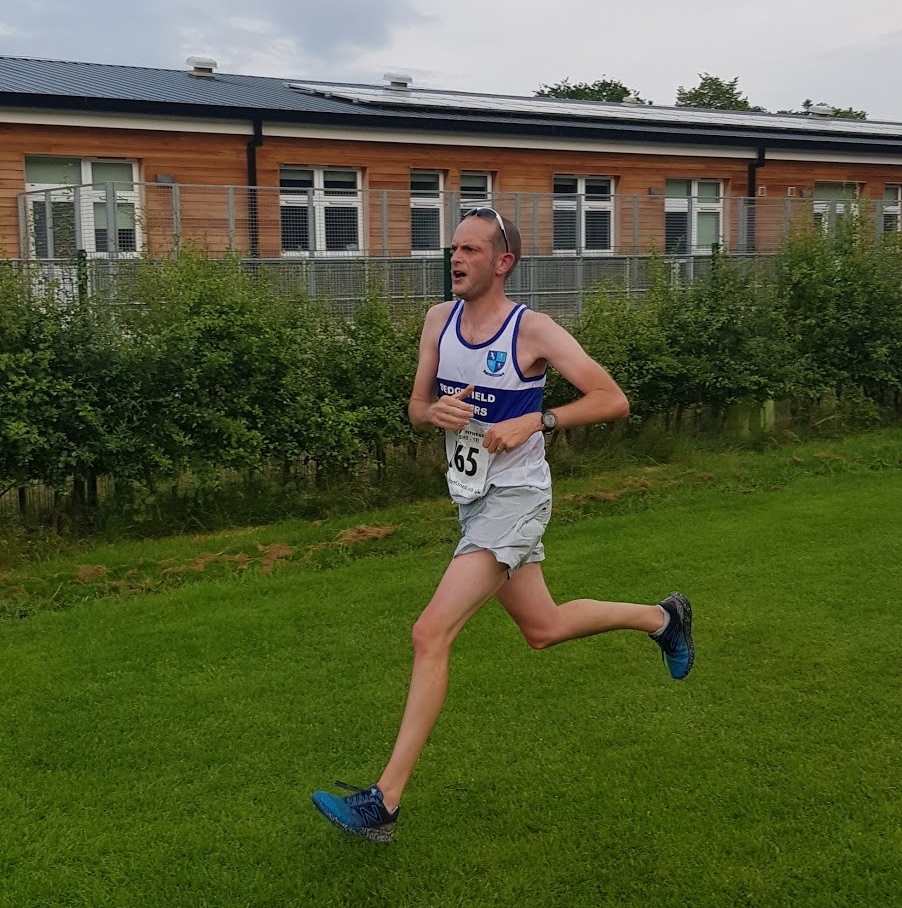 Done. That was it. Hands on knees……water, water, I needed water.
I headed back up to the dog-leg corner and joined DW, as we congratulated each other, clapping and cheering our Harriers home. And then they hit us (no, not our Harriers). Bloody midges. Millions of them. It was so muggy and humid, the little buggers were everywhere…so we made a quick exit and headed to the finish line to cheer on. Marie was on another flyer too…was it those midges?!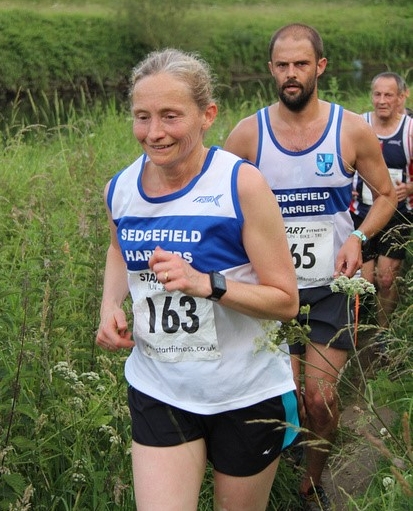 It was at that point, I had that lightbulb moment! Neil from PPPT had his treatment table at the refreshment tent, so I headed over for 10 minutes of torture (nice torture though…god it was worth it)
Always good craic with Neil (no pun intended of course). But my neck needed it, and I instantly started to feel some relief. Barely off the table, the voices were calling me "Mil, Mil over here" – team photo time!!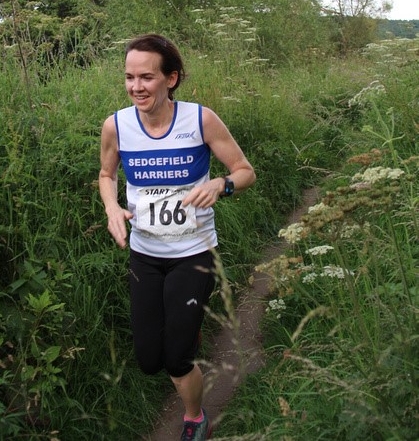 Remembering that Tracy had run to the event, it was only fitting that she was given a lift home to Coxhoe after a great Harrier turn-out. Well done everyone. A great evening of running on a tricky and testing course on a very warm and muggy night.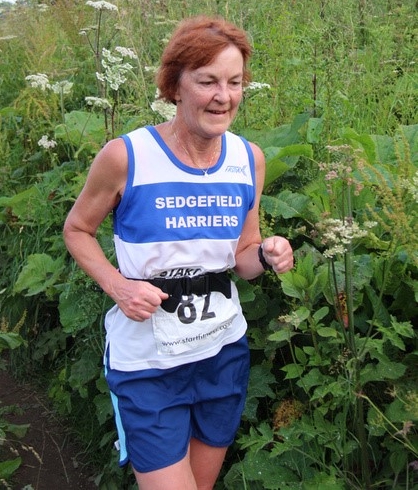 On reflection:
A fantastic local race that seems to creep under the radar, and yet offers so much more, with plenty of excitement, local grass roots club participation and friendly rivalry on the night. It's on your doorstep and offers similar terrain to what we are used to at the Harriers. At 8.4k it is also a great half-way distance (almost in the middle of a 5k and 10k). It reminds me a little bit of The Handicap (but without the handicap if you know what I mean) in that you can push the pace if you want too, but you might also get caught from behind as well, on the twisty narrow sections between the long grass and bushes. A little bit like one of our older Thursday night training sessions I guess – are you the rabbit, or are you the greyhound? It certainly keeps you on your toes. Not sure if the buffet will return in future years, but I am sure the chilli was just as good.
Put it on your race list for next year. An absolute must!
Milburn
Results: https://racebest.com/results/973cw