Sunday 9th February is the first event of the Hardmoors 26.2 Trail Series. This consists of 7 race venues throughout the year, in and around The North Yorkshire Moors. Each race day has 3 events, 10k, half marathon and full marathon. I have run this event every year since it started in
2013, mainly 10ks, but today was a half marathon for me.
The race itself starts from the Saltburn Recreation Centre and heads towards the Valley Gardens and down to the seafront within the first mile or so. This is the only flat bit on the course and from here the only way is up! We headed to the cliff tops and started a very long ascent, terrain was actually quite good for the most part (more to follow on that statement) and the weather was actually quite kind today. No driving sleet and snow like last year.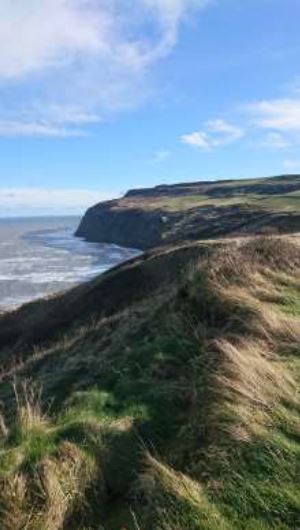 It was a little breezy on the tops, nothing like the past day or so, which actually caused the RD (Jon Steele) to divert the route as it would have been too dangerous in high winds in certain places. This shortened the route by over a mile, but we still had over 14 miles of race to complete.
Hardmoors miles are approximate!! Value for money Jon calls it.

Sadly today I was the only Harrier out there. In fact I am at most of these
events. I'm not sure what this says about me, answers on a postcard please! LOL.
The course follows the coastline for a few miles, views are fantastic, runners strung out along the cliff tops, it's an inspirational sight. We then headed inland on the loop back, via public footpaths, country lanes and bridle paths. Some fields were a little muddy, lots of slipping about but manageable for the most part. Until that is, I came to a sharp downhill; it was very muddy and slippery, bearing in mind some 400 or so marathoners and others had made this what it was. Deadly. I nearly escaped with a controlled slide, but a fight between me and gravity was only going to end one way, me on my backside sliding down the rest of the way.
Back at the race finish I received my medal and shirt. A hot coffee, biscuits and cake, a chat to good friends I only see on race days, then start off back home, another one in the bag! Time was 3hrs 55mins, not fantastic, but a good solid training run for bigger things later and good for a kit evaluation and maybe tweaking a few things for other runs. These runs have a compulsory kit requirement which consists of : waterproof jacket with taped seems – hat – gloves – 500ml water – map and direction guide – emergency food – and survival bag.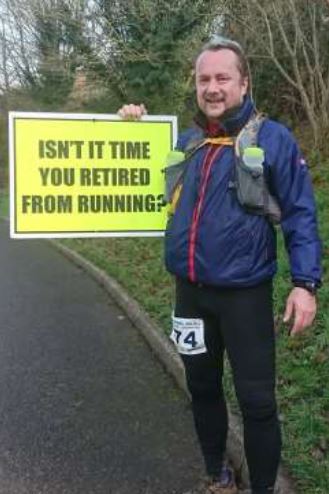 These events are very well organised and safe, checkpoints every few miles with lots of goodies. Marshals who are experienced trail and ultra runners, look after every athlete, it's one big family, The Hardmoors Family, and it's open to everyone! Thank you for reading.
by Andrew Corfield