I've never taken part in the Signals Relays before, although I know Sedgefield has quite a stong history with it. Last year, until it was postponed, there was a suggestion we might put some teams out including an over 50s veteran outfit. So it was on my radar this year (having joined that age category in the meantime) until I realised a few weeks ago that it clashed with a trip to see family in Derby. Shame, I thought when Chris Lines was recruiting, another time maybe.
Then earlier in the week leading up my trip to Derby was put off. So when Chris posted the day before that there were two spaces in the team, I became quite interested. I am not, however, in the same running league as Chris, Gary, Paul and Declan (the other team members) so I messaged him to say I'd be happy to make up the numbers to ensure we got a team out, but not offended if any of the faster lads wanted to run. Only Eric showed any interest (called himself slow on the facebook post, but quicker than me) so by teatime Chris confirmed I was in.
The race began at 1.15 so I went to marshal at parkrun beforehand (top of the hill if you remember the abuse/encouragement). This wasn't a wholly altruistic gesture. My wife Deb had announced the day before that we were to be painting the lounge and dining room.
"Oh Deb, I'd love to help, but Ian needs me at parkrun and then the team needs me in the afternoon for the Signals Relay."
At parkrun, I did notice that a few 'unavailable' fast lads were jauntily stretching their legs for two laps. Paul Weir also did parkrun and warmed up for the afternoon's race with a gentle 20 minutes around Hardwick. Afterwards in the café I received great advice from two Signals veterans, Ray and Jane, both of whom thought it quite funny I was going to spend my afternoon with Storm Dennis running around those tough laps. The hill on each lap was made to sound like the north face of the Eiger by the end. The other runners ("it is the cream of the north east Pete") were all unbelievably fast. I was so excited…
Deb was in full decorating mode when I called home briefly to change before going back out to pick up Eric. Eric was dressed much more for stormy weather and let me know it when he got in the car.
But then the first positive portent of the day. We parked up in Hetton-le-Hole and I managed, without any fuss, to get an electric charge for my car. I love finding a place to get a charge and I knew now that everything would be alright. I told Eric this on the short walk to the country park, on reclaimed colliery land, and the rendezvous with fellow Harriers.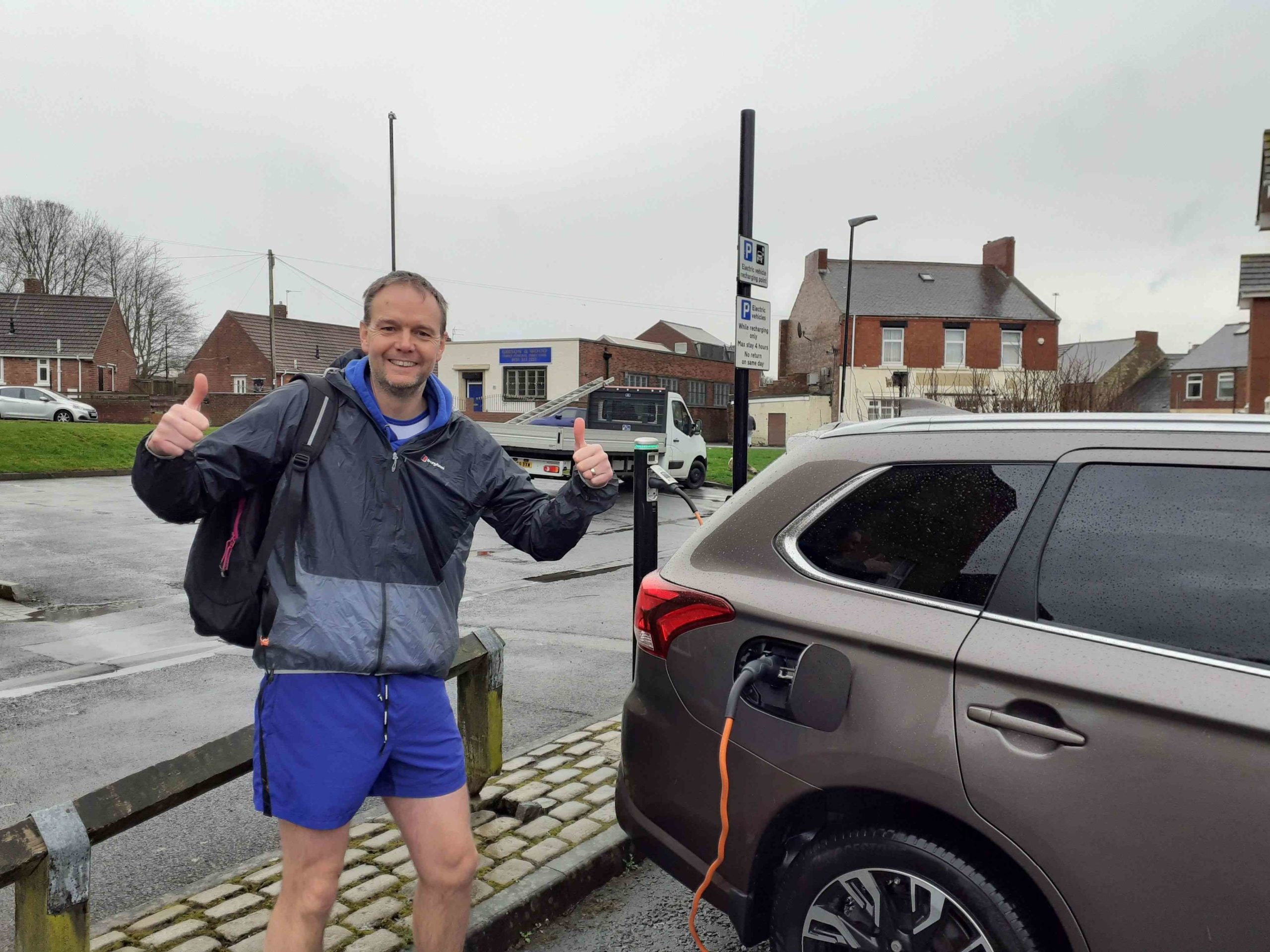 Changing and toilet facilities were super, and although we'd had some serious rain earlier, we began to talk in hushed tones that maybe the conditions weren't so bad. Very windy certainly, but not as wet as forecast. I'd agreed 4th leg in the team, running straight after Declan. Declan arrived about fifteen minutes before the start; result. The final runners of the earlier race (Women and Vet 50 men) were finishing as we began to assemble.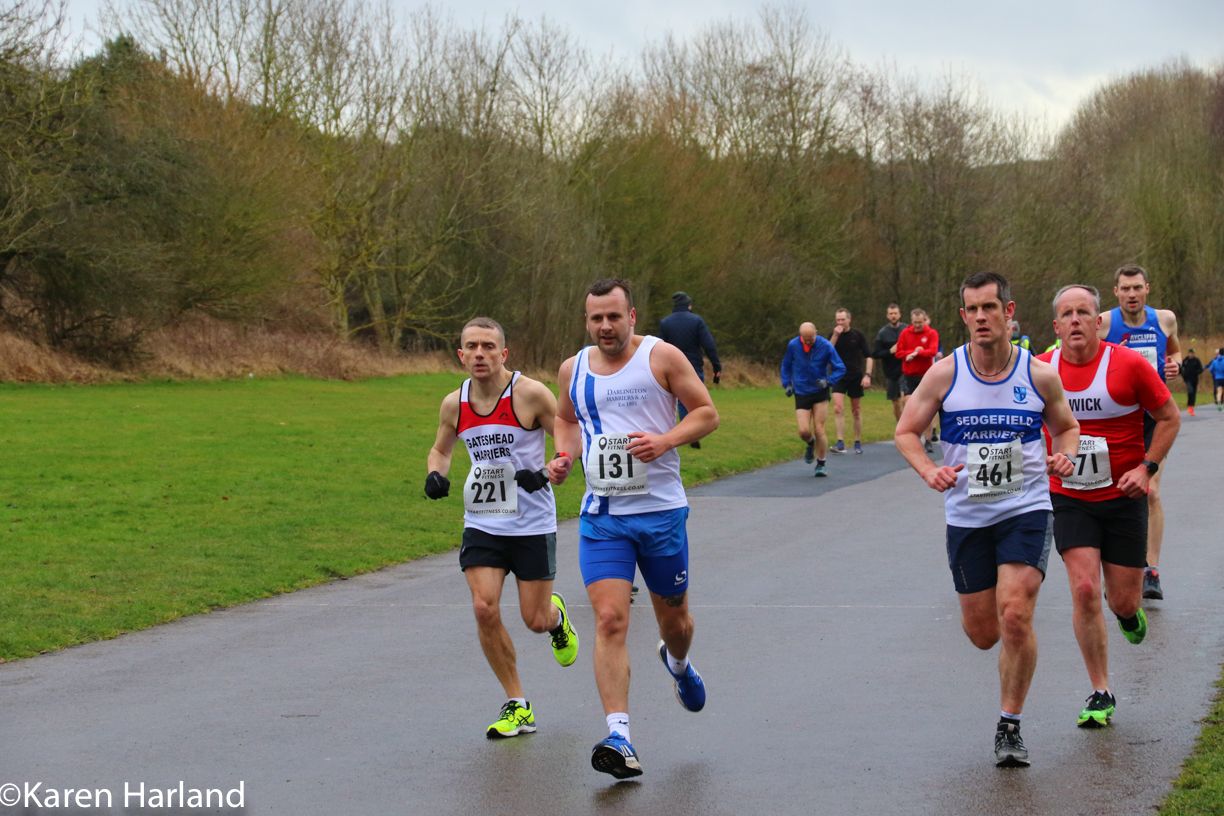 With the two replacements, we were now a Vet 40 team and Eric led us off. He was followed by Gary and then Declan. I went to warm up on a side road with lots of fast lads. They were all wearing those canoe-shaped Nike shoes that make you bounce along like Buzz Aldrin on the moon. I did lots of fast-lad type side steps and stuff before heading down to the starting pen.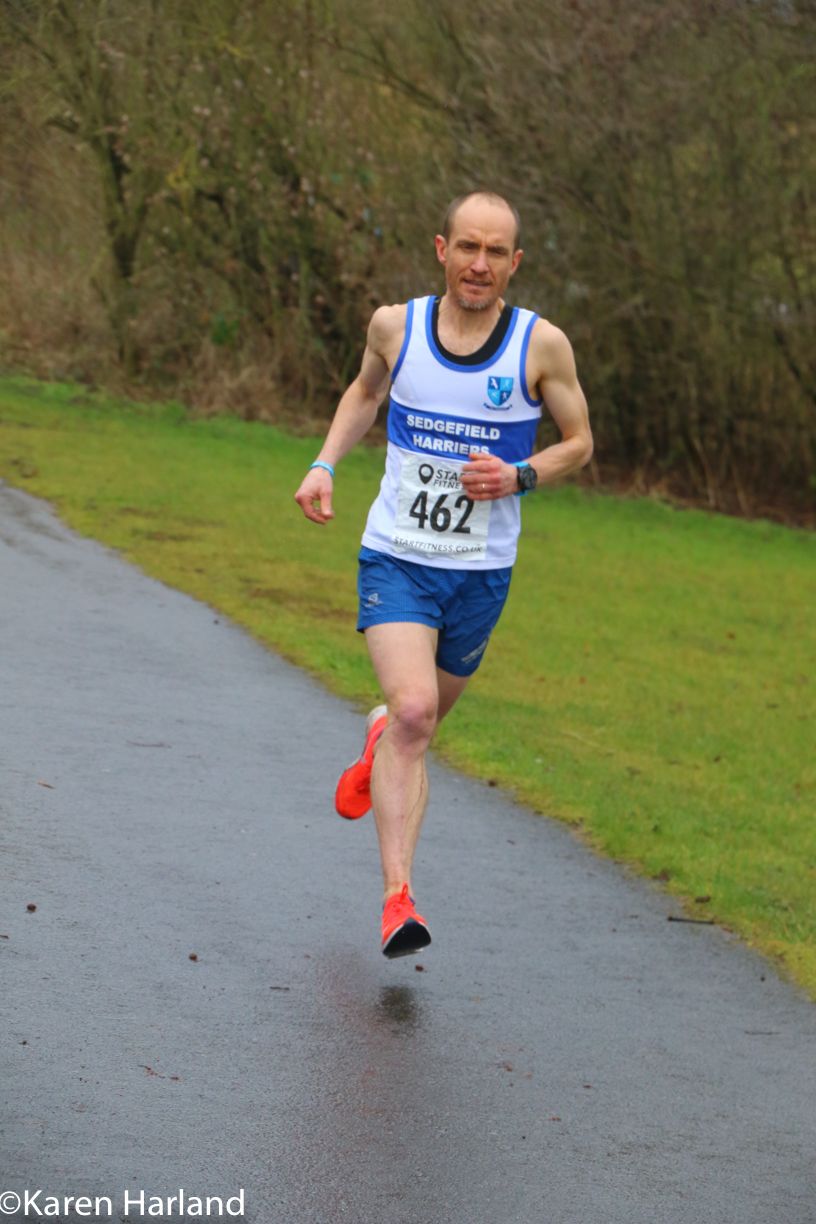 Then I was off. Each leg is two laps around the park lake, 2.2 miles in total. I went off quite quickly but conscious of the wind and the impending Eiger, tried not blow up too quickly. Within the first few hundred metres several fast lads went past me but I wasn't too bothered. The last of these was a guy in a Red Kite Runners top but once we were over the first hill (which really wasn't as bad as predicted, quite hard work but not impossible) I realised that he wasn't really stretching away.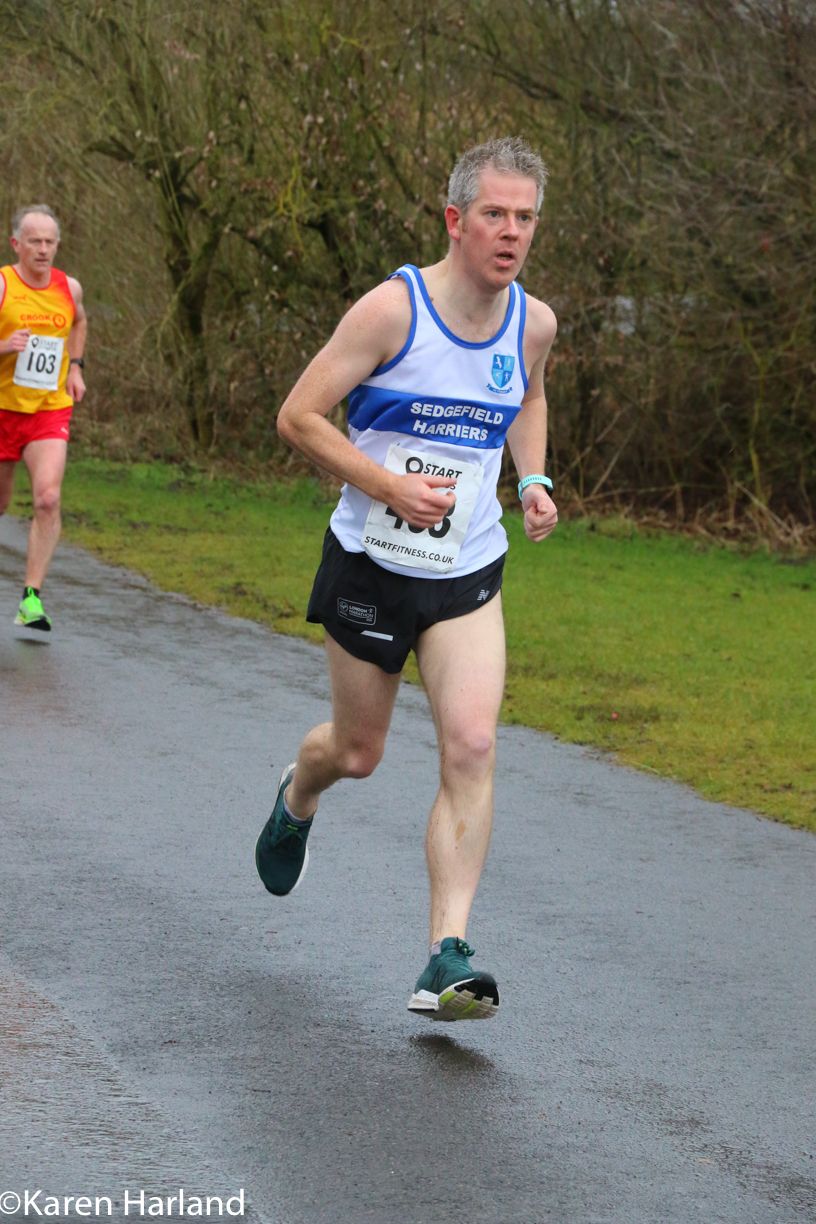 Towards the end of the first lap (and another bit of an uphill drag) I passed Karen Harland taking photos, and then our Chris doing the same. I managed a finger for them both I think. Chris also gave me some motivational news that West Brom were winning. No-one else in the park would have known the significance of this, but in our private Derby County-Nottingham Forest-local-football-rivalry world I knew this meant his beloved Forest was losing. Big of him, and it spurred me on.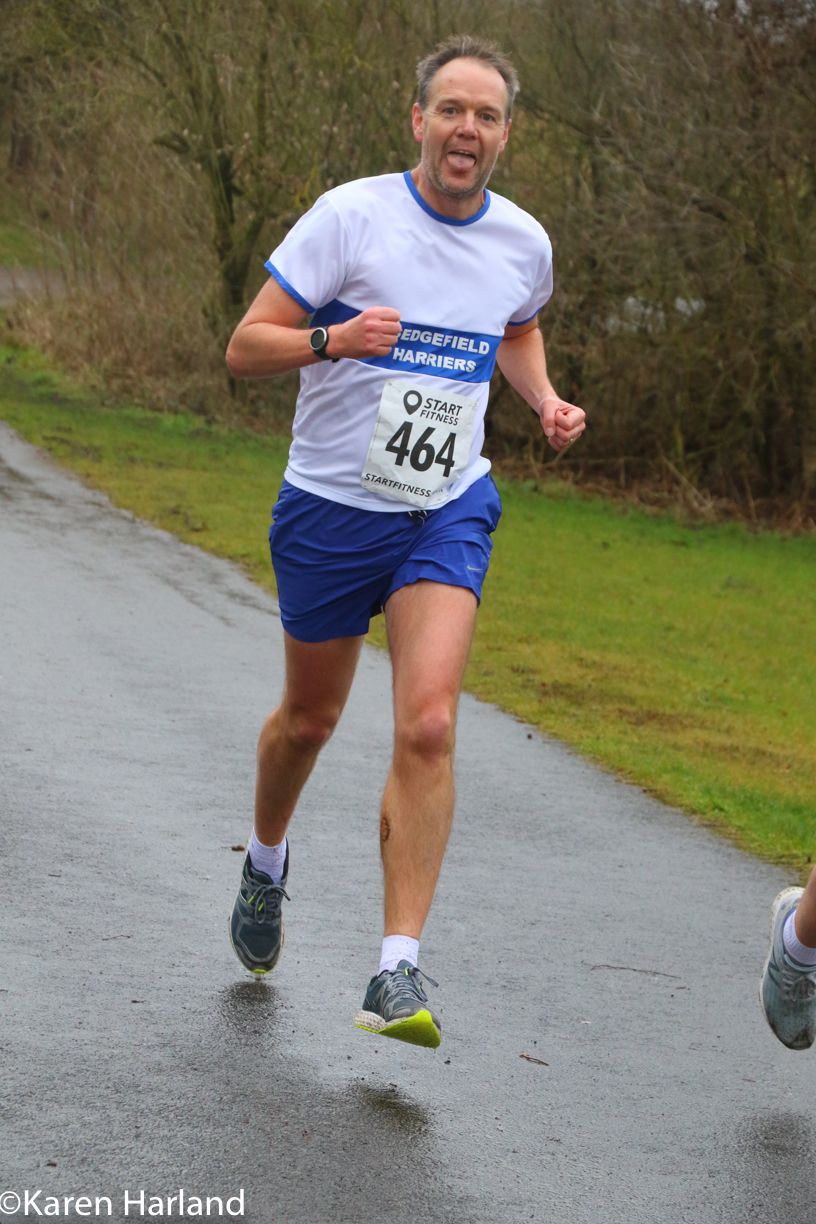 On the second lap several more fast lads came past me, but I continued to reel in one or two of my own, such that Red Kite man was almost caught on the Eiger. It's great to have a marker when you're racing but unfortunately he heard me and paced away on the downhill. Another wave (well tongue) to Karen on the final hill and I thought, I'm catching him again. We had about three hundred metres left. For a few strides I thought about just sitting on his shoulder but I felt good enough to give it a go. There were about ten metres between us by the time we finished, I was well chuffed. I heard Chris shout something like 'well done Pete', and he was off. I breathlessly thanked Red Kite man for the pacing and went off to find the others. Chris caught a few up before handing over to last man Paul who managed the same. Fast lads both.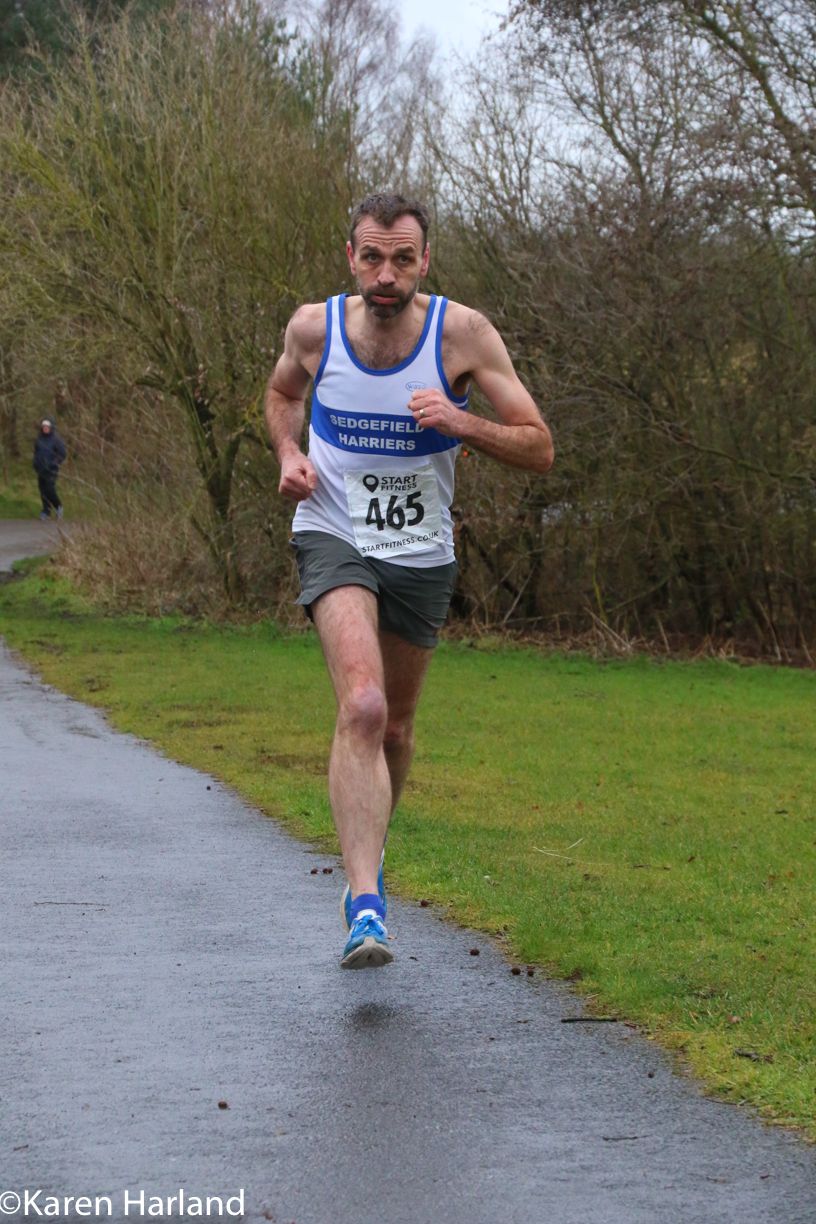 I have to say I really enjoyed it. My own performance wouldn't have made the official race report but I ran well for me and was very pleased. Yes there were some seriously fast lads but it felt no different to cross country in that respect. The whole event was very much like the atmosphere of cross country actually, competitive, inclusive, but without the filth. I am a lousy cross country exponent; the roads around Hetton Park suited me much more. And 2.2 miles at full tilt is tiring, but it's not even a parkrun. It was over quite quickly.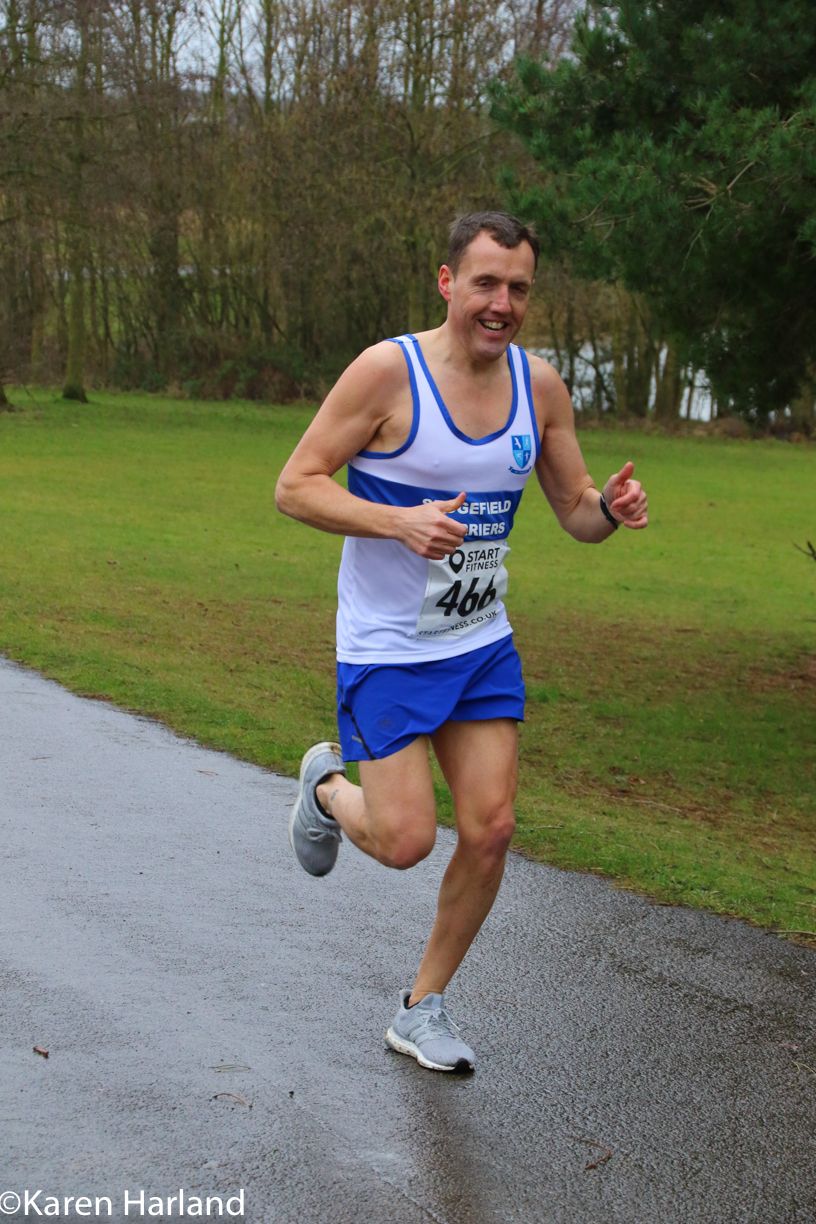 Running as a team is a great experience, very bonding and it was a nice final act to call Karen over for an 'official' team photo. I really hope that Harriers enters a team or two again next year, I recommend it very strongly. Maybe a female and an over 50s too.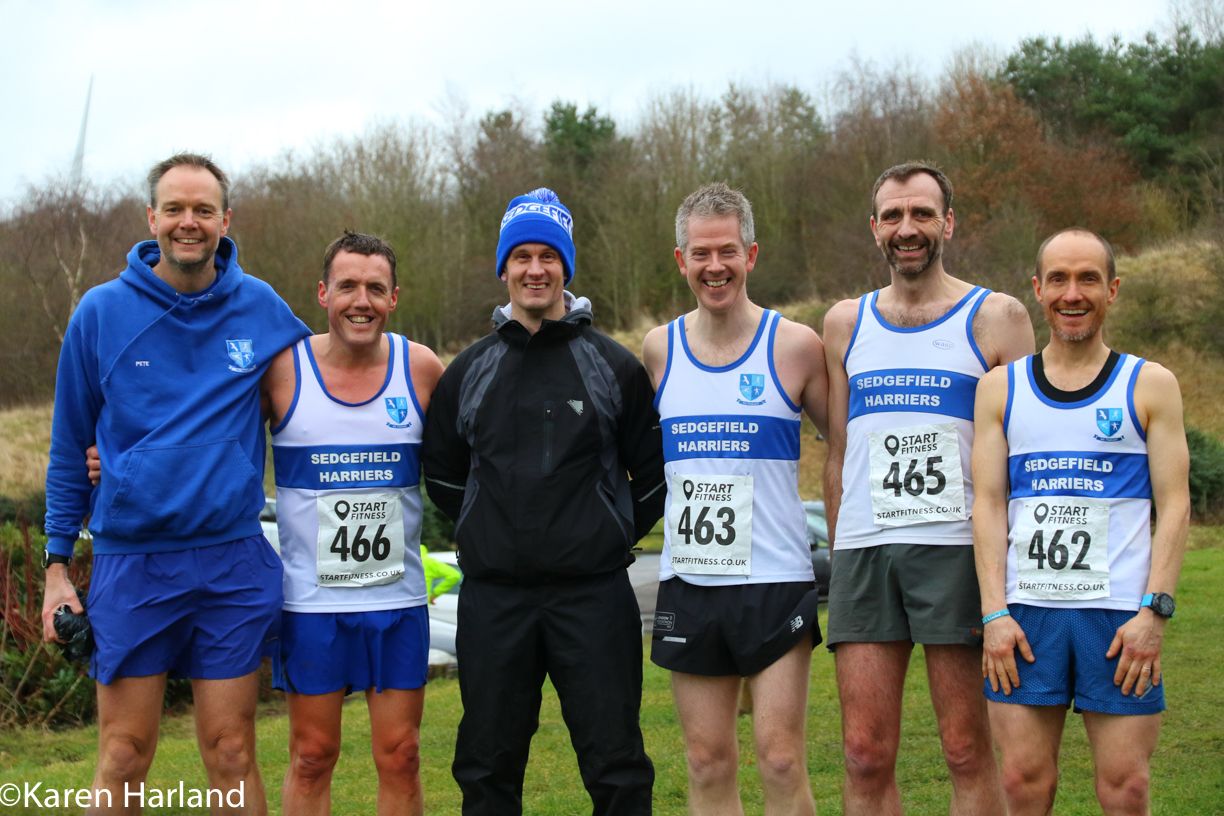 Incidentally Forest managed a late draw and later in the afternoon Derby finished even in their game too. All fair in running and football. I got home on a full electric charge and Deb stuck a roller in my hand soon after. She happily listened to my running stories as we painted together until late into the evening…
Results: a respectable 37th out of 66 in the race, and 5th out of 10 in the V40 category.
https://necaa.weebly.com/uploads/6/4/8/5/64850927/2020_signals_relays_senior_men___v40_men_results.pdf