South Shields Winter Trail 5k
Sunday 2nd February 2020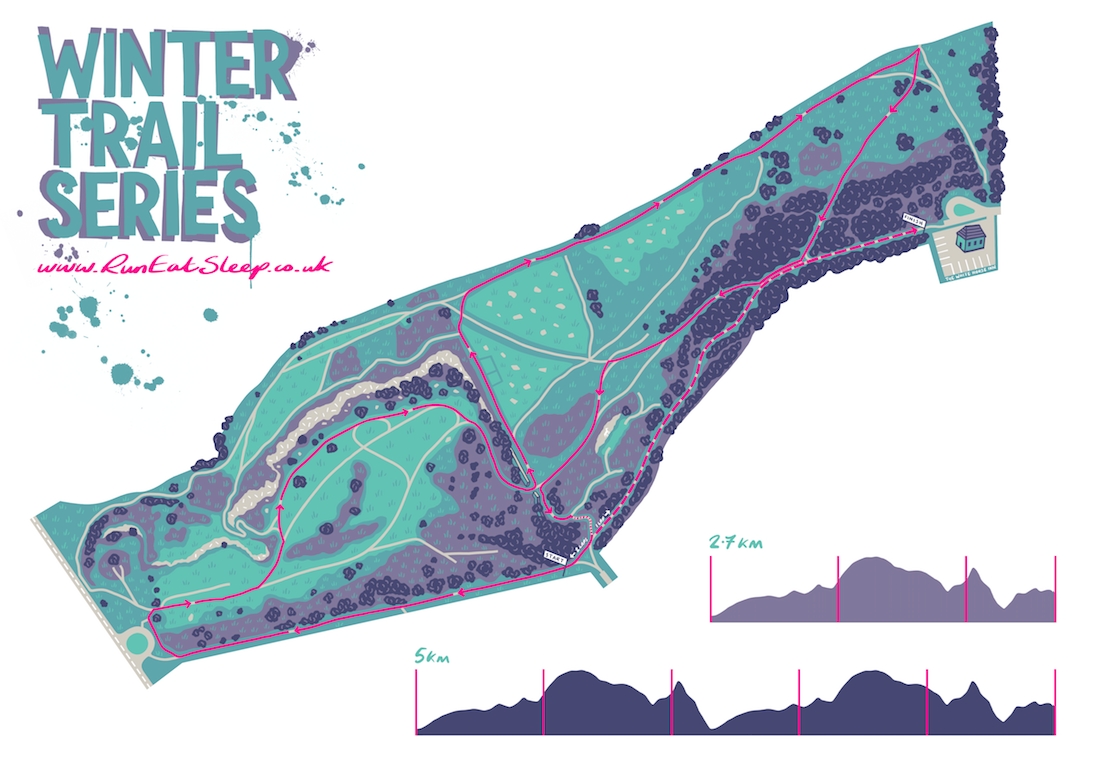 Always beware a smiling Pete. As Helen and I have a little jog to warm up, Peter and Paul running in the opposite direction pass, and Pete smiles and says those fateful words – 'You'll do a rundown for this one won't you Sue?' He then jogs off, so even if you could think of an excuse, he is no longer there to hear it.
So here goes.
A 5k trail race. Meet at the White Horse pub. All sounds fairly tame. After all, it's just like a parkrun. So why at the end was everyone saying 'that was tough'?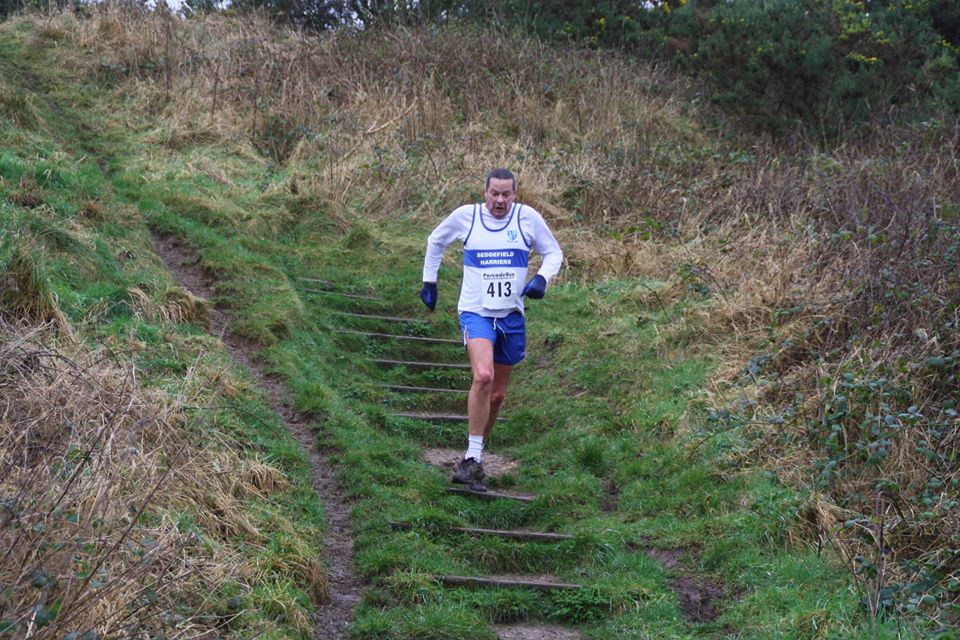 It all started so well. The first positive was there wasn't a queue at the toilets. A major bonus for the nervy runner. A quick warm up with Helen, and then off to the start. Everyone was very friendly. One of the regulars described the route; steep climb, quarry and steps were mentioned but I put those to the back of my mind. There was only a small group of runners and the race official gave the Sedgefield Harriers a special mention and a round of applause, which was lovely.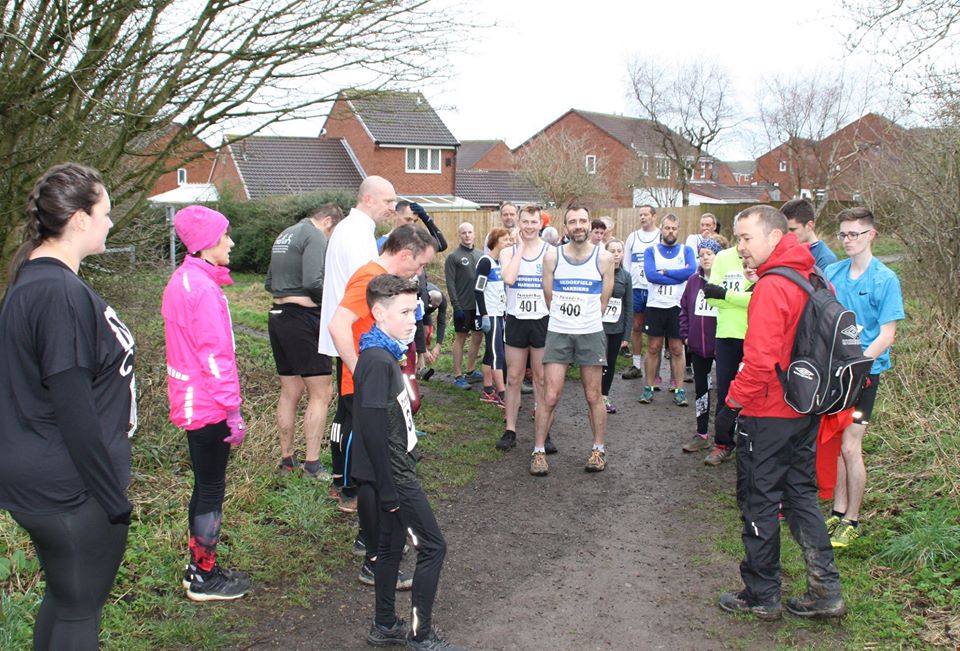 Normally I run with my head down watching where I am going, the joy of wearing varifocals, but as Pete had asked me to write the blog I thought I had better try and look up occasionally and take in my surroundings. So after a flat start, I negotiated the horse/cycle/pedestrian barrier – I went for the pedestrian route whilst others did a bunny hop over the horse barrier – turned right and right again and into the quarry. At the far end we climbed back out up a muddy path and then across grassland up hill to the top. Here the route opened out with a great view. I glanced back to see the sea and then caught sight of a majestic brick water tower off to the left. Then more importantly I could see the line of Sedgefield Harriers in front of me……Ian, Chris, Dave, Mike, Paul. My target was Mike as he is in my division, but he was a long way ahead. Still we are not half way round yet, so I'll try and keep in touch.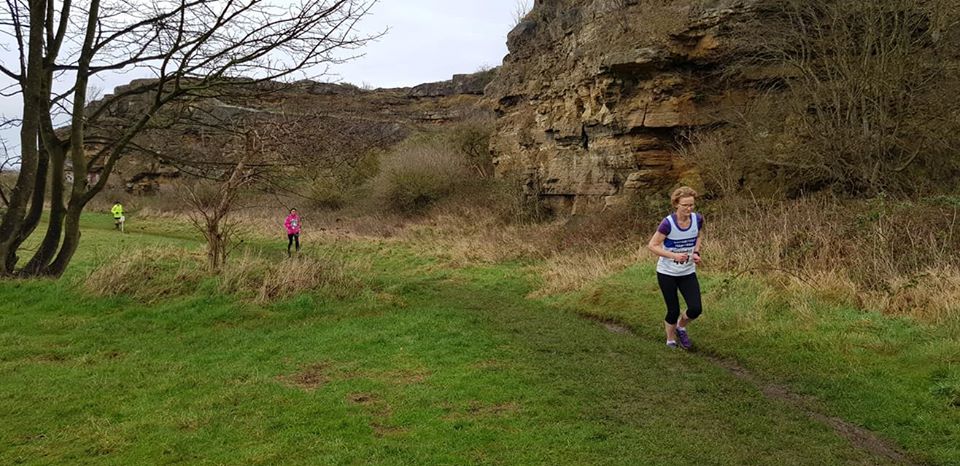 At the far end of the park we dropped down a muddy path, a left, a right, then right again up a steep hill. I can see some people walking ahead so I try and keep running to gain some time, but eventually I decide walking will be quicker. Then the path drops down and we reach the start line via a set of steps. Then its round again for lap two.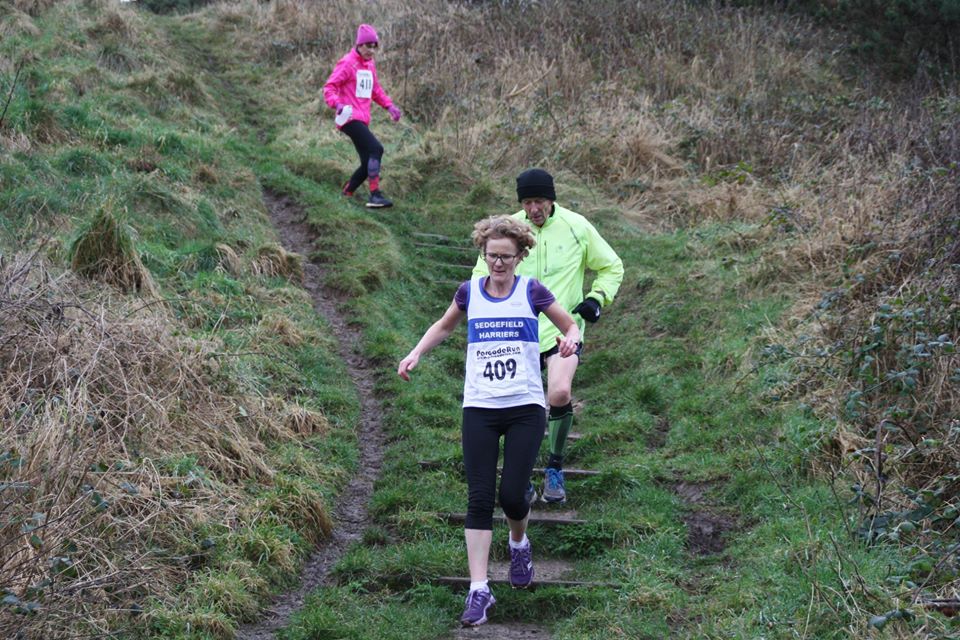 I manage to pass Paul in the quarry and he shouts some encouragement to 'go and catch Mike' who is up ahead. Mike has started to walk up the hill out of the quarry but has a sneaky look back, sees me and accelerates. In my head I shout 'wait for me Mike'. When I reach the highest point I can see the Harriers ahead but they are now a bit more spread out. Oh well, I'll try and keep Mike in my sights.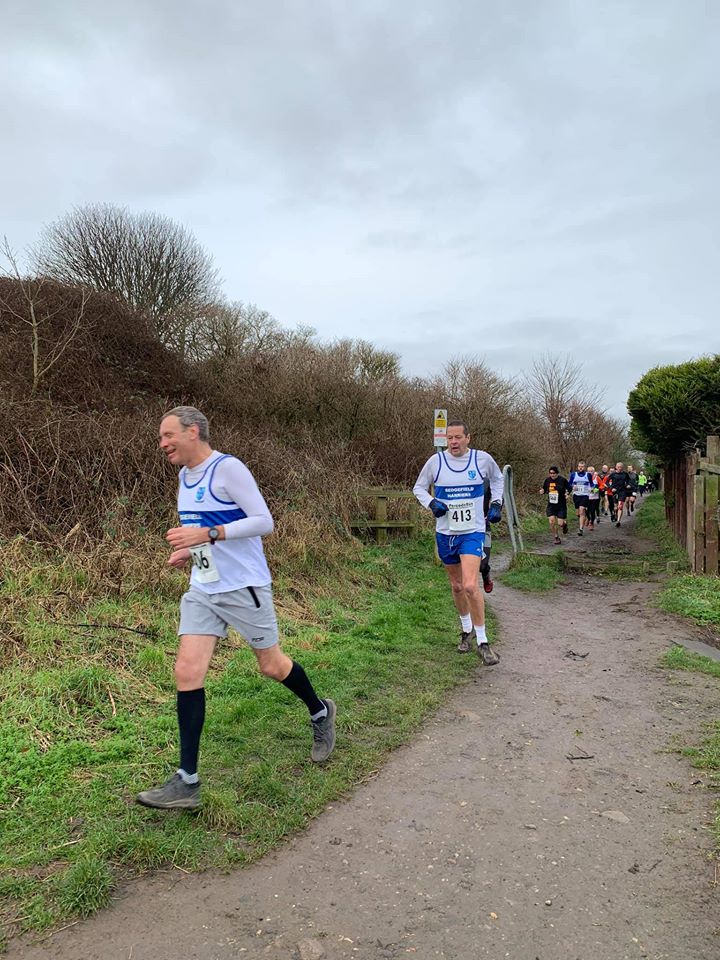 Legs beginning to hurt now and breathing's more difficult but nearly there. I drop down onto the bottom path. Slightly confused. Dave Walker is walking one way; Abbie is running the other way; then my brain kicks in – Dave has finished and is walking back to encourage Abbie, who is in the home straight and I have to go to the right and back up the hill and then down the steps! As I turn up the hill I see Pete in the distance; I bet he is still smiling! As I run along towards the finish I can still see Mike but the points are going to be his. But I am happy with myself for not giving up.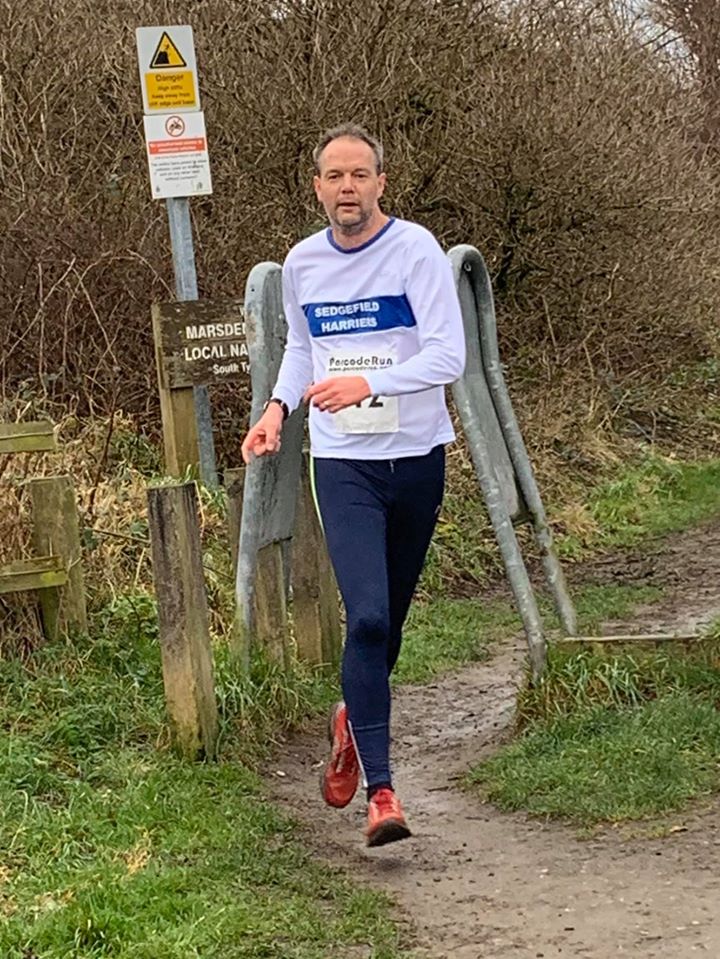 I cross the line, to cheers of encouragement from my fellow Harriers – the best bit of any race. Lots of discussion about it being tough, a varied route, slippery under foot – so it wasn't just me. I shake Mike's hand – maybe next time?
We turned to watch Helen. She had a good sprint finish and then the reason became apparent as she was being followed by two huge horses, luckily with riders.
So all the Harriers were safely round. After the team photo some went off for more running along the coast. I was happy to head back to Sedgefield with Paul and Helen and to celebrate with a hot shower and breakfast.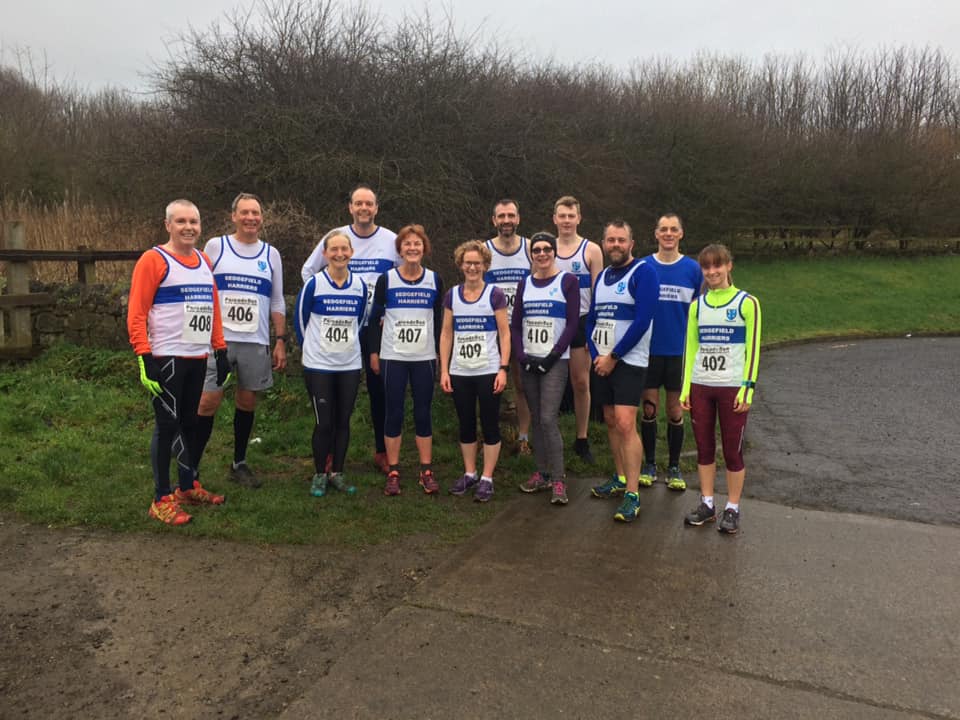 Results: http://runeatsleep.co.uk/winter-trails-february-2020/
by Sue Dobson.