By Cat Miller.
I'm not a road runner and despite having run many marathons and ultra marathons, I've only actually run 2 marathons on road – my first in Edinburgh in 2018 and London Marathon in 2021. London Marathon gave me a flavour for running the Abbott World Majors and from then I decided to make it my mission to complete them all and earn my 6 stars.  I entered the ballot for Berlin Marathon last year not really thinking I'd get in.  We've all seen the year after year disappointment of London which took me 6 attempts for a place so I fully expected Berlin to be the same.  Low and behold I was successful in the ballot on my first attempt!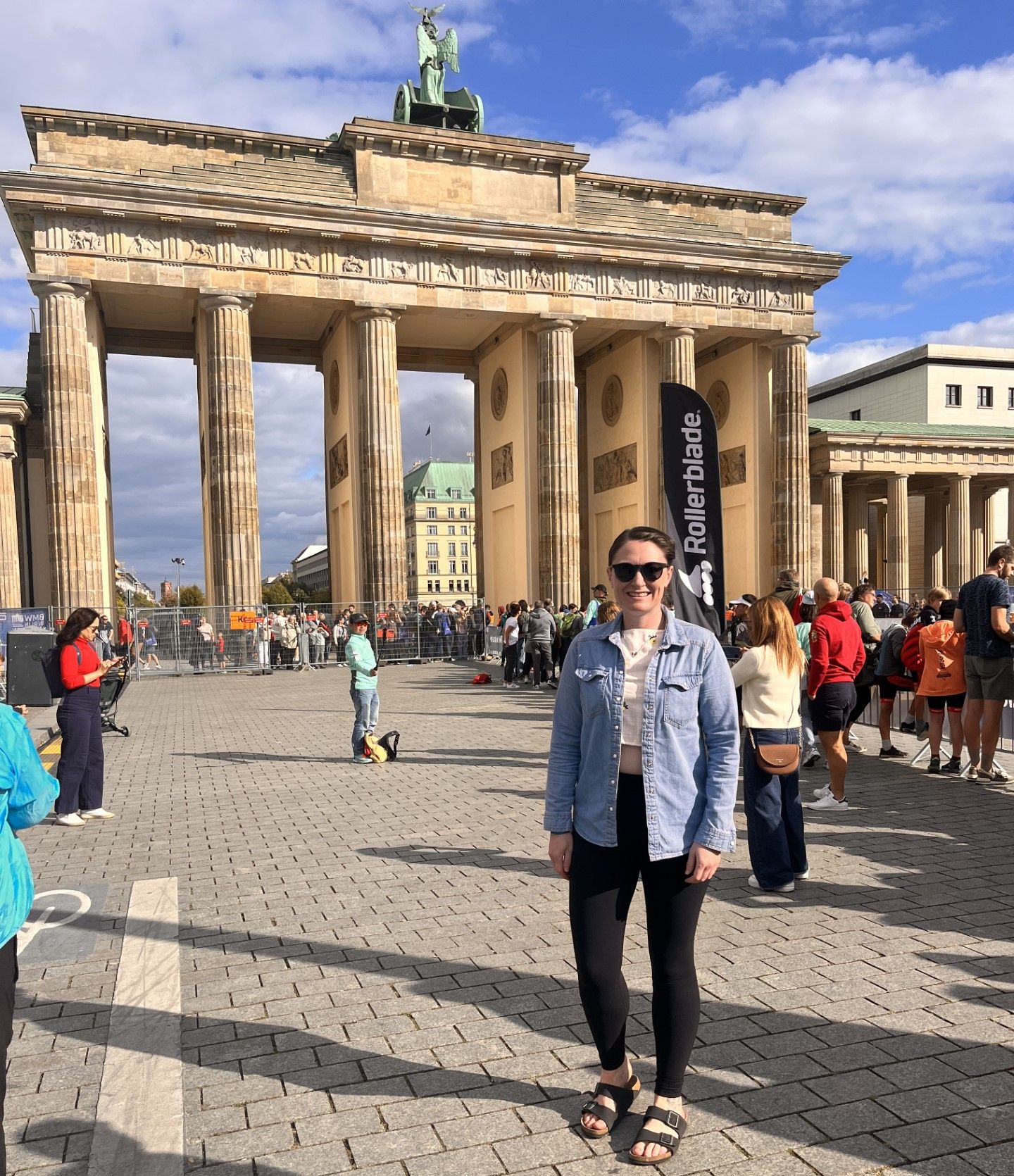 We flew over to Berlin on the Friday afternoon arriving in time to go straight from the airport to the Expo to collect my number before it closed.  That in itself was an amazing experience. It's held at the old Tempelhof airport complete with more merch stalls than I've ever seen and a hot air balloon sitting on the airfield.  Number collected and the carb loading began with a lovely Italian meal just near our hotel.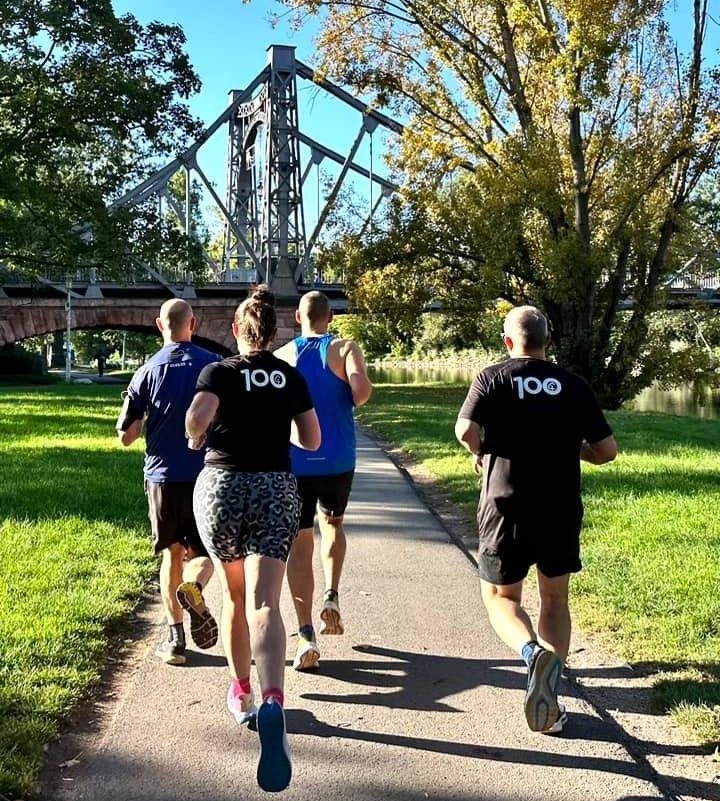 As avid parkrun tourists we weren't going to let Saturday pass without ticking off another country on the list, however the Berlin ones were cancelled due to the marathon so any we did was going to involve a train journey.  Looking at the parkrun map we realized that there was a Z location in the form of Ziegelwiese only just over an hour's train journey away. Never being ones to turn down the opportunity for a Z (we have already completed one alphabet and are close to a second) alarms were set for 5.30am and off we went to the train station.  We won't discuss how much the train tickets cost but lets just say John is still whinging about it now!  Another Z bagged we headed back to Berlin to watch the finish of the inline skating race and to check out the finish area near the Brandenburg gate. The day finished with one of the best steak meals I've ever eaten and a happy John as he'd sampled a few pints of Wheat Beer!
Sunday morning it wasn't too early a start as my Wave wasn't starting until 1030am so I had time for breakfast and an easy walk to the start area from the hotel.  When I arrived at the start area I was completely overwhelmed by the sheer volume of people! You certainly don't see that many people on the trails.  I got quite emotional thinking about how proud my Granda would have been – he was a keen marathon runner and lived through both wars only dying last year aged 92 – and he always loved following my running and hiking adventures and this was probably the biggest one yet.  That emotion stayed with me throughout the whole race and I'm not ashamed to say I cried several times including as I crossed the finish.  The start experience was incredible, every wave got the same treatment with a celebrity starter (no idea who it was though) and music and fireworks and it was just incredible!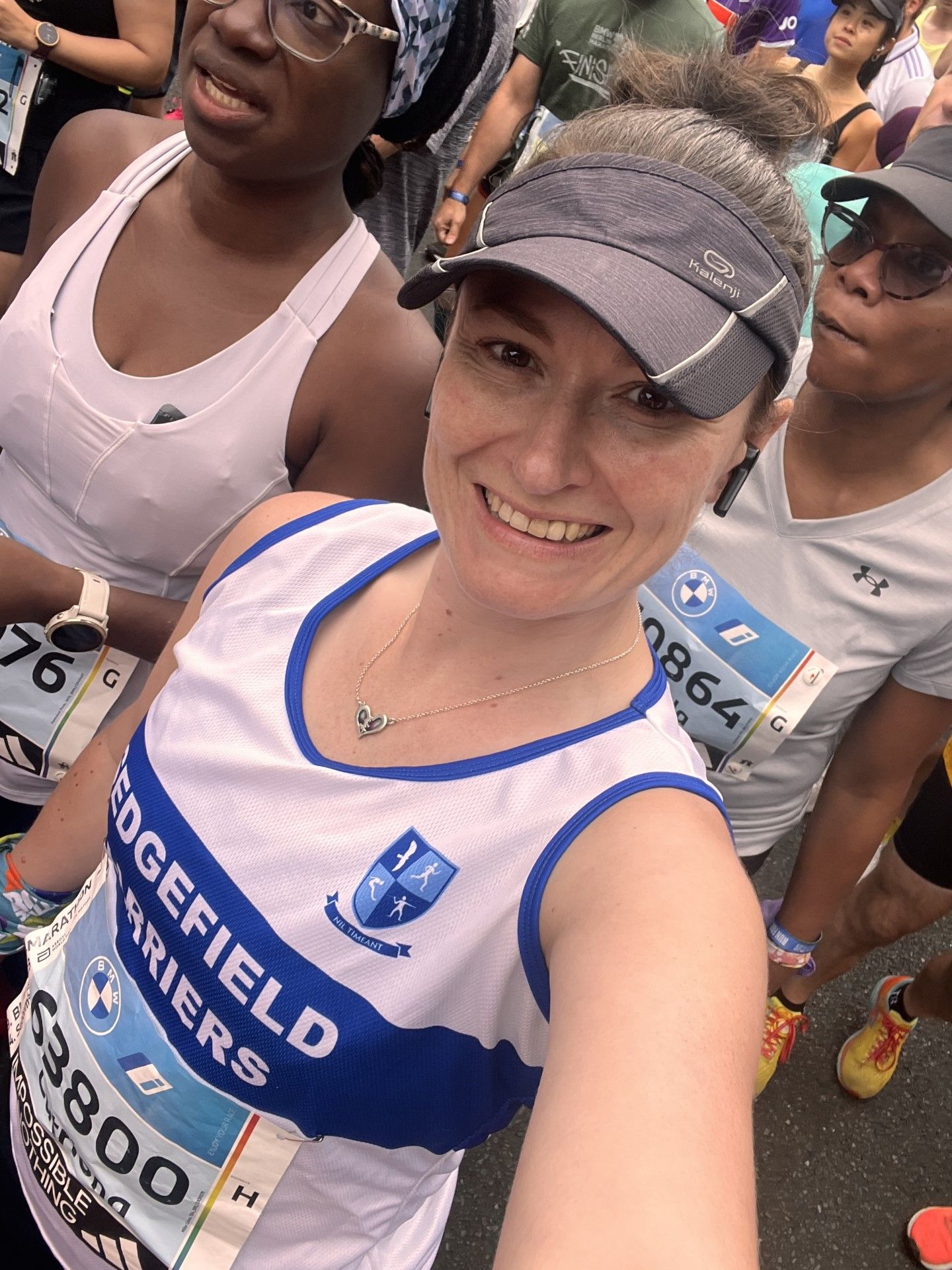 The race itself is one of the flattest marathons there is and I didn't know how to handle it! My usual race mantra is slow up the hill, fast down the hill and steady the flat but I couldn't do this on the Berlin course so I just had to run! Of course I went out far too fast and completely blew up at 10 miles when the sun came out. For the rest of the race I jeffed it 1 minute walk, 1 minute run and having this time to focus really helped tick the miles over.  It was such a hot day but the water stops on the course were plentiful as was the fresh fruit at many of the stations which was greatly appreciated.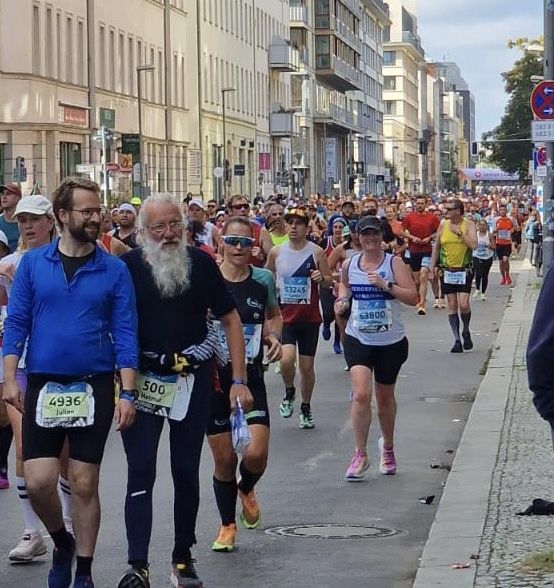 It was also a really well supported course and I don't remember there being any part of it where there weren't people watching on.  The finish for this marathon is just incredible though.  For the last few miles you are weaving back through the city streets then you make a turn and head towards the Brandenburg gate.  It was interesting watching people who thought that was the finish line when in fact it was 400m further down the road! John was waiting for me right at the gate and managed to capture some great pictures which were much better than the official ones which I did not pay £30 for!  I think that last 400m were my fastest of the race! Over the finish line, medal collected and my second star in the bag.
I'd highly recommend this race to anyone just for the incredible experience.  Now I'm hoping I'm as lucky with the ballot for Chicago next year 😊