By Frances Barlow.
Following a pretty consistent competition season over this summer at the Masters Athletics competitions, and winning 2 silver medals at the North East Masters championships, when the opportunity came to compete at the Masters European championships I jumped at the chance! But 6 weeks before the championships I strained my Achilles tendon!
For those that aren't familiar with Masters athletics it is a competition for anyone over the age of 35 and you compete against your age category which is in 5 year bands.  There is no upper age category. Every discipline is covered including hurdles, decathlon, steeplechase, sprints, jumps, middle distance and the longer 5k and 10ks plus marathons
Two days before my 100m race, my training friend of 27 years and I set off on our trip to Pescara, Italy.  We set off from Middlesbrough station to Manchester airport taking a flight to Milan an overnight stop at Milan then a 4.30am flight to Pescara.
Pescara is a coastal town on the east coast of Italy directly across from Rome. It doesn't have all the history with cathedrals and ancient statues as Rome does but it has an international sized track with 2 others close by in Montesilvano and Francavilla. The championships took place over two weeks at the 3 venues due to the amount of events and age categories.  Both my 100m and 200m taking place in Pescara.
When landing in Pescara we left the airport and took the bus straight to the track to register.  In athletics you a enter race but you need to declare yourself as competing prior to the race – if you don't you can't compete.  In most local and national events declaration is usually on the day about 2 hours before.  But internationally, this registration needs to be 24 hours in advance.  As I was competing the next day going straight to the track to register took away the first stress.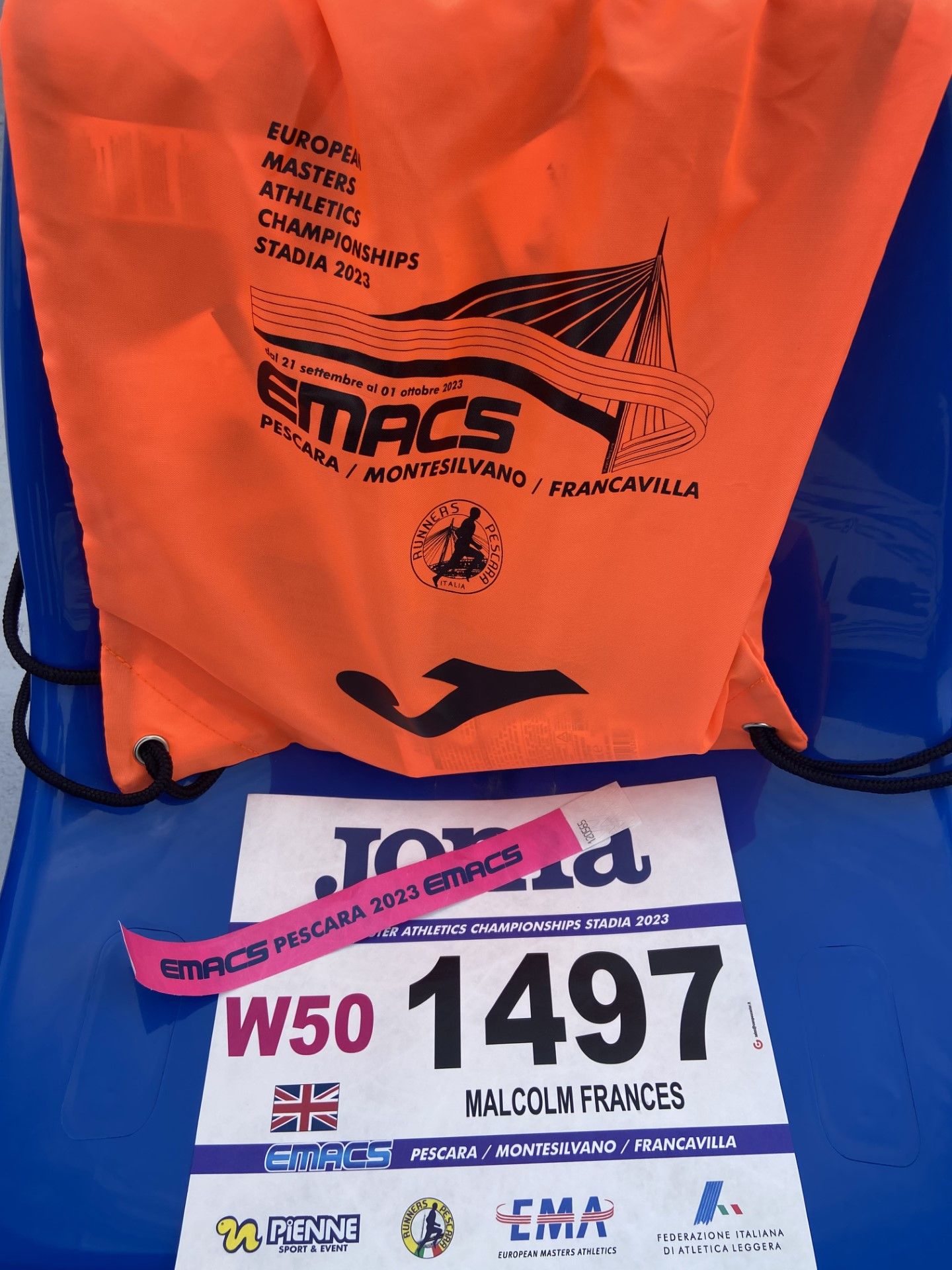 At registration we were provided with a competitor's bag, a commemorative medal, numbers, wrist band, information for the events and a few goodies. The wrist band got you into the track plus public transport for free.
Once registered we ventured out to see the track – it's blue – an usual colour for a track and with four large stands surrounding the track made it made a very imposing sight and standing there looking at it certainly started my nerves.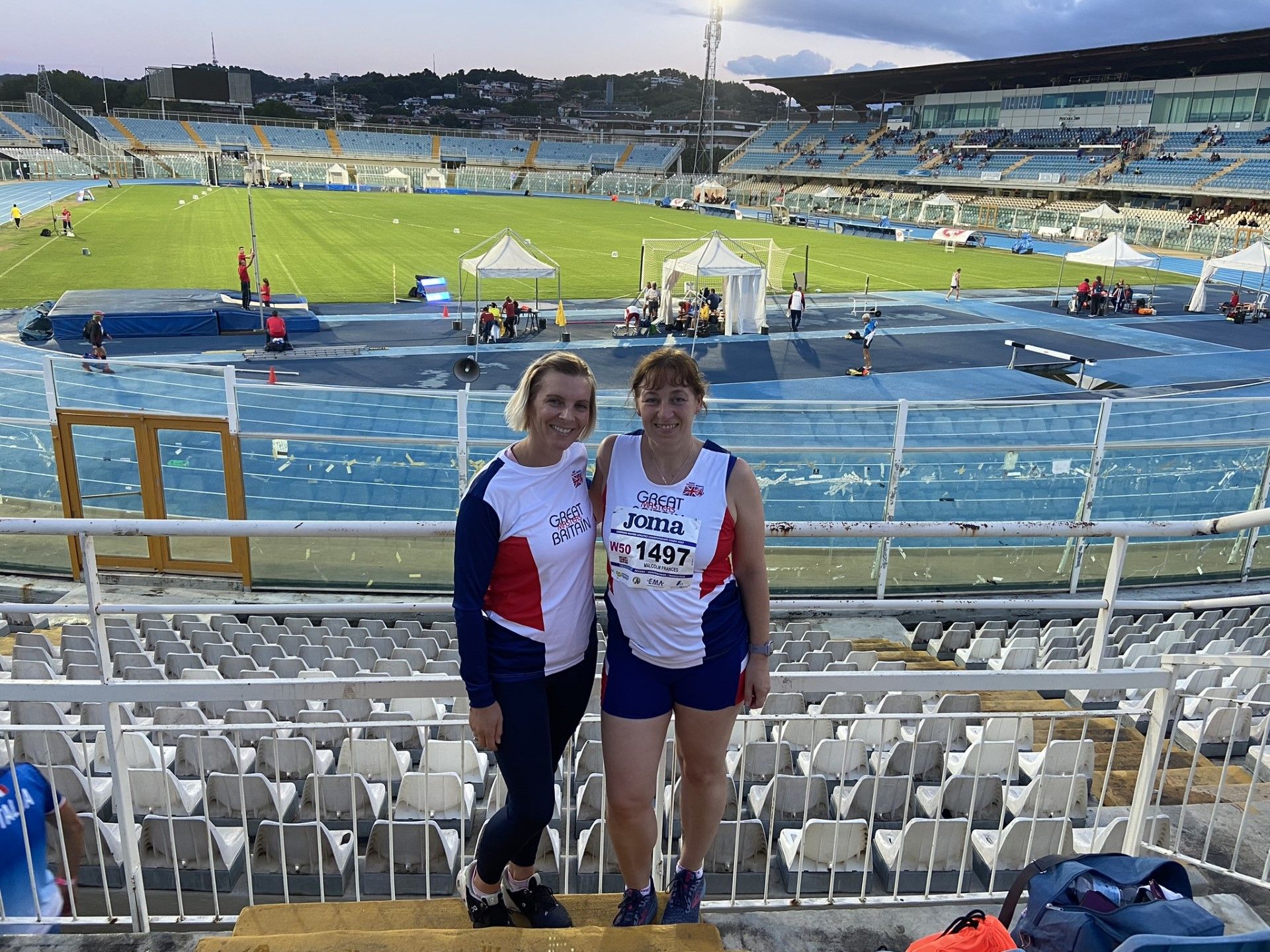 The next day was my 100m.  This is my preferred event. I was running at 3.30pm so after a relaxing morning in the apartment, we made our way to the track.  The morning was cool but as we got to the track the weather improved and the sun came out.   Again at local competitions I can warm up on the track, but here you are only allowed on the track if you are competing so it was off to the warm up area where you rub shoulders with other international athletes.  With not much track training over the previously 6 weeks and the Achilles still not right, I was pleased with my warm up.  Not too much pain and my practice starts felt fast so I was ready to go to the call up area.  You need to be there 20 minutes before the start of the race.
At the call up area they confirm you are who you say you are, check your kit and spikes are legal and you are wearing your numbers. The thing with the call up is even though you know everything is correct and legal it's like going through passport security. You know you've done nothing wrong but start to panic for no reason at all thinking someone is going to stop you!
Following the call up area, we were escorted from the call up room on the back straight of the track and walked in lane order to the start of 100m.  Being in lane one I was first to step on to the track, I stopped 30m from the 100m start line waiting to be called up by the officials. When the officials call you up there are no pleasantries "5m behind the line"  I stood there waiting for the starter and thought:  I'm stood here in my GB kit about to run internationally for Great Britain  – wow!
'ON YOUR MARKS'
I walked to the start line and looked down my lane to the finish, one last reminder of where I needed to get to and thinking about what I need to do and when.  There's a lot to think about in 100m. It's not a case of running as fast as you can for 100m, there's the start – this is where the power propels you forward, then once running you need to concentrate on separate elements of your technique, you can't think of all your body parts at once, I break it down into elements – in my case 100m is 10 x 10m!  Every 10m I concentrate on a bit of technique hoping my body continues to do what I was concentrating on 10m ago.  I settled into the start position, then slow my breathing and wait for the next instruction …
'SET'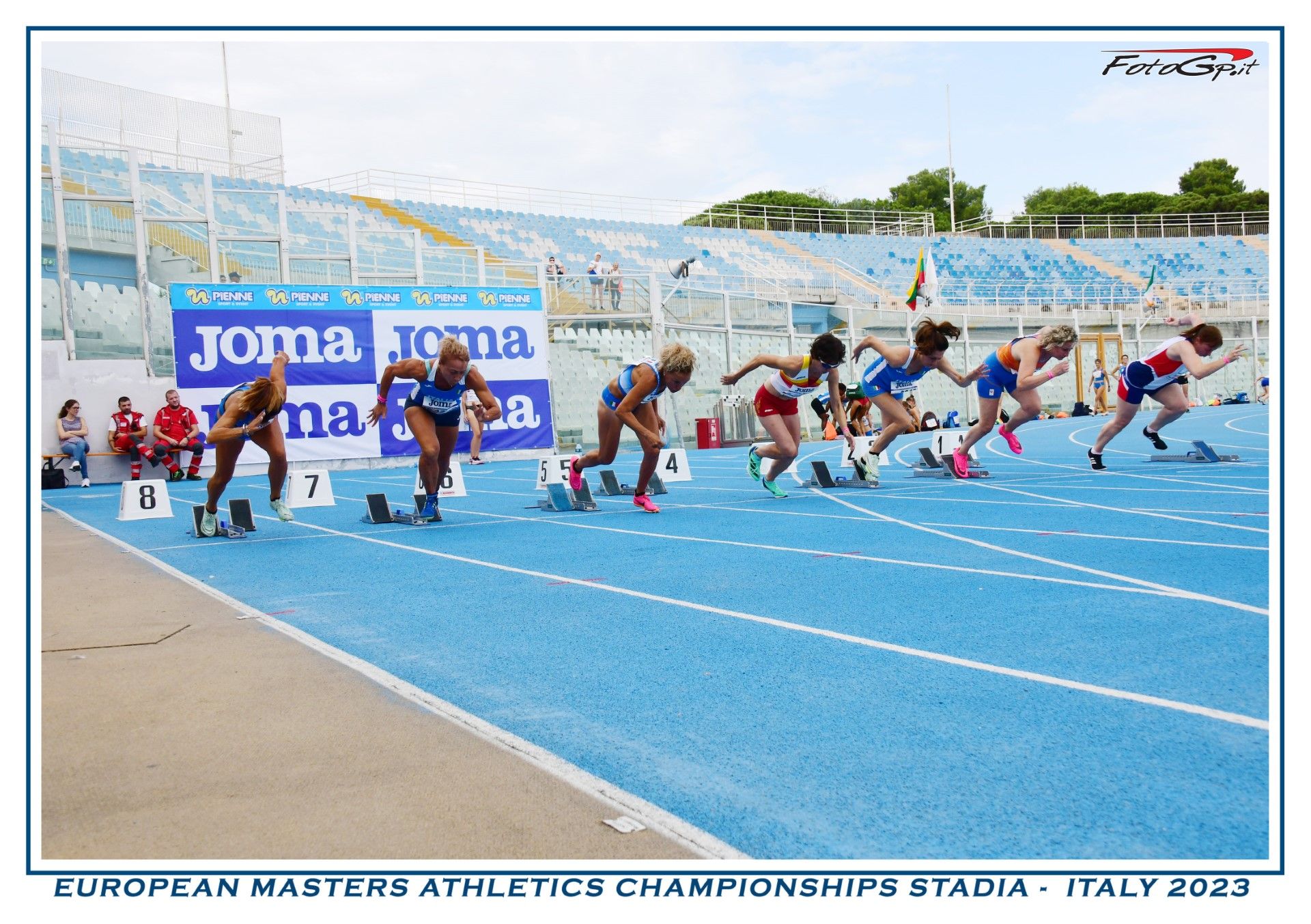 Into the set position, breathe in, my body just waiting to react to the sound of the gun – once it goes – breathe out and drive my arms backwards – instincts kick in, all the training takes over and I'm on my way. I had a good start, came out of the blocks well but towards the end I was trying too hard and tightened up, the will to run well actually prevented me from running my best but I finished with a seasons best time so was delighted to have finished my 100m season with my fastest time this year.
After the race, you get your photo taken with the other competitors and then you then walk back to the start to collect your things and that's it it's over! In less than 5 minutes from leaving the call up area you're off the track, your event is finished.   I didn't get into the final so went to see the physio about my achilles to see if I was ok to run the 200m.  They used the phrase aggravated not injured, they strapped it up with tape, told me to walk in the sea as a way to ice it and reduce the swelling, stretch and I should be fine to compete in 2 days time.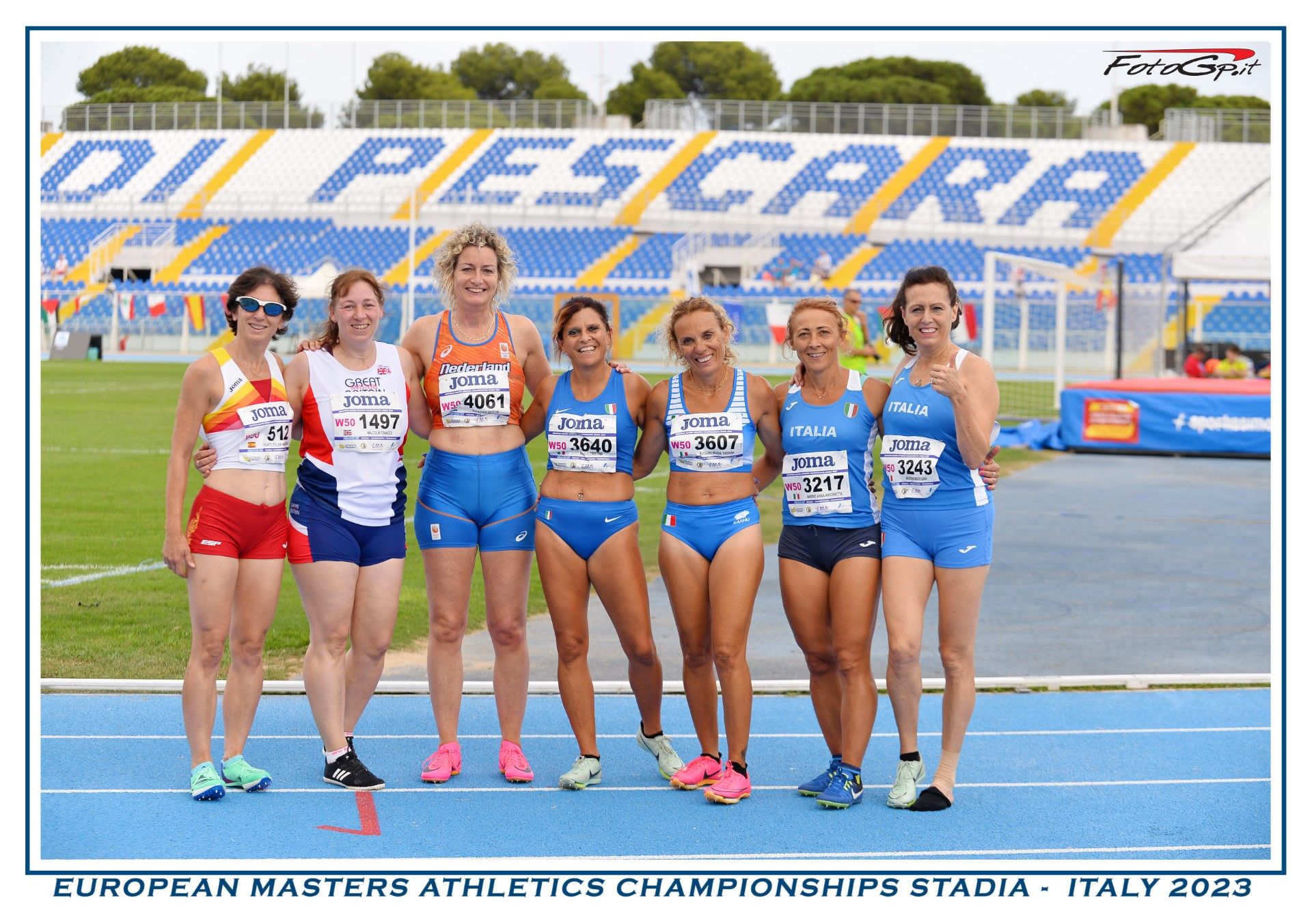 After a day's rest, watching my friend run her 100m, I was then back again to the track to warm up for 200m. I was running at 6.40pm, which is a good time for me as it's similar to my training, so my body is used to running at that time.  I assumed it would be cooler but it got hotter and hotter.
My 200m warm up wasn't as good as my 100m, my achilles was sore and really didn't want me to sprint on it. Back to the call up area, less panic this time as I knew what to expect, then the escorted walk to the 200m start. For me 200m is a long way, it's double my favourite distance. There was a delay to the start as there was an issue with the equipment, so that extra time on the track allowed my nerves to creep in, it gave me too much time to think.  Then we got the call from the official.  "Two metres behind the line"  I walk up to the start, stare at the bend and regain my focus.
"ON YOUR MARKS"
Get into the start position, breathe slowly
"SET"
Breathe in and wait for the gun and off I go 200m – In the next 30ish seconds my championships is over!
My bend was good I was in lane 8 not the best lane, we train in different lanes but never in lane 8 but that's the thing with sprinting you are given a lane and you make the best of it.  Coming off the bend I felt comfortable and strong and picked up now I was running straight.  With 80 meters to go my achilles wasn't happy and it was very painful and I couldn't keep up on my toes so I dropped to my heals which took away some of the pain but it also took away the power. I finished with 4 tenths off a seasons best.  I was disappointed at first but given the circumstances of my injury and pre-training on the whole I was pleased.
The whole experience was fantastic watching all age groups run, seeing amazing performances and appreciating the determination of athletes no matter their age!   My favourite spectating event was watching a 96 year old woman from Finland doing the long jump.  It reminded me the track is part of me, it's who I am. Will I be competing at 96?  Who knows but I like to think I would be!
By Frances Barlow.