by Elaine Noakes
Blaydon Race has been on my "to do list" since I started running in 2017 but I've never managed to get a place. So, when they released a few more places recently, I was over the moon to get one. Everyone has told me the atmosphere is brilliant and its worth it for the beer and ham and pease pudding sarnie at the end, although can't say I'm a fan of pease pudding (I'm a southerner, well midlands really, and never heard of it until I moved North!!).
I was nervously excited all day. This is only my second race in a Harriers vest and I feel like a bit of an imposter, I haven't been running as much lately so really hoped I would have a good run and my only aim was to finish and hopefully not be last. I got there early, making sure I had plenty of time for my ritual pre-race coffee and no doubt numerous loo trips I would need. I found my friends from Durham Mums, and after dropping our bags we walked over the Millennium Bridge to the Quayside where the race start has moved to. Everything I've been told was true, the atmosphere was buzzing and it was good to see some other harriers, I bumped into Emma Featherstone and her dad, and then Ian & Helen Hedley.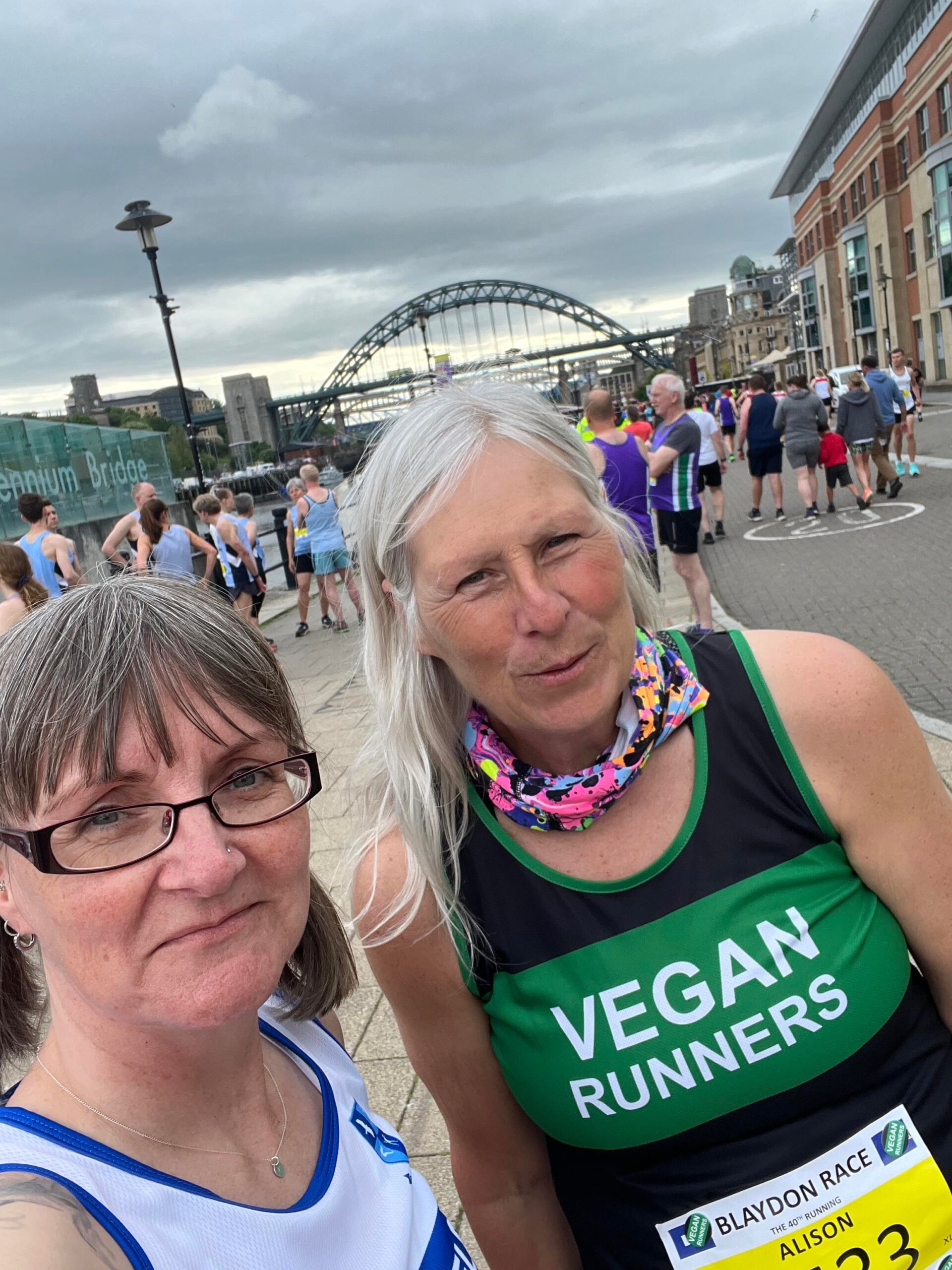 After getting some photos we gathered on the road, waiting for the start, which seemed to take forever. Eventually the Blaydon Races song was played and then everyone started shuffling forward, and soon we were across the start line. I started with a few friends, but we soon got separated amongst the crowds, as we ran through the streets. So many people lined the route, and it was great to hear the cheers of support.
I was conscious not to get dragged along too quickly at the start, as I really wanted to try and run as much as could without walking. I soon started to regret not bringing my water bottle with me though as it was quite muggy, and I was counting down to the water stations at the halfway point. I expected the support to dwindle as we got out of the town centre, but there were people all along the route and they spurred me on to keep running.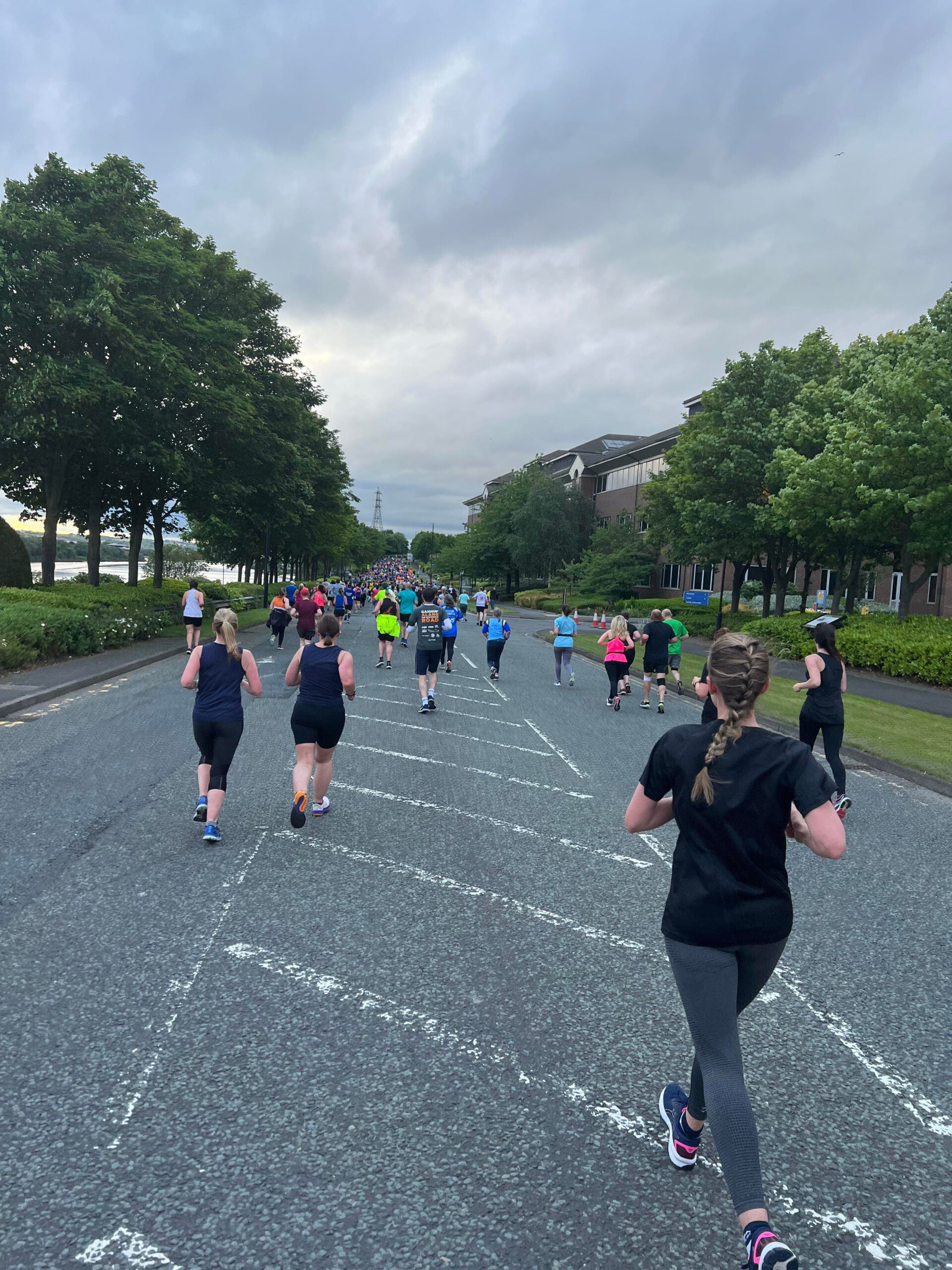 I was pleased to get the water station without walking, grabbed a cup of water, spilling half of it before drinking the rest, and then started running again. I finally seemed to settle into a rhythm and kept going, slowing for the inclines but managing to keep running. Even though I was on my own, the crowds and other runners were great in keeping me going, and there was a band which really helped too.
As we got to the first point when you turn back on yourself, I saw my friend Alison, who had shot off at the start and lost me, she was still going strong, and then I saw Helen again, who was also still going really well. That gave me another little boost, especially when the turn-around point meant another incline L. I got to about 4.5 miles and was really starting to tire, my knee and hip were starting to feel sore, I'm not used to road running so much now, as I tend to do more trail races, but I kept telling myself it's not much further now, just try and keep running. I thought if I walked, I probably wouldn't get going again!! There was also a steel band who were fantastic.
As we came up over a flyover, I could see another turn around point and was hoping that this would be chance to see Alison and Helen again. I missed Alison (she was still flying along) but did see Helen again which gave me another boost. I looked at my watch and had about half mile to go. As we came round past Morrison's I was really started to flag but soon saw a 300m to go sign so I was determined not to walk now. When I got to the 100m  sign I tried to spur myself on to go a bit faster and passed a few people to the finish line, although I think I went a bit too fast as I nearly passed out when I stopped!! Thankfully I saw Alison and then Emma who looked after me until I felt a bit better.
I was pleased to get my goody bag, complete with can of beer and sandwich, and thankfully I ended up with the veggie option of a cheese sarnie so dodged the pease pudding.
Once I had recovered, I found my friend, and headed for the bus queue to go back to town for a well earned pint in BrewDog, and then had a nice walk along the quayside back to the car. The Millennium bridge looks great at night when it's all lit up.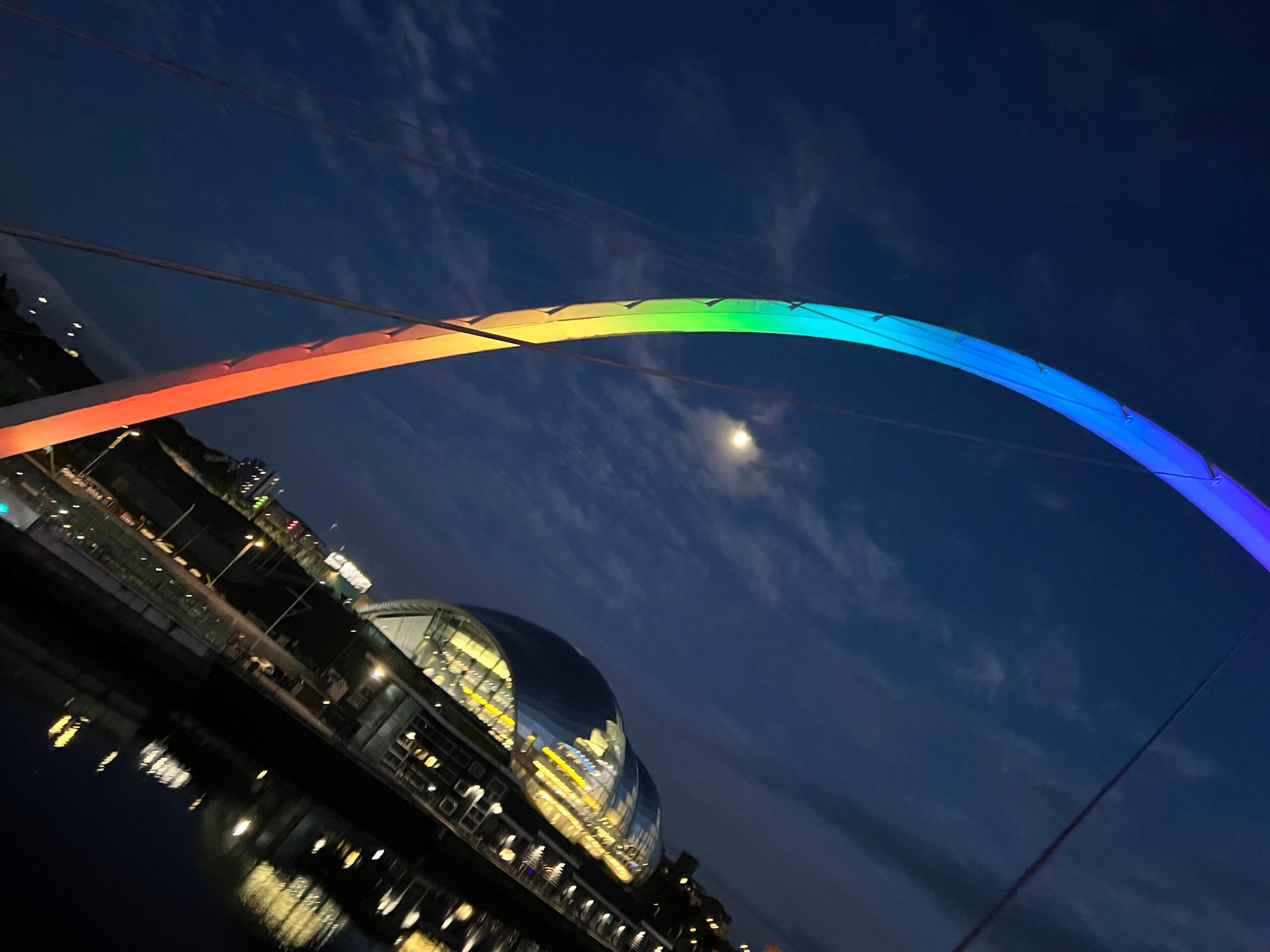 All in all, Blaydon definitely lived up to the hype. I thoroughly enjoyed it, and my time of 01:06:50 was only 2 minutes off my 10k pb, which I'm really chuffed with. I'm never going to be speedy, but I do feel a bit more comfortable wearing a Harriers vest now.