A Nav4 Adventure event. 38 miles, 2000 metres climb.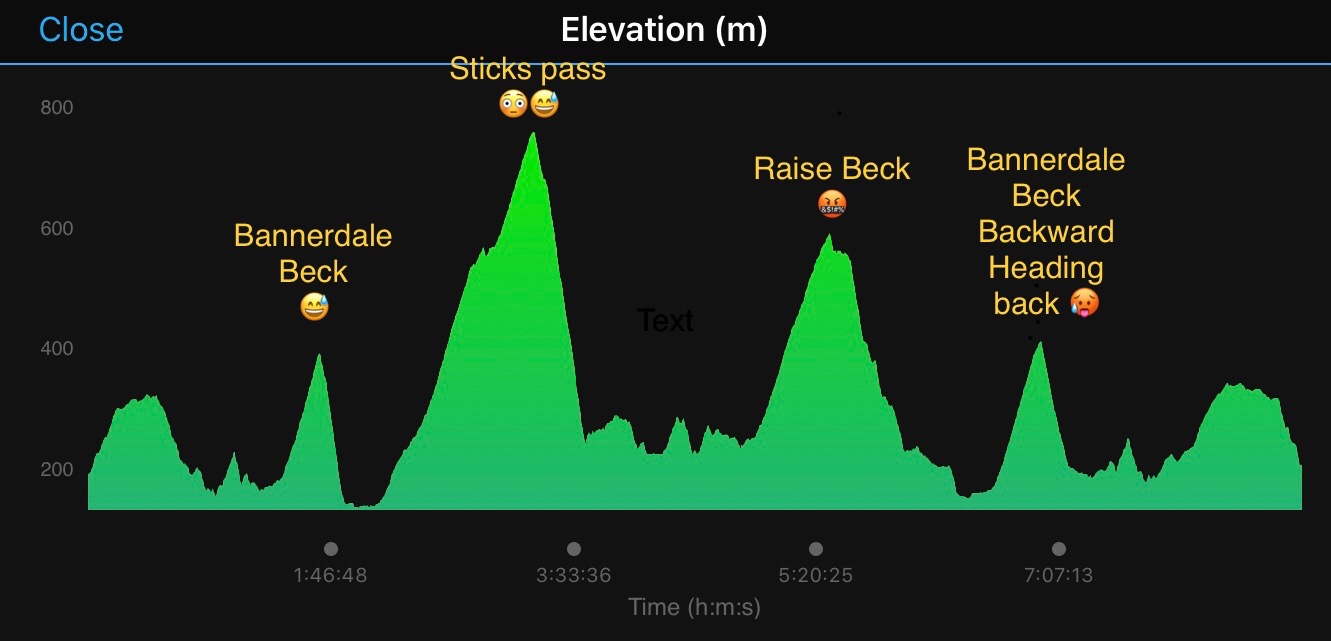 Well here I am once again, and would just like to thank Peter King for this privilege 😇…….. This event started back in June /July time when Mr Thwaites managed to twist my arm once again 😂😂 plus Justin Cox had forgotten he had entered mid summer. I'm sure he wasn't trying to get out of it ?????
It was going to be a next step up in my running adventures with mileage and terrain. I didn't think much about it til looking at the kit list and thinking I was short on a few things…… so over the summer I pulled it all together. As the date drew closer, travel plans fell into place which was great as Gary and Aaron (Gary's friend) were picking me up on route so feet up all the way. Talk on the way over was about the route … and hoping not to get lost with all those hills and turns. It helped that Gary and myself had run over that way in the summer so I had the route in my head. I was just hoping there would be no snow or much fog, which would have made things a little interesting????
Once we had arrived at Askham, things seemed to turn out bad from the start as the car sank into the mud where we had to park. After helping three cars out we chanced it and left ours there til Saturday evening (just what you need after an ultra) but luckily things weren't that bad on the night and it pushed out very easily……. As we signed in the village hall I had a flashback and realised I had been here previously with Chris Lines, Diane Baines and Doreen in an event called the Grand Day Out back in 2016 after all the floods. That was a tough 10 miler and I still think about my favourite Berghaus gloves I lost there….. But on the bright side a bit of relief as it was part of the course which we had not run in the summer so hopefully it would come back to me.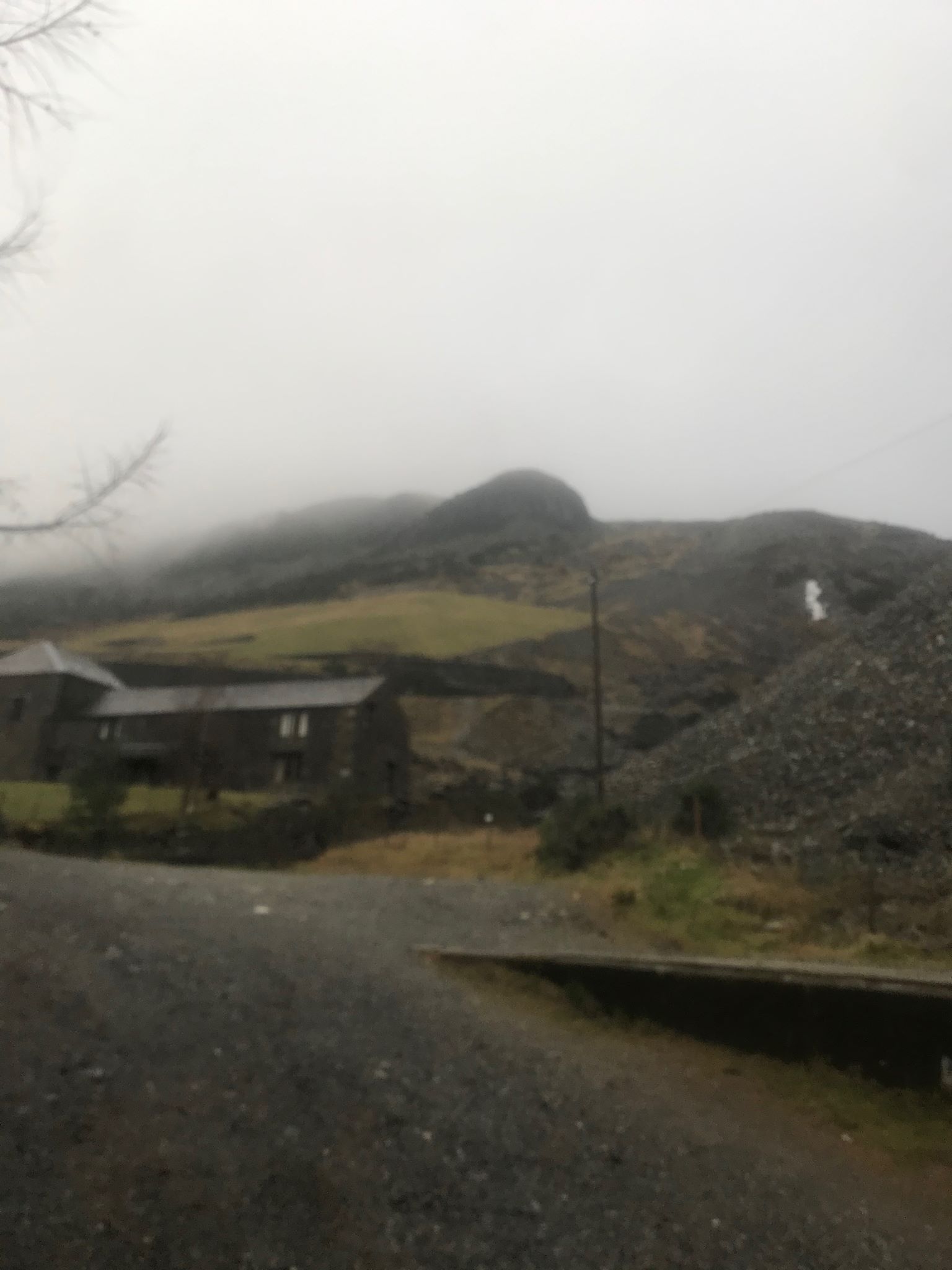 So as we were sleeping in the hall we set up camp, sleeping bags and air bed ….."how first class we roll !". But it makes part of the whole weekend. All set up we popped to one of the local pubs to carb up and hydrate so they say ???
Saturday morning arrived and lights in the hall came on around 6am to the smell of freshly made porridge and coffee: right up my street…… Once fuelled and packed away people were arriving and the atmosphere started to build. People could set off from 7am but you couldn't pass a certain checkpoint before 9:30am which was around 10 miles away so we decided 8am would be a better time to start, plus it gave time for the sun to rise a little more. Once you had your kit checked off you passed though the side door, they scanned you off and you were on your way up the road like wild sheep heading in the same direction; only around 40 miles to go….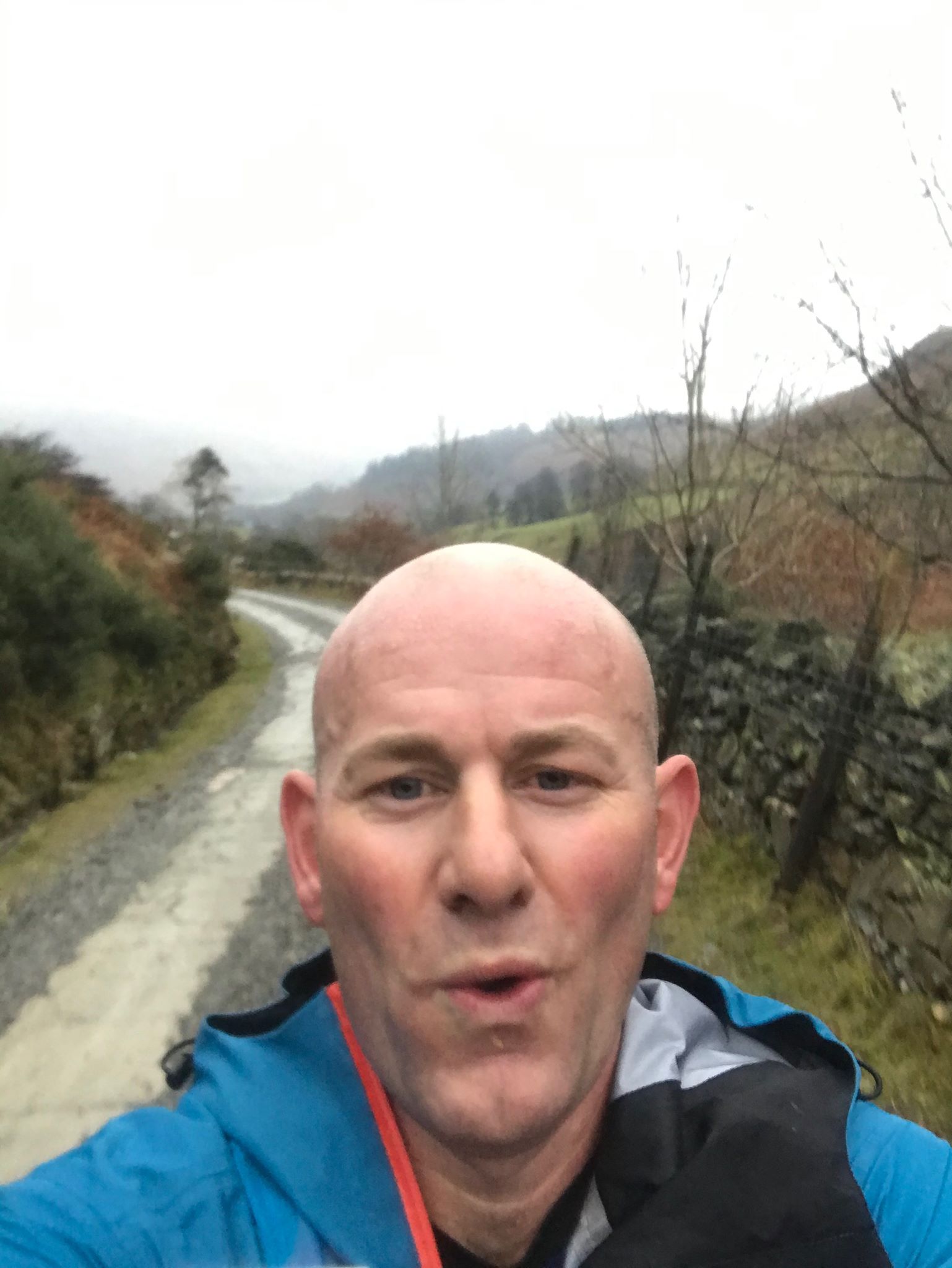 With only three miles in I was hot hot hot with all the gear we had to carry and waterproof jacket. "Good time for a photo!" We had the weather gods with us as the previous weekend was very different… As you could guess the route was very hilly but with the fantastic views you could forgive them for now !!!!!
As I ran towards the first climb, which I knew from the summer, it all became real 😳. Proper hills these hills, up and over I went but remembering the down hills are just as fun !!!!! You had to be careful watching your footing in places. Checkpoint passed then onto Glenridding to the one climb which stuck in my head from the summer …….Sticks Pass which is a killer ….. time for another photo but this was where I found out my gloves were very hard to put back on. So much for expensive clothes, so I put the photos on hold!!!!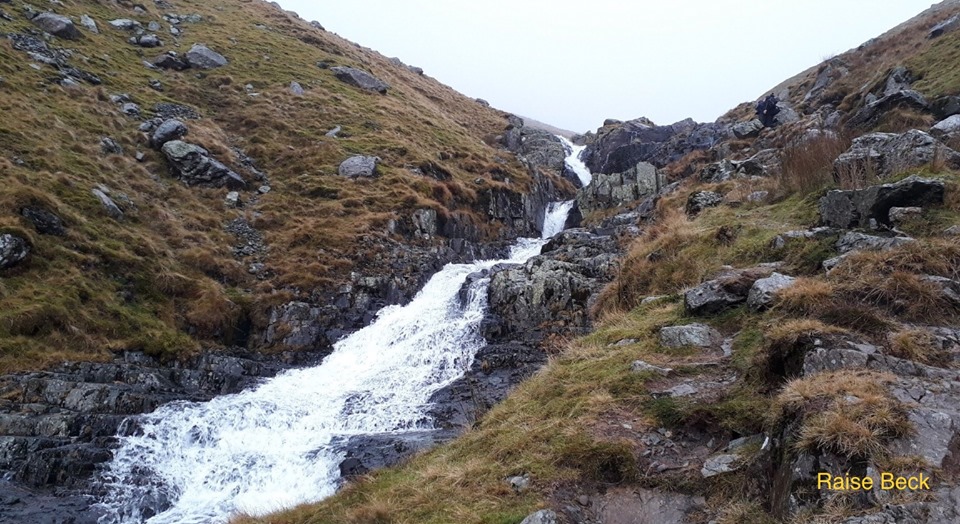 Once up (and I mean up the pass) it was foggy and was starting to try its best to rain …. !! Great, good job I didn't need to take a map bearing…..thanks to my gps watch working as it should (but I had to keep quiet about it as only map readers allowed on this event 😂😂) The watch and I did help a few out, guiding the way, while up on the top though. And no I didn't feel like I was one of the wise men! I know it's Christmas 😂😂😂 Sometimes technology does have its place.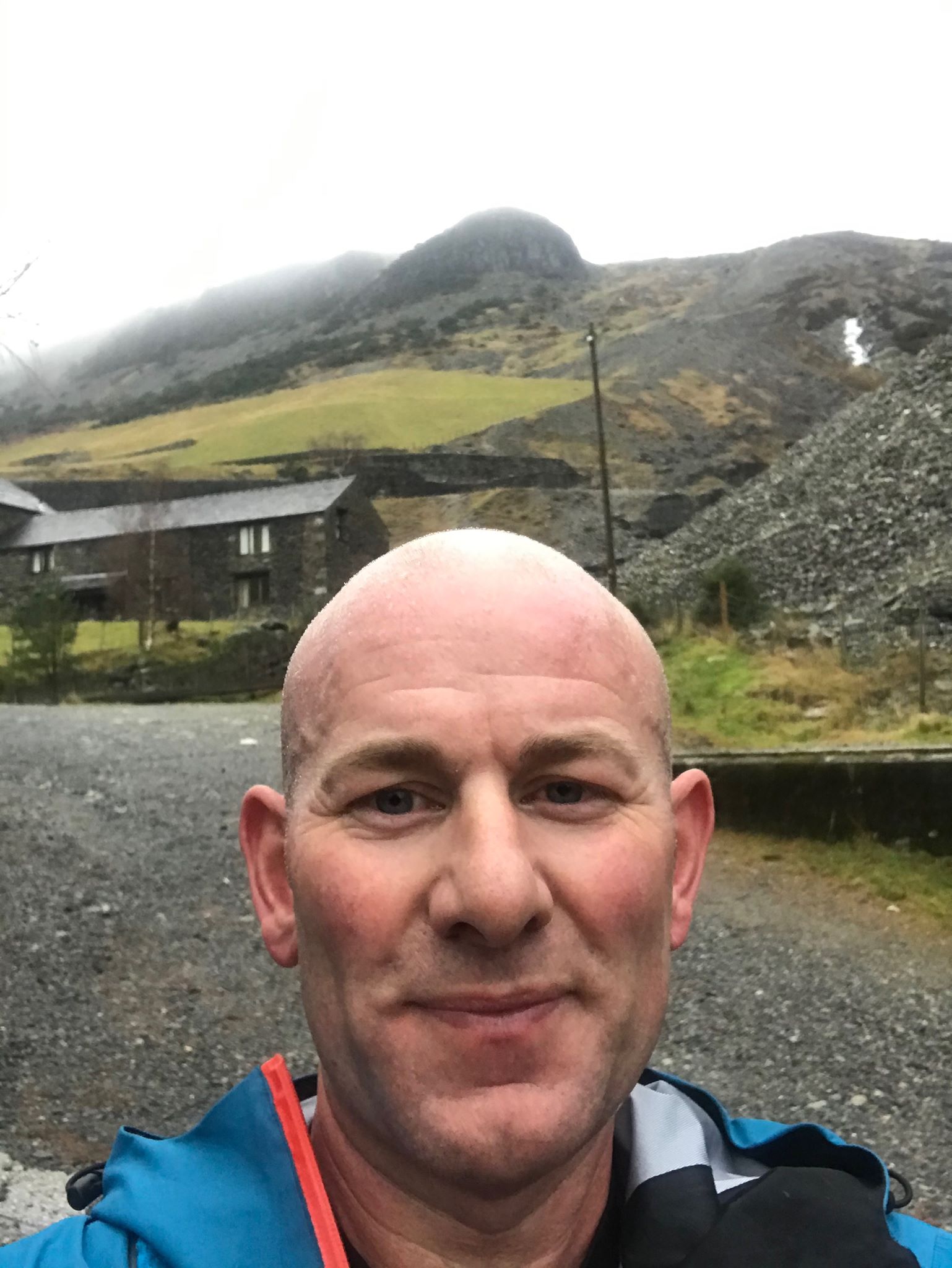 Coming off the top was another great experience; legs burning as you tried your best to come down with grace …. Half way down, these so called fell runners showed me how to do it!!! But there was no chance I was throwing myself down the hill….. Once down all in one piece (only two slips) I scanned in with the marshal at the bottom and off around to the next main checkpoint, a very gnarly path which caught me out quite a few times so took it easy here. Another checkpoint, water bottles filled and away off down a forest road where you could have a run before coming to another sweet climb!!!! NOT ! It was straight up a rocky climb which was very slippery but halfway up I met Santa 🎅 . Go on then, photo time ….. but again, my gloves took a good half hour to pull back on while climbing up and over the top.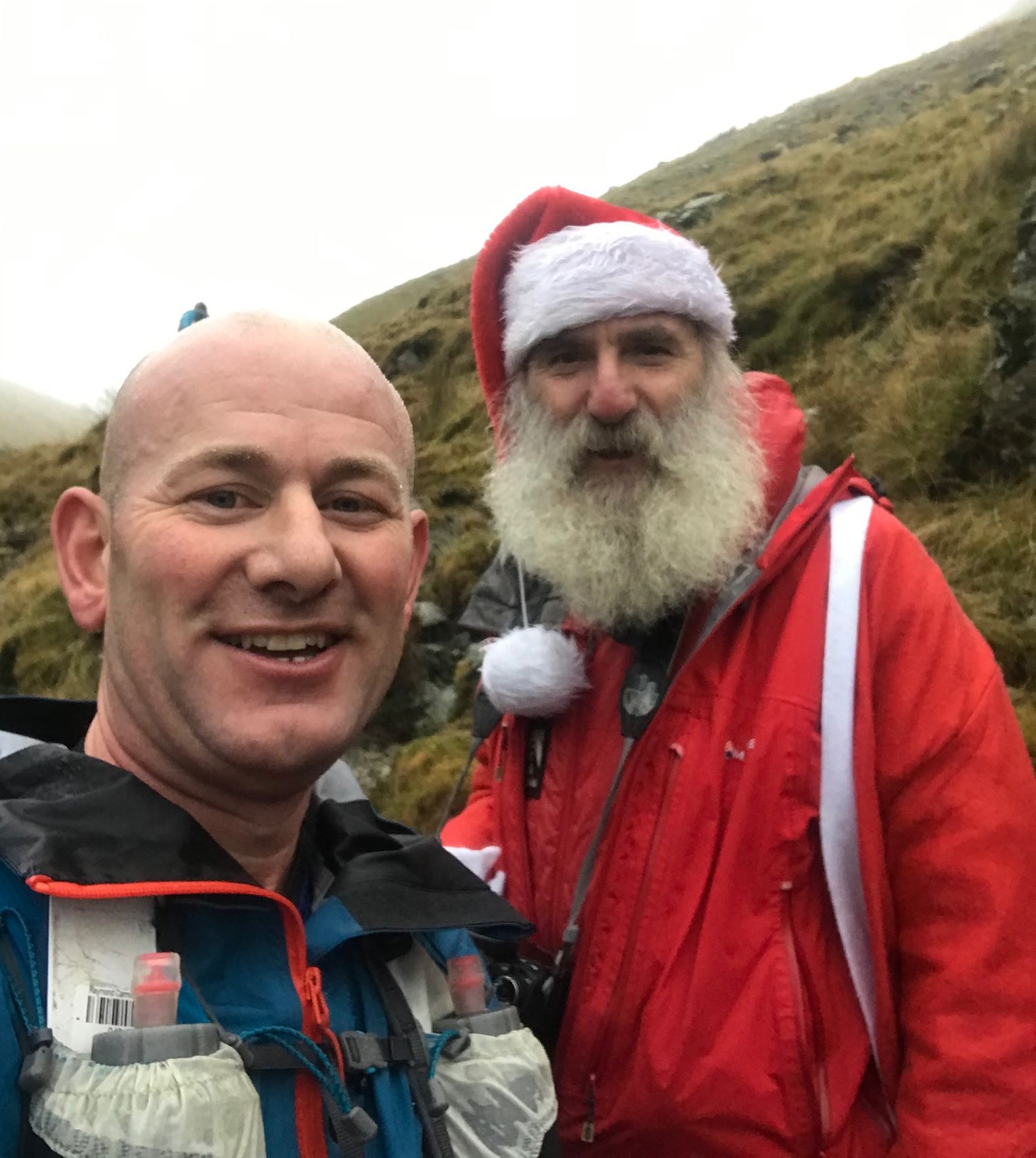 I should have taken a left turn to follow the path down…… but no……. I followed two lads straight over the top and down the other side which was hard and daft as I hit knee-deep bogs and a few big holes to boot….. but it seemed a faster route and it took me to the bridge where everyone was heading. You could do this if you knew the ways…. but I wouldn't do that again !!! "Stick to your route!"
The miles were building up now and the body seemed okay. I kept up the fuelling and just had to keep moving forward, The main plan was for me was to be over the last climb (which was also the first as we went back the way we came) before sunset as I didn't fancy doing it in the dark …… so at the last main checkpoint, I grabbed a coffee, swapped my gloves, put head touch in pocket, filled water bottles and was back up ready for action. Plus, I even had chance to check in with Boss back at home as I had a phone signal. It didn't go to plan though as she thought I had finished but I still had another 10 more miles to go. The response was not great but I'm sure that's called positive encouragement 😂😂.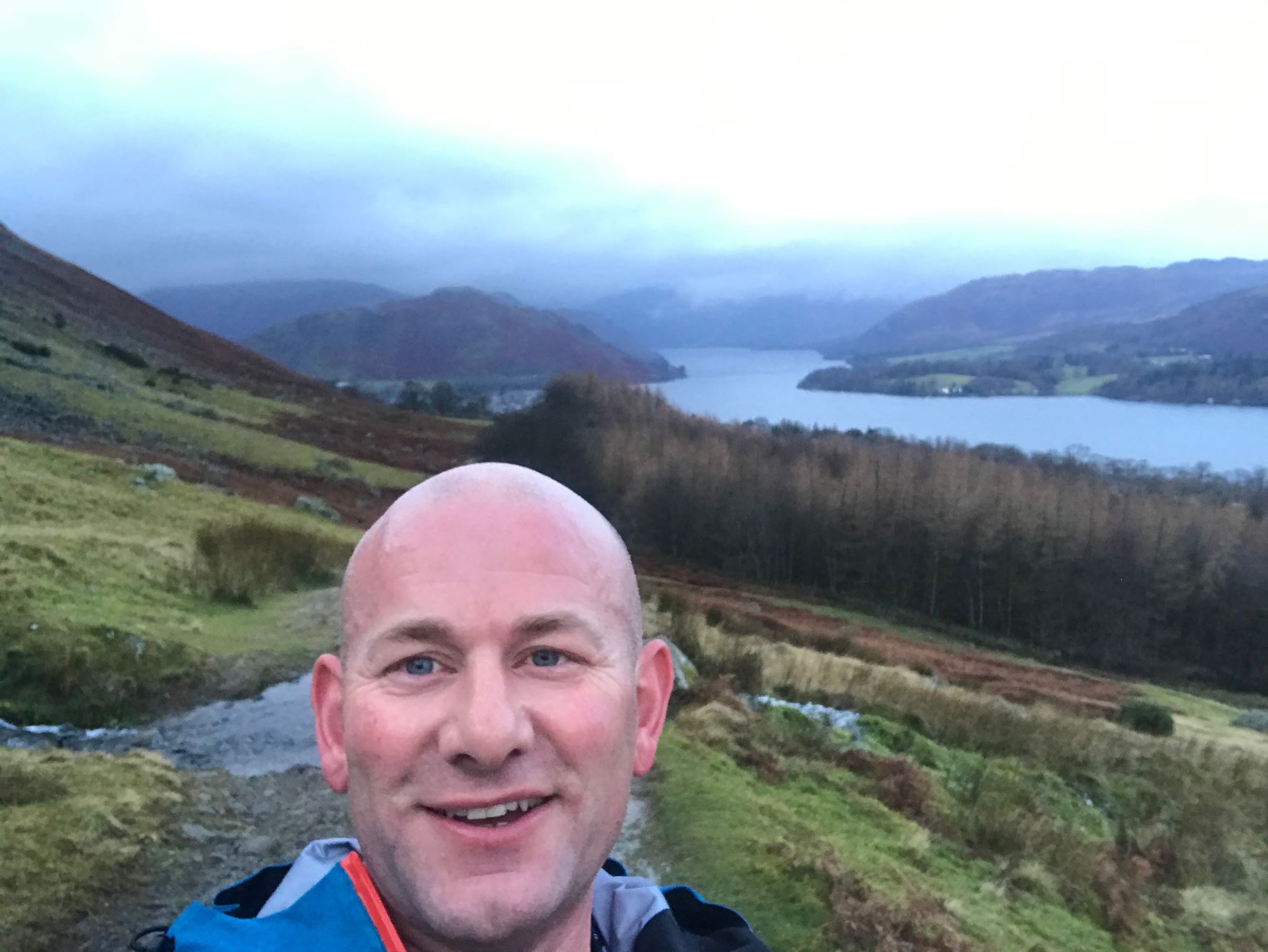 Up and over all safely done… nice one. Now for a little run along the farm road back to the church and a turn back along towards Pooley Bridge – a long uphill slog. Now as the day passed and darkness had fallen I slowed it a little as the path was a minefield for trips and falls – so close now to the end I had to be sensible. With around 3 miles to the finish this was where you had to remember where to turn as in the past it had caught a few out and I didn't fancy any free extra miles…. But all was good heading for home, footing better for a little run, passing people "yes passing!" At this stage of the race I must have had the famous Joe's soup in my head; "not far now" I thought but that thought was longer than before, now it was dark.
Down, back in Askham and the village hall in sight, all lit up, I was like a moth heading to the flame. It was a great feeling. Through the door, scanned back in safe and well, handed a nice new buff and a slip of paper with my time. In the hall it was all tables set with food and Joe's soup… I was greeted with handshakes all round by Gazza and his friends (who I've met in the past, a great group from Peterlee Runners). After a quick change and a good feed, I headed to the pub next door for my sixth pint of the year!!! (now back in double figures) The pub was like an oven so off we went to the Golden Arches for a fill and a milkshake: good call 👍👍.
Rising the next morning….. (well you could say rise) we fell out of our sleeping bags and made tracks for home ….. But just one small stop off; the café that probably everyone drives past over the A66 on the top. Full English all around… "cherry on the cake" 😁
So to sum the weekend up: great event, well organised, great volunteers, marshalled in places where needed. If you're thinking of fell running or walking out in the hills I can see why the equipment and gear is important as conditions could have been very different.
https://www.nav4.co.uk/ : if you're looking for something different for 2020, some good looking events.
Also well done to Gary and Justin as they both ran fantasticall, plus the lads from Peterlee. Thanks again Aaron for the lift .
And a MERRY CHRISTMAS TO ALL, HERE'S TO A GREAT 2020
(ps my legs the day after feel great…. honest ). RAY out 🙋🏼‍♂️🎤.
Results: http://results.opentracking.co.uk/event/tdh2019?fbclid=IwAR2cWOcog7PxANlt5vQZ0NqYGYIN_xsrZKnJ1O8CnY8PN80jXMK054YjYdA