By Tony Barrass
The weekend got off to an inauspicious start at 6am on Saturday morning…
What was to have been a leisurely 2 hrs 50 min Durham to Kings Cross train journey became a 7 hour marathon Sunderland Park Lane to London Victoria via Megabus courtesy of the rail strike…most definitely a bus but not entirely convinced by its "Mega" credentials….
But no matter!  Mrs B (Christine, a former Harrier herself some may recall …) and I were in London on a glorious early Autumn weekend and after a pleasant evening in our Waterloo hotel and a very early light brekkie we set off to Hyde Park for the 9am start of the Royal Parks Half Marathon. This was an event that had long been on the to do list but we had not yet taken the Chance to do.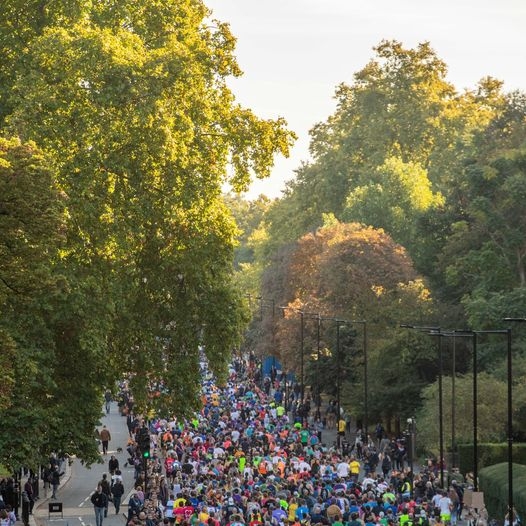 We lined up with c16000 fellow runners on South Carriage Drive and were soon away with our blue wave compadres. The route is a tourist's dream, taking in three of the Royal Parks (Hyde, Green and St James) and many of the classic landmarks. Kicking off through Wellington Arch and down Constitution Hill to Buckingham Palace brought back recent memories – hard to believe what had taken place here less than three weeks ago. A few of the floral tributes still remained in Green Park but looking rather sad for themselves now.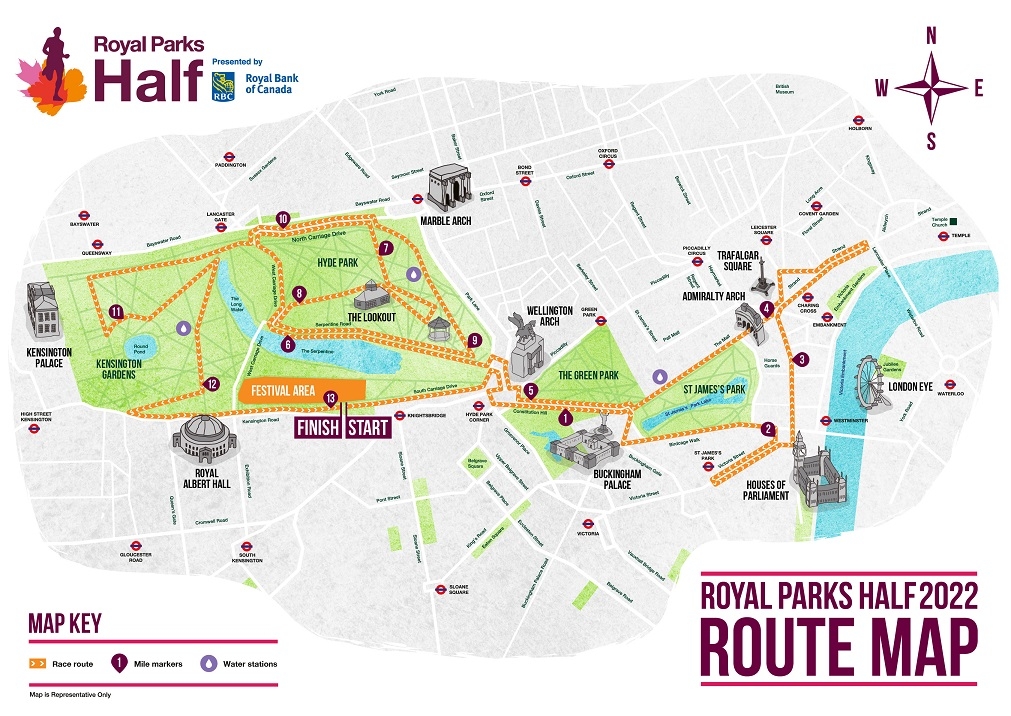 The weather was perfect. Sunny but with a cooling early morning breeze.  It was even possible to do a bit of celebrity spotting, if you can count Dermot O'Leary, Sian Williams along with Eastenders star Natalie Cassidy and Love Island's Priya Gopaldas as such….
And a bit of reverse celebrity spotting back from the crowds too with people shouting "that looks like Pete King's Harriers vest!"…and they were right – it was!  as a spare had been generously loaned to me for the big day.
There was so much to see it was quite easy to forget about running at times. Westminster Abbey, Big Ben, Whitehall (accompanied by random chants from the field of "Tories out" which in my mind required a prefix of "Oggie, Oggie, Oggie"… ). Into mile 4 and  just like Roxy Music we did the Strand although I doubt Bryan Ferry did it this way. Quick double back past Trafalgar Square and out onto the Mall for first water stop and energy gel.
Following that was the only real incline of the course as we headed back up Constitution Hill and back into Hyde Park which is where we would remain for the last 7 miles or so.
Ahead of the race this was the part that concerned me most as it consists of various loops around the park. Would it be boring?, would there be anyone watching? I couldn't have been more wrong – It was great – with surprises at each turn and huge support from the sides.
At around 8 miles I developed a bout of phantom cramp. I am prone to cramp in longer events and occasionally the thought of it can actually make it a physical reality, which is what I feared was happening. But I pushed on, getting to the  9 mile water station was the Name of the Game, and thankfully by then I was running freely, if not particularly speedily, pushing comfortably through the psychological 10 mile mark.
The remaining 3 miles in the park passed by trouble free, the finishing straight back along South Carriage Drive past the Albert Hall was long but an absolute joy with crowds a la Great North run.
I finished in a time of 2:09 which I was pleased with and pretty much par for me at the moment. The day was as much about enjoyment as achievement When All Is Said and Done.
Christine came in a short time later which was cracking effort given her recent injury and limited training. At least One of Us was happy!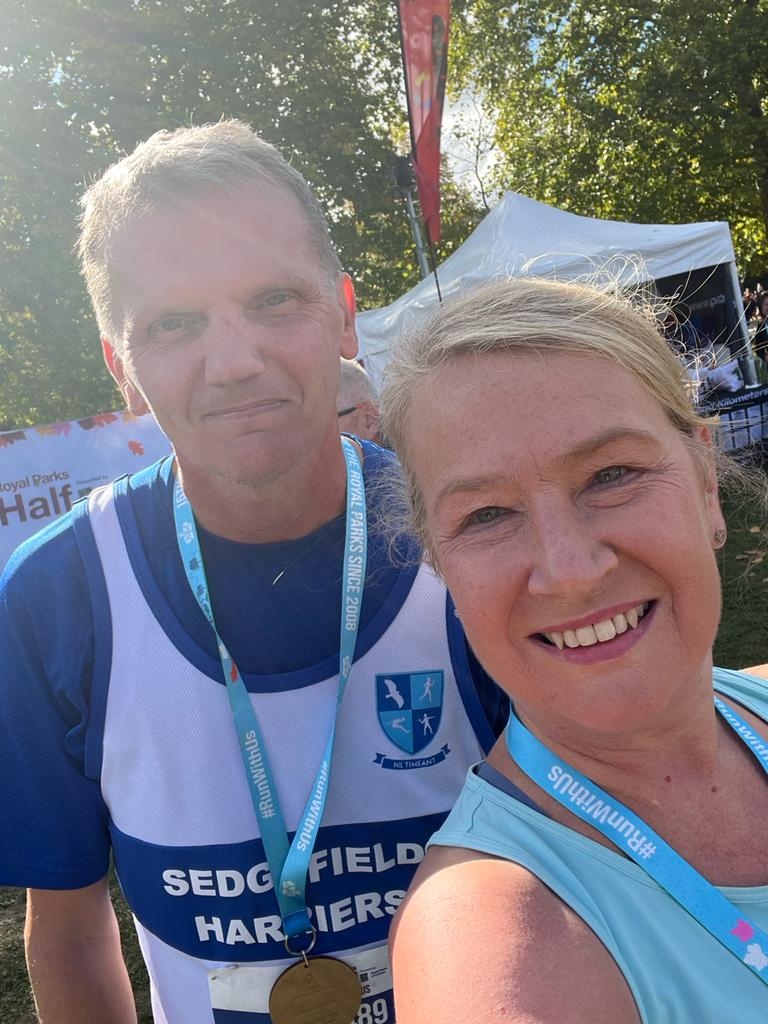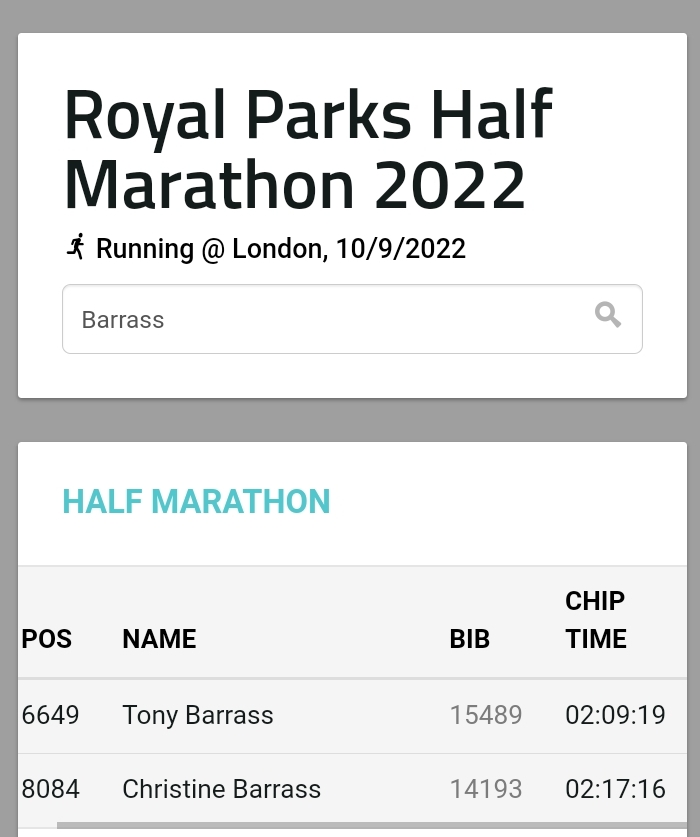 Being Eco warriors (….?) we had opted to "plant a tree" rather than take the usual T shirt. The race really pushes its sustainability credentials, we got a wooden medal too but somehow still ended up with a Royal Bank of Canada cuddly lion and Snood. Ah well, a nice change from Haribo and inedible energy bars.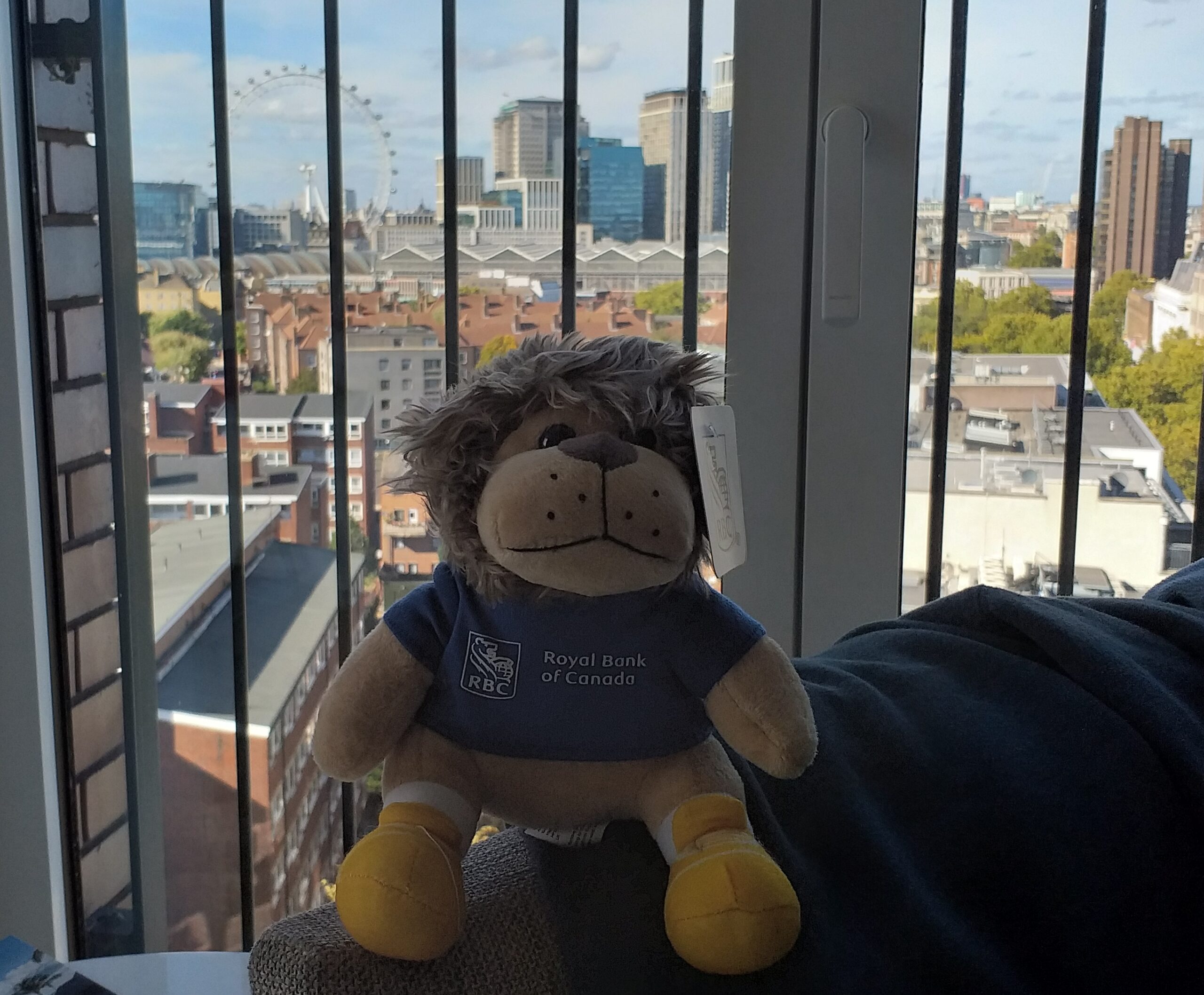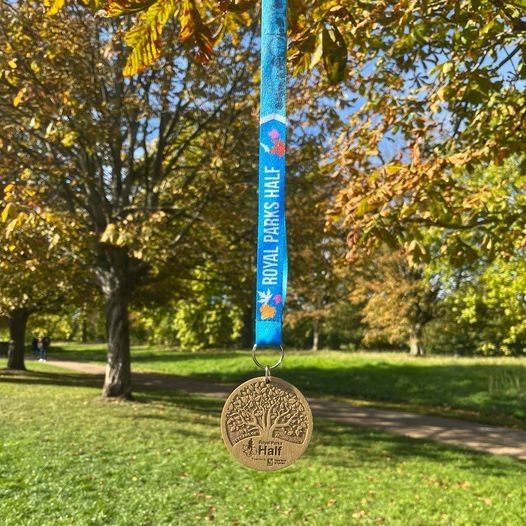 So that concludes my first Harriers race rundown, no more words to say, no more ace to play, the Winner Doesn't Always Take It All  – it was a fabulous event and one that will live long in the memory. Interest for next year already registered!
We completed the day by going along to Stratford on the evening to see the Abba Voyage show, but you may have guessed that by now…. 😊