By Beth Raine.
So, rewind to December last year when this photo pops up on Facebook from Justin and Gary. Raving about how good the marathon was in Valencia and recommending it to Harriers looking for some winter sun…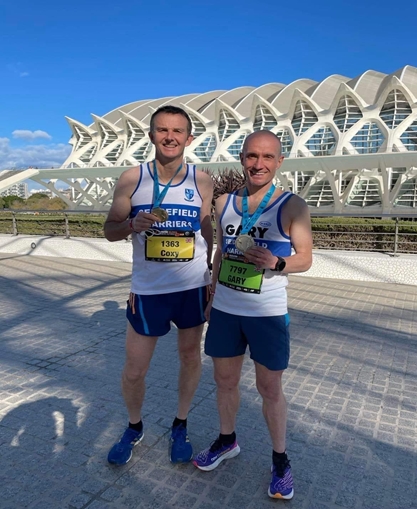 A mere month later in January 2022, following one of their training runs, Mark and Lisa suggest a meal together at the Raines' house to discuss a proposal with myself and Graham.
"How about we go to Valencia to do the marathon in December"? Mark suggests.
"Sounds good" says Lisa.
Now Graham and I were on the spot but having had a few drinks and it being 11 months down the line, we both said yes and promptly put it to the back of our minds. After all, we had plenty of time to train for it and there was the small matter of the Grand Prix to contend with (note Mark, Lisa and Graham all won their respective Divisions – just me that couldn't make it a full house because of that pesky Dave Round)!
We had a few more "planning" evenings which were code for beer, cider or in my case, wine whilst we loosely discussed arrangements for the fast-approaching race.
However, when August came, I realised December would come along quickly and I really ought to do some training that meant running over a 10k!
Training for us all had its ups and downs. Lisa suffered with injury and did Chester whilst she wasn't fully fit. Mark picked up an injury too and was laid low for a while. My training was going okay until I got a cold at the end of October which kept me out of the game for a couple of weeks (more of that later).
Luckily for me, I had the benefit of company on longer training runs with Georgina Letts being a particular star and nagging me to make sure I drank and ate enough on the longer ones. But I also had the company of Tracy F, Sue D and Anna on my last long one which was a 20 miler.
Friday 2nd December arrived and an early start to get us on a flight to Alicante then a hire car to Valencia.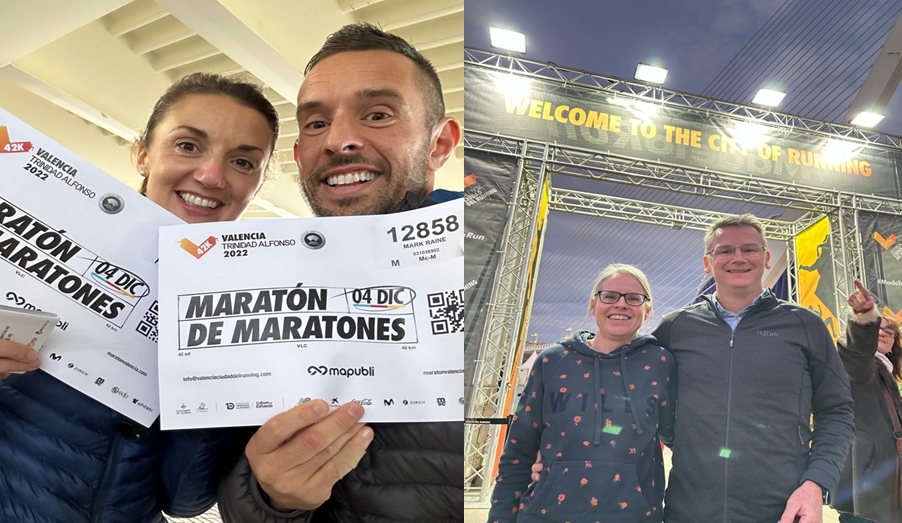 We arrived and went to the Expo to collect our bibs, t-shirts and goody bags (I love a race that gives out the t-shirt before you do the race, means you can back out)!
The finish area looked amazing, and we were excited to see what it would be like on raceday.
It soon became clear that perhaps Graham and I (Lisa and Mark are the speedy ones so they were okay) had bitten off more than we could chew. Everyone looked like an elite runner, and we also discovered the cut off was 5 hours 30 mins so it wasn't full of "fun runners" like at UK based marathons, everyone here meant business.
That feeling was compounded on the Saturday morning when we did the 5k Breakfast Run when again, everyone else looked like they were Eliud Kipchoge wannabes, and I was out of my depth!
However, it was good to get a few miles in the legs the day before and of course, we had to run there so it was 5 miles in total.
Pre-race fuelling involved pizza, cider and wine (Lisa Darby's tried and tested method) and an early night.
Now what I have omitted to mention is that the cold I had got in October (the one I mentioned earlier) hadn't really shifted and Mark had picked it up in the meantime. This meant neither Mark or I were feeling on top form but neither of us intended on missing this opportunity, so we decided to do just do our best and see how we got on. My aim of beating my 2019 London Marathon time of 4:53 looked optimistic and Mark's target of 3:15 was in the balance too.
However, Race Day arrived, perfect conditions….dry, sunny and an 8:25am start meant it wasn't too hot. After a slight panic of where we all needed to be (Lisa missed her wave but the marshals let her head off before the next wave, so she had some clear traffic) we all set off. Lisa first, then Mark, then Graham and I bringing up the rear in the over 4 hour wave.
My plan was to NOT do what. I did at London, and set off too quickly. 10:30min/mile pace was the aim and I pretty much stuck to it. The question is, without Paula dragging me round the last 12 miles, could I do this on my own or would I crash and burn?
Now let's talk about the course. Whenever I saw Justin or Gary at Cross Country in the months leading up to the race, we would talk about Valencia. Both still raved about their experience months later and reassured me it was pancake flat. They weren't wrong. It was super flat and as I am not a fun of any incline (or bumps in the road as Mark likes to call them), this suited me down to the ground. The support on the course was great and although my Spanish is not great, I realised that chants of "animo, animo, animo" were words of encouragement which helped push me along.
I felt good, I felt strong and I made a deal with myself that providing I got to 20 miles by 3:30, I had an hour and 15 minutes to shuffle the last 6.2 miles to get me in on my new target of 4:45.
I knew that Mark and Lisa would have finished their races by then and would be tracking me and Graham so I didn't want to let them down.
20 miles came after 3:27 but whilst I knew I would slow down, I tried to hold on to some sort of pace, praying to avoid hitting "the wall". Now it's at this point, my previous marathon experience helped. I knew it was going to hurt, I knew it wasn't going to be pretty, but I'd managed it before, I could manage it again.
The last few miles were brutal but the approach to the finish area was around the centre of the city where the support was the loudest. With 400m to go, you drop down onto a blue carpet and it looks like you are running on the water that surrounds you. I suddenly heard screams of "Beth Beth" from above and it was Mark and Lisa on the bridge cheering me in. I managed a smile and arm wave and even a sprint finish (I have no idea where it came from). I looked up at the time and it was 4:38 gun time and on my watch it was 4:37:54! I was so happy!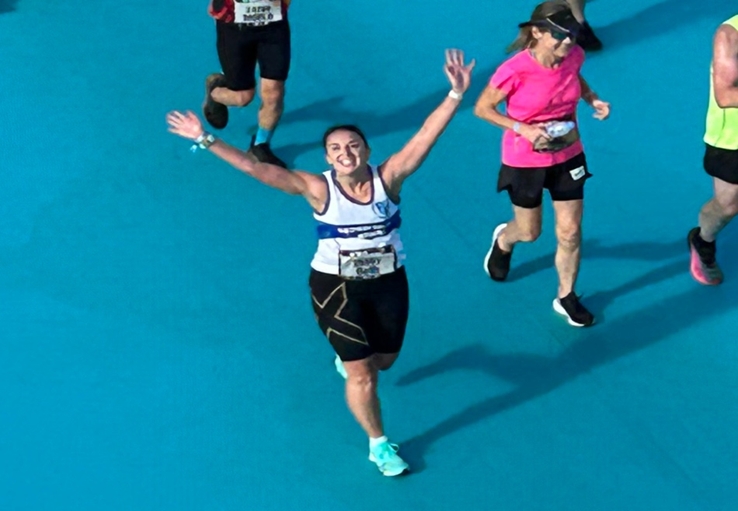 With the second goody bag of the weekend collected (with some unusual offerings which included broccoli) it was time to find Mark and Lisa to see how their races had gone…had they hit their targets?
It was never in doubt, a 3:11:29 for Mark, 3:15 dead for Lisa and Graham… (having deployed Jane's run walk strategy) he came in at 5:12:32. PBs for everyone!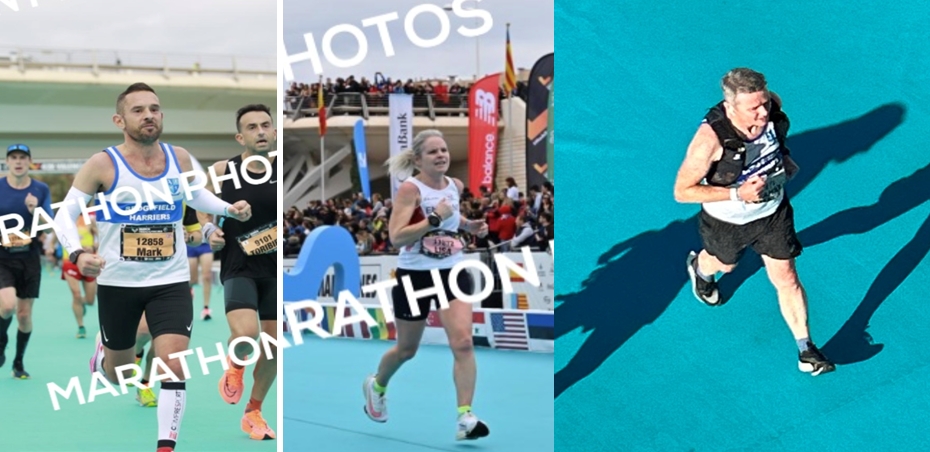 So if you fancy some winter sun in a beautiful city on a pancake flat course, I would thoroughly recommend Valencia!