In recent years, the Hamminkeln Citylauf has become a firmly fixed item on our calendar: this year was the fourth time that we've visited Sedgefield's twin town in Germany to take part in their annual running event. The very first visit was supported by the Twinning Association and we were welcomed by the twinners, race organisers and the Mayor of Hamminkeln, Bernd Romanski.
The organisation of the weekend is now largely in the hands of our friend Hermann Terhorst and, although every year's programme is broadly similar, it is steeped in big smiles and friendly "hellos". It doesn't matter if you don't speak German, you can't help but feel warmly welcome!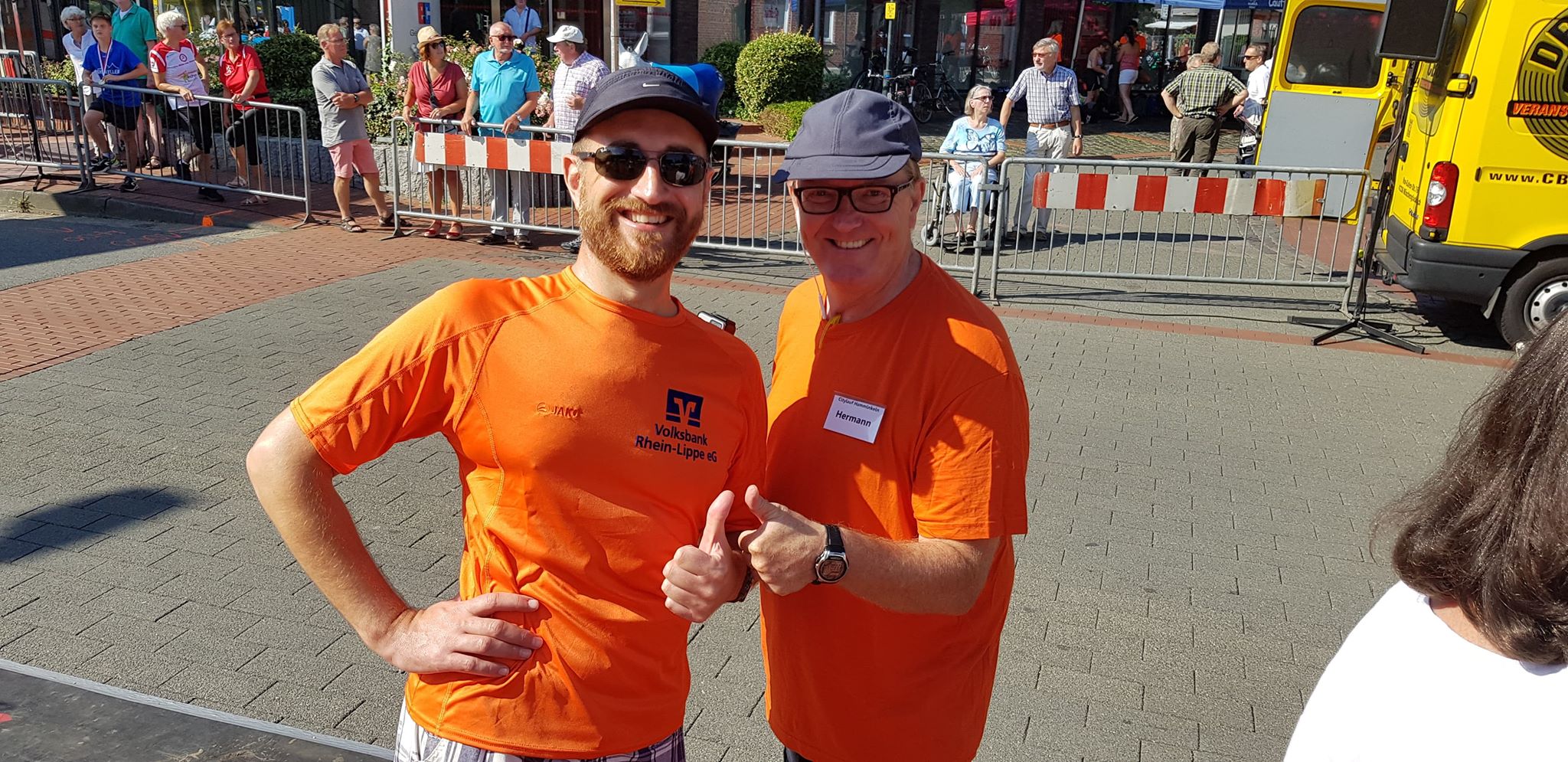 After our arrival on Friday evening, the Sedgefield delegation and our host families met up with the Citylauf organising team and the Hamminkelners that will be coming over to Sedgefield in September (all in all about 35 people) at the Thunderbike Road House, an "open air" roadside café on the edge of Hamminkeln – a great evening to meet old friends and make new ones!
On Saturday morning, the group met up again to go on a leisurely 30+ kilometre bike ride around the pretty (and flat as a pancake) Niederrhein. It was a gorgeous (hot) day so to be out on the bike and feel a bit of a breeze on your face was actually just perfect! Rolf Lindau, manager of the Volksbank in Hamminkeln and main sponsor of the Citylauf and Pete and Grace's host, was great and really looked after us all, providing us with drinks and a hearty lunch in the open air and even entertained us with a little local history at each stop!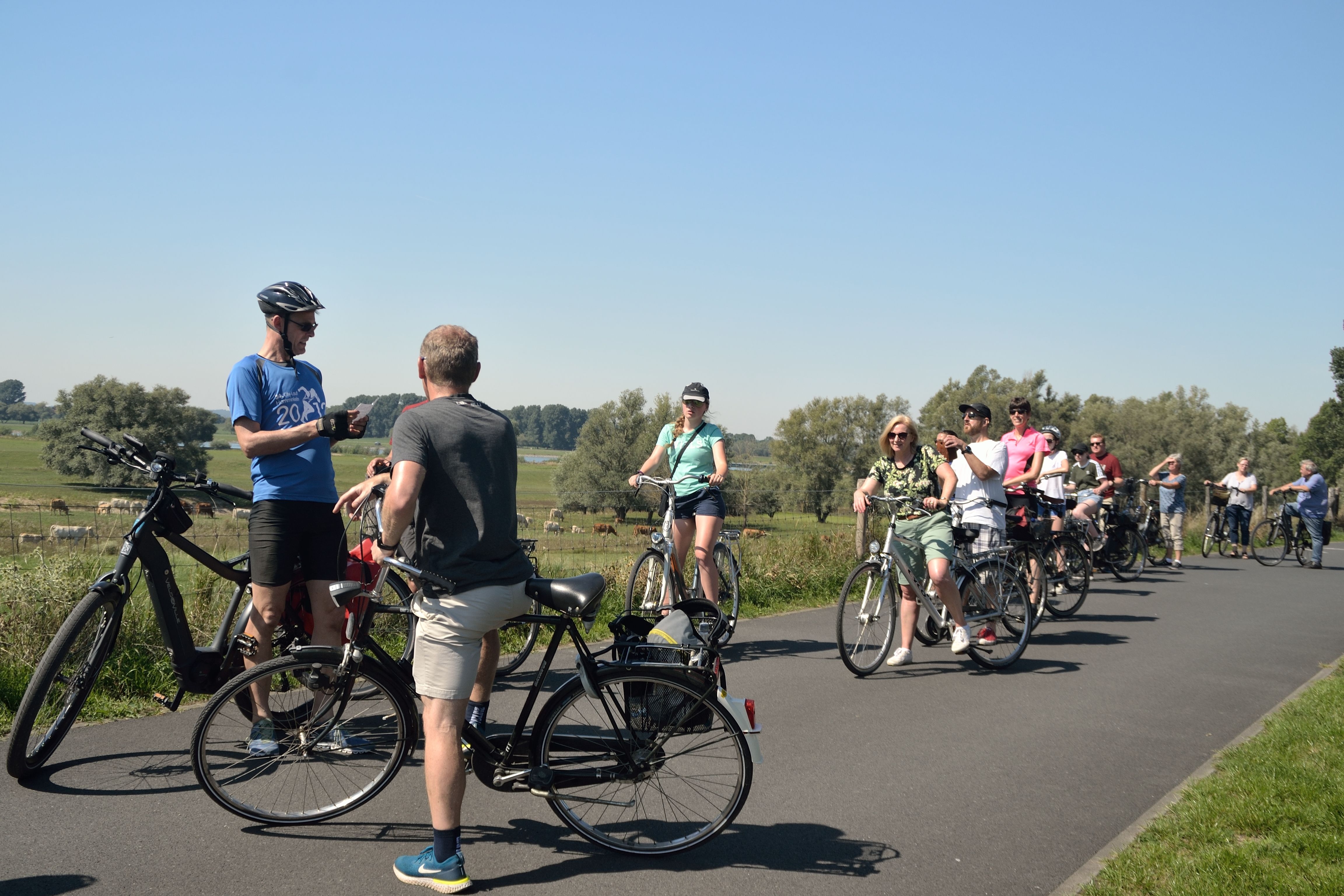 After a drink in the square and a much needed rest at home, we met up once more with the usual suspects at the celebrated "Biermeile" to enjoy some of the local beers that are rumoured to make you run faster! And how heart warming it was to hear "Hello Sedgefield!" from people who had visited Sedgefield on a previous twinning exchange, now recognising us and just wanting to welcome us! We were all treated to dinner at a local Italian and had some fascinating conversations about the historic division between East and West Germany and Berlin, race records and what Brexit means to us and them…
Sunday was race day. Well, many of you will know that I usually whinge rather a lot before a race and this was no exception –  but at the end of the day, as much as I was whinging, I wouldn't have missed it!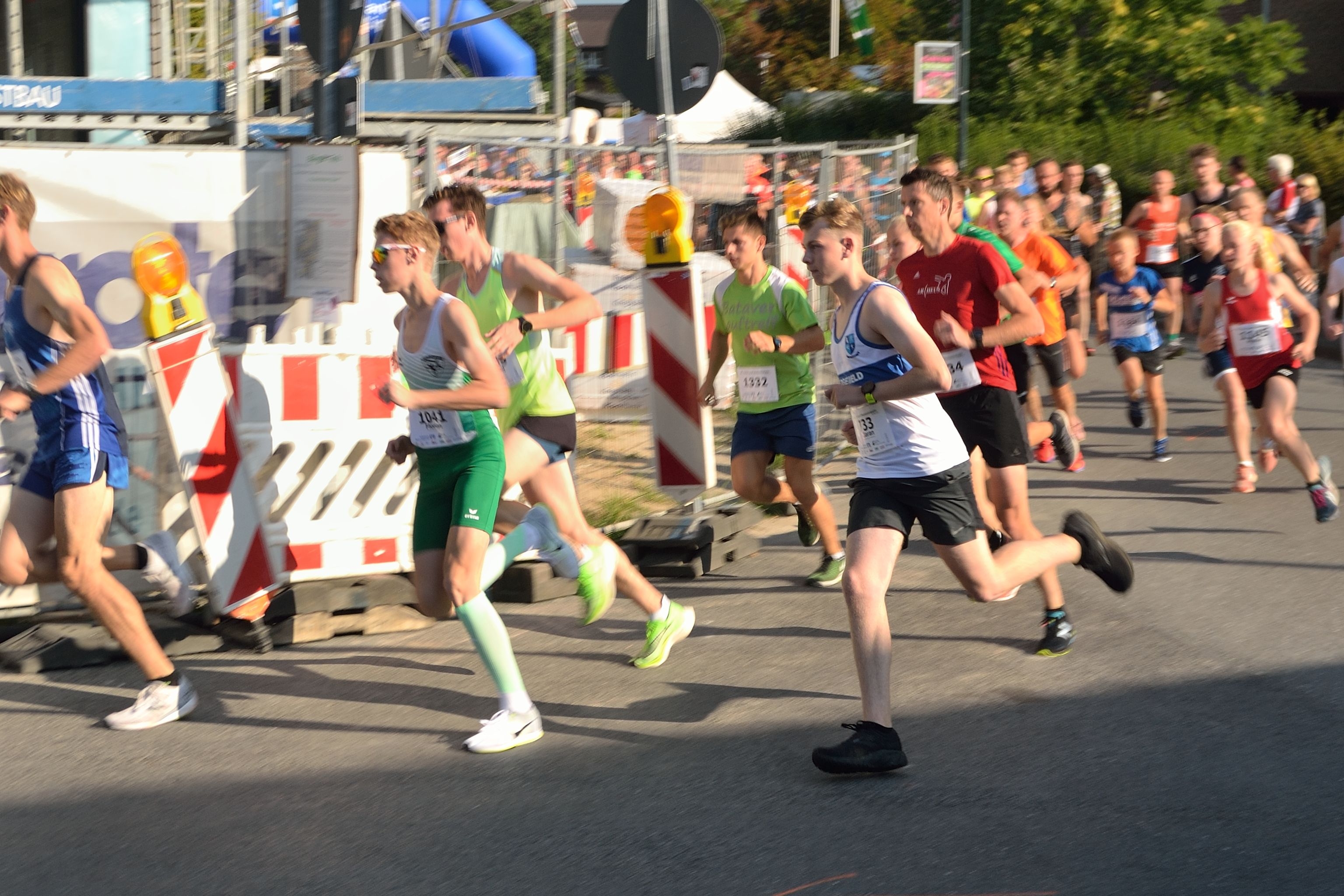 The 5k race kicked off at 9.30am while the temperature was still somewhat bearable and probably hadn't quite hit 30°C yet. At the B of the bang, Ciaran, Ellie, Laura and I set off for our race and soon spotted the rest of our gang along the route (close to the drum band!), cheering us on.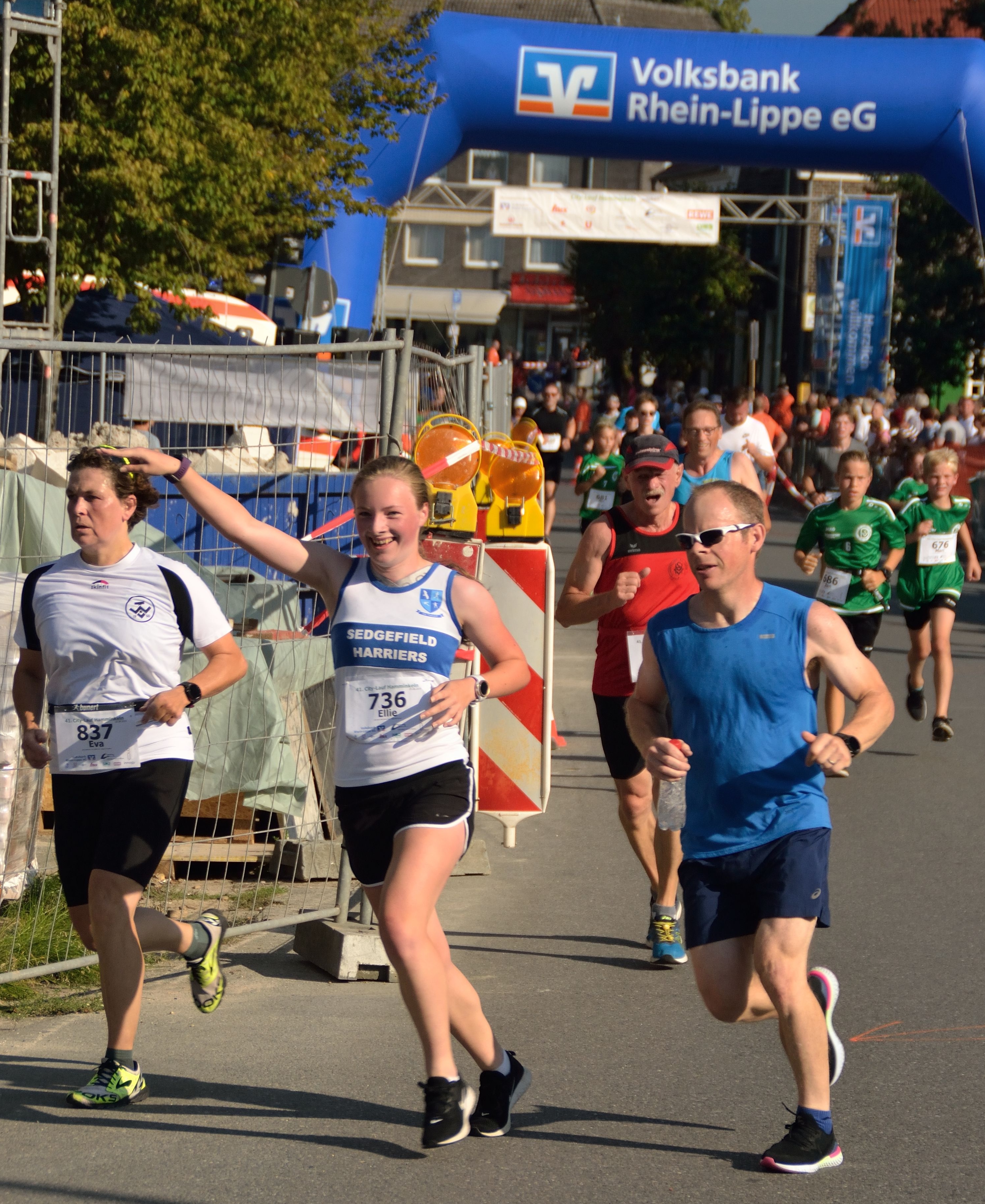 I really appreciated the cheers, particularly when not everybody needed to be there yet with the 10k route not actually starting until 11am (when it would be even hotter!). Closer towards the end of the first lap were most of the Citylauf organising team (our friends!) so many more encouraging cheers and high fives, and as I passed the halfway point, the announcer shouted through the tannoy "And here is, all the way from Sedgefield, number 729 Alda Hummelinck!" Other than at previous Citylaufs, I don't often get announced and it really gives you a buzz!
On the second lap, I thought I'd be sensible and accept a cup of water at the water point but then decided that to drink it would be too complicated so I just chucked it over my head. There had also been an elderly gentleman who had been watering his garden but, on request of bypassing runners, started spraying us – otherwise, I joined everybody else in the thin strip of shade along the route.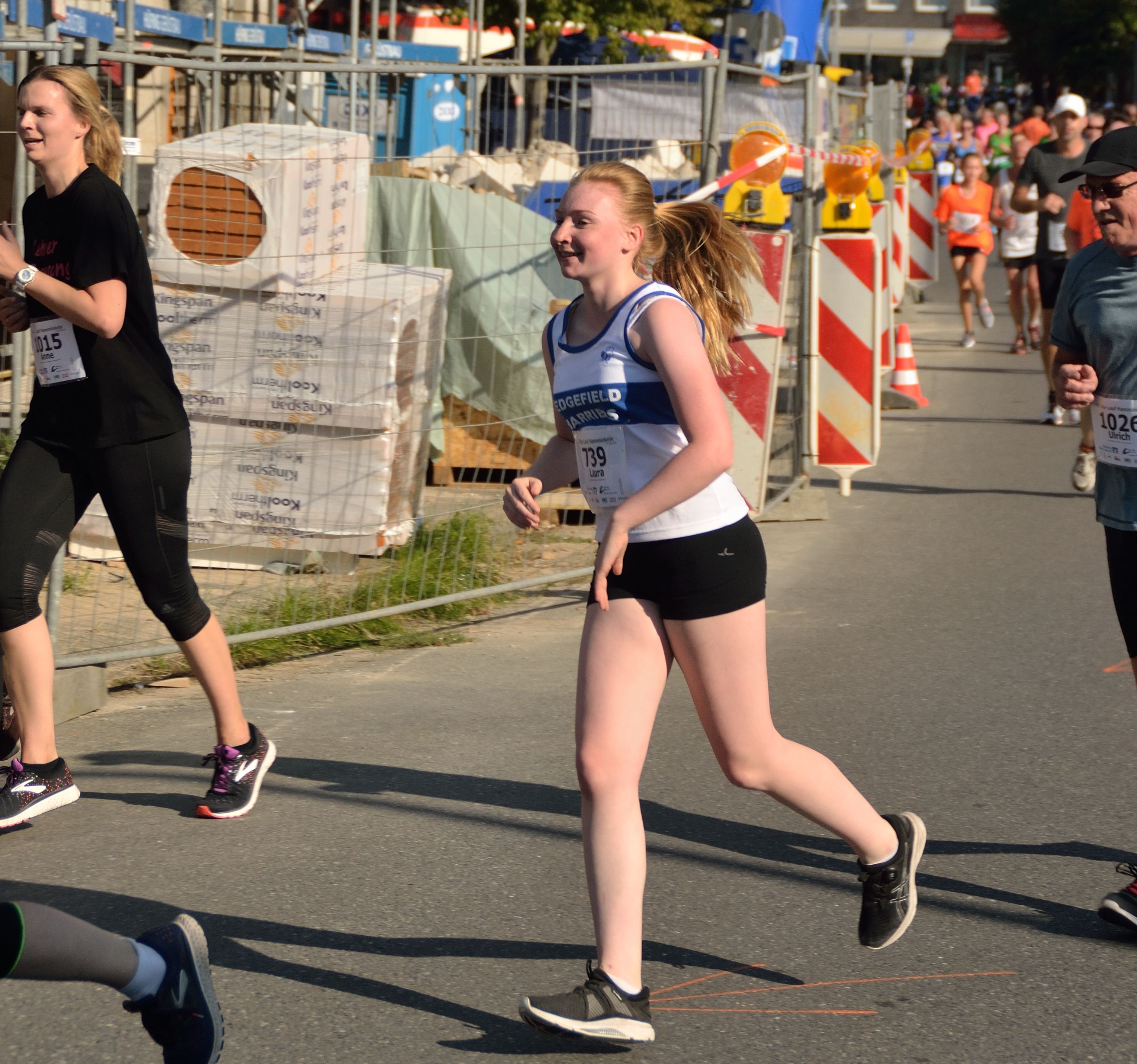 On the home straight, I attempted to do a "parkrun glory" home sprint but while focussing on driving my arms, I think I may have forgotten to pick up my knees. Never mind Frances – one day I'll get it all together, and I still managed to pick off at least another five runners on this last little bit!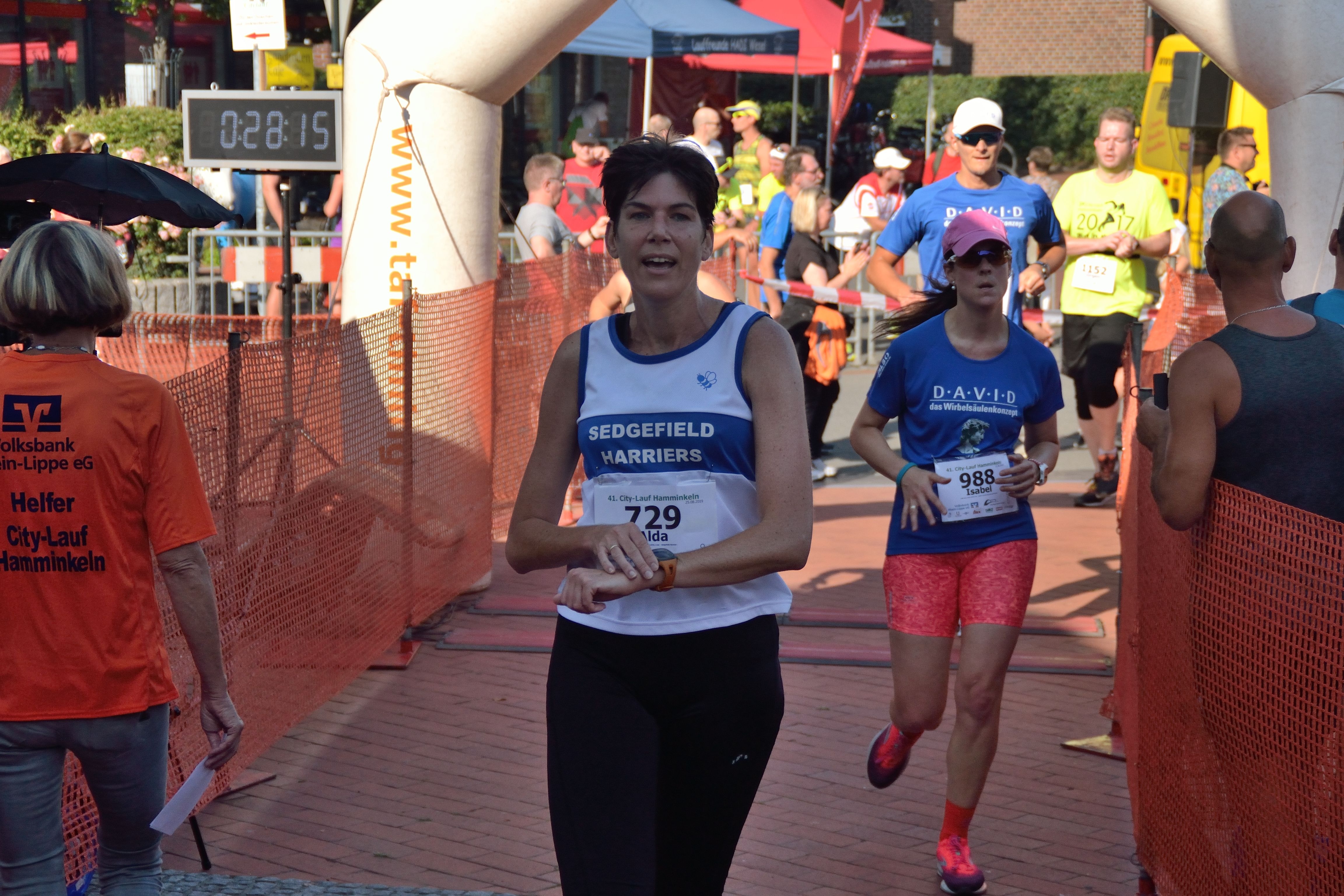 As soon as I'd crossed the finish line, I saw the Mayor and Anneliese Hecheltjen, Chris and Ciaran's host, but couldn't yet catch my breath to speak so gestured that I would get a bit of water first, but unfortunately, when I got back they'd gone.
Phil had offered to marshal so was at his post close to the finish when I came in (although I think he missed my amazing sprint finish…) and that's where he stayed for most of the morning. They had him working hard in this job but I think he really enjoyed it, particularly the bambini race – dozens of toddlers running 400m then stopping in their tracks to wave at their parents in the crowd!
While the 10k racers were getting ready for their race, Ciaran very quietly collected his 3rd prize for his age category (with a time 18'53")! Ellie absolutely smashed her 5k PB by a minute (23'46")! And for the record, my time was 28'01" which I was quite happy with. My best (recent) parkrun time was 28'02" so I've beaten that! I was 4th in my age category (again) but I go up an age category next year so I've got my eye on the podium then!
When the 10k race had set off, Ellie and I stood with Phil for a bit, then decided to get ourselves refreshed (soaked) under the cold water shower in the town square – and were soon followed by a bunch of toddlers who thought it was hilarious!
After having had a look at our official finishing photos, Ellie and I joined the others by the drumming band to cheer on the runners who were counting off their four laps around the village in the heat.
Once everyone was in, fed and watered with ample race supplies of water, sugared tea, fresh fruit, cakes and sausages, we all got together for a group photo. I don't know how many cameras were pointing at us but I'm sure some belonged to people that we didn't actually know! Maybe they thought they'd take a picture of these people first and then find out what the craic was – perhaps we were famous? And who was that guy posing at the front? Keep an eye on the papers!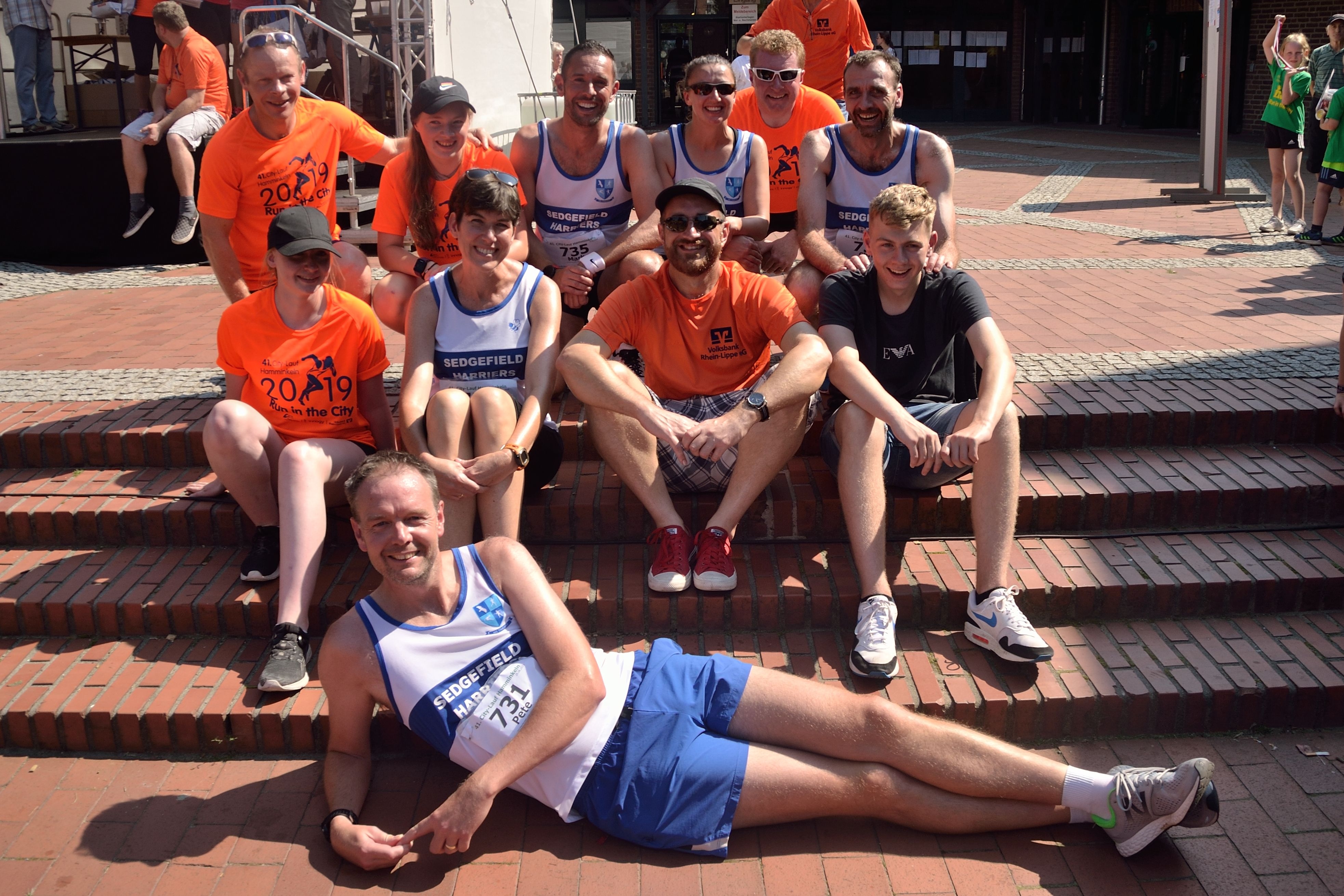 Chris had wanted to collect his certificate for his race (as we all did) but was told that he'd be presented with his later – one way to find out you've made it to the podium! First prize in his age category (39'33")! On the podium he stood next to Nikki Johnstone – a bit of a local celebrity. He is Scottish by background but now lives in Germany and ran this 10k in 31 minutes 34 seconds! In this heat!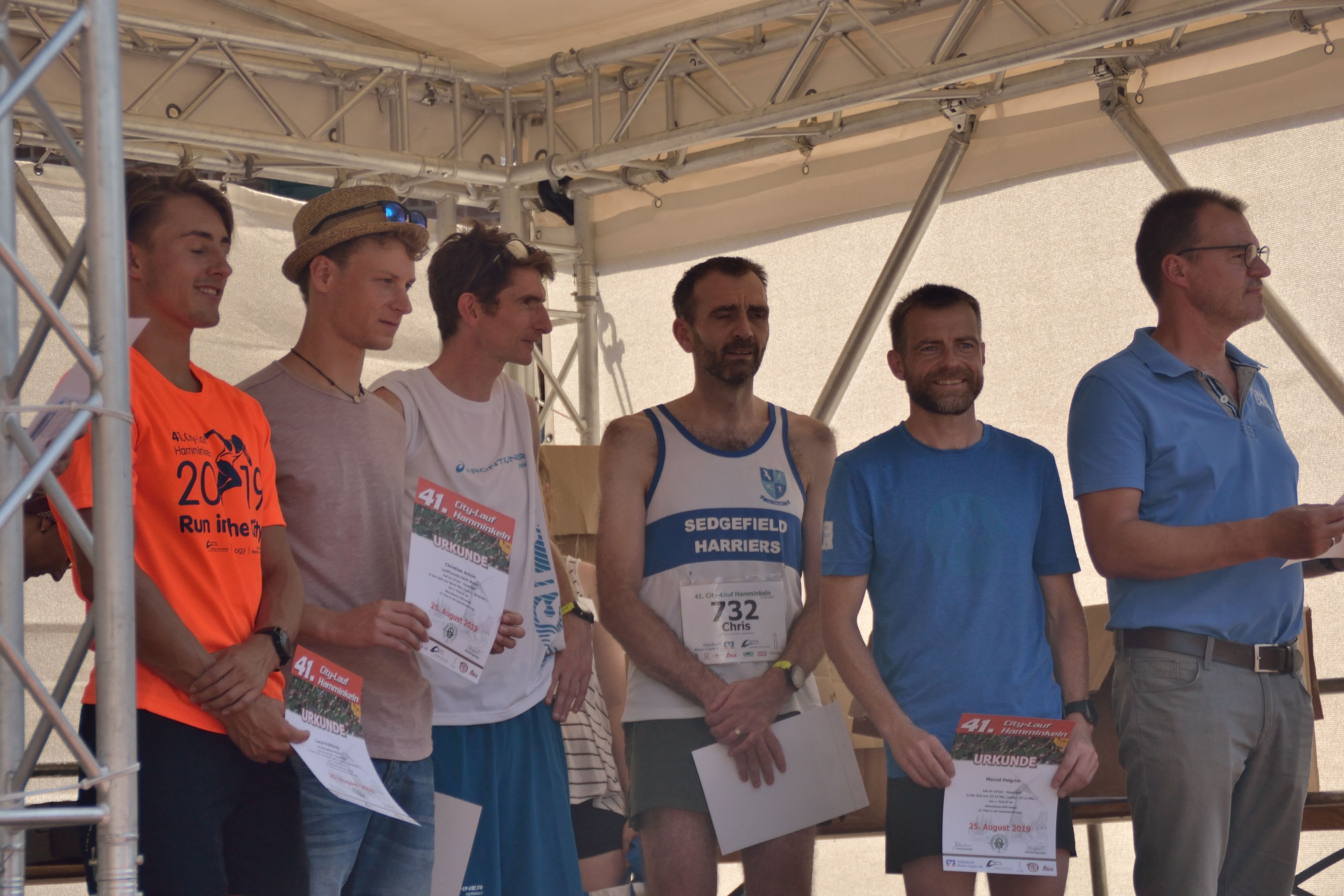 Some of us went to Anneliese's house for coffee and cake after we'd all freshened up (which quickly became ice cold drinks and ice cake please!). Here, we were introduced to Viking Chess – which is an excellent game because it involves almost no skill whatsoever, just luck!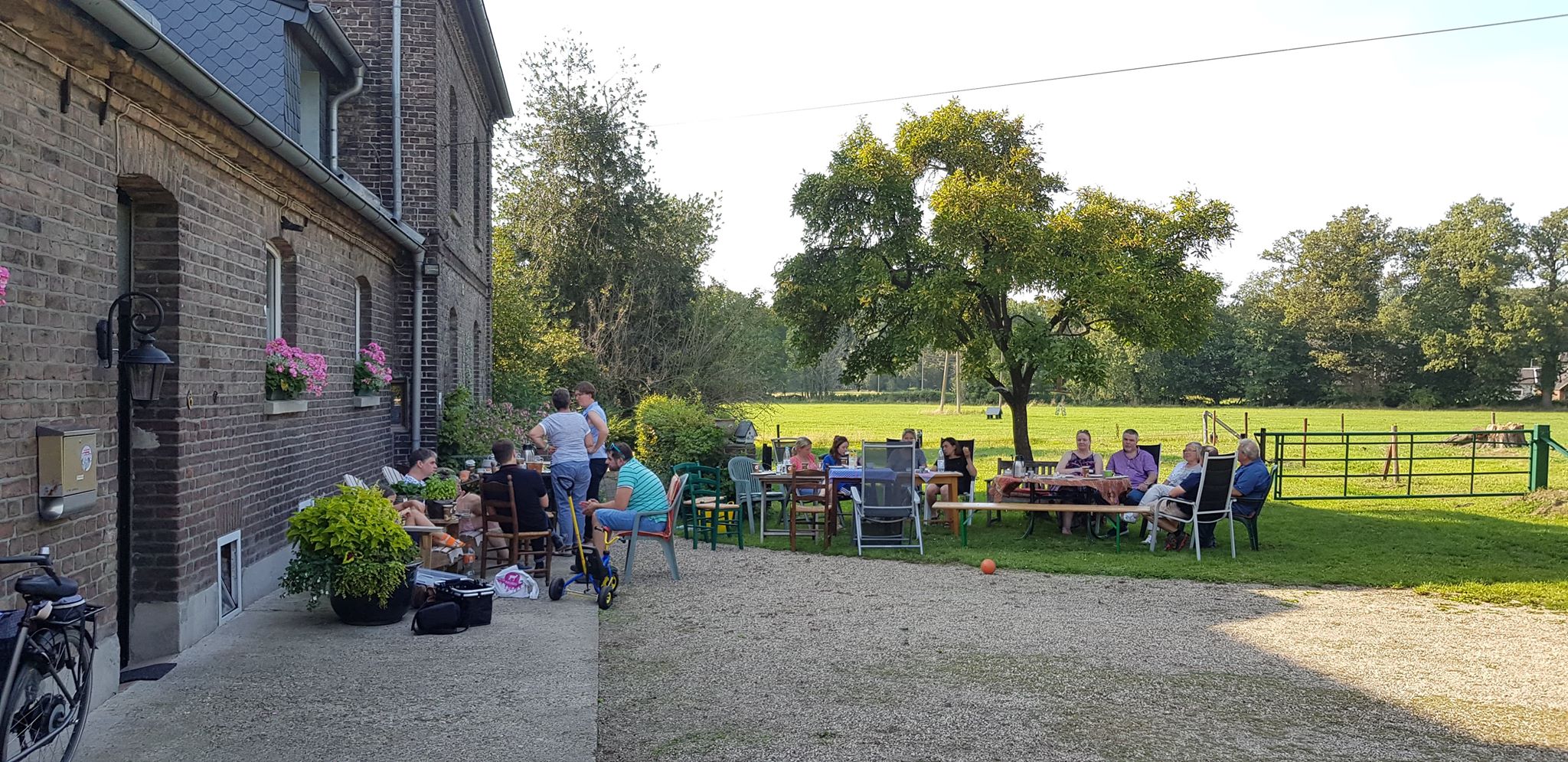 We did have to take a break from Viking Chess at one point to listen to the end of the third Ashes test. The Germans were most bemused to see the tense looks on our faces and wanted to know what was going on, but thank goodness England held off Australia, and the Viking Chess game could be resumed!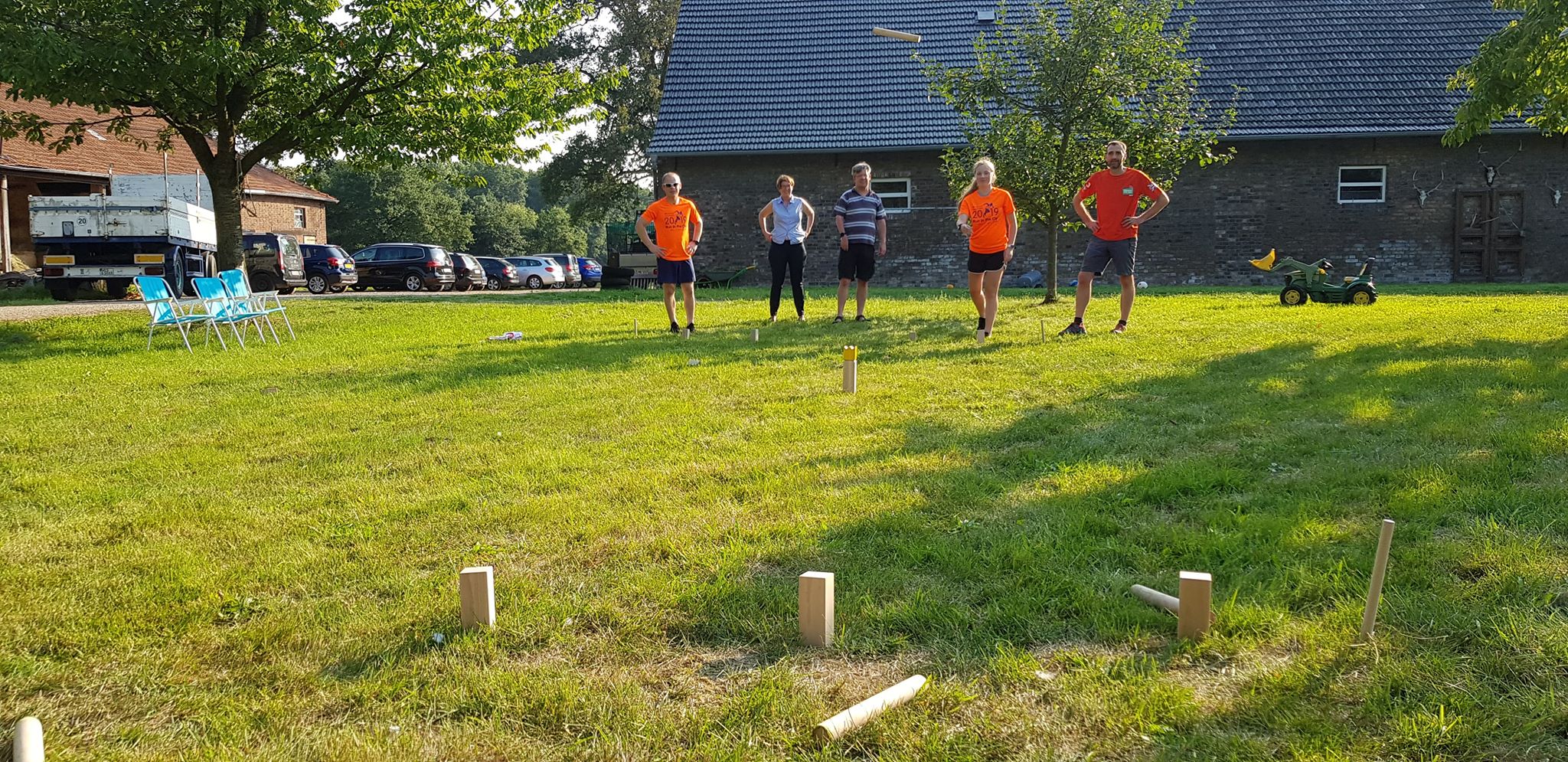 After we'd been out for dinner with our host family that evening, we found that their 8-month old Alsatian had managed to get into the downstairs bathroom and turn the shower on full! The bathroom had been turned into a 3-inch deep swimming pool with the entire contents of the bathroom floating around in it! Luckily there were six pairs of hands to help mop it all up again in no time – and we rewarded ourselves with a well deserved night cap.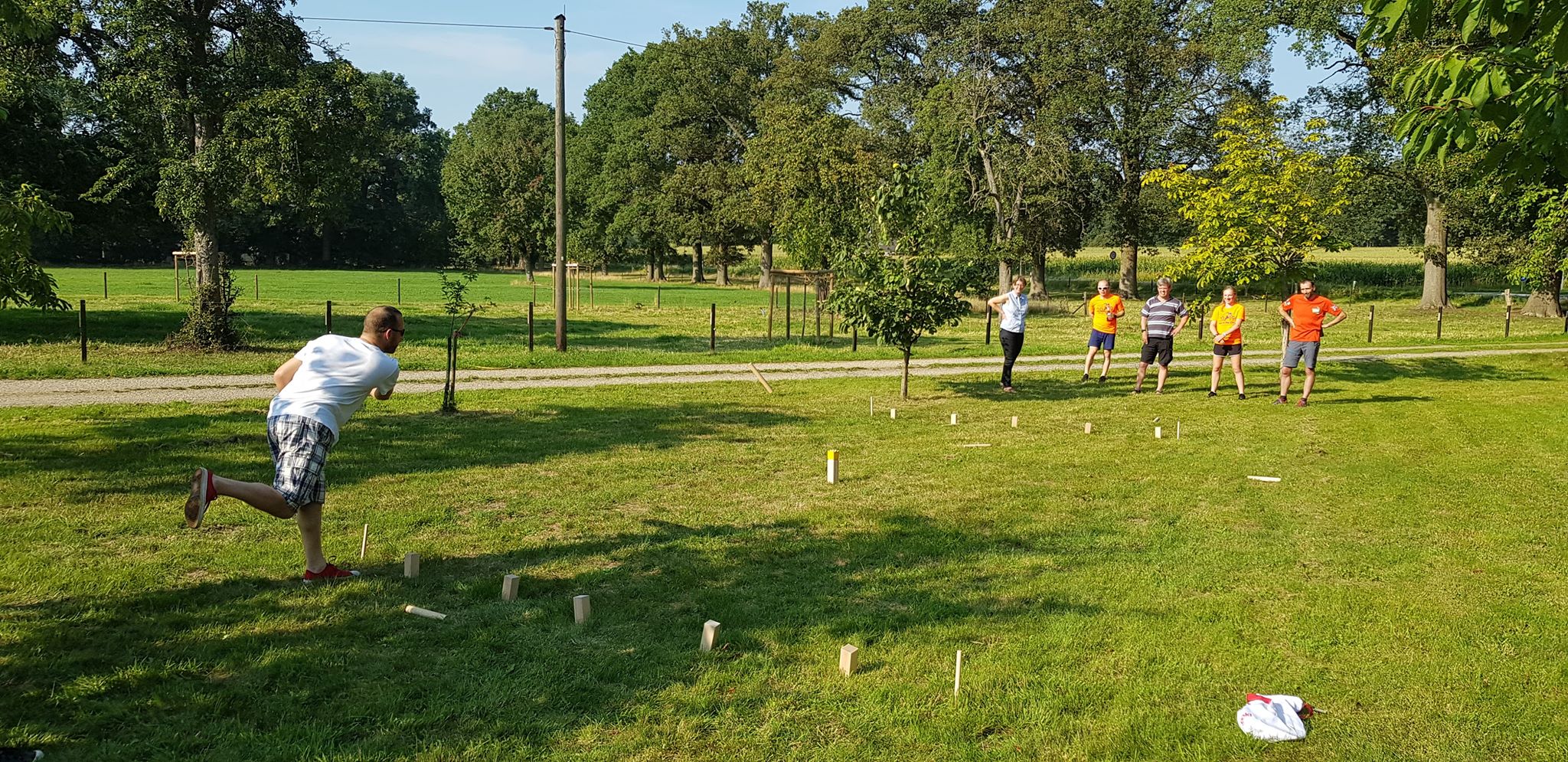 Upon departure the next morning, our hosts told us again "Tschüss und bis nächstes Jahr"!
By Alda Hummelinck
Results: https://my3.raceresult.com/115634/?lang=en