Well this one started by a rush of blood after Washington 10k back in April when getting back from the run it popped up online. Thinking about the other new events selling out quickly I jumped in, signed up and thought this sounds great ???? Checked how far Melrose was from Sedgefield, 2 hours 15 minutes, just over the border ?? Now that's not a quick jump In the car and drive up…. so camping it was.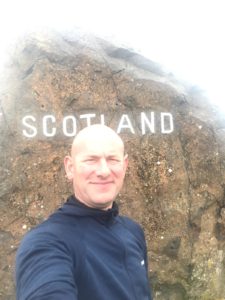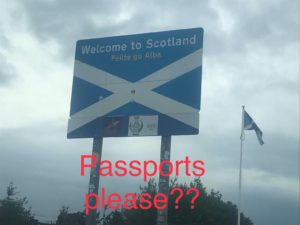 When the day came the weather had turned and camping was looking likely to be a hotel ??? as the tent is 23 years plus old !!!! But no I stuck to my plan….. So "Billy" and I set off up the road. We got to the border when a thought came into my head …. did we need our passports? Well not this year maybe next year !!!! ?? #Brexit …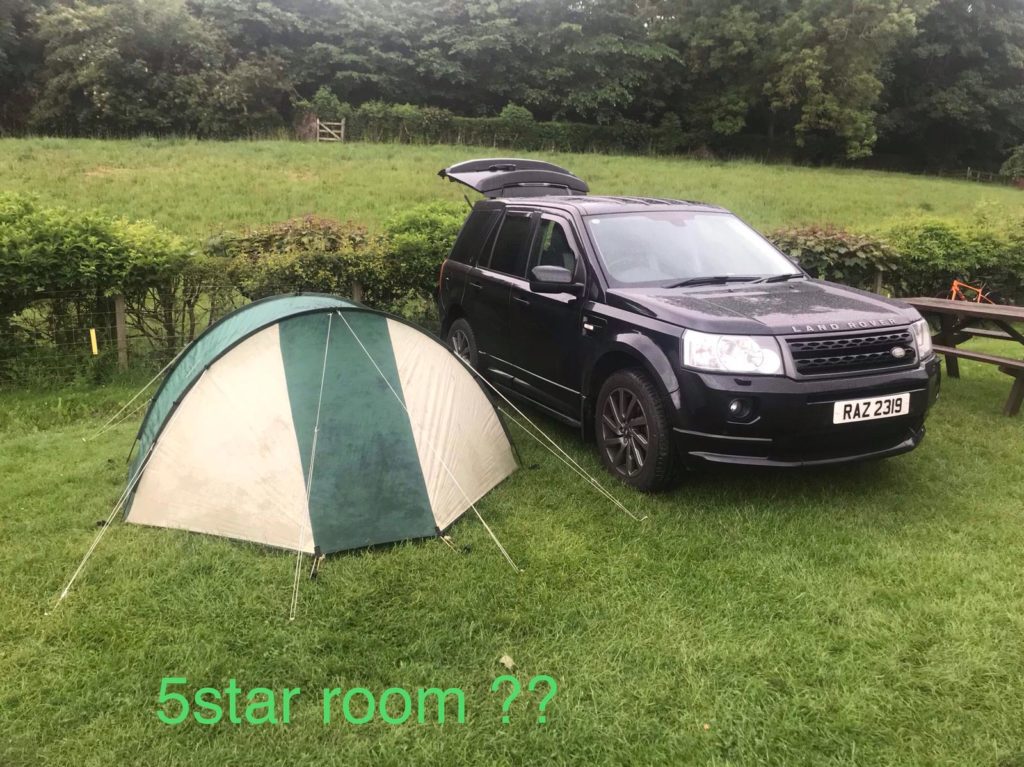 I must have taken the roads like rollercoasters which by the time I got up there I was glad I was stopping over as felt a little sick. The campsite was right next to the end where we were going to be finishing but this was also where we were getting picked up and had to register before things got started so all good. Pitched the old tent and it was time for date night with "Billy 😘…had a lovely meal at a local pub, King's Arms Hotel (if you're up that way ???) and was tempted to see if they had a room as it was still raining, but no…. so an early night it was.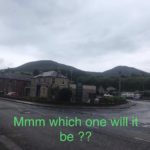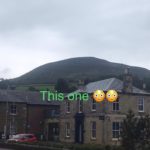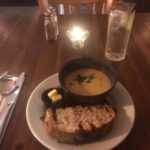 Didn't sleep great as the sleeping bag made me feel a little bit claustrophobic as I couldn't move my legs easily. Also made a camper's error by not looking to see which way the land was falling….. so with legs not being as free l would like and me rolling around it was a great night sleep … Not !!!!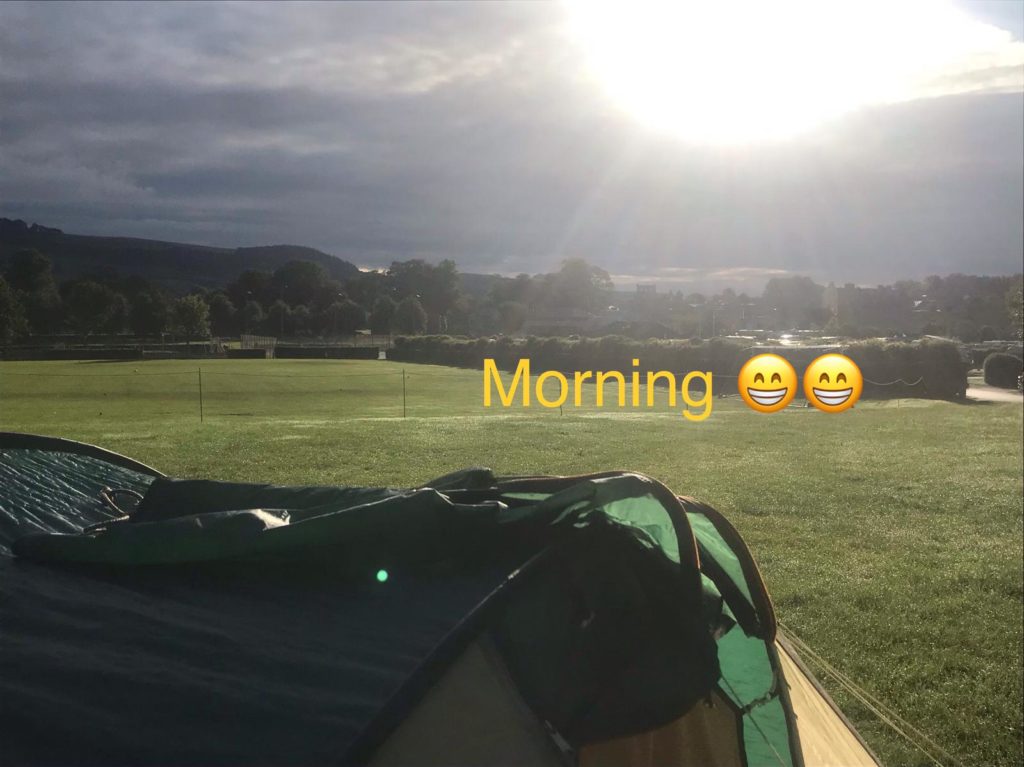 So in morning the sun was up and birds were singing, things looked and sounded great, I packed up grabbed a quick shower and went off to find breakfast. Registration was all set up so I grabbed my number early so no rushing back. Back to the King's Arms, great breakfast and nice coffee, which ended in two cups. At registration already for the pickup, I spotted a lot of familiar faces and all seemed excited for this new event and what was all about to follow…..????
Two double deckers turned up and we all piled on, and off to the start we went. A short ride and a race briefing and we set off into sunny fields and hills from the start. The course was typical Trail Outlaws, straight into inclines from the start, up and over and across some fields and onwards picking up farm tracks (roads) and trails through woods which was great. A nice pace, enjoy the views and some chat with others. Once we were a few miles into the course you could see the hills in the distance "The Eildon Hills" which everyone was talking about, where we were heading. The weather was great, holding up well, sunny and dry and sometimes feeling a little bit too warm.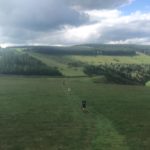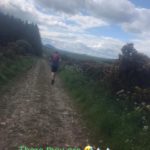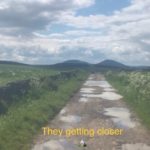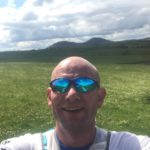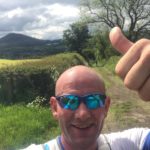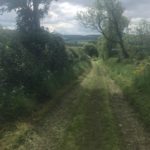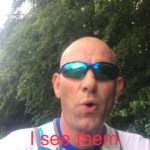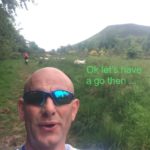 The views along the way were great as I took time out for a few photos (as this was not a race to me, maybe next time???). So l carried on my merry way passing fields and volunteers. The Marshals clapped us all the way…. which helped us pass the day , great to have to find your way…. Well enough of this rhyming there's only one man for this …… Mr Fearnside…. 😁. So the course took us along next to a river and over a great bridge all the time to the hills getting closer….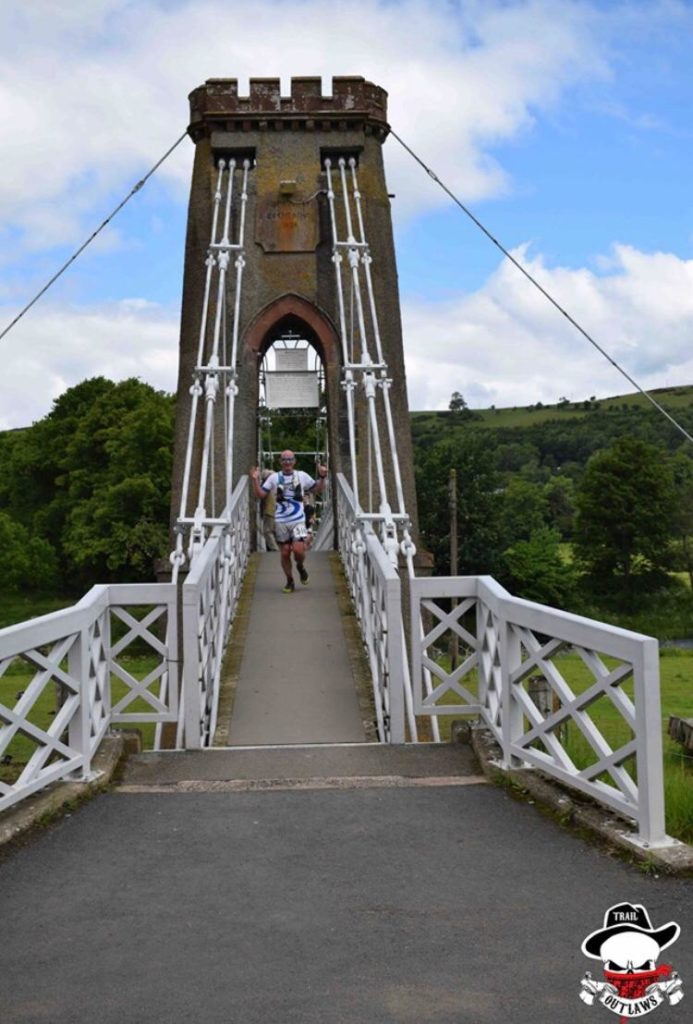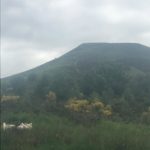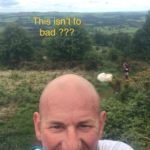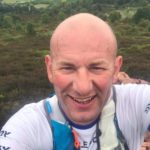 A few miles more and we came into full view of the Eildon hills. I started "The Climb …." just like "Miley Cyrus!!!! " Surely I could just keep on going all the way …. ??? No don't be silly it's a bloody Mountain…. so time for some more photos and some much needed air intake.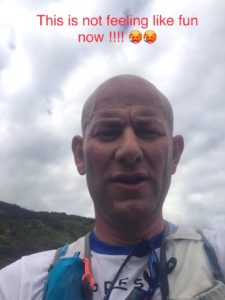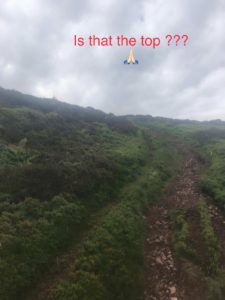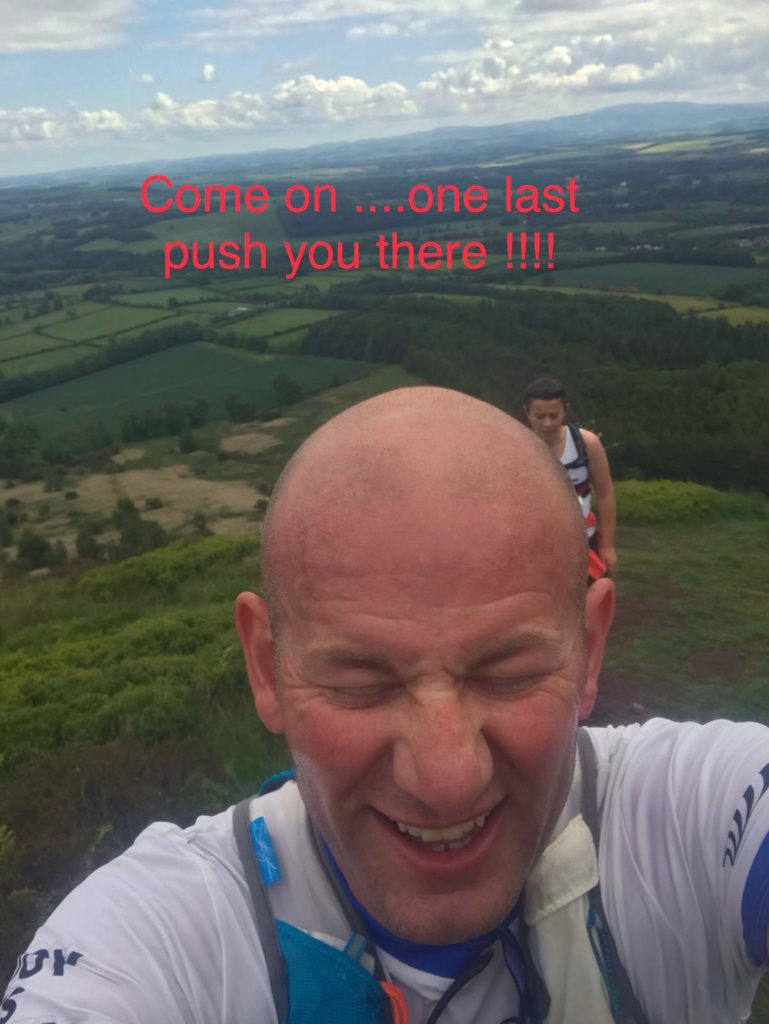 It didn't help that there was repair work going on so the path up was blocked in places so you had to find your own route up…. After few little stops more I made it to the top … "what no snow ???? But the view was fantastic you could see for miles… But it didn't help that someone had somehow driven up the other side, which made think he must be laughing at us coming up over the side we've just crawled up !!!!!! A few more pics and a good drink…… Right let's get a move on and get back down, not far to go now.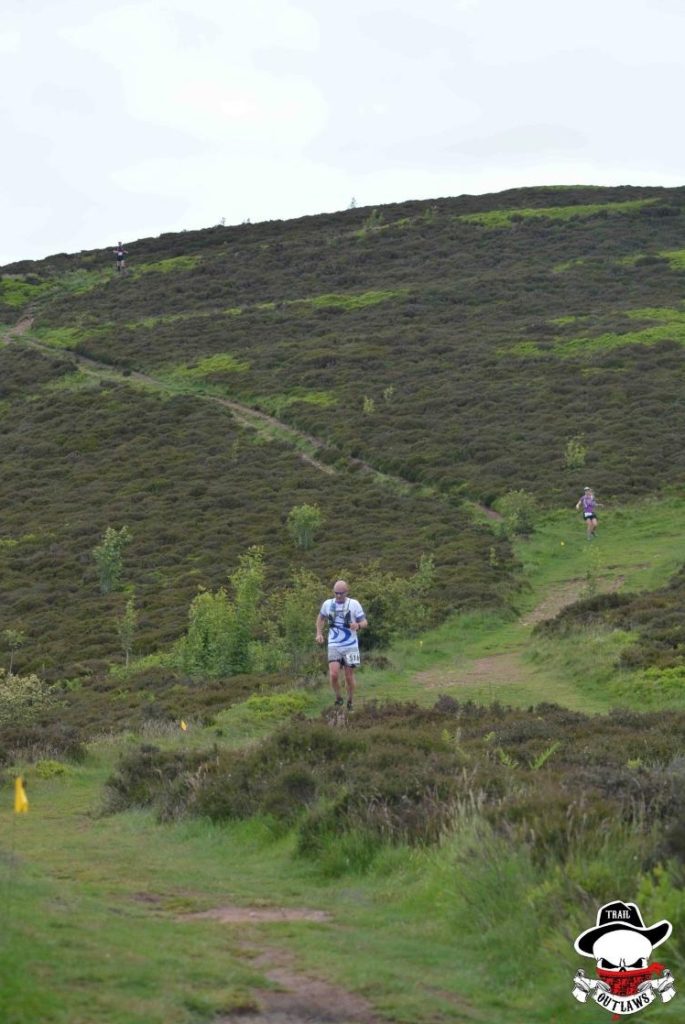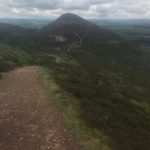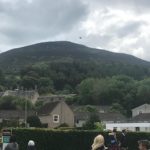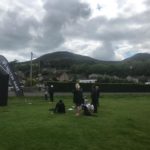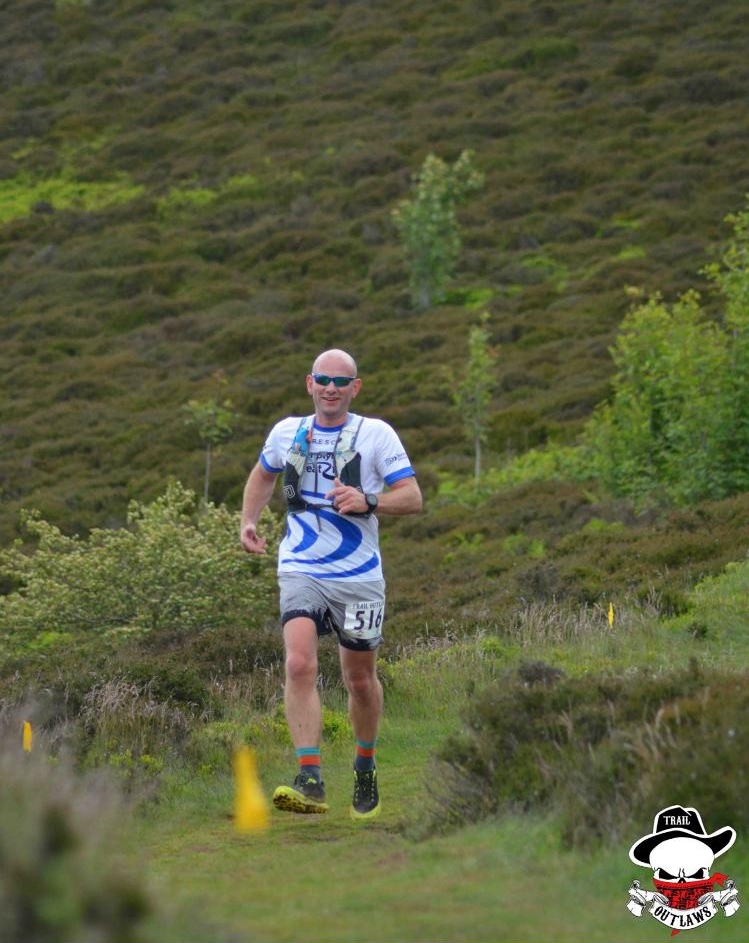 This was going to be fun too. You had to make sure you watched your footing as again work was ongoing this side of the hill (mountain). Running down and around the base of the hill, heading back towards Melrose, it was downhill all the way with some areas where you had to hold it back, through some more woods and out into the entrance to Melrose. You ran though the town and around to the finish which was well sign posted, over the line and a turn to see the hills which we just ran down from, phew!!!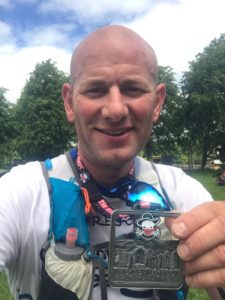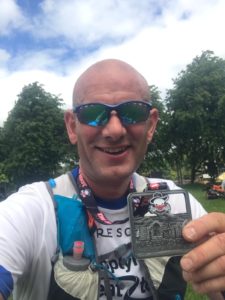 A Nice medal and T-shirt and soup and sandwiches, which I had ordered beforehand! Once sorted and freed I sat with a coffee and watched others coming in. You could see from the finish area right up into the hills, people running down and along the hillside, everyone seemed happy coming in.
A great new event by Trail Outlaws and I'm sure a few of us may try this next year; Tim and Gary were saying it's going to be around July time so watch the website…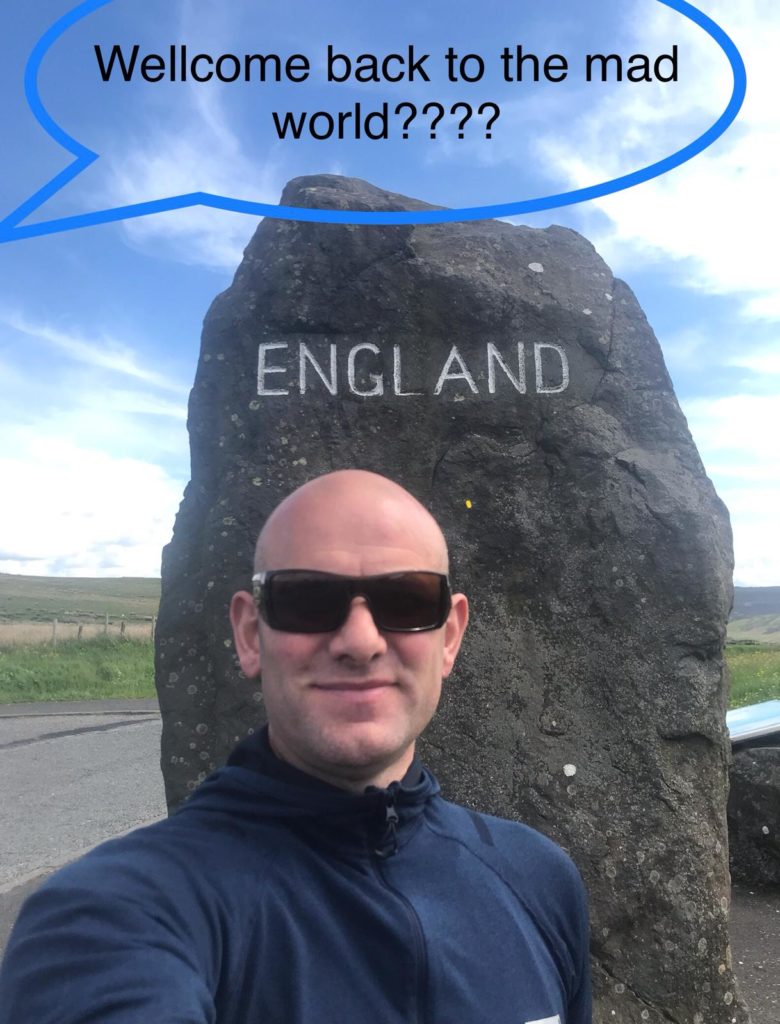 So time to drive back. A nice steady drive, I was thinking of the A68 all the way, but no I went the same way back 😂??
Notes: as it was a new event it seemed to run smoothly and everything worked well.
The course: was just like they had posted, a good kick at the end ….This is why the name ??? Devil's Foot a good kick??? But great.
The campsite: was clean and everything you would need, mainly for caravans and campers but they have a small tent area plus a very small walk to the centre of Melrose.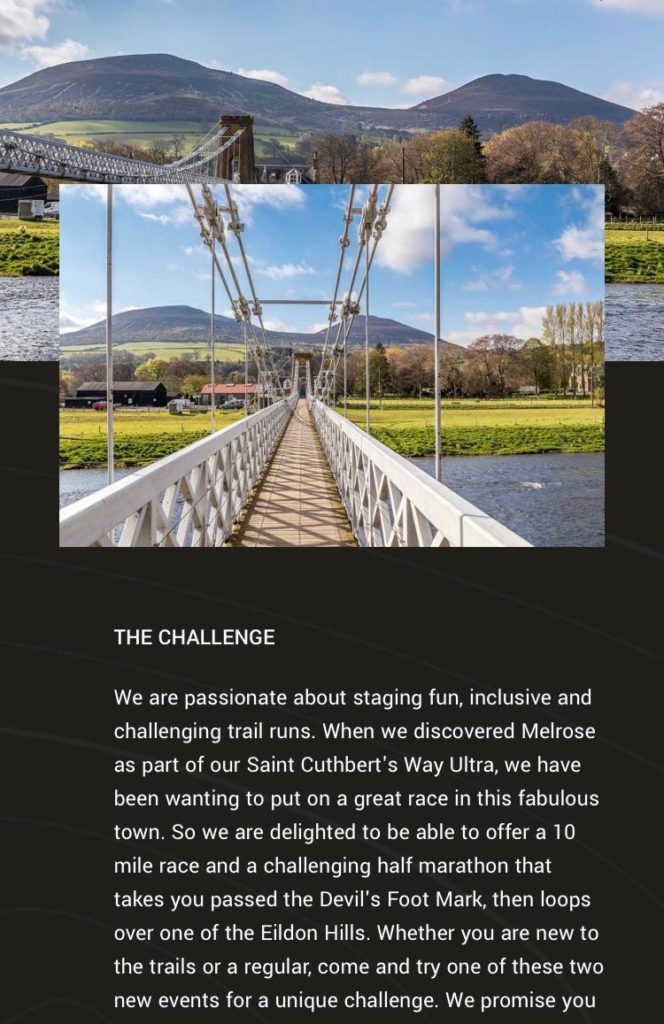 As the event went it's another great Trail Outlaw race, everything you would expect , from the area, hills and views, great stuff.
Would I go back??? Yes, with a little bit of hill training 😂😂
The views …. The views you see ,
The views you feel ,
The views look far
The views are short
The views you love
The views that make you know it's time for tea ,
But the views I saw though out the day will stay with me till I return to thee …….
Sorry couldn't help myself 😂😂😂
Ray out ……🎤
Results: https://devilsfoot.co.uk/devils-foot-results-2019.php