I have been wanting to run this race for the last couple of years, but have had diary clashes. However this year was different, other than it being Father's Day (sorry husband 😉 ) I was free.  This year also had the added bonus that it was a Grand Prix race,  so, safe in the knowledge that I would be running with lots of fellow harriers I signed up for the race.  It wasn't until after I signed up that I realised the race was also known as Durham's most brutal half…… what had I let myself in for?????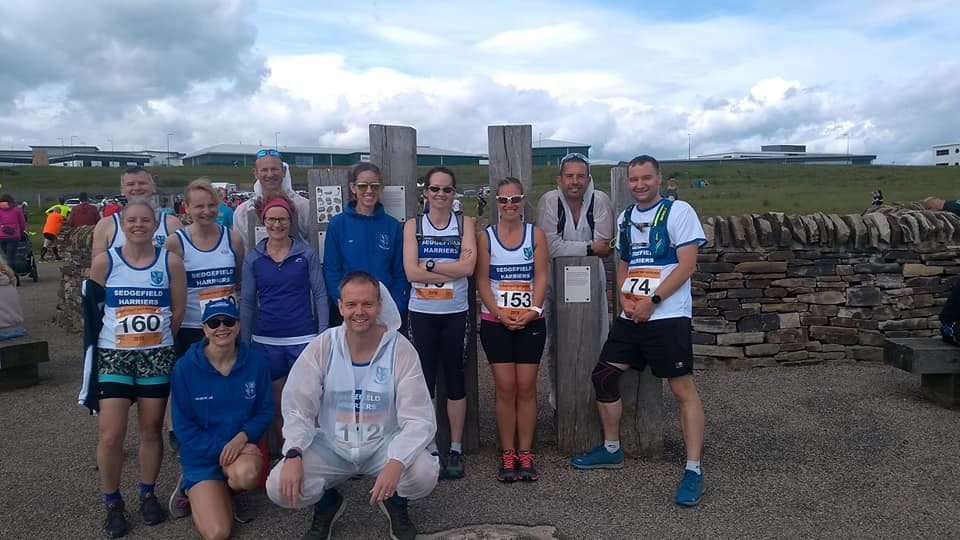 The weather in the week leading up to the race was horrendous, a typical British summer with nonstop rain. The organisers kept putting updates and photographs on to their Facebook page, at one point advising us that the water was around 5 foot deep in places.  Thankfully the rain stopped, the water levels dropped and the race was able to go ahead as planned.
I did not have a great preparation for the race, a distinct lack of training, I certainly had not covered the miles I needed to. This, coupled with a boozy hen do on the Friday evening followed by my youngest son's football presentation on the Saturday evening (which consisted of a pie and pea supper washed down by a couple of large gins) was not ideal prep.
Stuart Park had kindly offered to give Mike Wood, Rosie Warnett and I a lift to the race. During the journey to the start the conversation quickly turned to expected finish times.  Stuart (normally very speedy) Park stated that he had failed to break the two hour barrier on his two previous attempts, so I quickly revised my expectations to just being happy to finish this one!
We arrived at Crimdon Dene in good time and caught the shuttle bus to the start at Seaham, it seemed a very long way! On arrival at Seaham we went straight to registration.  There was a minor panic, as my name was not on the entry list (I did enter, honest!!!), but the kind lady changed Marie Blackett's entry to Nicky Blackett and supplied me with a number.   I'm not sure if Marie Blackett turned up, but my apologies to her for any confusion if she did……
Although the sun was shining, there was a cool and brisk wind, which most of us hardy souls braved (with a few grumbles). Ray Carmichael, Pete King and Mark Raine had other ideas though and came appropriately dressed.   The question is what were they appropriately dressed for?  Forensics?  Decorating? Raving?????  I guess we will never know…..   Ingenious idea though boys!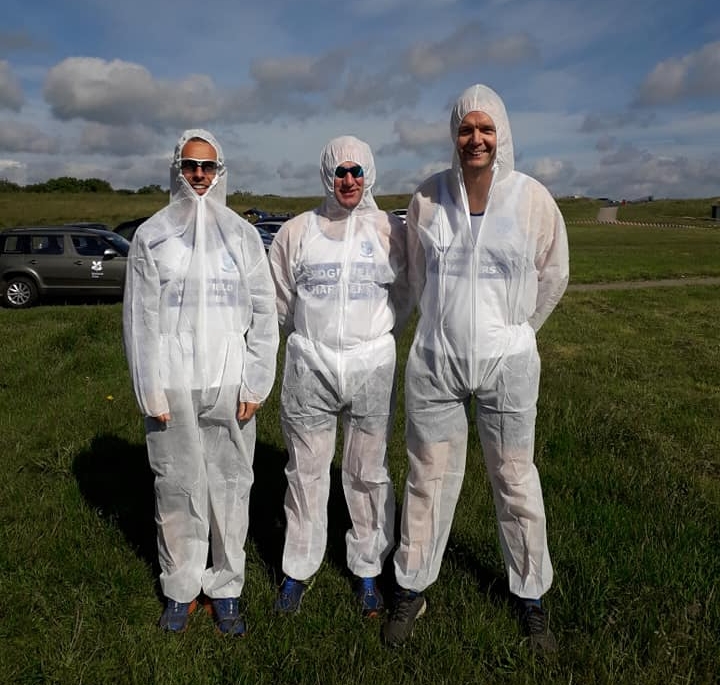 We lined up at the start line, I initially stood alongside Lisa Darby, Rosie Warnett and Stuart Park, but then quickly came to my senses and moved towards the back of the starting line, along with Fay Uphill, Sue Dobson and Chris Hearmon to name a few. My aim was to run at a social pace and enjoy the run!
After a few announcements, the race started. There was a little congestion at the start of the race but we quickly spread out and got into our race pace.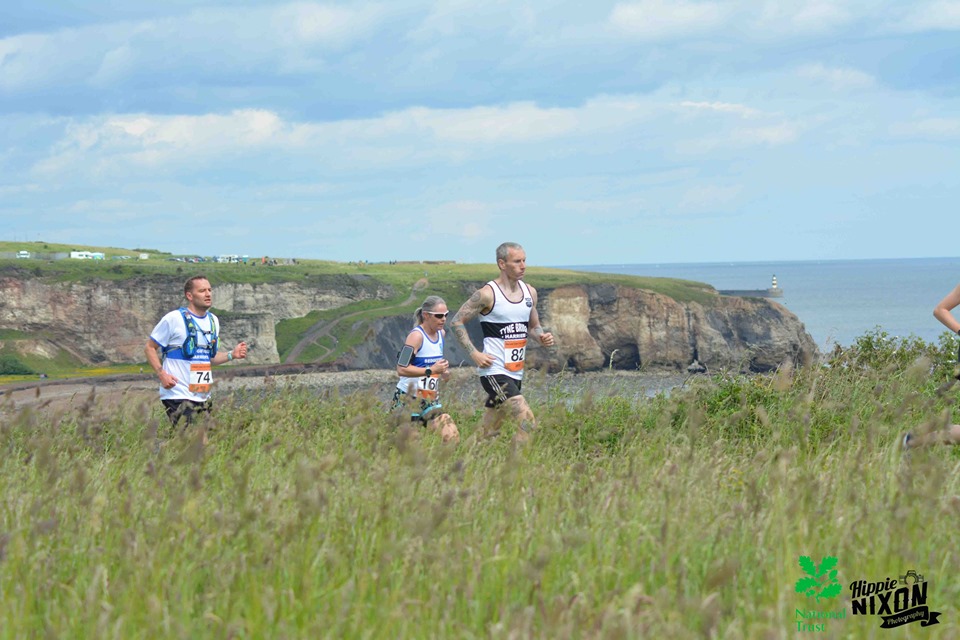 I ran with Chris and Sue for the first couple of miles, but Chris soon got warmed up and Sue and I watched as she disappeared off into the distance, attacking the inclines with ease! I was determined to stick at a social pace and not to go off too fast, for once in my life I stuck to my plan.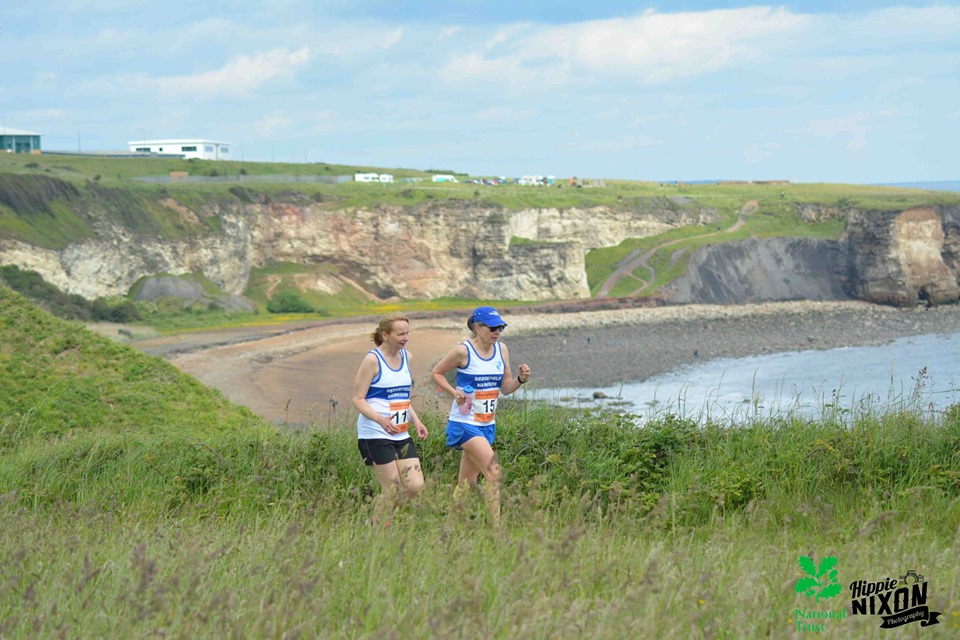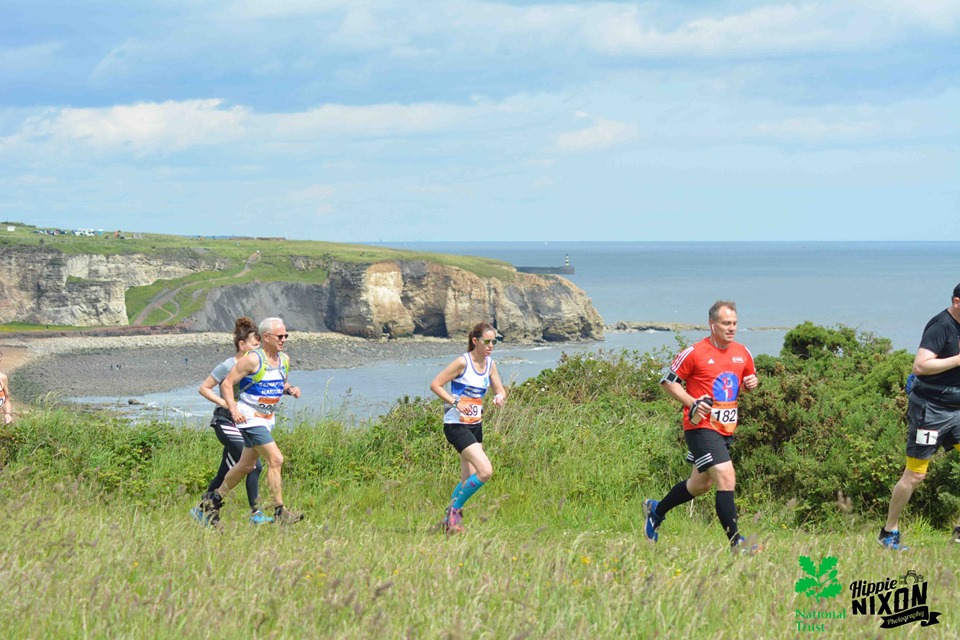 The first seven miles were not too challenging, with steady inclines, only one set of steps and not too much mud it was easy to get lulled into a false sense of security. However, I stuck to my plan as it was a warm day and the water stations were a very welcome sight.  As was the paddling pool later in the race…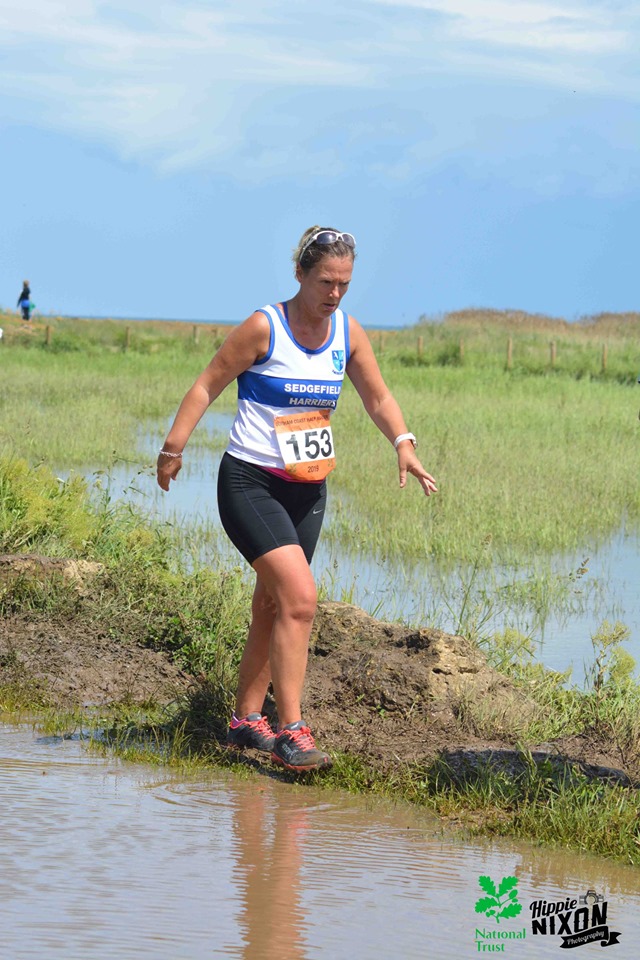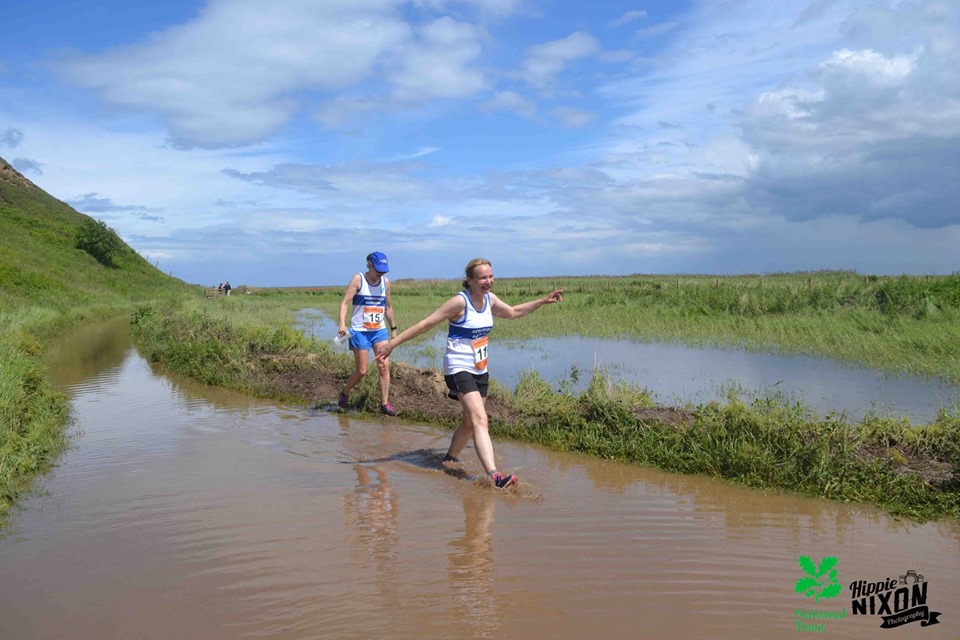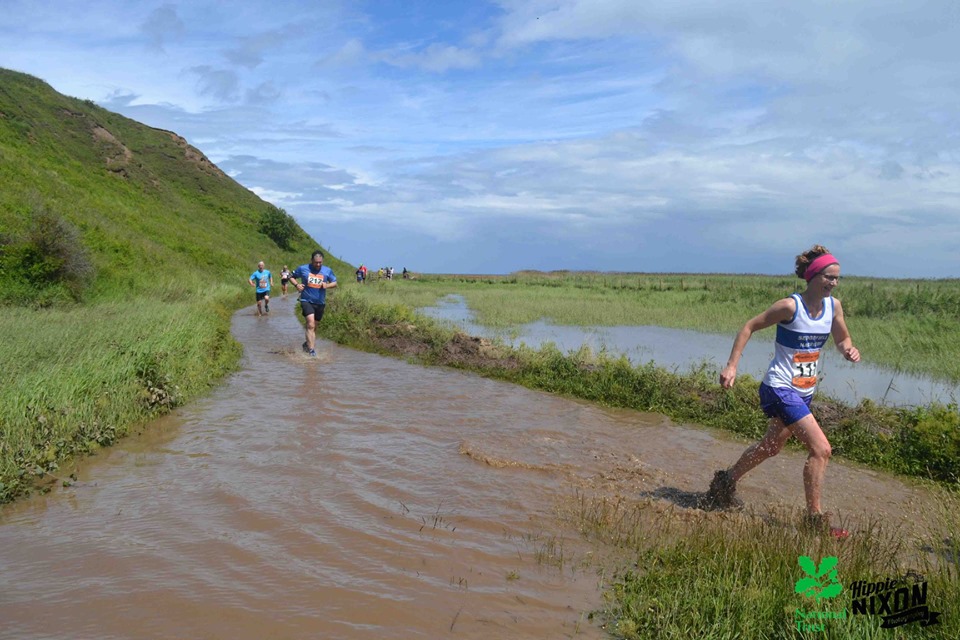 The second half of the course was the most challenging, dropping in and out of denes via steep steps (around 380 in all!) This quickly took its toll on my legs and I started to tire. It was tough to get going again after the steps, but who knew the power of the humble jelly baby!  I seemed to get stronger after the water stops and started to overtake people in the latter stages of the race – jelly babies will definitely feature heavily in my future race plans!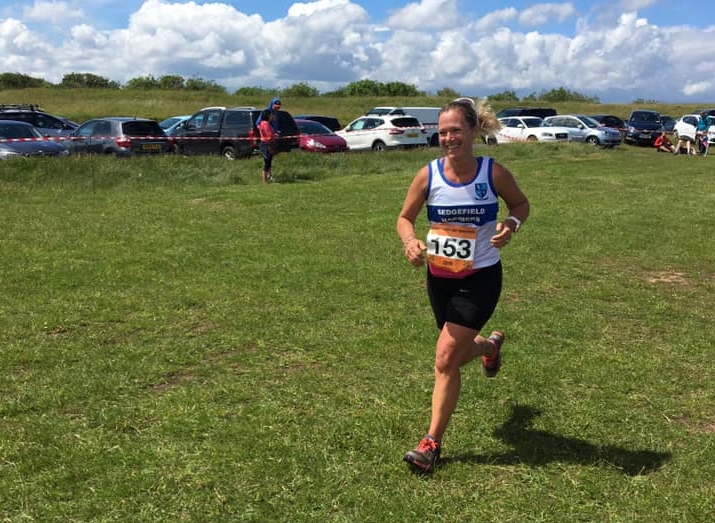 The caravan site at Crimdon Dene was a welcome sight, but I had been warned by my fellow harriers that there was still around a mile to go. I pushed on and was glad that the home straight was downhill.  I was greeted and cheered (very loudly) over the finish line by the harriers who had finished well ahead of me (Mark Raine, Ray Carmichael, Stuart Park (who finally broke his 2 hour barrier), Lisa Darby, Rosie Warnett, Fay Uphill and John Marshall along with Beth Raine who had come along to support and act as chief photographer (thanks again Beth J)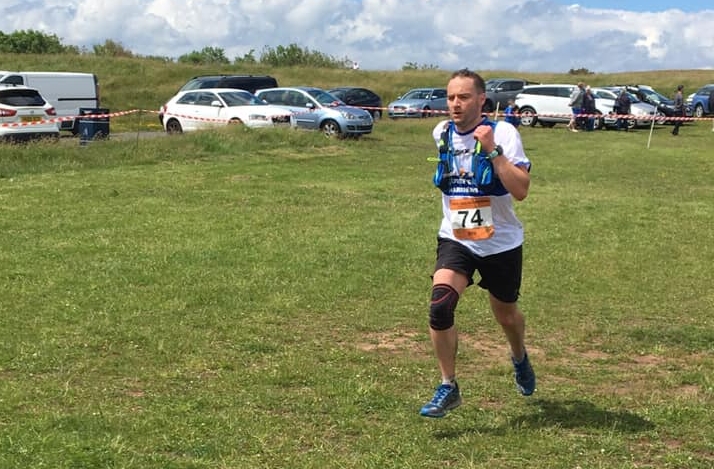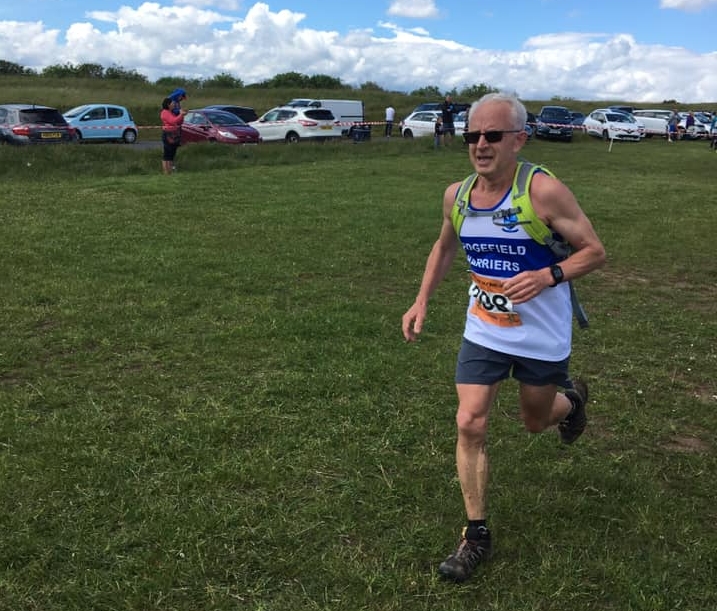 At the finish I grabbed my t-shirt, of which there was a choice between long and short sleeved (most impressed!) and beautiful butterfly medal. There was also free tea or coffee and a great selection of cakes – the chocolate covered flapjack was amazing!!!  I wandered along to join the others to cheer the final harriers home.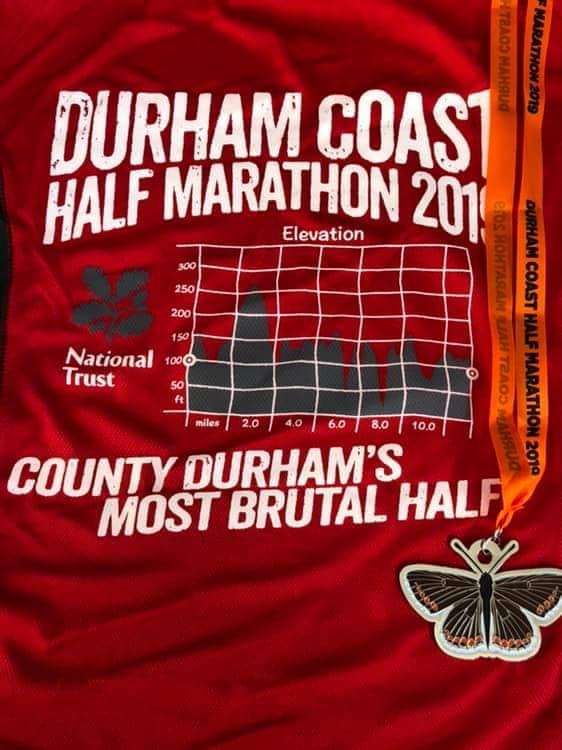 I can honestly say I loved this race, yes it was a tough one, but the scenery, friendly atmosphere, jelly babies and cake more than made up for those steps….. Next year I will probably carry my own water, but I will definitely be back!
Well done to everyone who completed the race!
By Nicky Blackett
| | | | |
| --- | --- | --- | --- |
| Place | Bib | Name | Time |
| 20 | 33 | Mark Raine | 1:41:57.2 |
| 46 | 108 | Raymond Carmichael | 1:51:16.0 |
| 76 | 74 | Stuart Park | 1:56:47.0 |
| 81 | 160 | Lisa Darby | 1:57:44.0 |
| 110 | 76 | Rosie Warnett | 2:03:44.2 |
| 151 | 112 | Pete King | 2:10:29.1 |
| 165 | 398 | John Marshall | 2:11:30.3 |
| 182 | 29 | Fay Uphill | 2:13:26.6 |
| 219 | 153 | Nicki Blackett | 2:19:15.7 |
| 232 | 249 | Chris Hearmon | 2:22:25.8 |
| 246 | 111 | Sue Dobson | 2:26:47.4 |
| 286 | 79 | Mike Wood | 2:36:00.9 |
| 300 | 159 | Graham Darby | 2:38:49.9 |
| 336 | 15 | Helen Frame | 2:51:25.7 |
| 337 | 110 | Anne Gladwin | 2:51:26.2 |
And here are some more great photos: