Dropped off at 9 at St James' Park,
To have a crack at this half marathon lark.
Sunday morning what could be more fun,
Than a trip to the Toon for the Great North Run?
I follow the crowds and head to the start,
With ever increasing beating of heart.
Six months of training to try and break 80,
Pressure on shoulders feeling quite weighty.
10.35 and who is this marra?
"Introducing five-time champion, it's Sir Mo Farah!"
Fifty-odd thousand all in fine fettle,
Now's the time to test ya mettle.
Off we go, down the A167,
A nice downhill start, feels like I'm in heaven.
As the gradient settles, our pace slows,
We cross the Tyne Bridge, no sign of Red Arrows.
As we pass a sign saying "Settle into your rhythm"
Who is this in front? Looks like a magician.
Should I heed the message? To do this I've gotta,
For the next 30 minutes I follow Harry Potter!
We get to mile 6, turn left down Leam Lane,
This is where the fast starters begin to feel pain!
As gaps open up and we start to fragment,
The sensible ones enjoy a nice downhill segment.
As the ninth mile begins, the course starts to rise
And I feel an awful long way from any finishing prize.
Lungs starting to burn and my pace has just slowed,
Now for the 'start of the race', up the old John Reid Road.
We arrive at the twelfth, the last uphill mile,
And just as I think its time for a smile,
Light at the end of the tunnel? A hint of Davy lamp?
Now what is that twinging? "S***, f***, it's CRAMP!!!"
With 2 to go, one last water station,
In need of some magical inspiration.
Surrounded by men, who is this tiny vixen?
It's Wonder Woman, world record holder, it's Aly Dixon!
The twelfth mile is a killer, after the aforementioned sup,
'cos the hill takes you up, up up and up,
Until that is you reach the last roundabout,
Then it's a pretty steep descent which gives the old quads some clout!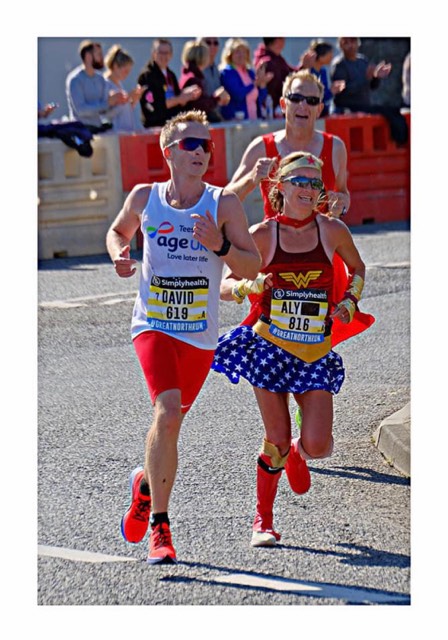 Round the final bend I'm driven, surely time for a smile,
a sign to my left says I'm in the last mile.
But it's wiped of my face, my calf continues to pinch,
The last '4 laps of the track' will not be a cinch.
Nearly there, don't be panic-stricken,
This is the time when the crowds start to thicken.
Inspirational Aly, my God did I need her,
this girl, Wonder Woman, is playing cheerleader!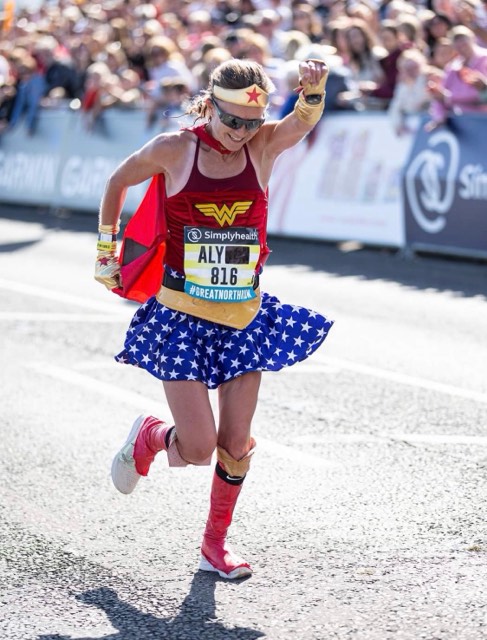 With 400 to go amidst the burgeoning crowd,
The atmosphere's great, increasingly loud.
My legs are still twinging, I just cannot shake it,
But it's the final lap, "COME ON YOU CAN MAKE IT!"
As I cross the line, all sweaty and smelly,
There's a cameraman, I'm on the telly!
I promise I was on there, maybe you did see me,
Just after Steve Cram talked about Aly doing a 'Fabio Borini'!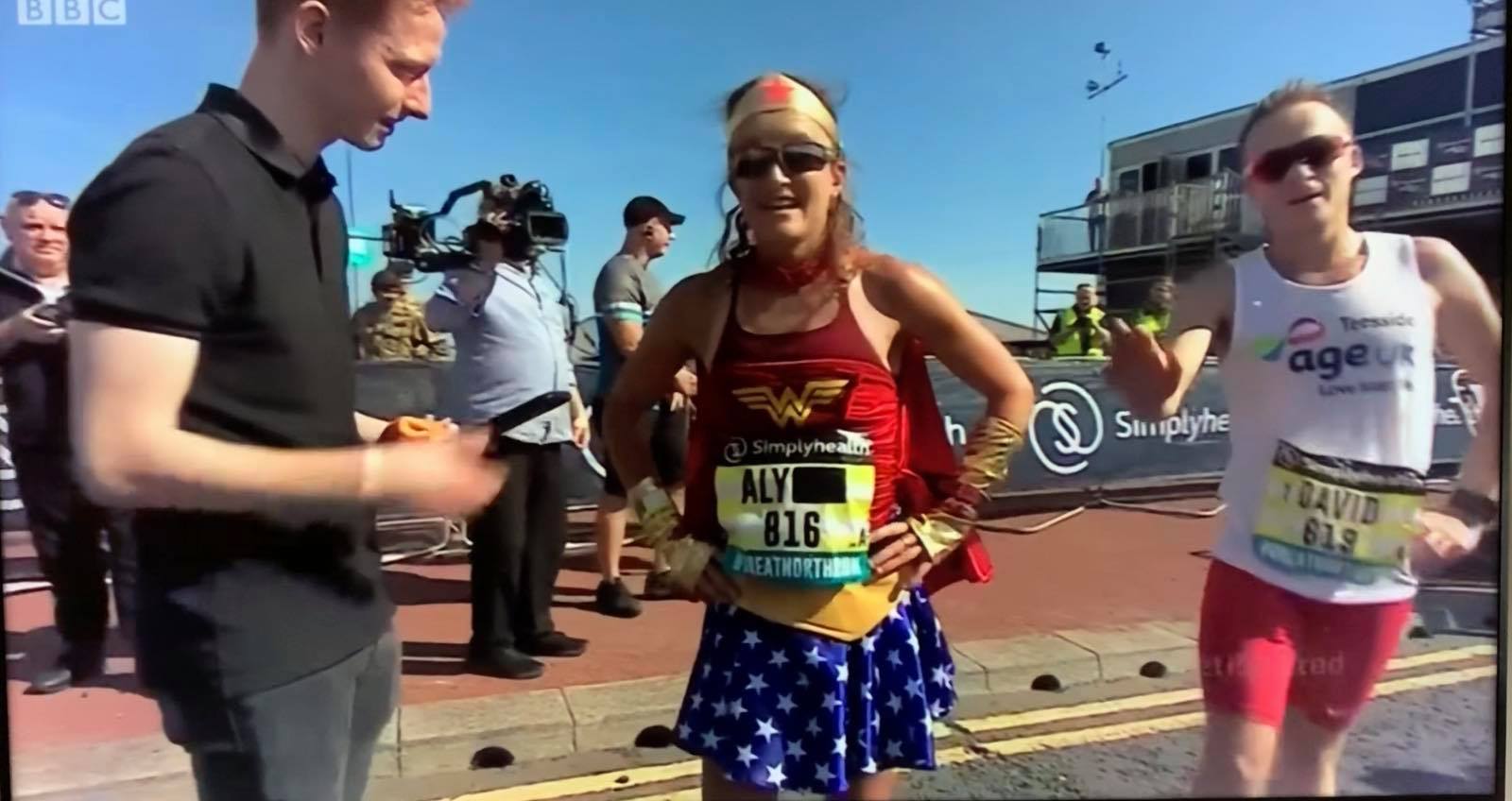 I had made it in time, was it worth all this saline?
You beauty! I have, 1 hour and 18.
And though they may say "forever on the hips"
I'm off to Colman's for well-earned fish and chips!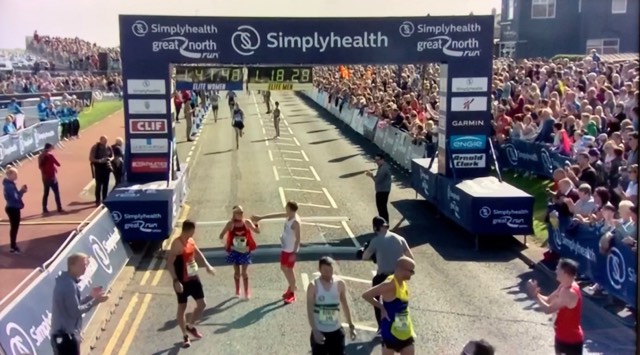 By Dave Bentley