This was my third Parkrunathon, having done one each in 2016 and 2017. They don't get any easier. Previously they have been in support of Acorn Children's Hospices and organised by George Nicholson. George is well known around the Durham sporting scene as a runner and former rugby player and rower. A really great guy, he is also one of the ever-presents in the Great North Run. I sat one place behind him on this year's bus.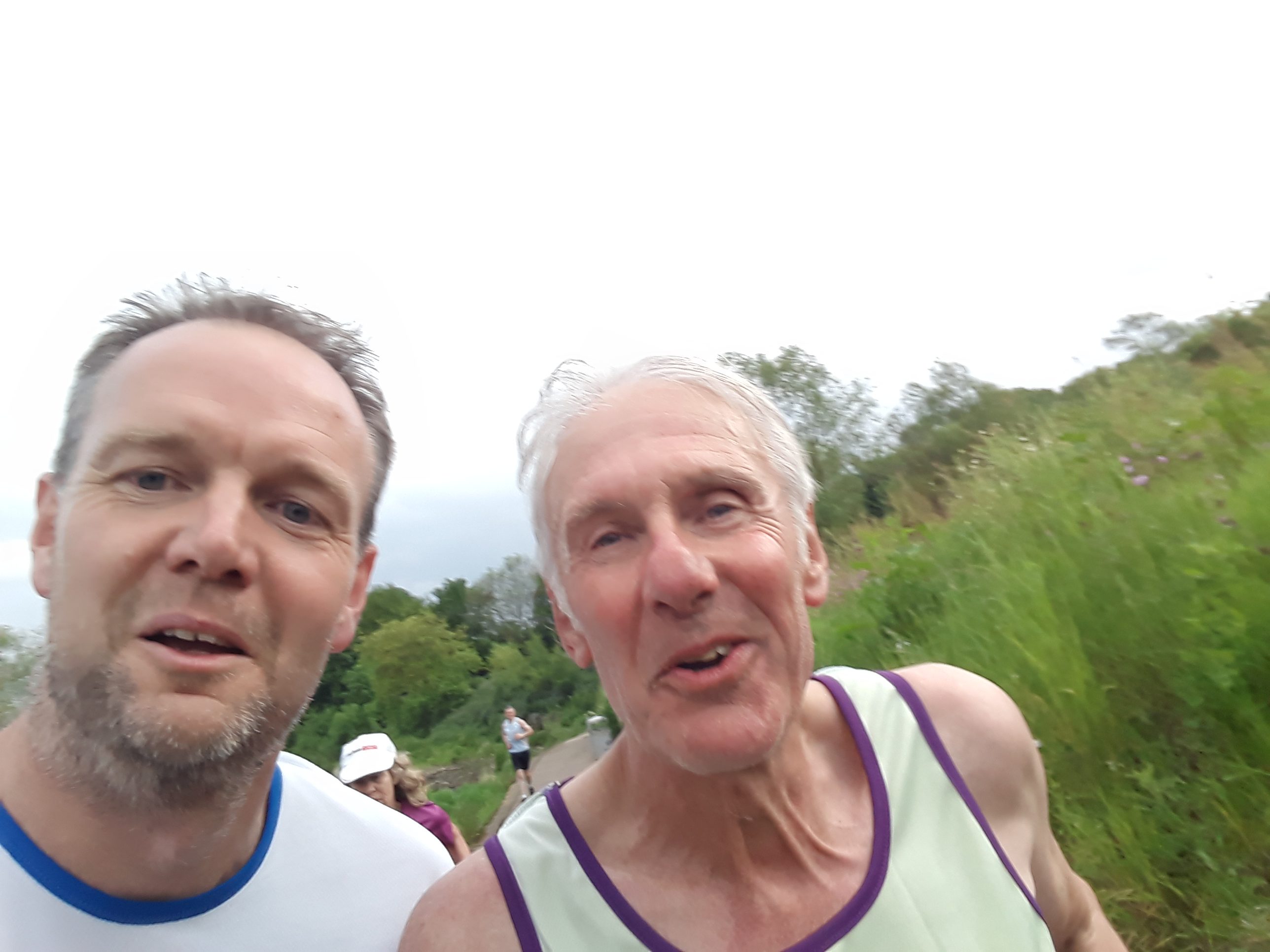 This year, Elvet's Catherine Smith took on the organising role and we decided to support local mental health and suicide prevention charity If U Care Share. Catherine will be familiar to many Sedgefield runners. She lives in Coxhoe and regularly runs or volunteers at Sedgefield parkrun. She did a great job.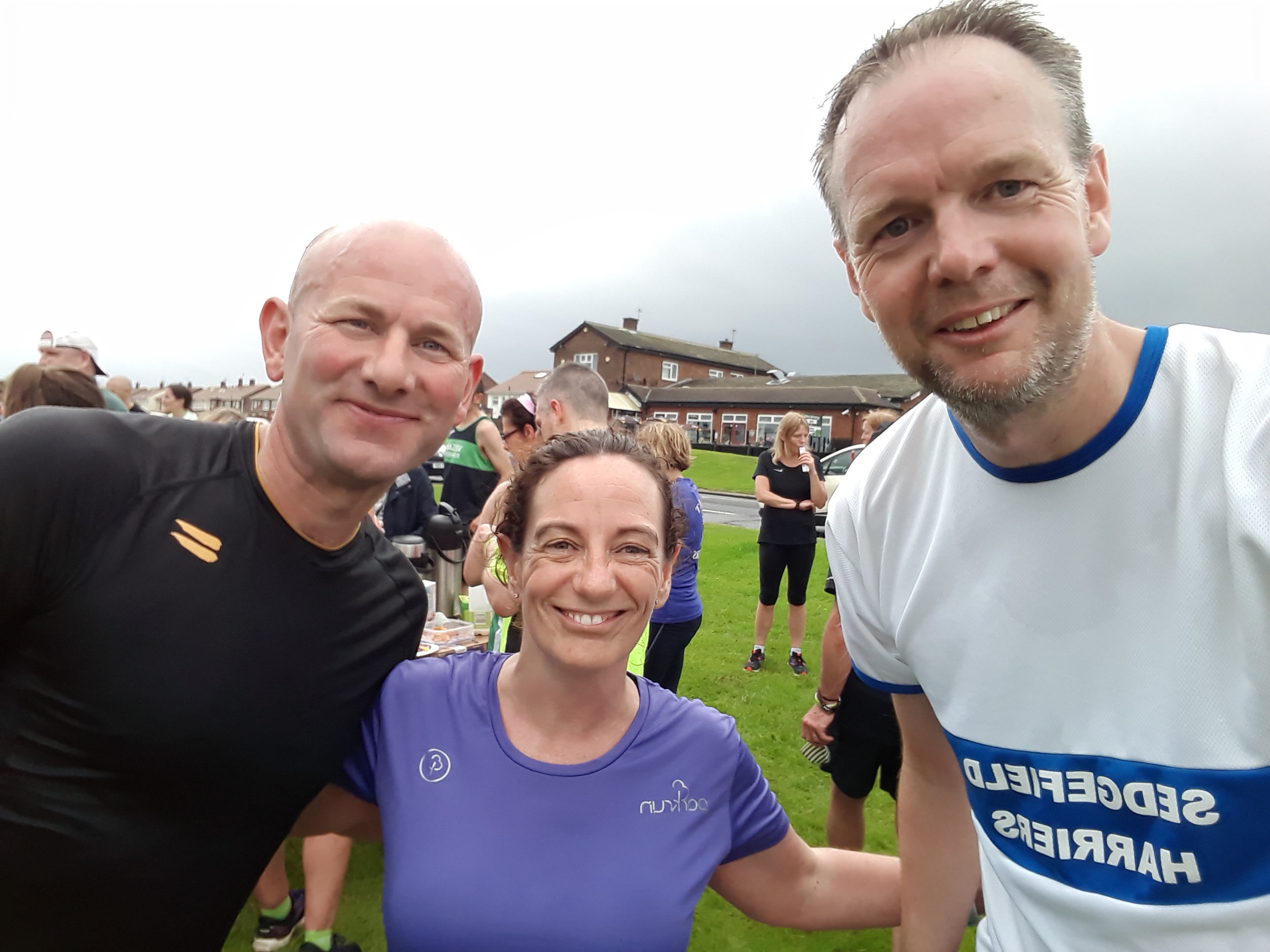 With mainly Elvet runners, the numbers grew in recent weeks and a coachload became an additional minibus became a fleet of cars. Via social media a group travelled up from Wakefield and at its fullest we had about 100 runners. Catherine gave me a few 'picks' and along came Ray as well as a Darlington (Quakers) friend Alistair plus a late call-up for Durham Harriers' Diane Wood. Alistair bust his calf a few weeks ago so decided to do his bit by cycling the whole route instead. Diane photo-bombed our Sedgefield group at Wynyard last week; that'll teach you!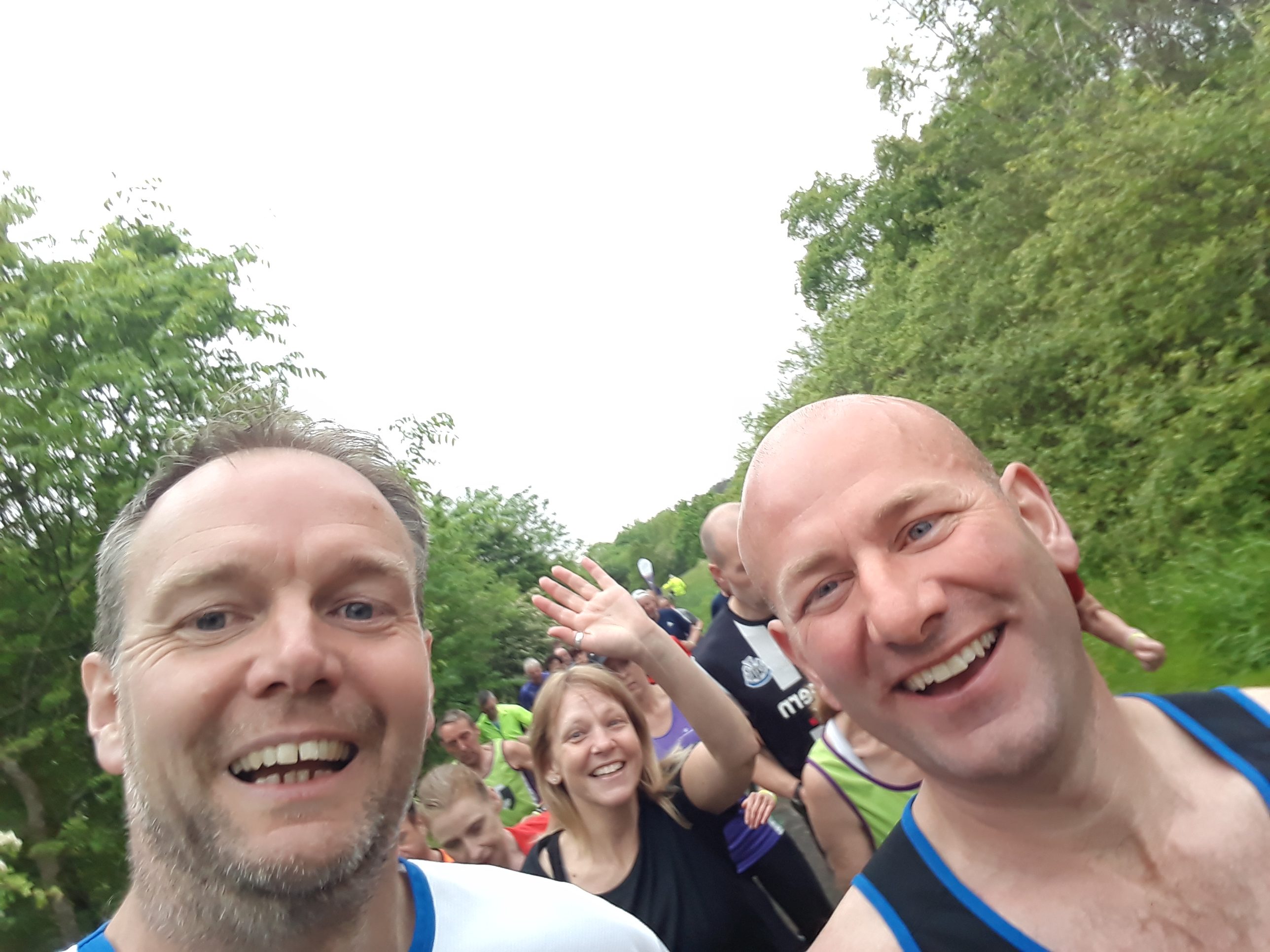 Sedgefield junior parkrun
PK: 11.37              Ray: 11.16
A nice gentle jog around Hardwick lake started us off at 8.15. A marathon is 42km, so it needs this little extra to make the full distance. Steve Foreman (parkrun gaffer) was setting up around us, looking quite chilled as we all posed for initial photos.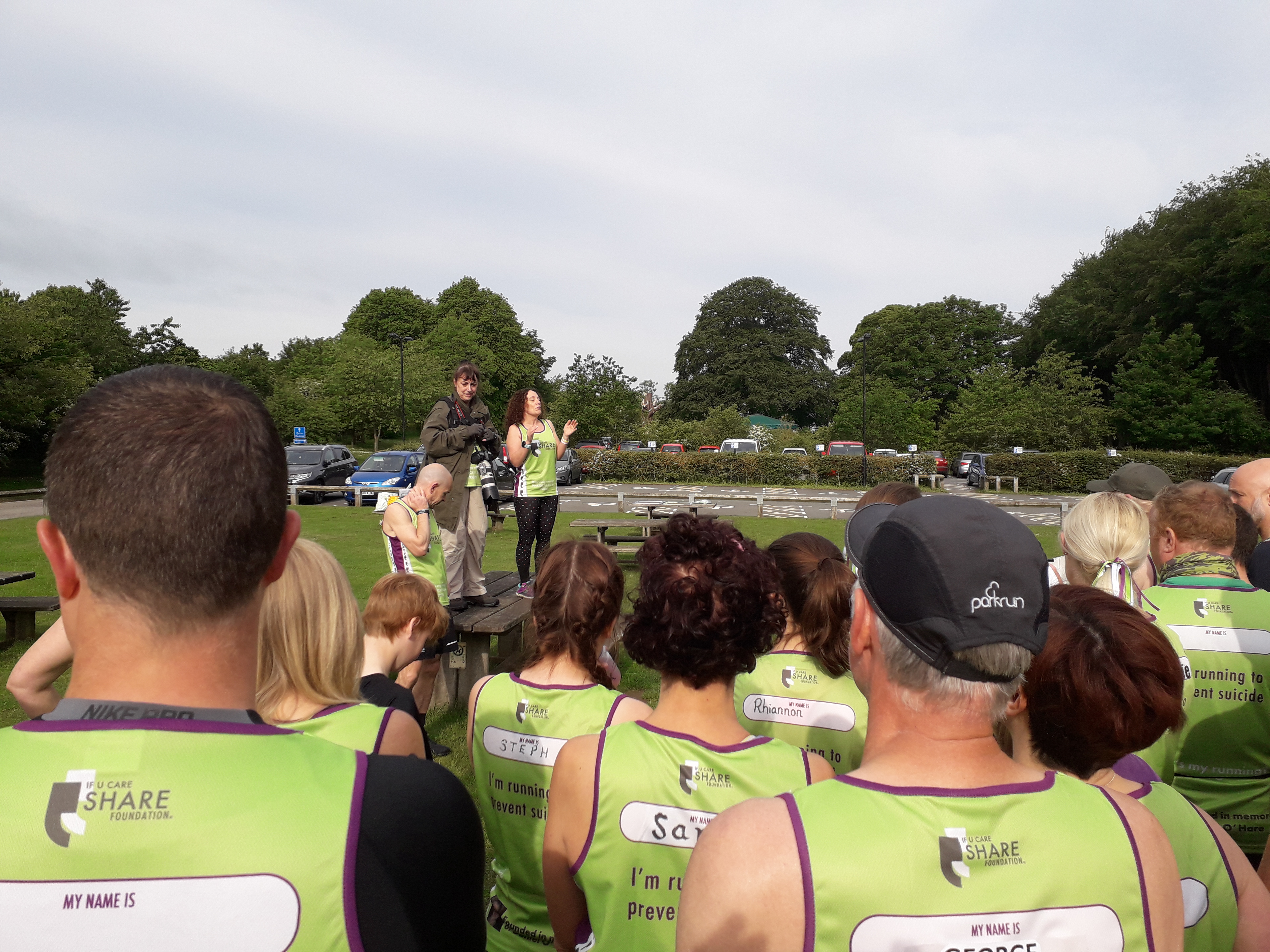 #1 Sedgefield parkrun
PK: 26.49              Ray: 26.43
What a spectacle. Runners streamed all around the lake like never seen before. 485 in total, a record by 101 I believe. Ray and I jogged around together, Steve still looking quite chilled at the end too.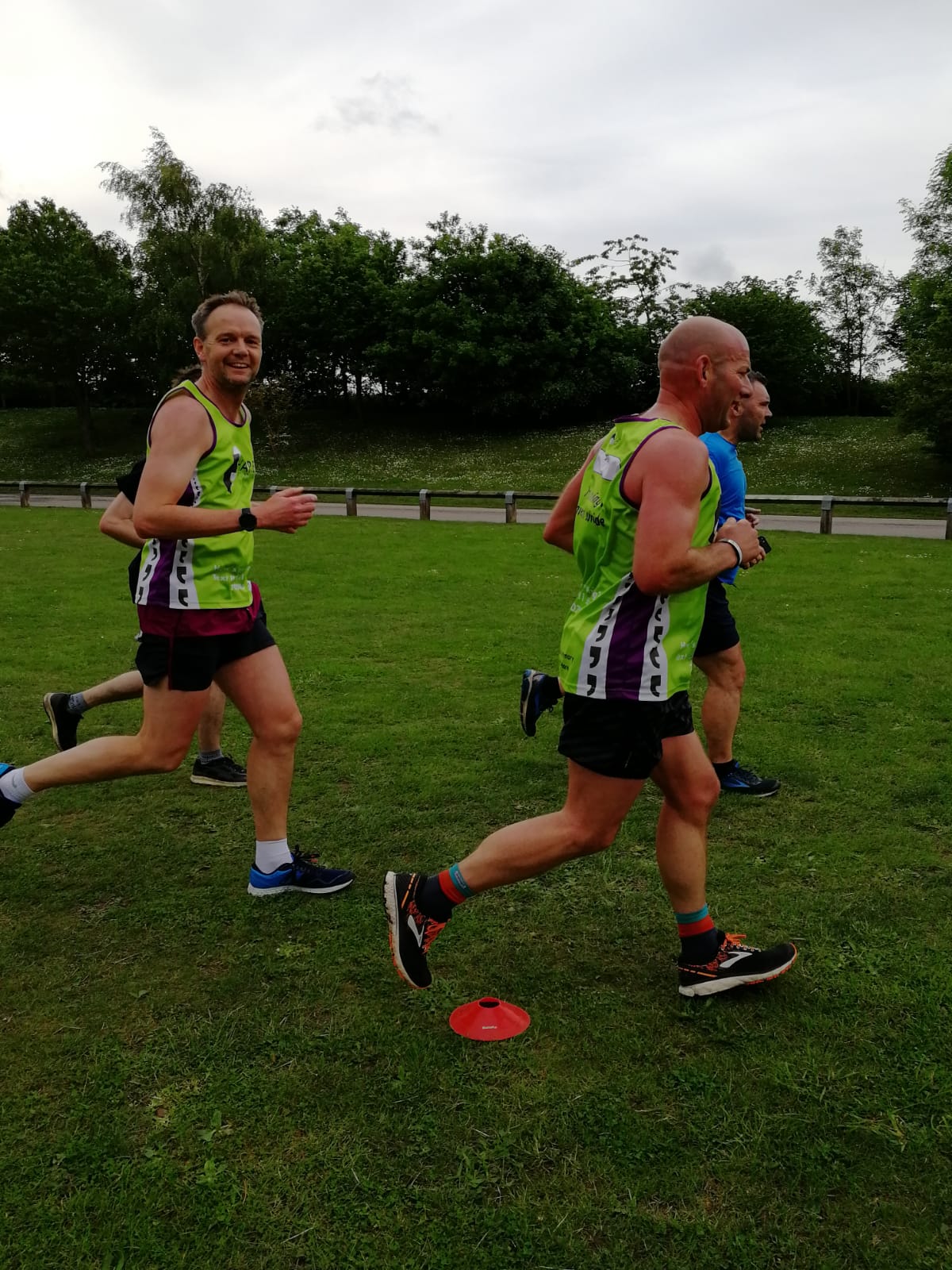 A nice touch for me was that both my kids, Oliver and Grace, were on barcode scanning and managing quite well.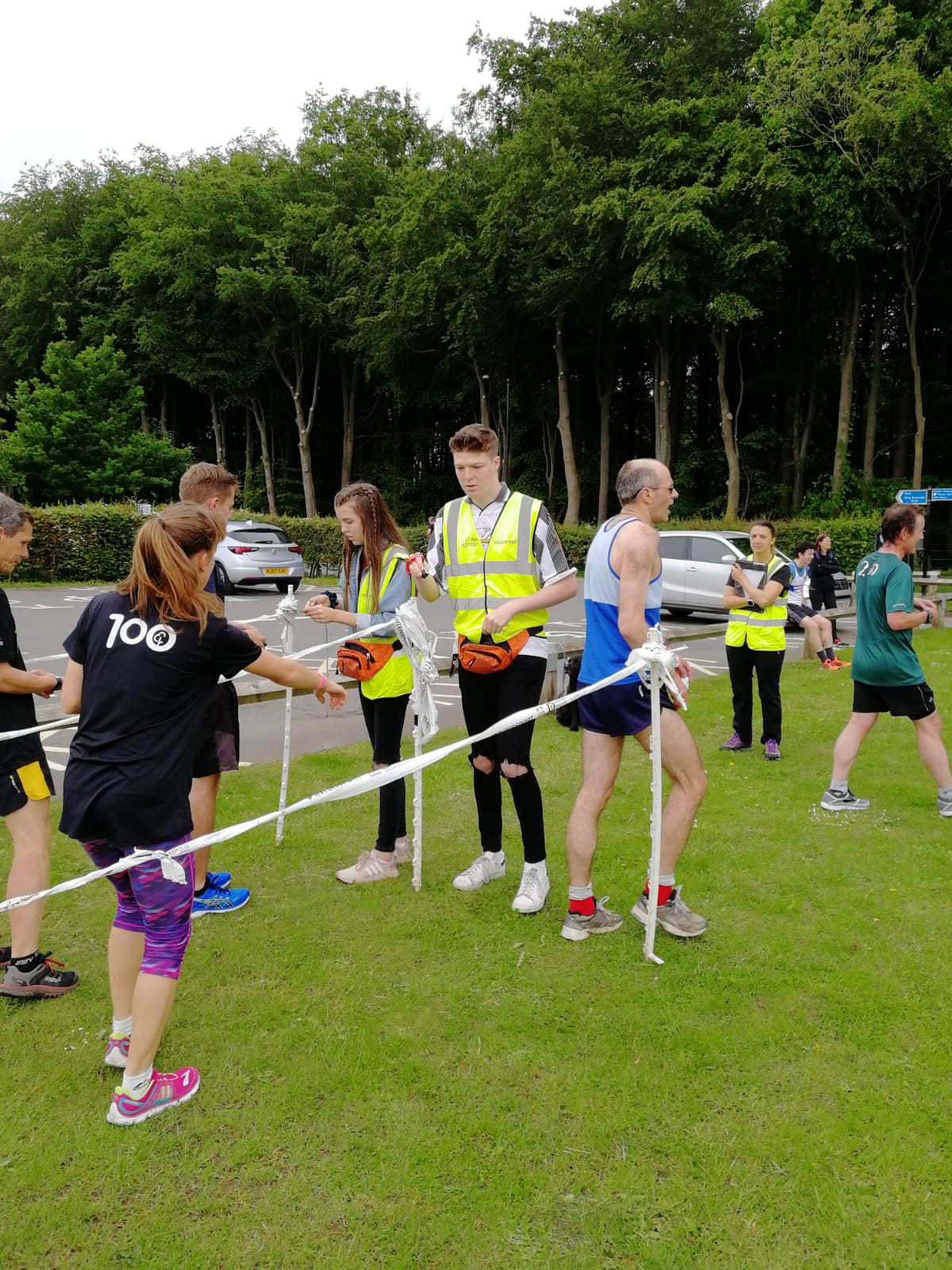 We posed for a few more photos afterwards and then got away on the bus. Nice to have the officially timed one of the day on home turf and I even managed a take-out coffee for us both before we left.
#2 Hartlepool parkrun
PK: 28.33              Ray: 25.40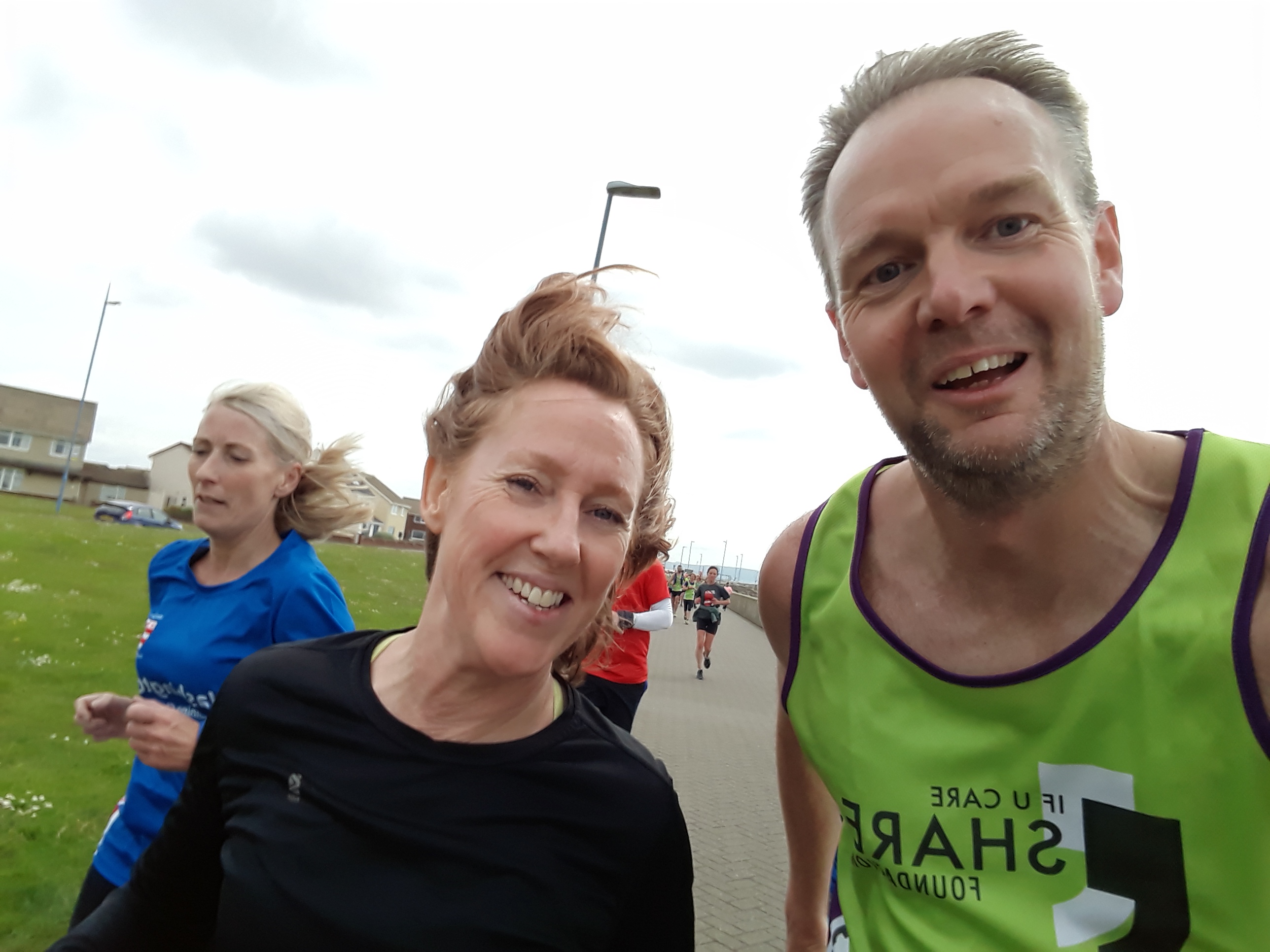 The weather was still very nice at this point. I've never done Hartlepool before but know the seafront route well enough as it covers much of the same stretch as the Marina 5 Mile. I nipped into the public loos on the front, hence a slower time. Wee stops were to become a recurring theme…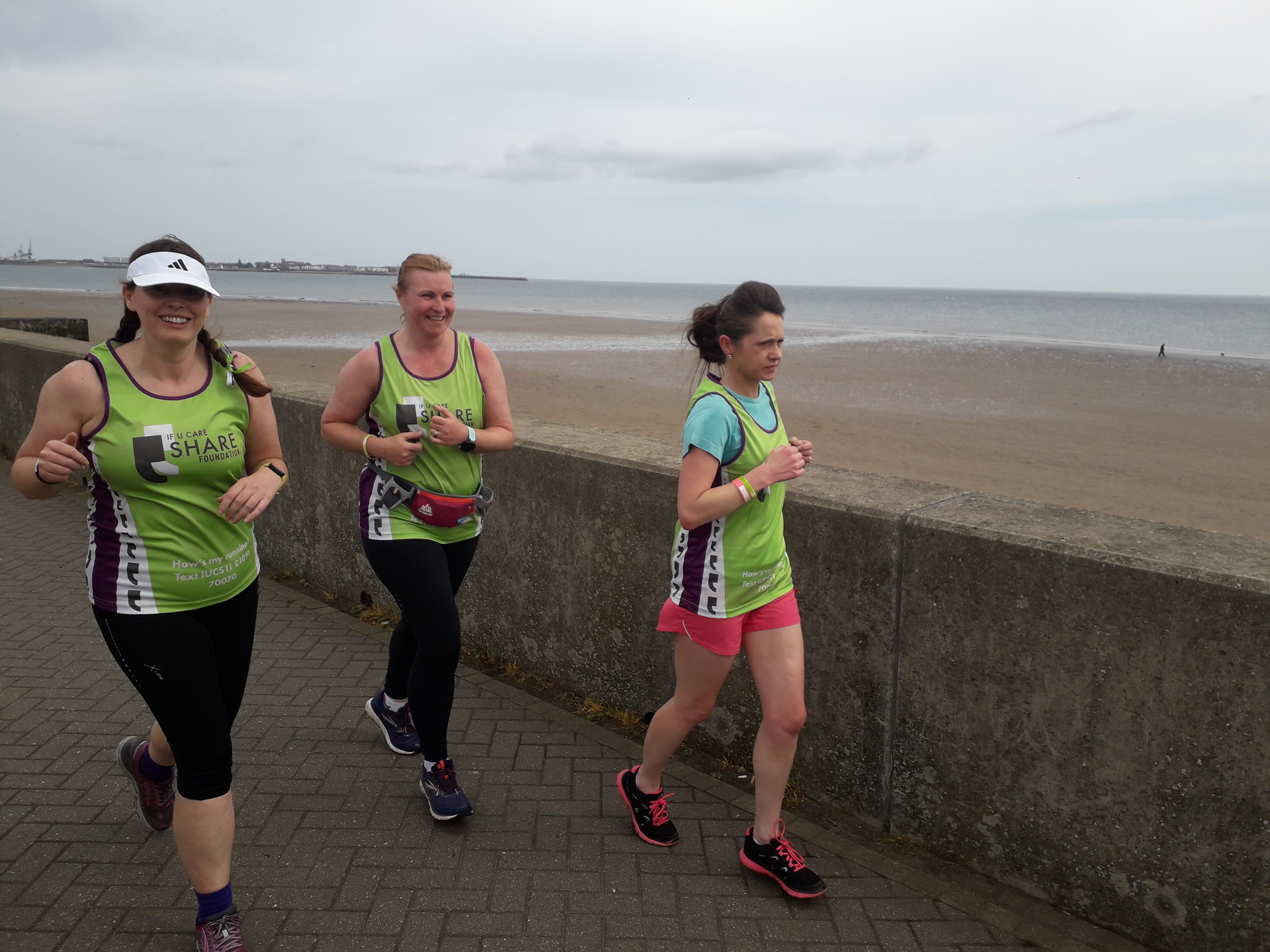 #3 Cotsford Fields parkrun
PK: 27.23              Ray:23.31
We didn't have time to get a coffee from the accompanying van before we left Hartlepool, so Ray's plan was to run this one quicker to be at the front of the queue at the end. It worked. I ran much of this one with Paul 'Lord Smyth' Smith. Many will know him for his running a mile a day (at least), for a decade or more and his eccentric outfits. I think he changed into red budgie-smuggler santa shorts for this one.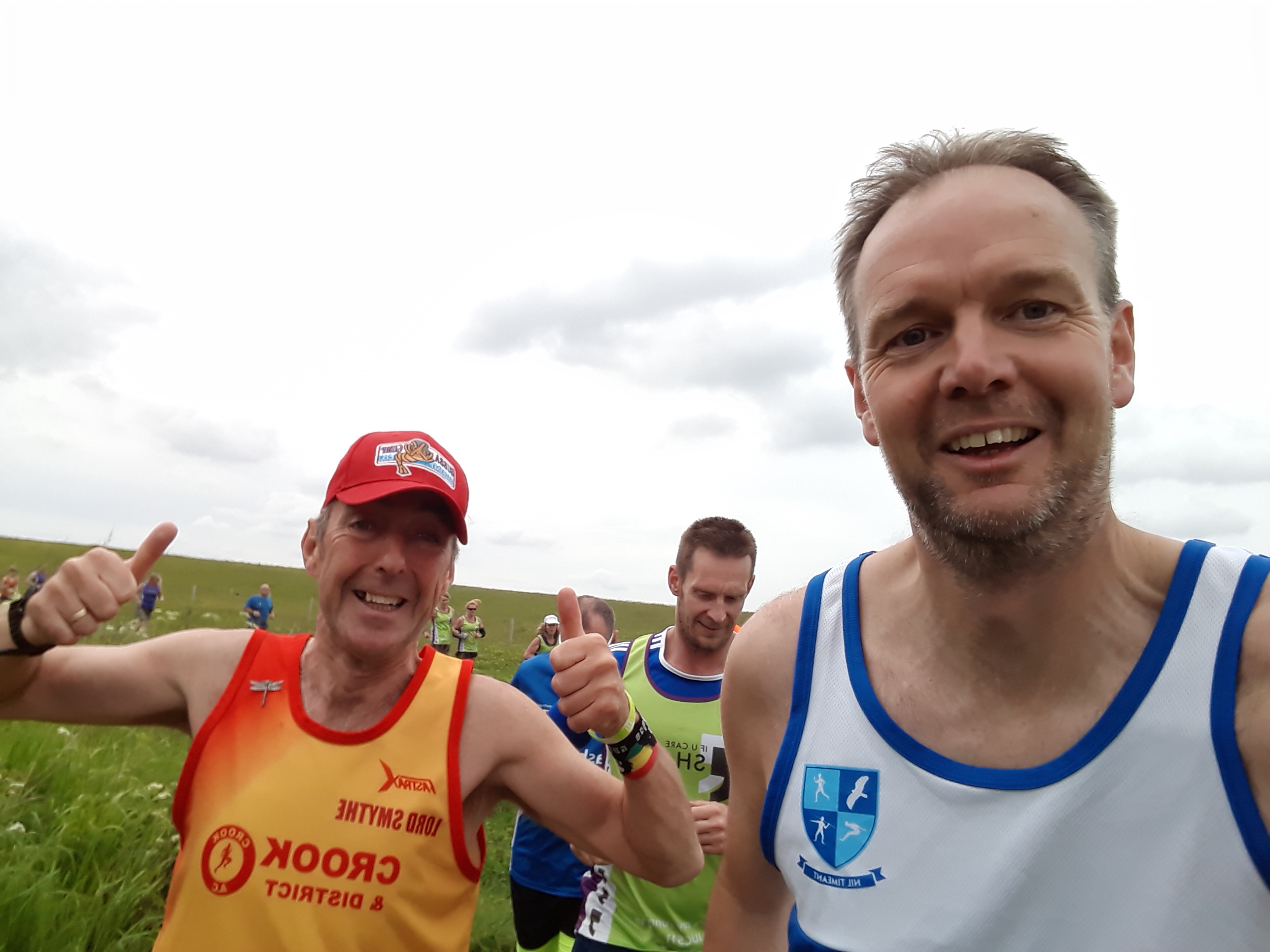 Cotsford Fields is on National Trust coastal land near Horden and passes the metal sea bird sculpture on each of its two laps; beautiful on a day like we had, perhaps less so in the depths of winter. Coffee was enjoyed post run, as was some chocolate cake and away we went.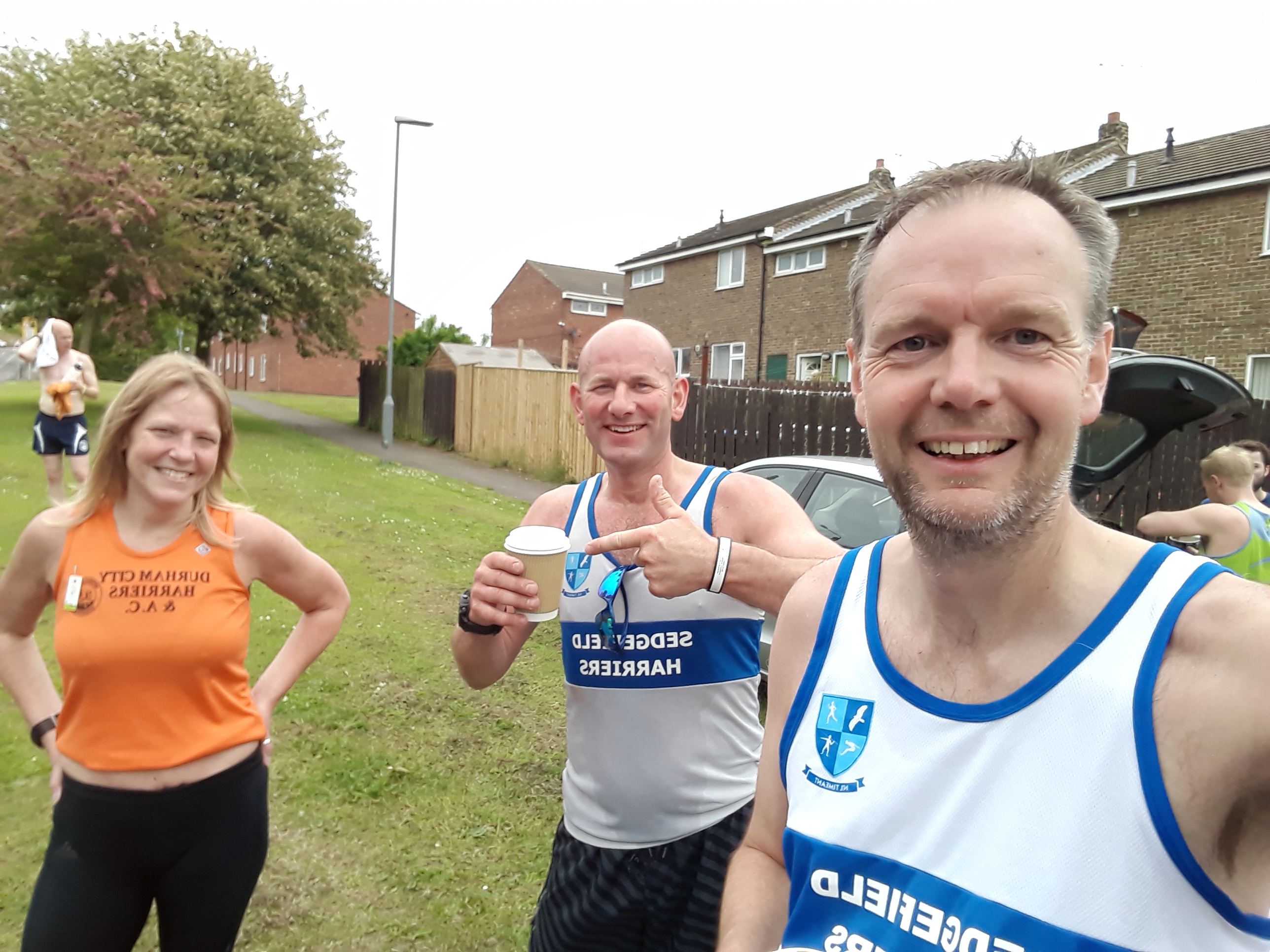 #4 Sunderland parkrun
PK: 26.45              Ray: 26.39
Alistair, by now known to everyone as 'Bike Man' got a bit lost on his way to this one. 'We're at the bottom of the ski slope' I text. 'B********' he replied, 'wrong place', but still got there on time to see us off.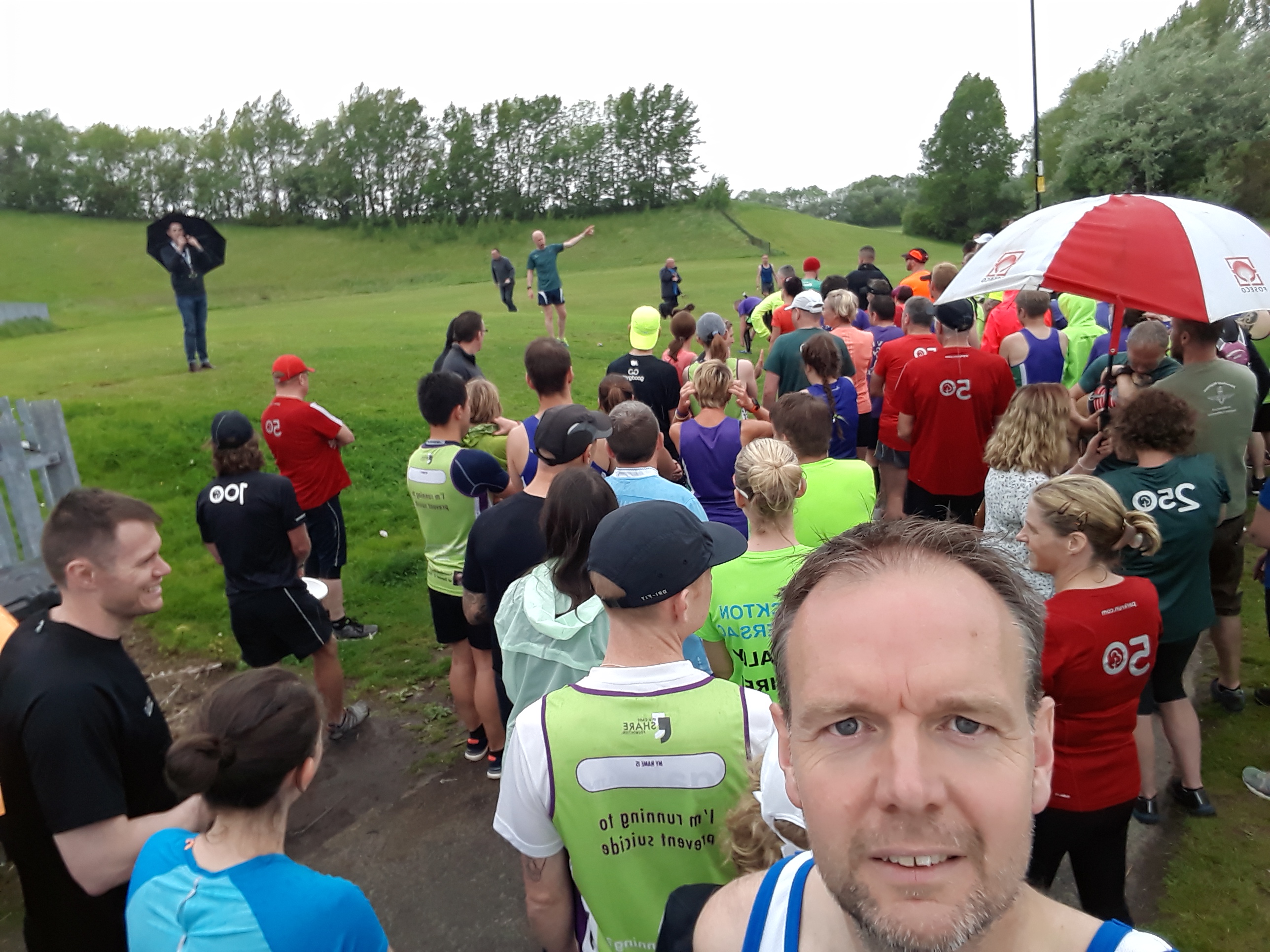 I've run this course on both previous Parkrunathons; it starts and finishes at the top near the ski slope and takes in two laps of the lake at Silksworth. Rain had appeared from nowhere and Ray and I had a wet run together. We had a nice chat with the Rodillian Runners of Wakefield. I needed the loo too!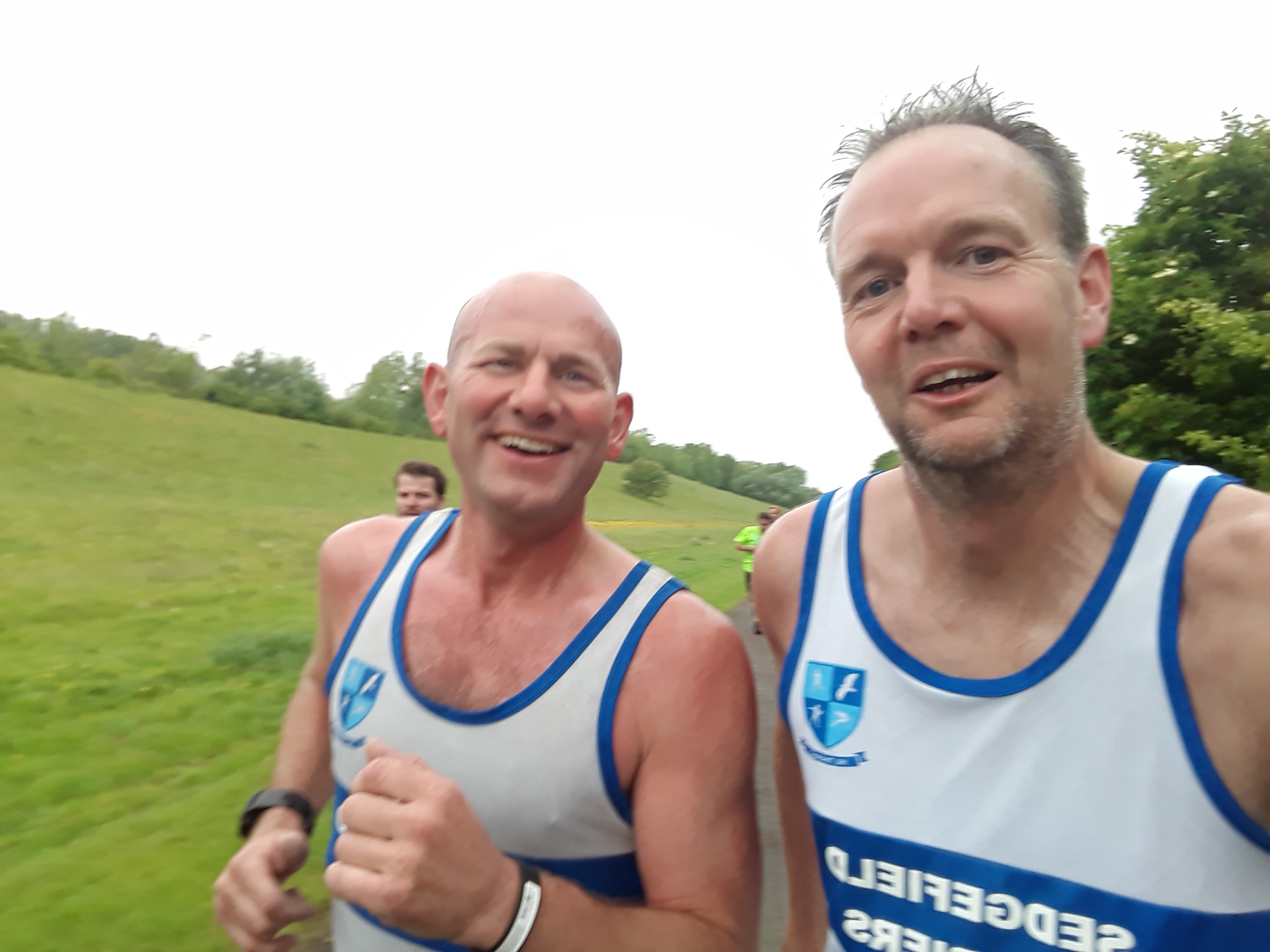 #5 South Shields parkrun
PK: 31.05              Ray: 24.09
Ray and I also did this parkrun back in February as part of a recce morning for the Marathon Club's Leazes event. It starts by the Sandancer pub and runs south along the coast path, almost as far as Marsden before turning back and following the road (Great North Run finish) for about a mile. Colin Robson is their run director, and just as in 2016, he joined us for the day. Before today Colin had only ever run Sedgefield parkrun once and that was GNR day in 2016 when their course was taken over. As a result of a chat that day I got a last minute place in the GNR; I digress but it shows the kinds of quirky occurrences that come as a result of running together.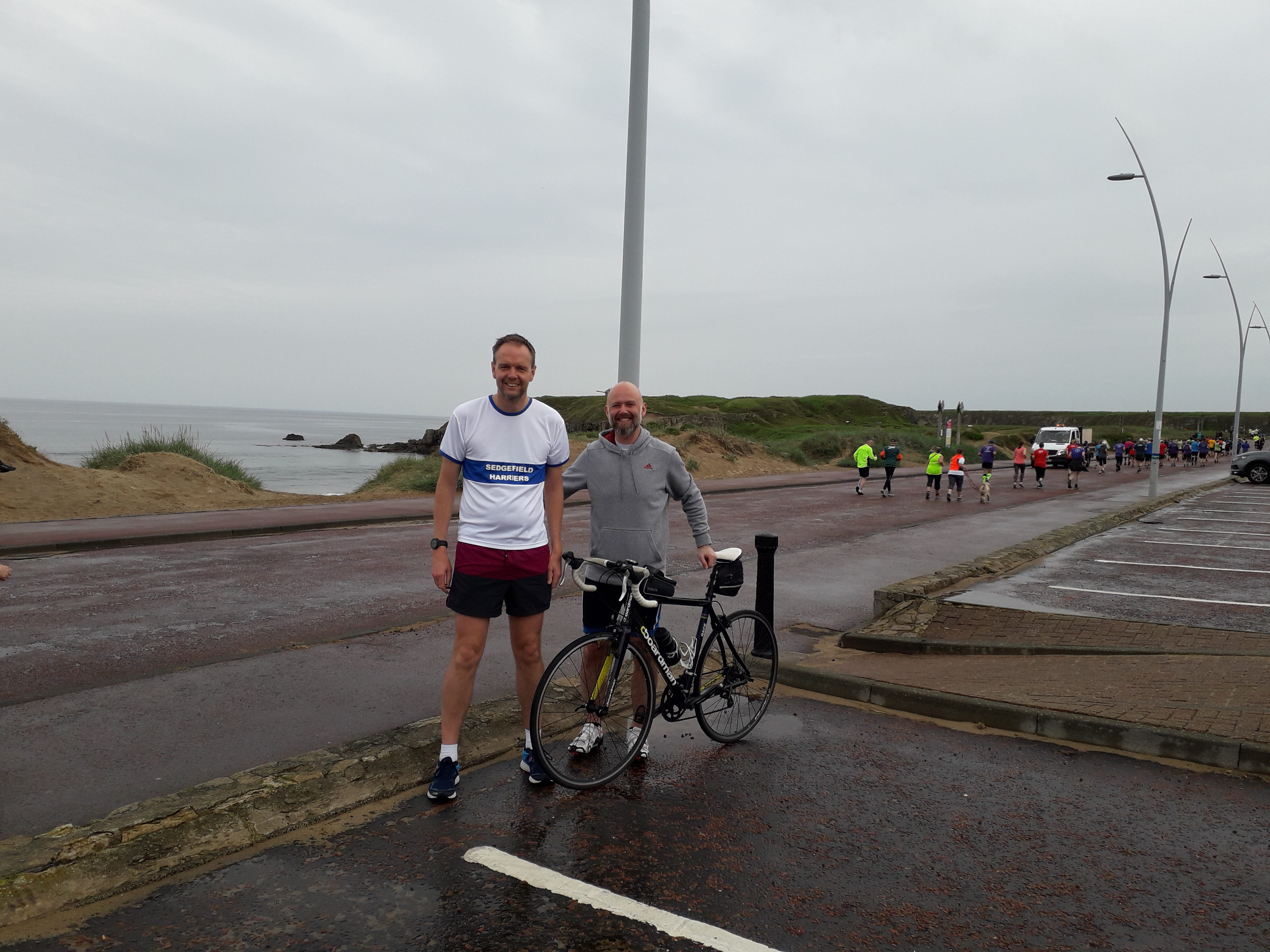 I also had to digress on the route at #5. I needed another wee badly from the start and so went down on the rocks. By the time I emerged I was well adrift of all the runners.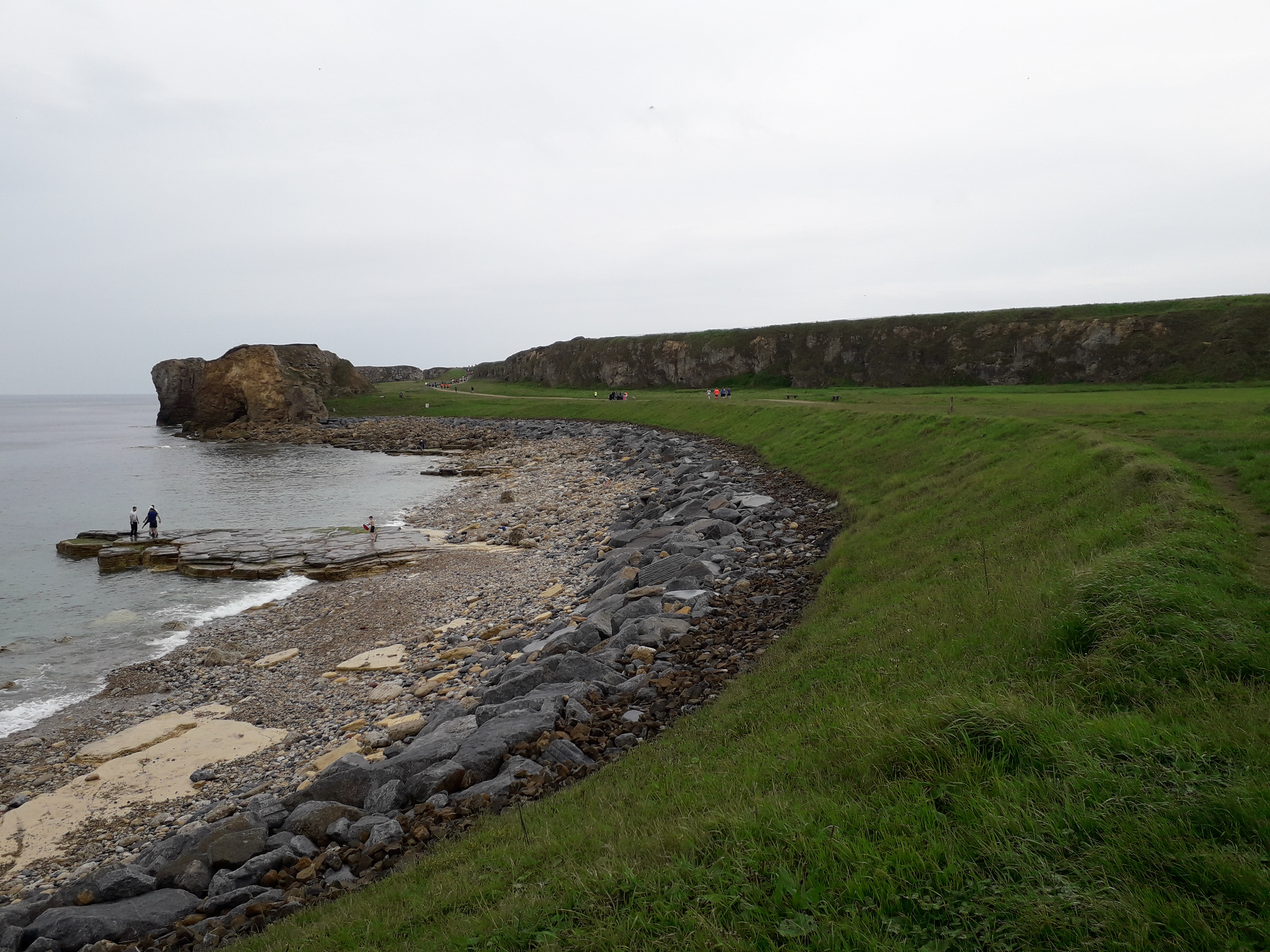 I gradually caught up a few by the end. South Shields was also the first time I began to feel really quite stiff at the start. The Sunderland run had been quite pacey (well, for me) and the hill at the end had taken something out of my legs. By the end of #5 I knew I was certainly feeling it.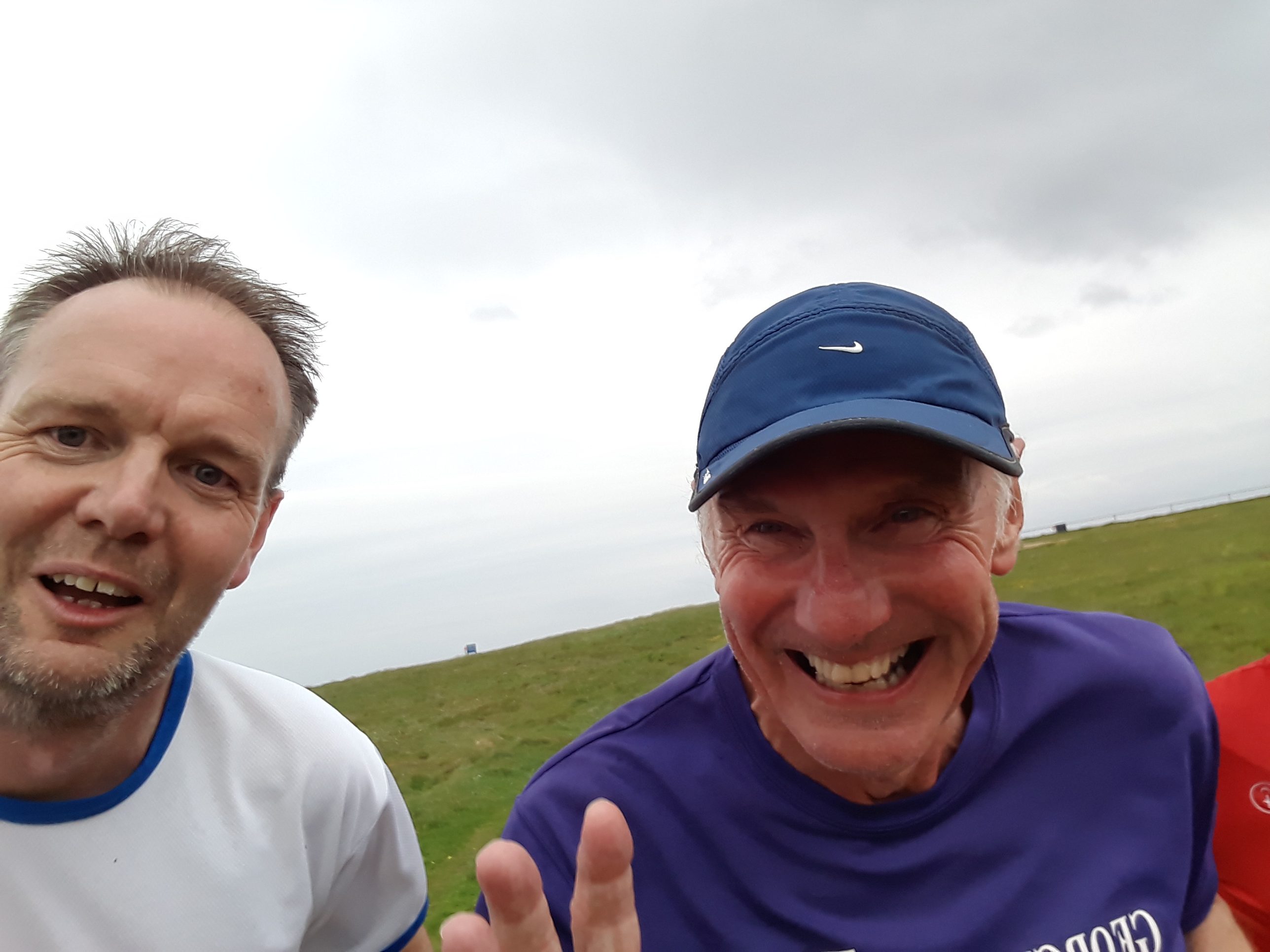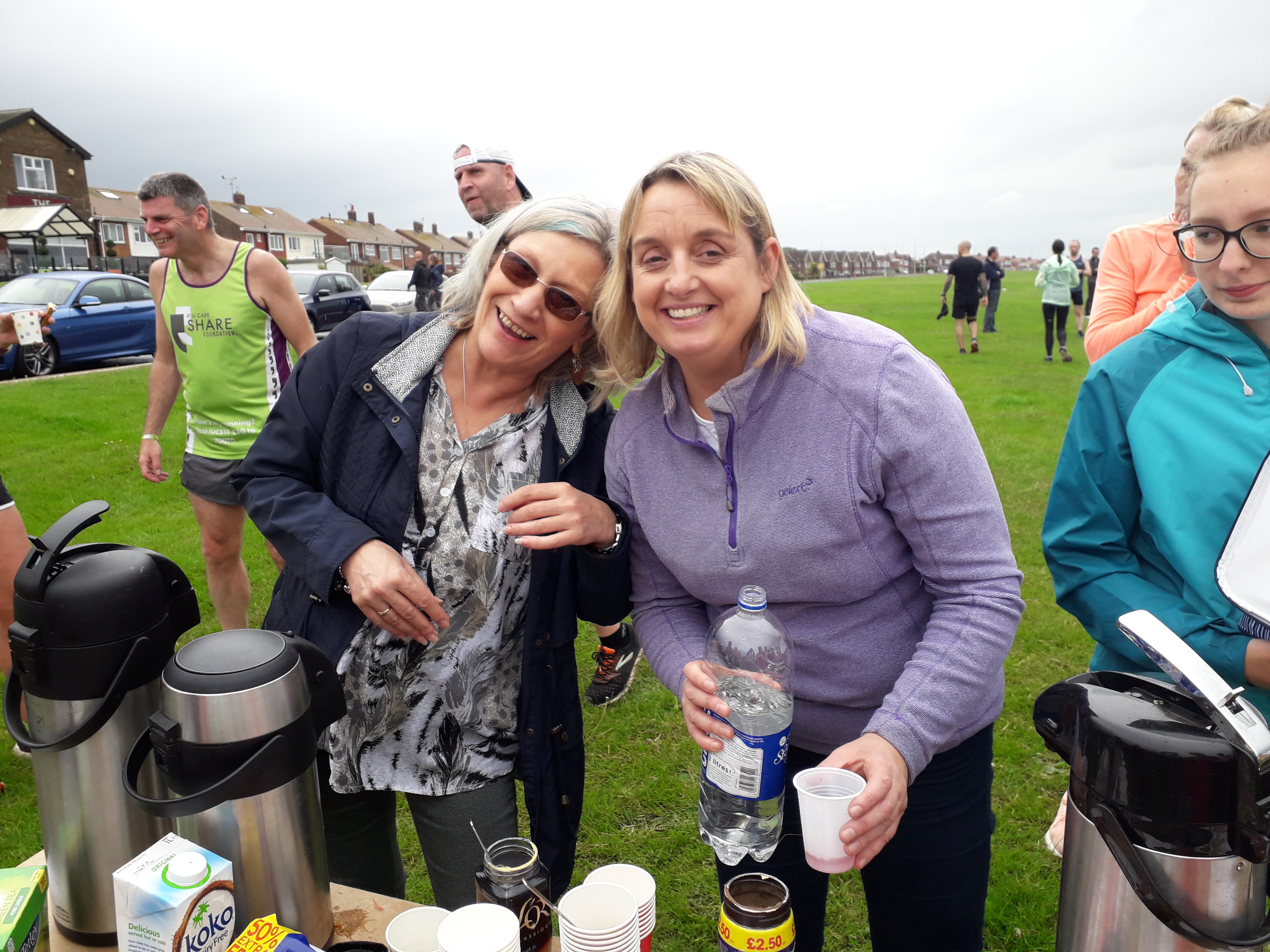 #6 Windy Nook parkrun
PK: 29.00              Ray: 25.34
This is a semi-urban nature reserve in Gateshead, in the shadow of the Wrekenton cross country course. Experience told me that #6 is always the toughest, made especially so by this very hilly three lap route. The rain had stopped though and there was a full team of Windy Nook volunteers to guide us. This happened a number times throughout the day and was really welcoming and welcomed.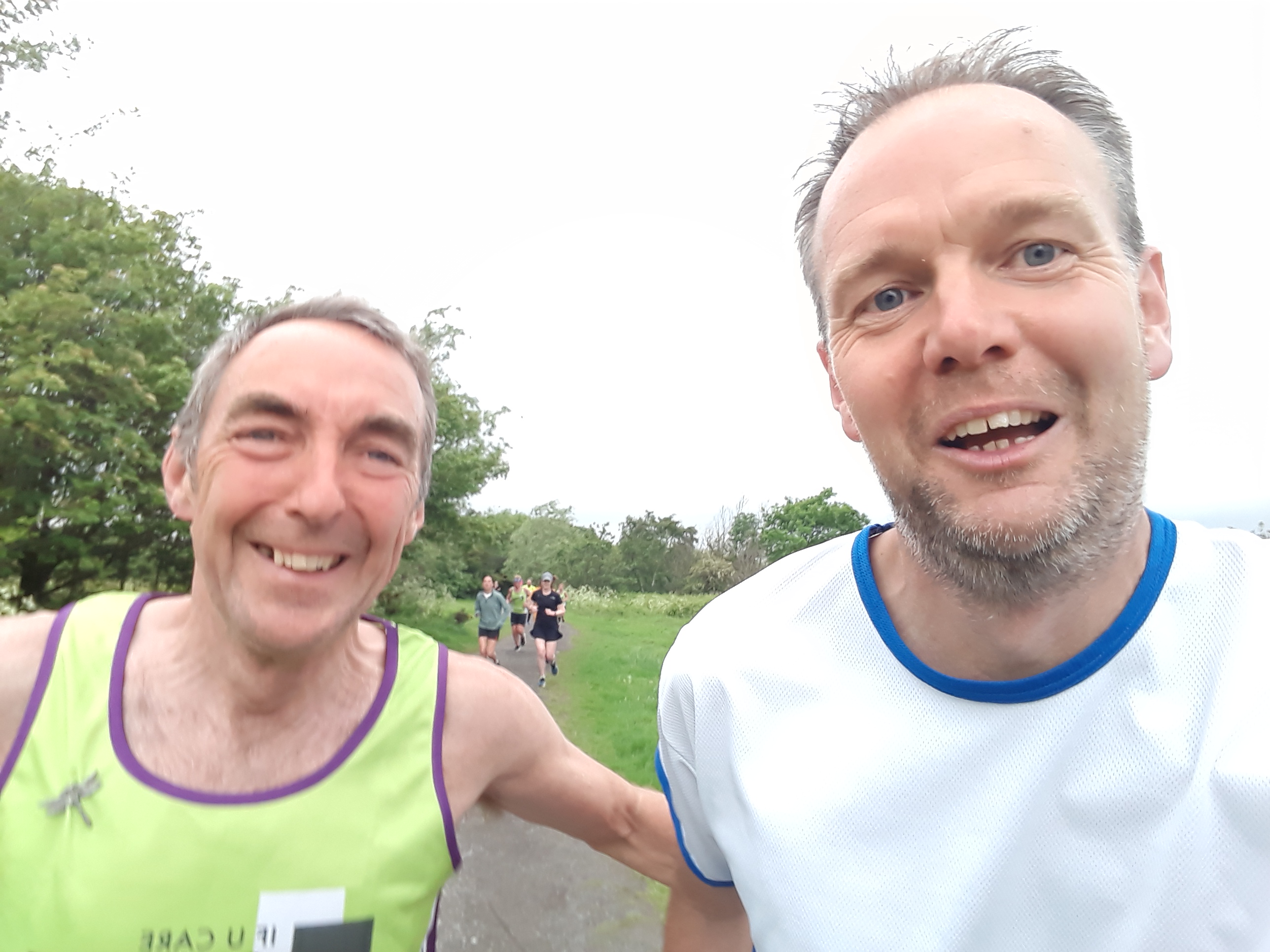 Keeping well hydrated I needed another wee before the start. By now Ray was inventing his own timing rules; either each one faster than the previous or under 27 minutes. Off you go mate. The route was hilly and twisty and 29 minutes doesn't tell of how much effort I put in on this one. There was a series of steps on each lap and that was punishing.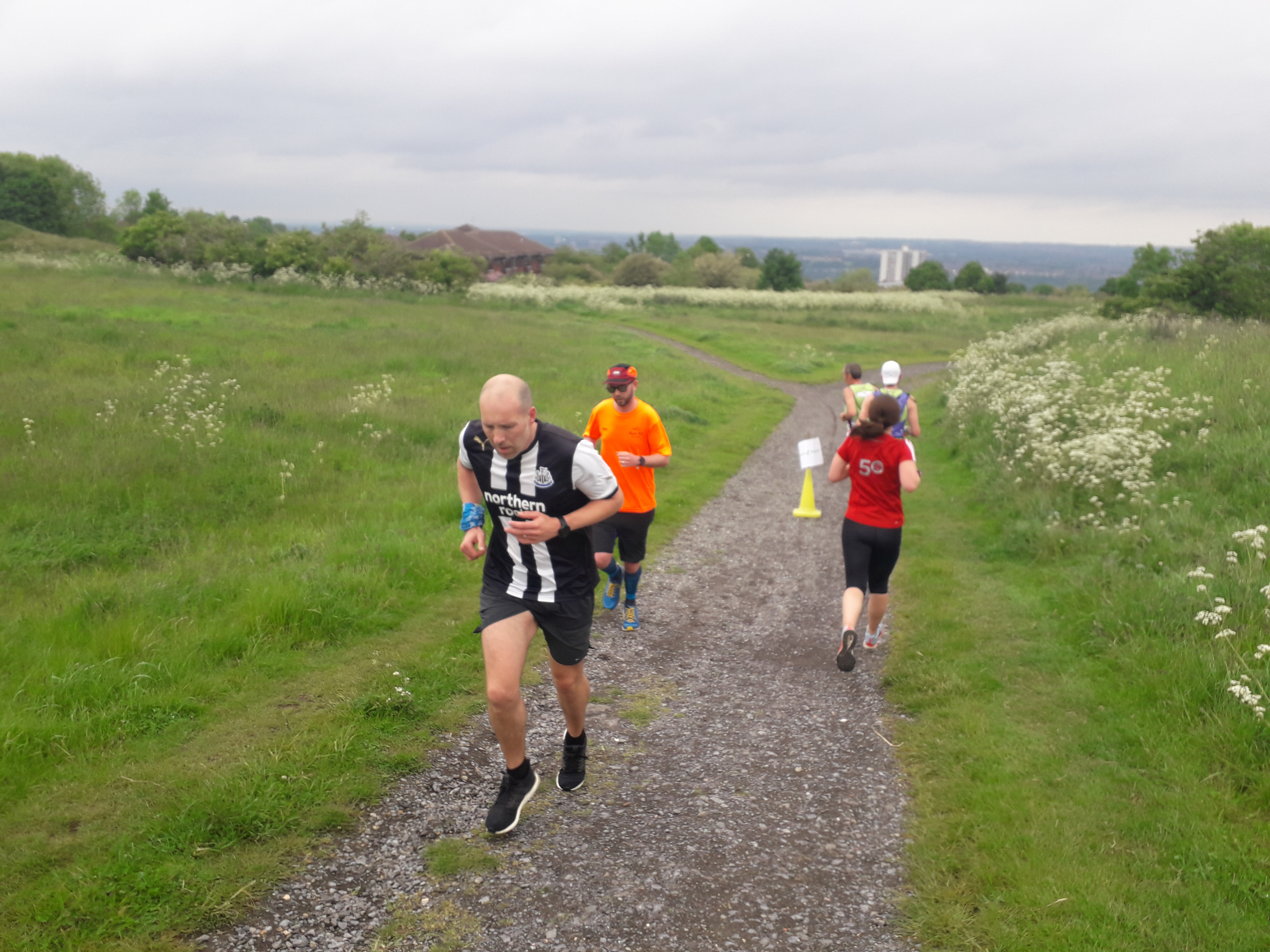 Another member of our running group was Oliver's A Level history and politics teacher, Mr Brown. I couldn't quite manage to call him Alex. He's a super fella and Oliver idolises him but 'Mr B' was as informal as I could muster. He tailed me all the way around this course and believing that he was going to pass me at any moment, I even managed to run the steps on lap 3. I finished ahead, job done Mr K.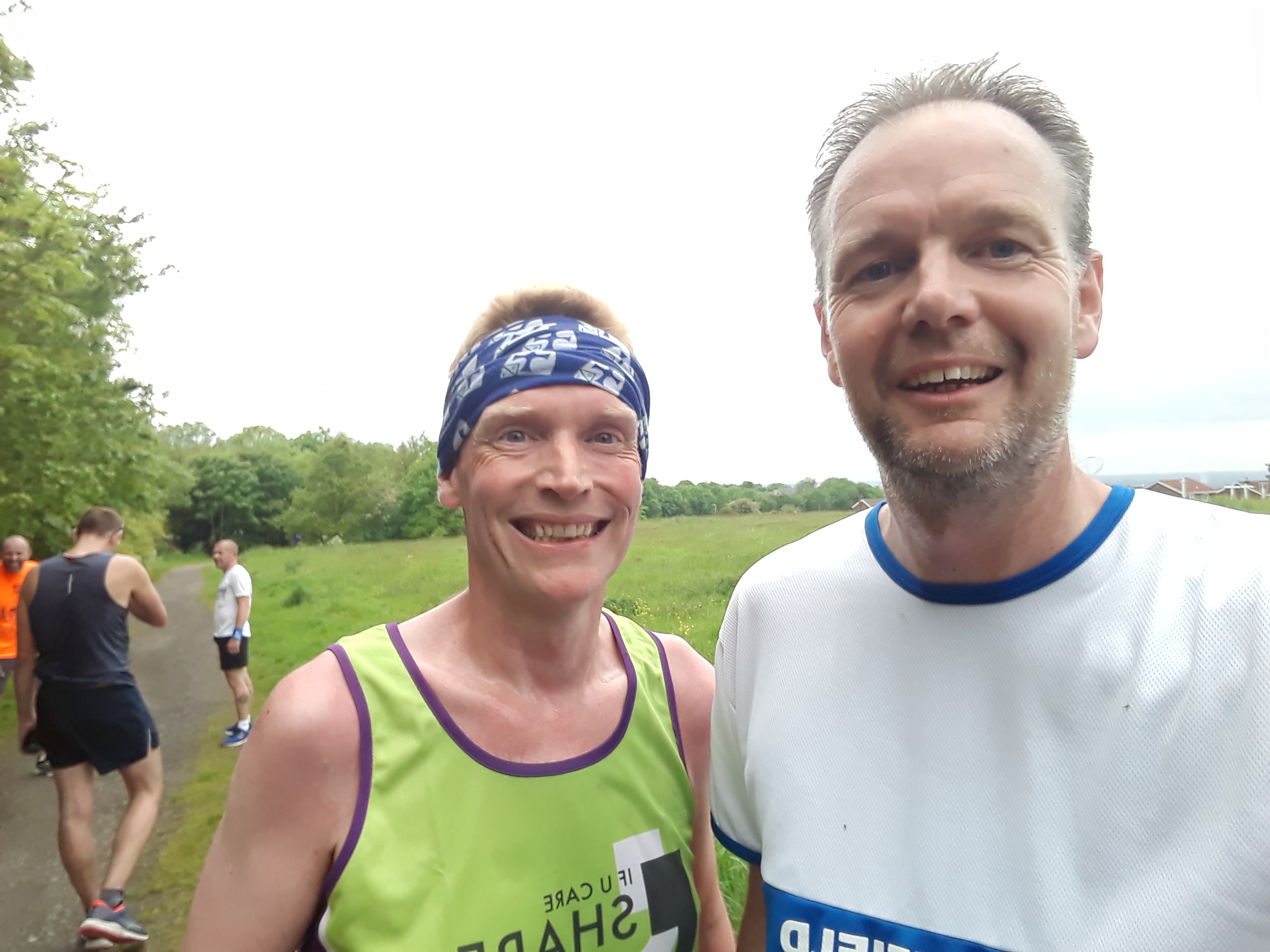 Another wee stop in the nearby community centre, where they also provided us with very nice refreshments, and we were off. Just two to go.
#7 Riverside parkrun, Chester le Street
PK: 29.05              Ray: 23.28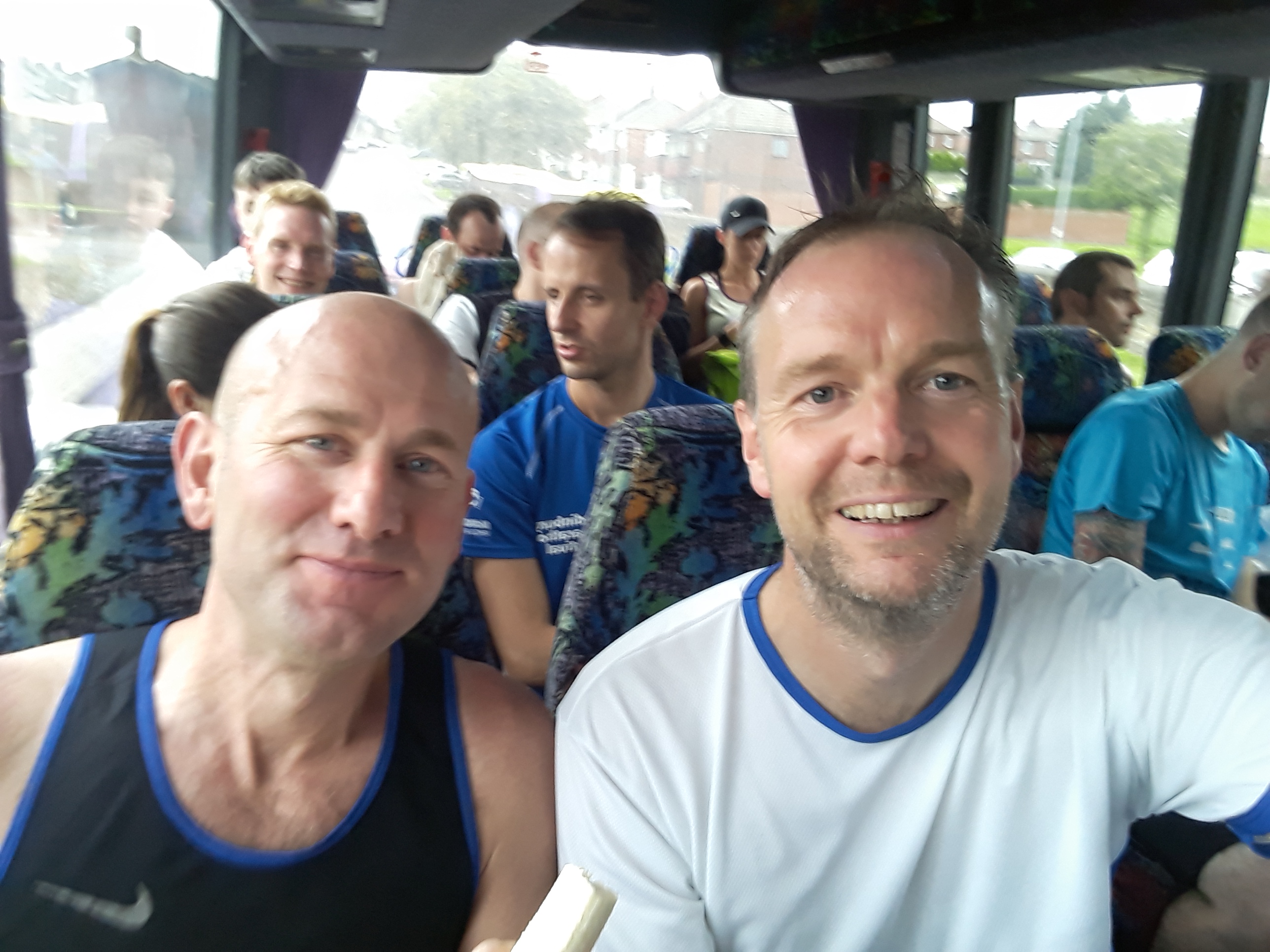 This is normally a fast, flat course, but serious stiffness and another public toilet stop put paid to any kind of performance from me. Meanwhile Ray the machine was smashing it up somewhere near the front. I never got near enough to the front runners, but I think there was some competitiveness up there. Support from volunteers was lovely, including a nice shout out from our Aileen Henderson.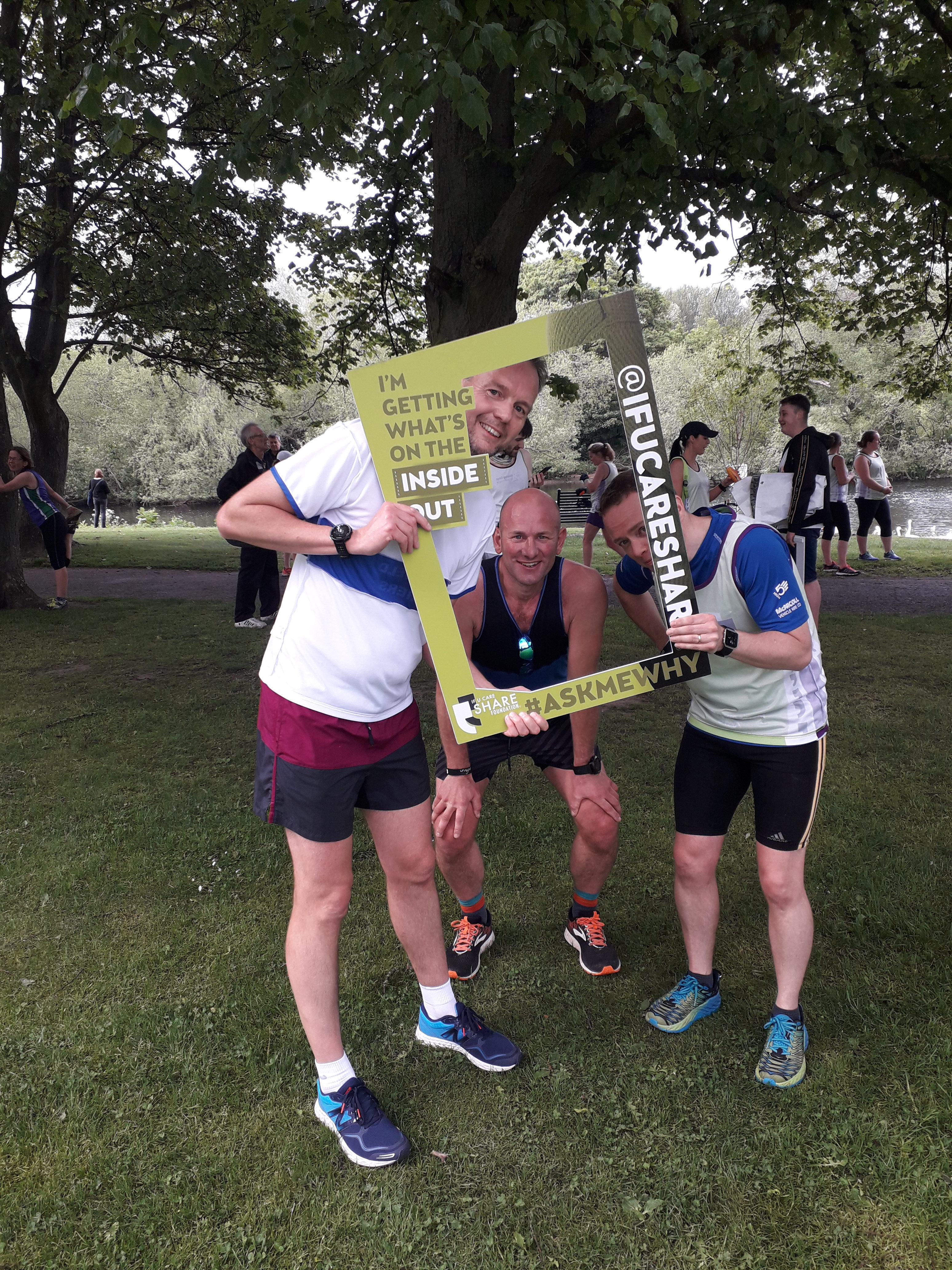 #8 Durham parkrun
PK: 26.00              Ray: 22.49
The home parkrun for many of our number, there was a great turnout as well as speeches before and after. Bike Man Alistair received warm applause before we started. His day had been a different challenge. Unlike for us on a sweaty coach and running together, his time was quite solitary; a great effort.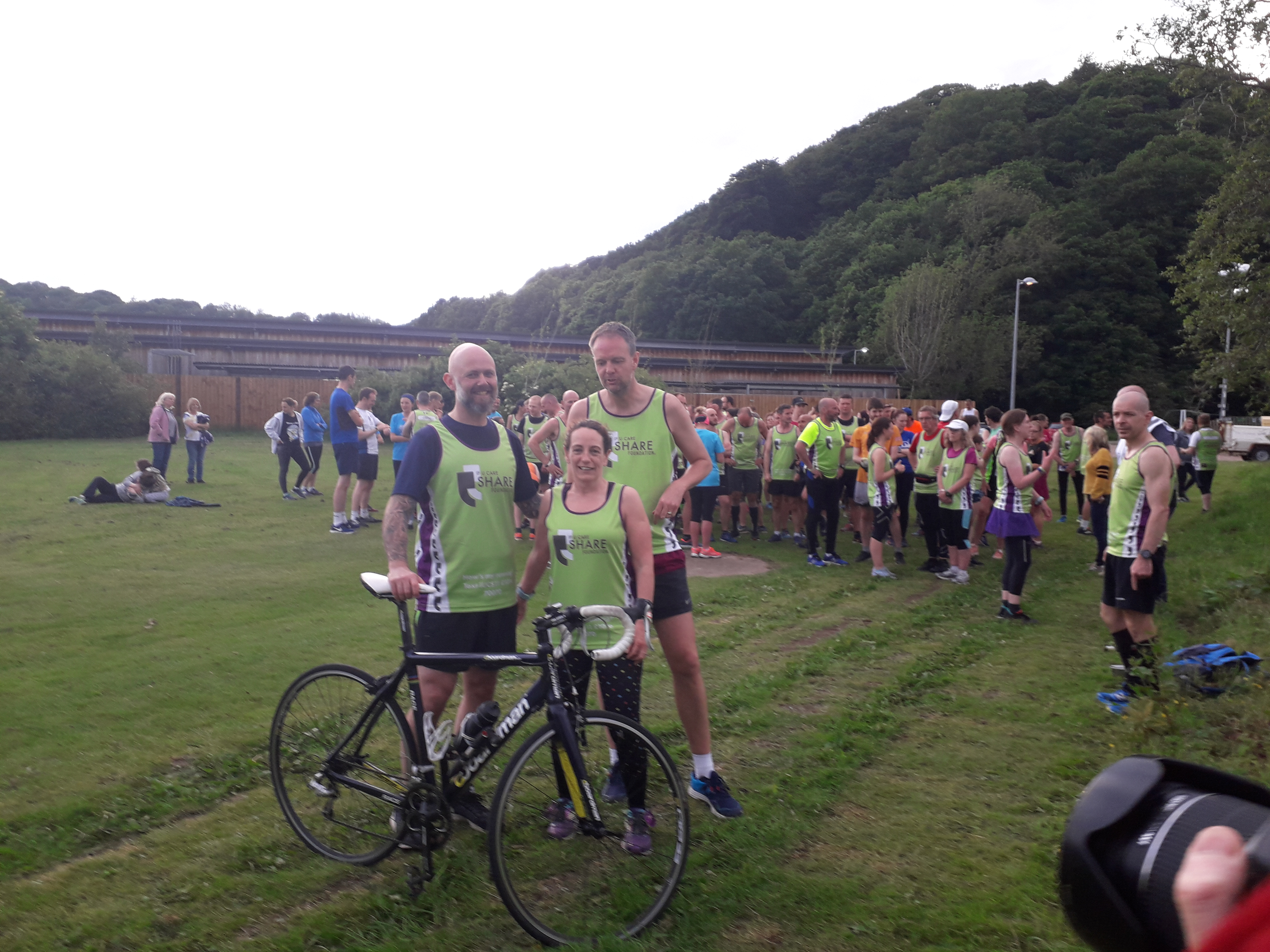 The Durham folks had also set it up as a 'proper' event with bar code scanning and everything. Just as well then that Ray and I got a sneaky wee in the cricket pavilion as we walked to the start.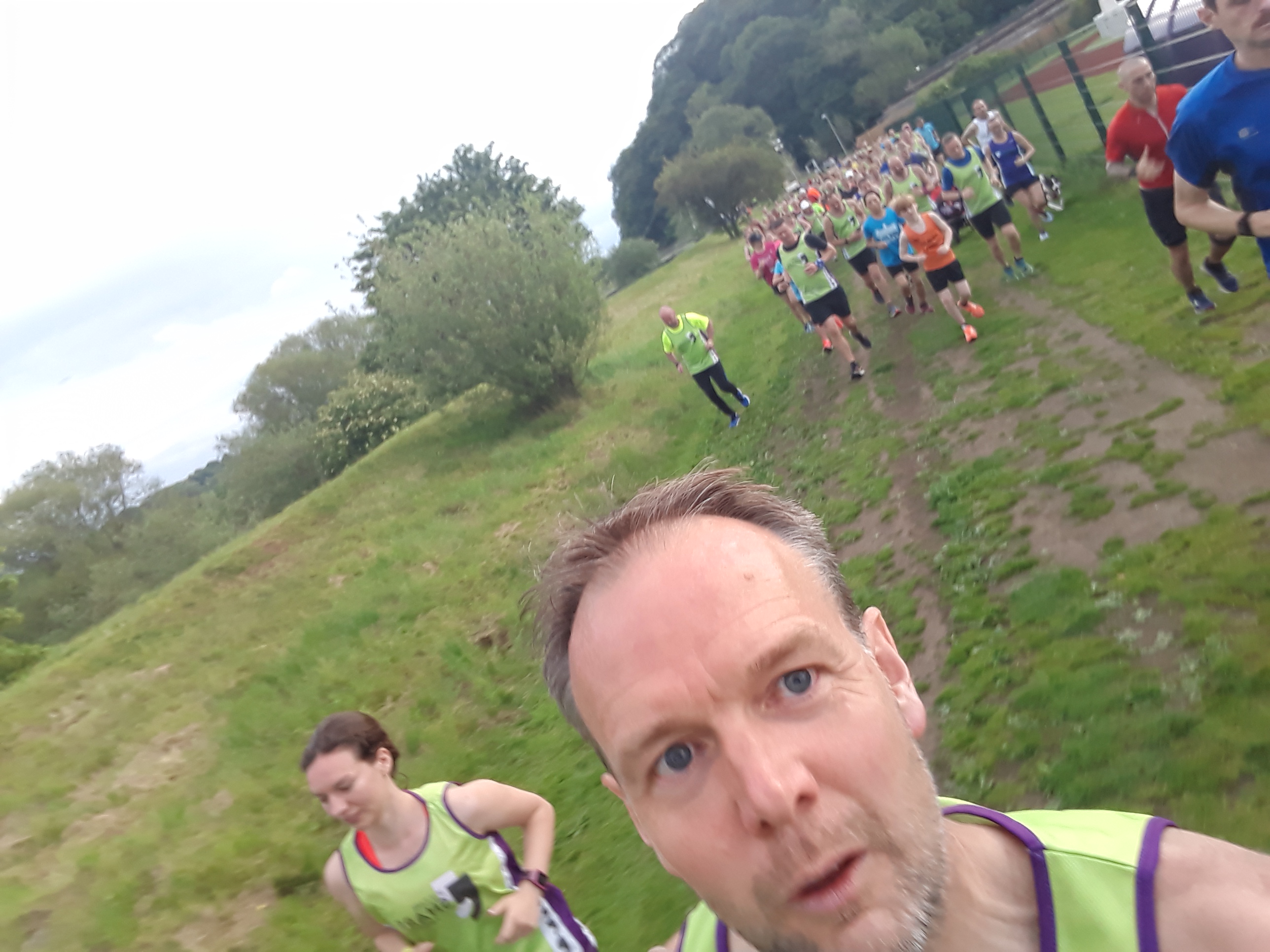 Because of where I was standing for the briefing I was near the front for once when we started. I felt myself spring off with not too much stiffness and so I decided to run hard for the last one. Okay, so Ray and the quick guys soon came past but I was pleased to finish with a proper run. It felt quicker than 26 minutes but that's what fatigue does to you I guess. The 'new' course at Durham which finishes along the river and back to the bandstand is lovely, but try as I might I couldn't quite catch Paul Smith in his leopard skin shorts. The man is crackers, he drank a bottle of Peroni after each leg, but he can run.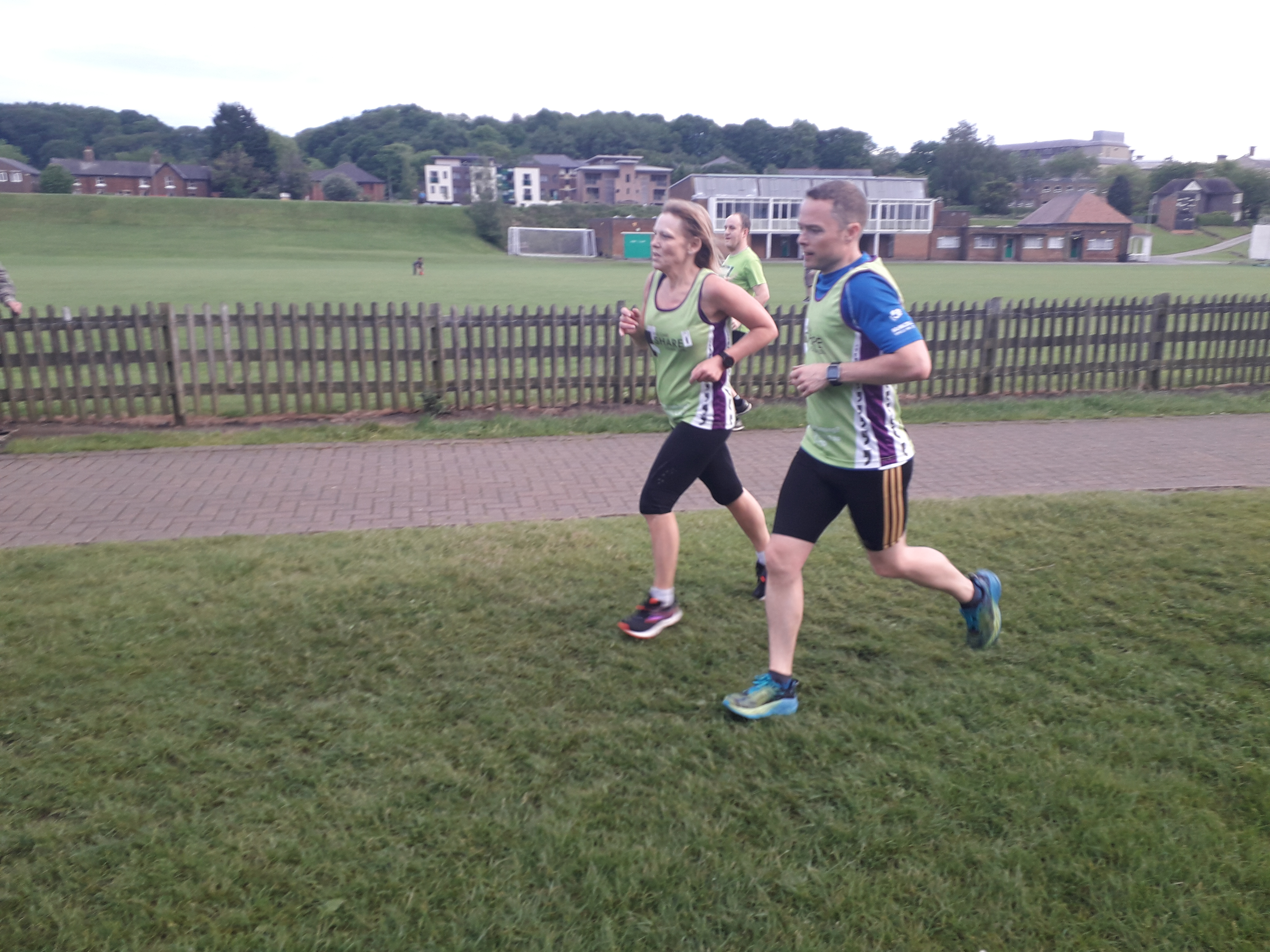 We had a few more photos (Maggie Davison is a great photographer, and trailed us all day) and I led a few words to thank Catherine and Co. Diane even admitted after, that despite her protestations, she had really enjoyed it. I knew she would.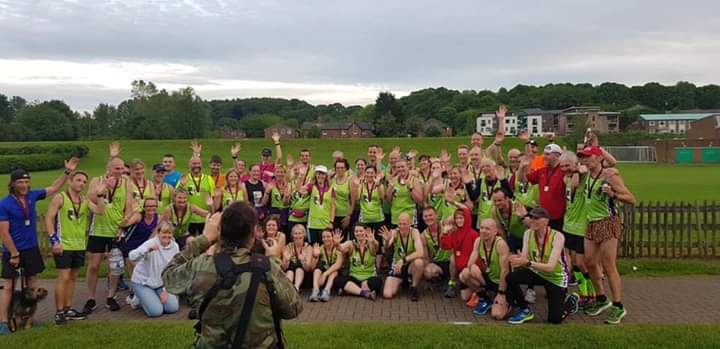 Parkrunathon is a great communal event and it was good to support a worthy cause. It is tiring and you do have to pace yourself a bit, but for me a normal marathon is tougher. We all hugged, shook hands and promised to do it all again soon. I hope we do.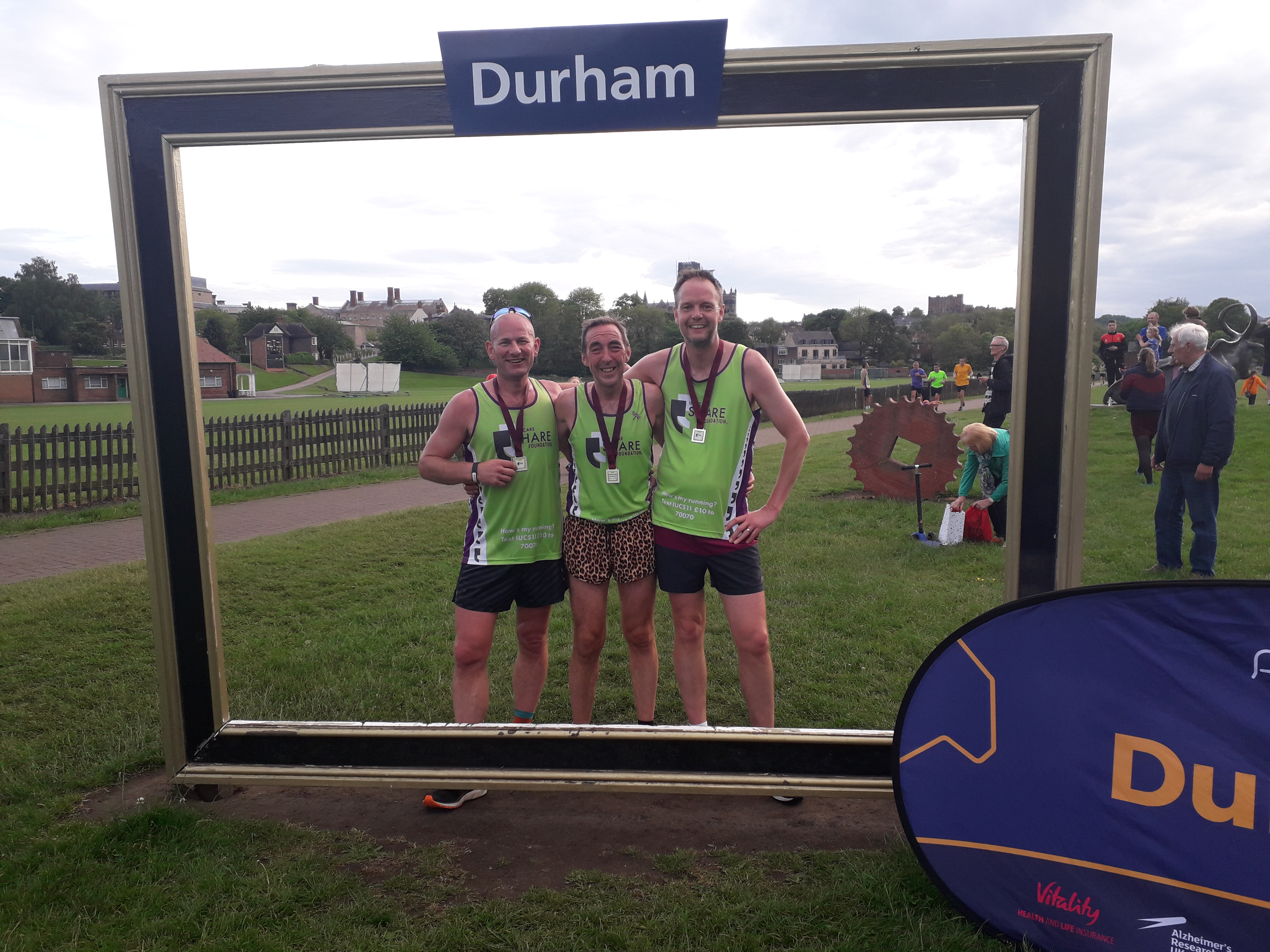 The last hug and word went to Kerry Anne, one of Catherine's lieutenants and run director for Cotsford Fields.
"Pete I think you should get your prostate checked out mate. I've never known someone have so many wees."
https://mydonate.bt.com/fundraisers/iucsparkrunathonposse2019