Not sure where to start really as the Town Moor marathon was on my mind for most of the year. I love NEMC races and the Town Moor is no different. I know some don't fancy the prospect of a 7-lap marathon, but I don't mind. It never feels too lonely when you are out running for hours and you get to see the same lovely marshals loads of times! Also, it's a lot easier to organise.
Why Town Moor and why try and run 100 marathons? Well, the Town Moor was the first marathon I ever enjoyed. Removing all the pressure of a big event proved brilliant for me. I knew I had to run a certain pace to hit my time goal, but my previous marathons saw me shoot off way too fast then suffer badly for the last 10K. It was a light bulb moment in pacing, which has served me well over the years. Also, I found my bunch of people. All walks of life from all over the world, but we share a love of running marathons. My 100th marathon had to be on the Town Moor.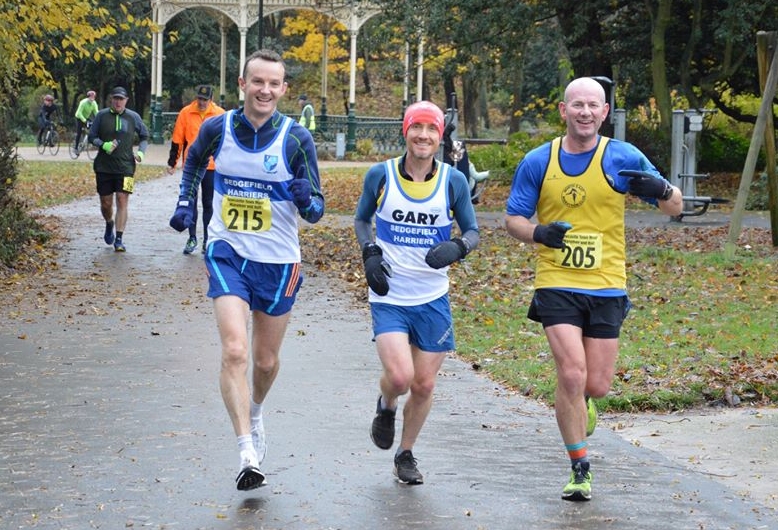 I did not plan on going for my 100th marathon in 2019, but I wanted to try and raise some money for Get Kids Going. I thought I might struggle to raise donations for charity, so I needed a bigger challenge. I did the maths and if all went well then completing my 100th looked possible.
I know the drill during the build up to a marathon, so a lot of things just took care of themselves, but I did find myself getting nervous. It's all I was thinking about and pretty much all I was talking about too. I had some fantastic messages of support. I even had a shout out from my favourite podcast courtesy of David Bentley! That really did take me by surprise. Thanks for doing that David. I was blown away with all the support.
I did my usual check of the weather and got my kit sorted for the next day. Forecast was canny. A windy day on the Moor would have been miserable and no fun for anyone. It rained a bit, but for November I think we got lucky.
I never get used to waking in the Dark. I had a rubbish sleep and could have snoozed for ages. No time for hanging around though. I stopped dragging the kids to marathons a long time ago. It's not much fun for them. Hanging around for ages while I run, the early starts are miserable too. Lisa was coming up to cheer me on and marshal, so the kids had to come. They seemed fine and in good spirits when I saw them every lap. I think the steady supply of hot chocolate from the café helped distract them…
We parked up in Jesmond and walked through the tunnel to registration. I was supposed to be helping with registration, so I grabbed a high viz vest and took my position. I didn't stay on registration long as they had lots of help. However, I was on it long enough to notice lots of familiar Harrier names! At first, I didn't think much of it apart from it would be great to catch up with people, but there was a lot more than I was used too for a NEMC race. Then I started to see everyone arrive. I have to say it was such a lovely surprise. I don't get over to Sedgefield much these days and I really miss the community and the sessions. I noticed a pic of me attached Melanie's back which made me laugh. Well, until I saw loads of them and kept seeing them all morning… It was weird! I managed to come home with a large stash of the picture too!
I have shared quite a few miles with Ray over the years and I really wanted to run with him today too. We even have Razza and Gazza marathon club vests 😊 I represented all my clubs that day. First few laps in my NEMC vest then finish off in my Sedgefield vest and I wore my run Peterlee buff. Three great local clubs. Justin said he would stay with us once he lapped us, so he shot off and myself, Ray, Paula and Rosie set off together. The run itself went well. We chatted all the way, I kept stopping for toilets breaks and jelly babies. Ray had made me a Gazza drinks cup 😊 and the steady stream of Harriers who kept appearing and running with us was a real treat. It was nice to see a few PBs for the half marathon. Great running everyone!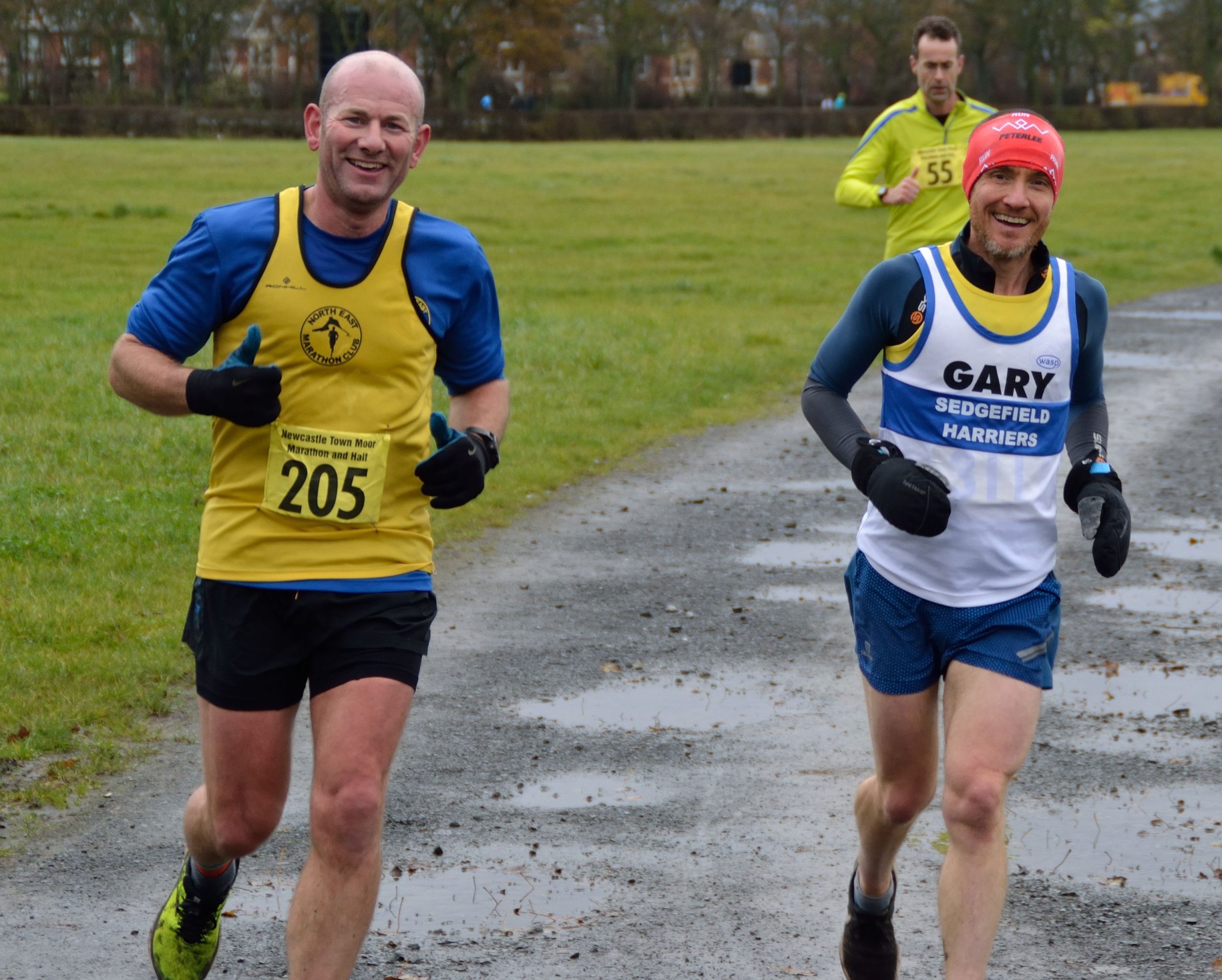 Good to his word once Justin caught us, he stayed with us. Like Ray, Justin and I have become good friends over the years and travelled to quite a few races together. We've run together over longer distances, but I can't usually keep up with him over the marathon distance. It was great to finish the marathon with these two. The race was great. We chatted all the way and finished comfortably under 4 hours. Constantly bumping into Harriers really helped. The miles and miles always feel better when you can have a chat.
George wanted to run to the finish with me. He was waiting for me at the pond and we ran to the finish together. We both loved it. I don't normally go for stuff like that, but it was such a special moment to share with George. The finish was the best finish to any race ever! To see everyone making a tunnel for us to run through was amazing and a lovely thing to do.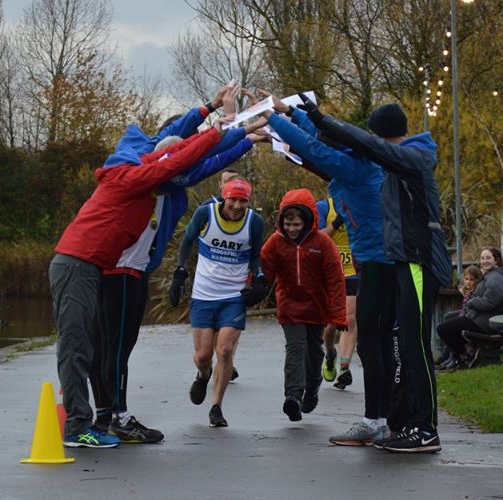 After the race we all gathered for some photos. Ray produced some marathon chocolate bars, which went down lovely with a brew once I got home. We then went to the café for a coffee and cake. Unfortunately, the cafe wouldn't let us eat the cake, but we managed to make our way through it all the following week at cross country.
Ray presented me with a lovely card with loads of lovely messages from Harriers. It was great to read them all and something I'll cherish forever. I love my 100-marathon t-shirt and bracelet too. Also, a load of money for the Get Kids Going Charity! Thank you all so much.
I have to say I was taken back with all the generosity and kindness that day. I have seen the group chat, so I know all the effort that has gone on behind the scenes to make the day so special. A big thank you to everyone! I won't try and list everyone because I would hate to miss anyone out, but an extra special shout out to Ray. I'm sure most of you remember him and his tractor helping at XC a few years ago. He achieved legend status that day. Well, Ray is truly the best of us. I often have a chat with my son about what and who would I like with me if there ever was a zombie apocalypse. Well, Razza would be first on the list. Nailed on he'll have coffee and chocolate.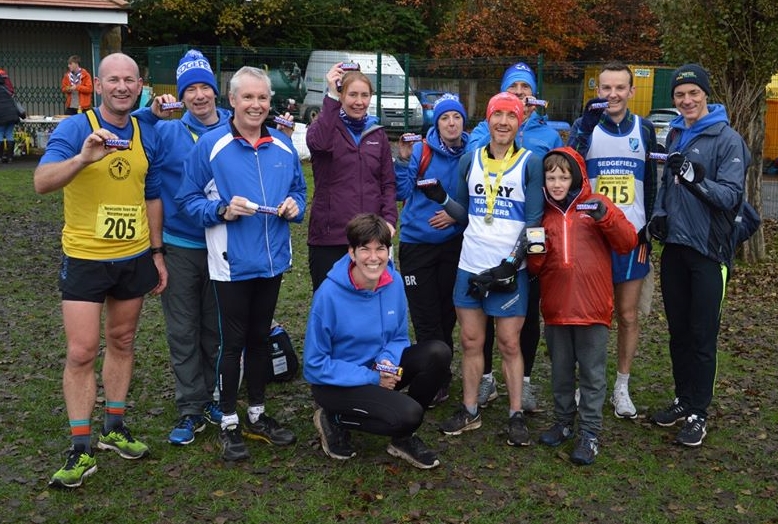 Thanks to all the marshals who gave up a massive chunk of their Sunday, thanks for NEMC for another great event and big shout out to my long-suffering wife Lisa who marshaled too. I even bagged a kiss every lap. She made cake too, so we have eaten a lot of cake lately.
by Gary Thwaites.
Results – http://www.racetecresults.com/results.aspx?CId=16685&RId=16