I was asked to enter this event by a friend of mine as he had completed it last year, so me being me I thought 'why not?' as it was on the doorstep and not too badly priced to enter. Mind you the doubts had been creeping in after a conversation with Mr King during parkrun relating to what lies towards the end of the event…
So the day arrives and firstly I think to myself 'where has the sun gone?' as all I see is rain. To this then 'what will be the best running gear to wear?', I decide to pack a quick bag with plenty of choice and head off. On arrival to the event I firstly see Ian and Jayne both of whom have completed it before, and start to enquire about the dreaded hill. I then collect my number and get ready for the event. As the race draws closer we assemble at what was the train station, where I see Ray and Sam; luckily both have completed the race before too and Ray is able to give us a good guide as to where the run takes us, which is always a bonus.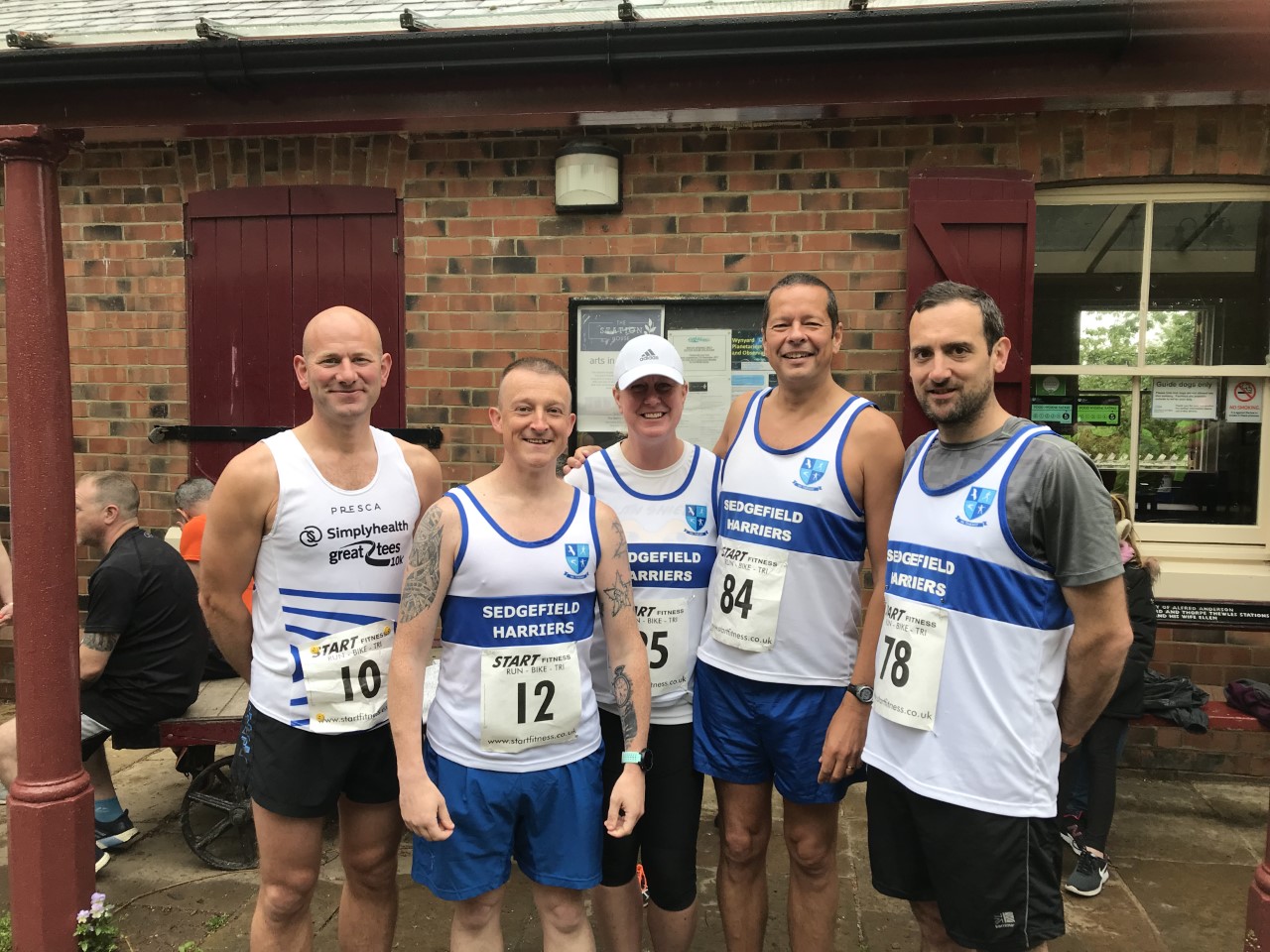 Race time we all line up as I jump off the platform. I move further to the back as there is no way I want to be near the front. The race briefing starts then the count down begins, the hooter sounds then away we go, all 100 runners. I start off running with Chris and taking it steady, I see Sam up ahead but all I keep thinking is keep some energy back for the hill, the humidity starts to increase, making it harder to breathe, but I carry on.By about 1 mile the first water station I take the opportunity to grab one, and try to take a drink, from which I end up wearing it as it goes up my nose down and down my top!
I continue on and by about 2.5k I lose Chris, so I now look ahead and try to see who I might be able to catch. As the course reaches just over half way you veer off into the fields, me being super tall and all I lose sight of anyone as the rape seed plants are taller than me! I hear foot steps behind, so I know I'm going the right way, the guy behind eventually catches me and as passing says its getting warmer to which I agree. Then a little hill appears and I start thinking to myself this must be it, but it isn't. Then my watch beeps to say I'm getting closer to the finish and in my head all I'm thinking is only a parkrun left to go. I see another marshal up ahead he says 'keep it going, now long now' and 'only a few steps up ahead'.
'This must be it' I think to myself. I continue to power on up the little incline, then down the little slope, to be greeted by another marshal and I then look to the right and there it is, Mount Everest or so it seems! I shout to the marshal 'what's this?' and she just giggles and says sorry. The next decision is the hill or stairs, I opt for the hill and start to run, I catch the guy in front and he spurs me on,.I continue to try and run up the hill/ mountain, it then turns to the right and proceeds to climb. It's at this point the hill wins, I'm wondering where my safety rope is hidden as I start to slip slightly.
Once at the top it takes me a couple of seconds to catch my breath, then the final approaches. Luckily this is a slight downhill, which is always good, as the finish line approaches I power on and complete the 6.5 miles in a time of 58mins 27, which I was pleased with.
By Mark Chapman.
https://racebest.com/results/zft44?fbclid=IwAR26cK2-KqYVebH_IUH4XYHnWJcMI7Ejt-taV1PhVPatkbXPOVCh_28kBeg