After a good few years of running either with Rosie or with my trusty old border collie Jess, and entering the odd running race and a few sprint triathlons for 'fun', Rosie finally convinced me to actually join the Harriers.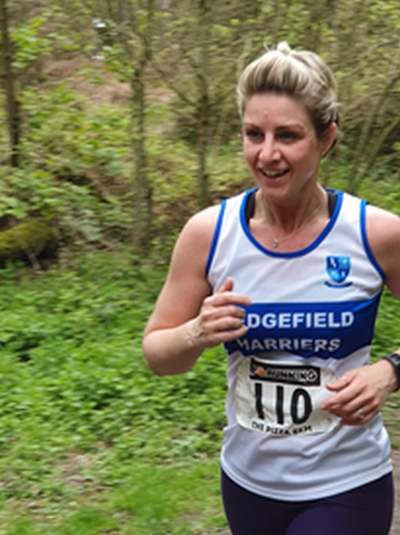 Pre-covid I was never able to attend any training sessions due to work commitments, but working from home meant that I no longer had that excuse, and with the gym pretty much shut I needed something to keep the wine and chocolate calories from piling on, so I signed up and joined a few Netpark & Hardwick Park sessions as well as some runs with Emma, Vicky and Fay.
I'm generally not very motivated if I don't have something to 'train' for so I signed up for some races this year and the last 2 weeks have seen me wear my new vest not once but twice! And what beautiful settings for races they were. Both were Muddy Roads trail races and were extremely well organised, everyone was friendly, welcoming and really supportive. And Rosie was at both handing out race numbers along with lots of encouragement for me and the rest of the runners. Huge credit to Vicky Fawcett and the whole Muddy Roads team, you guys are awesome!!
So on to the races…..
Pine Forest is located at Flatts Lane in Middlesbrough and the race started on a beautiful Thursday evening at the visitor centre before climbing on a winding trail path up through the trees before opening up to stunning views of Roseberry Topping. I can't say that after that climb I could see much of the view through the sweat in my eyes, but apparently it was there!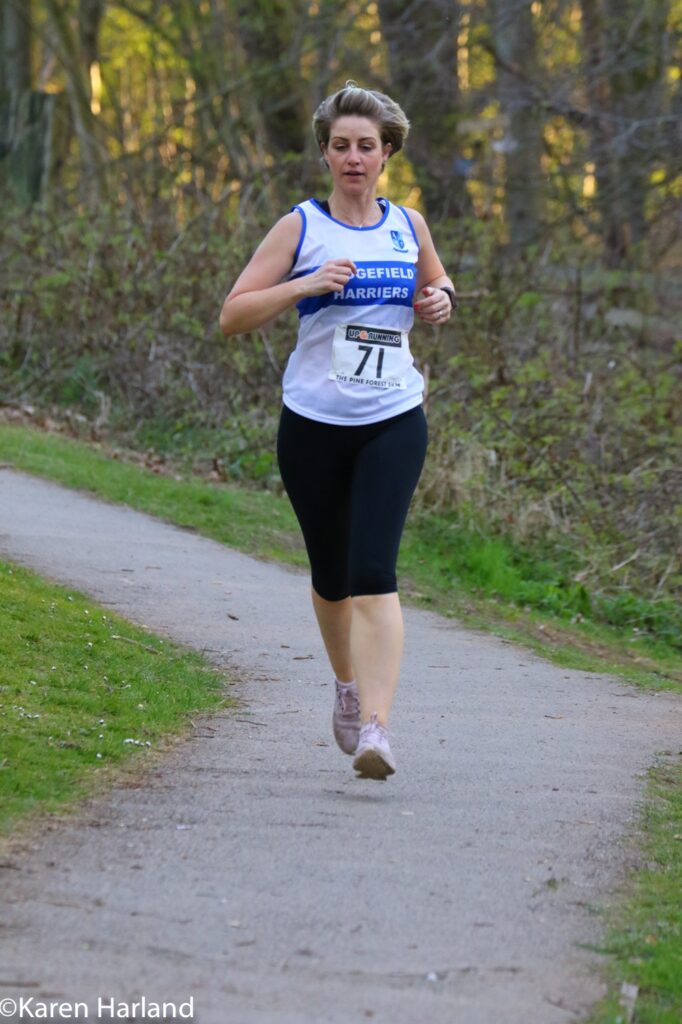 The lovely and encouraging marshals at the top cheered me on and I later found out they were the Harriers' very own Bethany and Mark Raine. And thanks to Mark, there is photo evidence to prove that the view exists and you can see the happiness on my face at being at the top of the climb!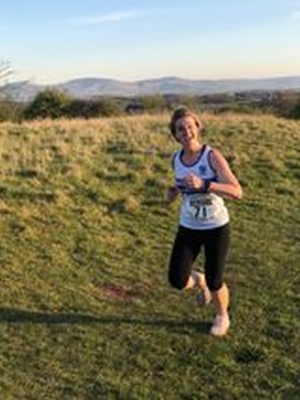 The run then undulates back through the forest with steep downhills and a long flat track before a small climb back up to the finish line. I managed a time of 25.56 which, for anyone who knows me, knows how much I hate hills, I was quite happy with!
http://www.chiptimed.com/results/muddy-roads/pine-forest-5k-april-2021/
The second race in my new vest took place on Bank Holiday Monday and was the Pizza 8k Trail at Errington Woods in New Maske  – and it was another hilly one  – but the draw of pizza at the end was enough to lure me in. And some other Harriers too!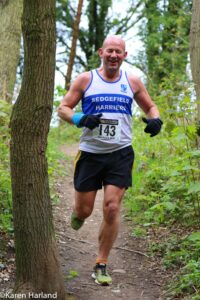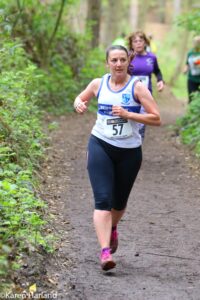 We were lucky given the horrendous forecast for the day, that the weather was dry and cool for the race and the heavens only opened when we were on our way home.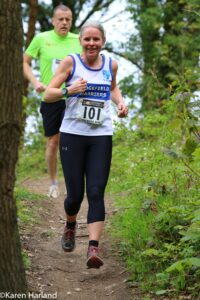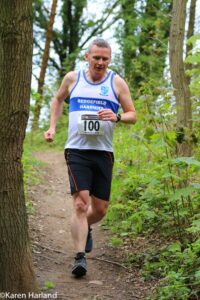 The trail was similar to the first race with a start climb up through woods and then across dusty fields at the top with more stunning views of Roseberry Topping and also Saltburn cliffs and out to  the sea. The trail then heads back down through the woods, throw in a couple of boggy patches and another field and then on to the finish and the amazing wood fired pizza.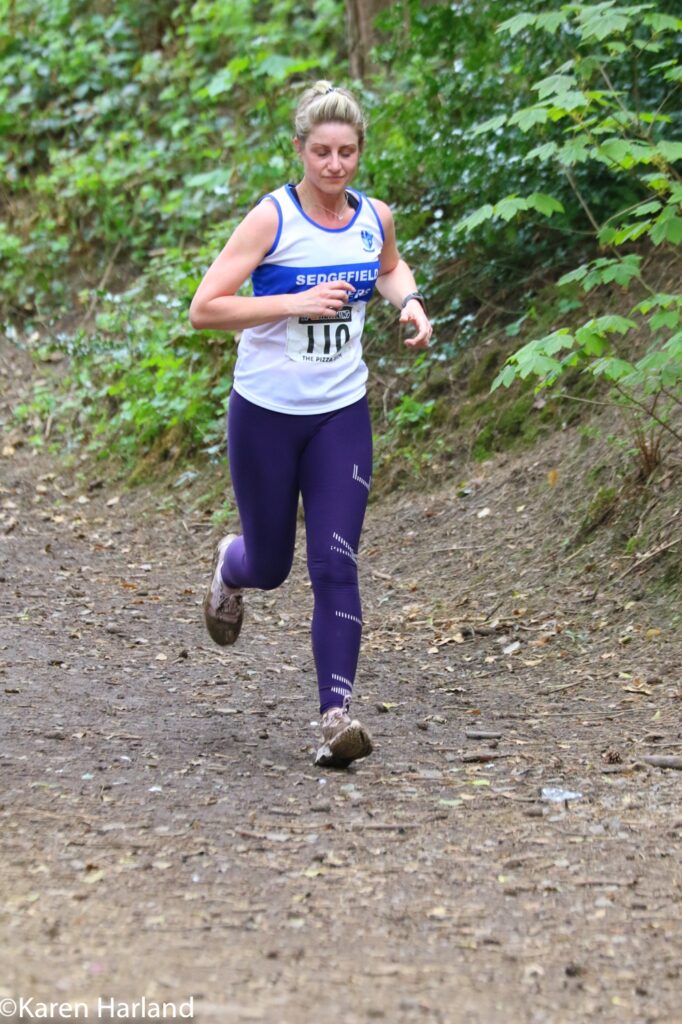 Both runs started under Covid safe rules in waves and having switched from wave 5 to wave 1 so Rosie and I could make a hasty getaway at the end (and nothing to do with getting our pizza before the queues started) I had the unexpected issue of being out at the front after the first mile – something I have never experienced before and probably never will again, so with no one to chase or follow it was an unusual 'race' for me and I was just trying to make sure I didn't get lost and that none of the super fast runners from the next waves caught me. My time was 42.01 and I had to be pleased with that given those pesky hills and lone run. Note to self – don't switch waves next time…..
A huge well done to the other Harriers who also ran – there were some truly impressive times!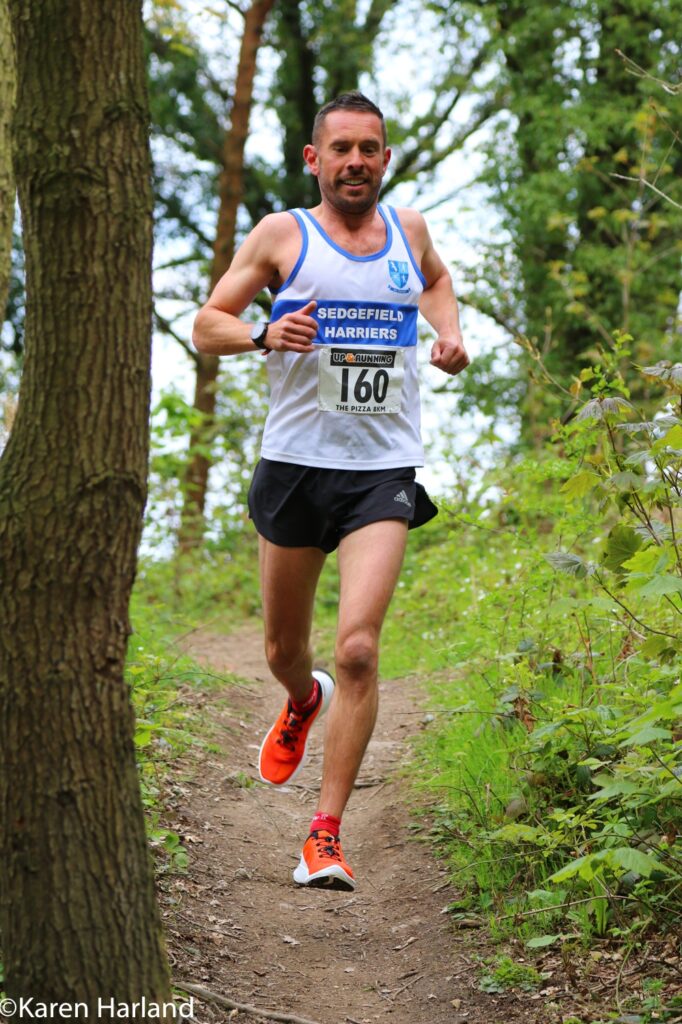 http://chiptimed.com/results/muddy-roads/pizza-8k/?fbclid=IwAR2On-_DWDUm1XCW08HTHPkB_BKXl6uUeA2Vtpb49ciq7uOD-M4RfR8ANcw
So I've got the race bug and I've even signed up for a few more Muddy Roads events although I am also keen to find a flatter race or two! And now Rosie has convinced me to join the Harriers, she now thinks she can convince me to train for an ultra…… but I think she first needs to join me in a few triathlons – that's only fair isn't it?!
By Claire Lee
Pictures credit: Karen Harland