THE 2023 SALOMON SKYLINE SCOTLAND LOCHABER 80 – THE RETRACE
Saturday 16th September 2023
Same course, familiar themes, similar outcome, no pork pies.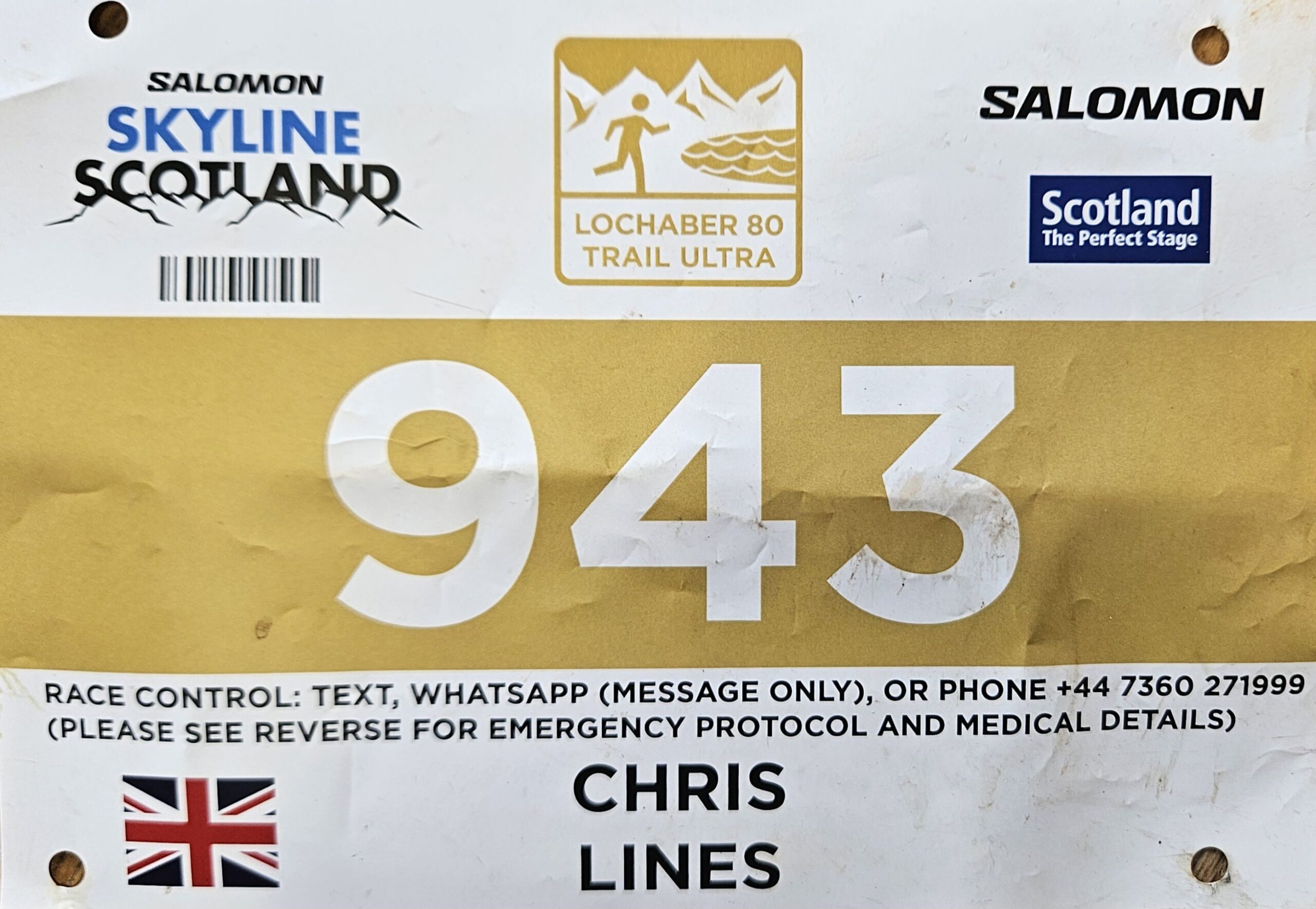 In various ways, I'm not really built for ultra running. However, I dipped my toe in 2022 at Salomon Skyline Scotland, with the Lochaber 80k. Marketed as a trail race, the course is nevertheless fairly lumpy, involving over 2,400m of climbing, including some sustained ascents such as a 3k slog up to the CIC hut under the towering buttresses near the summit of Ben Nevis.
My initial aim last year was simply to get around the course within the cut-off deadline. My stretch target was 12 hours and I completed the race in 11:08:24, so that itch should have been well and truly scratched. I remember a wave of relief as I finished, but the typical runner's psyche kicked in within minutes, and I started pondering over whether I could have been a little faster. So, the itch returned and a year later, I was heading back up to Kinlochleven to have another crack at the event. Silly boy.
When I tackled the event in 2022, I used a race vest for the first time, which was ideal for carrying all of the mandatory kit that was required (a fair bit for a long day in the mountains in autumn), plus two pork pies that for some reason I thought would become necessary food. After 58k, I realised that I was never going to eat those and left them at the final support point. Other than that, my race and fuelling strategy (alternating food and gels on the hour, every hour) pretty much went to plan, which was gratifying.
Fast forward to 16th September 2023 and I intended to take a similar approach. On the kit and fuel front, there were two differences. I replaced the two pork pies with one grated cheese sandwich, and I also added the collapsible water cup that I found in a Pier To Pier Race goody bag. As for my race strategy, the first point I kept telling myself was that I was not going to 'race' the other participants, but simply focus on beating my own previous performance. I reckoned that I could make up a bit of time in two parts: First, in the section after the first support point at 19k; second, between the second support point at 33k and just before the start of the climb up to the CIC hut at about 50k. Best laid plans and all that.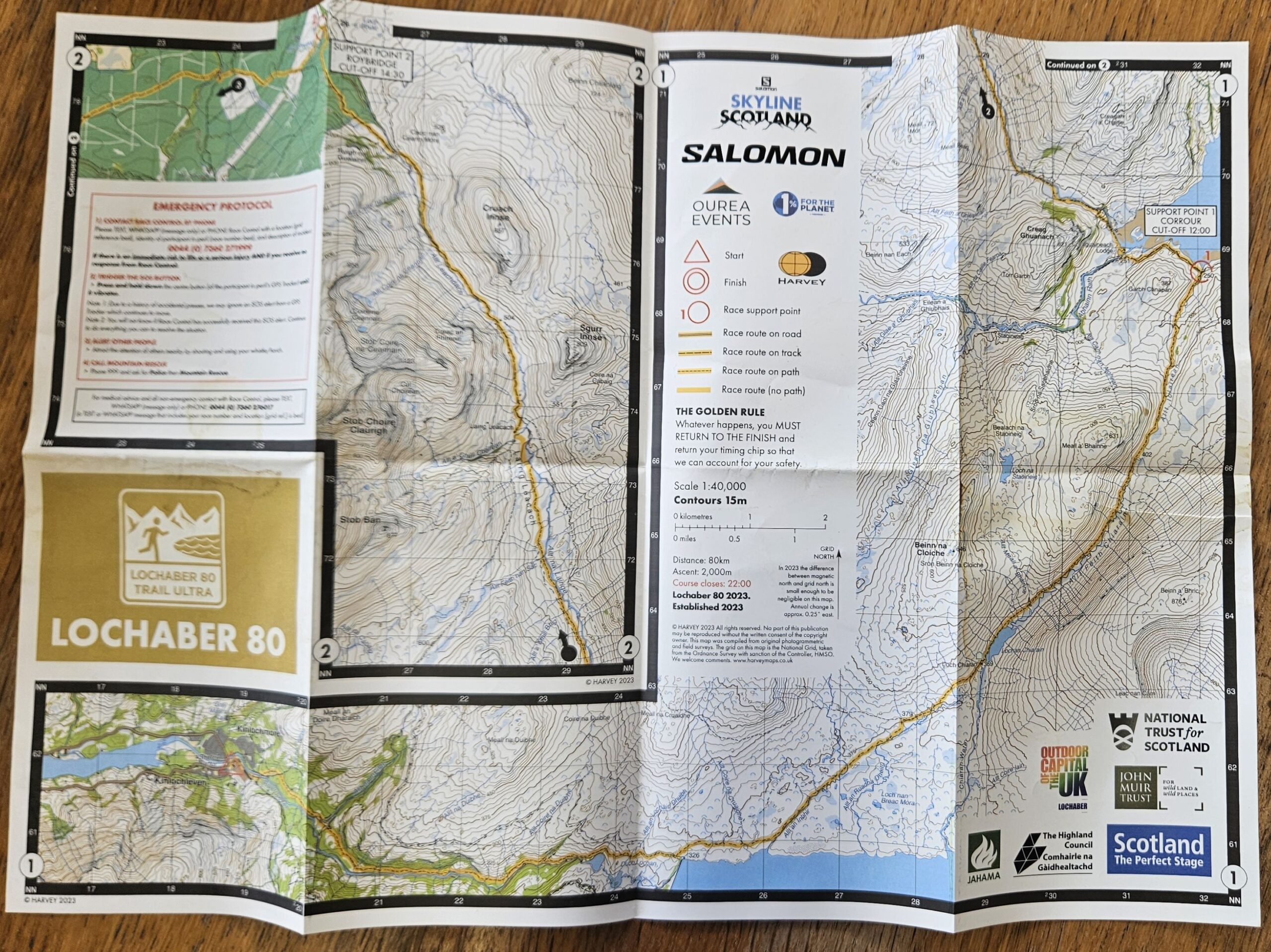 The race started at 7:00am as the sky started to lighten. The forecast was for a sunny, fairly warm day, and that did worry me a little. I actually don't mind running in heat, but I perspire a lot and on long runs that has led to bad cramp. As it turned out, the conditions behaved, but the cramp came anyway.
Similar to 2022, I seemed to breeze around the first section, reining myself in occasionally, as I knew what was to come, but generally feeling pretty good. I arrived at the first support point in fine spirits and lying third in the race (but knowing that it was a false position). Last year, the next section was nearly my undoing and I was determined that this wouldn't happen again. But it did.
I don't know what it is about that section, which is by no means the toughest in terms of climbing, but it doesn't like me, and I certainly don't like it. I ended up slowing down significantly, partly due to the first onset of cramp, but clearly for some other reason too, which I can't pin down. In those 14k, I conceded four or five places, and felt really rubbish. There's a nice downhill section in the final few kilometres to the next support point, and I was able to recover a bit of momentum and spirit then, but I have to admit that I was feeling a little disappointed by this stage of the race, concerned about the nagging cramp and not relishing what was ahead.
In 2022, the next section was the crux of my race. By the time I reached the final support point at 57k, I knew that I was going to finish the event and probably faster than my stretch target. On reflection, it was probably the crux this time too, but in a different way.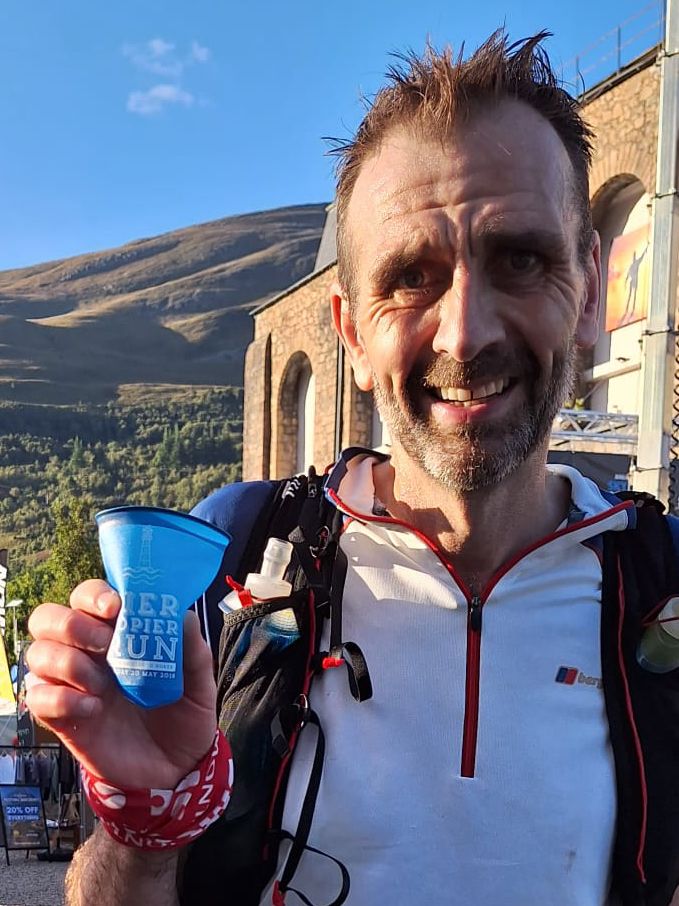 I set off from the second support point in okay shape, but as soon as I started to pick up pace, the cramp intensified and simply stopped me from sticking to my original plan. There were stretches that felt hillier than I recalled, which I am sure was mainly in my head, but did send me to some dark places at times. However, one tactic that was working involved that little Pier To Pier cup, which I had removed from a pocket in my race vest and was carrying in one hand. In long races, I tend to drink more water in the latter stages, and knew that I would get through the litre that I was carrying in my race vest before the next support point, especially as the temperature was rising. So, being able to simply pause and scoop water from fast running streams as I moved made a big difference, and reduced any anxiety about running out.
The slog up to the CIC hut was every bit as unpleasant as I remembered, with added cramp. You can see the ruddy thing from a couple of miles away, but it never seems to get any closer until you're almost at the front door. It reminds me of a scene in Monty Python and the Holy Grail (I think). However, I managed it, at which point there's an almost 180 degree about turn and the route takes runners gently back down part of the glen on the other side, before climbing over the shoulder of a hill and heading across and down to the Ben Nevis visitors' centre car park, where the support point is located.
In 2022, I really enjoyed that part of the run. I was able to get moving well again heading down the glen and as I made the steep descent down the rocky tourist trail to the car park, I was feeling jubilant, as I knew in my heart that I'd broken the back of the race. The contrast was pretty stark this year. My cramp was at its worst and I just couldn't get going. Then I spotted a group of four or five runners who were still making their way up the other side of the glen to the hut. While they were probably 20 minutes or so behind me at that point, I knew that if they were able to get running properly again in the final section of the race, then they would breeze past me and that there was nothing I could do about it. Regardless of my mantra of not racing against others, this was still dispiriting. And of course, with my overall race strategy in a bit of a mess, I was certain that a faster time than last year was no longer a possibility. Oh, woe was me!
However, as I made way down the lower part of the Ben, I did a bit of arithmetic, and realised that despite everything, I was still a little ahead of schedule compared to last year. That gave me quite the psychological boost and when Catherine and Berry (our hound) were there to welcome me at the support point, I was buoyed a little more – thanks to both! By that time, I had decided that I would definitely carry on to finish the race (it had certainly been in the balance at one point), and after devouring a few salty potatoes that event team volunteers were handing out and laughing when Berry welcomed a friendly marshal by depositing a big poo, I was on my way again.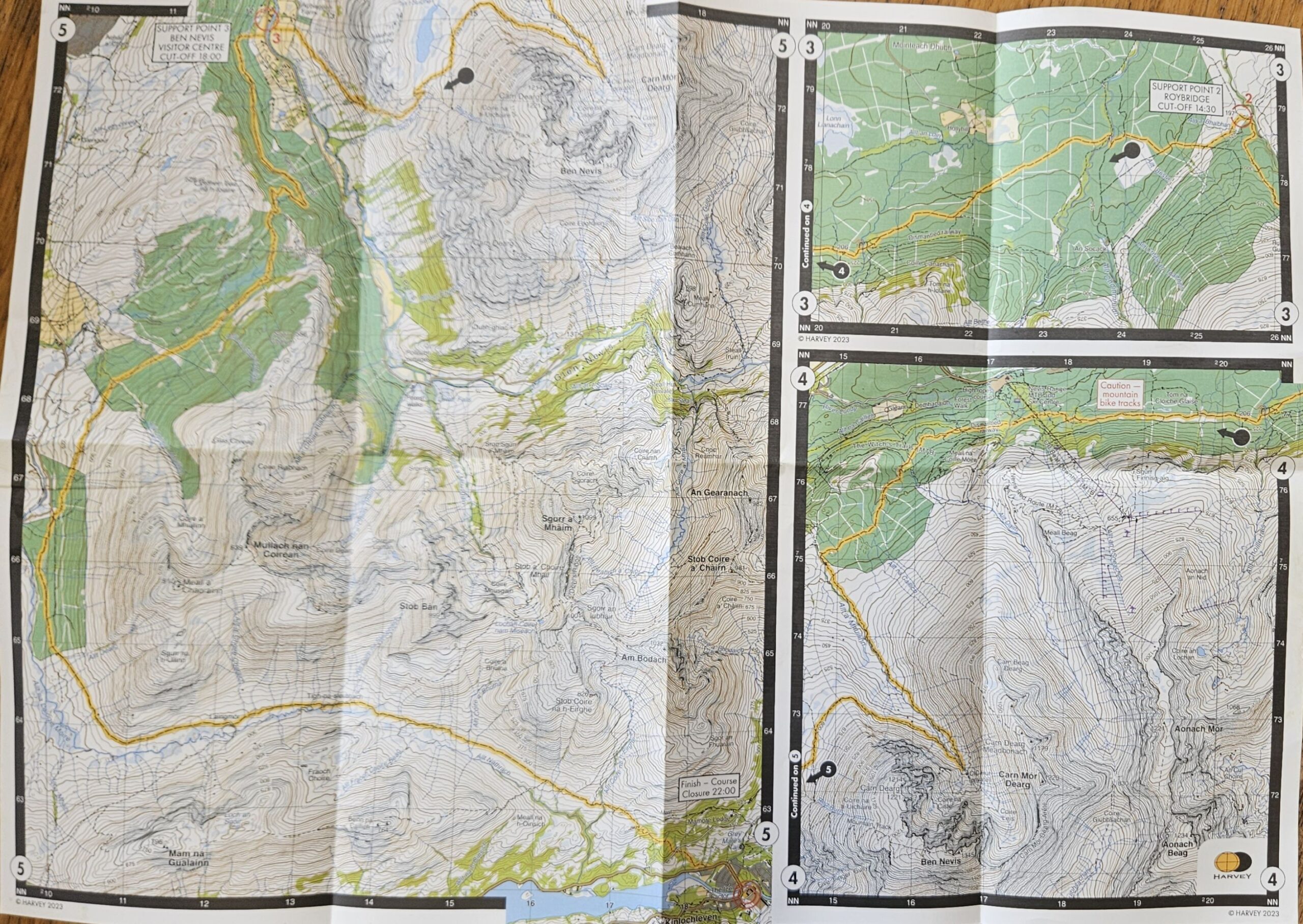 There's still a half marathon to complete after that final support point, including about 600m of climbing, much of which is along a fairly dull forest track early on. Like before, I didn't recall it being so hilly for so long, but I gritted my teeth and pushed on. This was one of those sections where you can look back quite a distance at points to spot any other runners. Despite myself, I did this a few times, and was surprised to not spot anyone. While the long uphill trudge was tough, the cramp did start to properly recede at this point, and once I was back onto narrower trails away from the forest track, I was able to run a bit better. As the kilometres slowly ticked by, I realised that the pace I was maintaining meant that I could still achieve my target.
However, it was going to be tight and at one point I discovered that the distance I had completed didn't match how much further was actually to go according to the GPX route on my watch (I can't have been following the blue painted racing line! 😉) and I had one more kilometre to go than I had anticipated. This was galling, but I still reckoned that I could manage, as long as I didn't slow again. With about six kilometres to go, a younger bloke who was moving very well went past me. Looking back, I couldn't spot anyone else, but the terrain in that particular section can easily hide folk. While I had promised myself that I wouldn't race, at this stage I needed to keep pushing anyway, and I figured that a top ten finish might be possible.
After one final – mercifully short – climb, the last three kilometres takes participants downhill through woodland and back into Kinlochleven. It's all very runnable, though not particularly fast because of the underfoot terrain, and that part of the route is shared with a couple of the other shorter trail races at Skyline Scotland, so I actually started overtaking some people who were towards the back of those fields.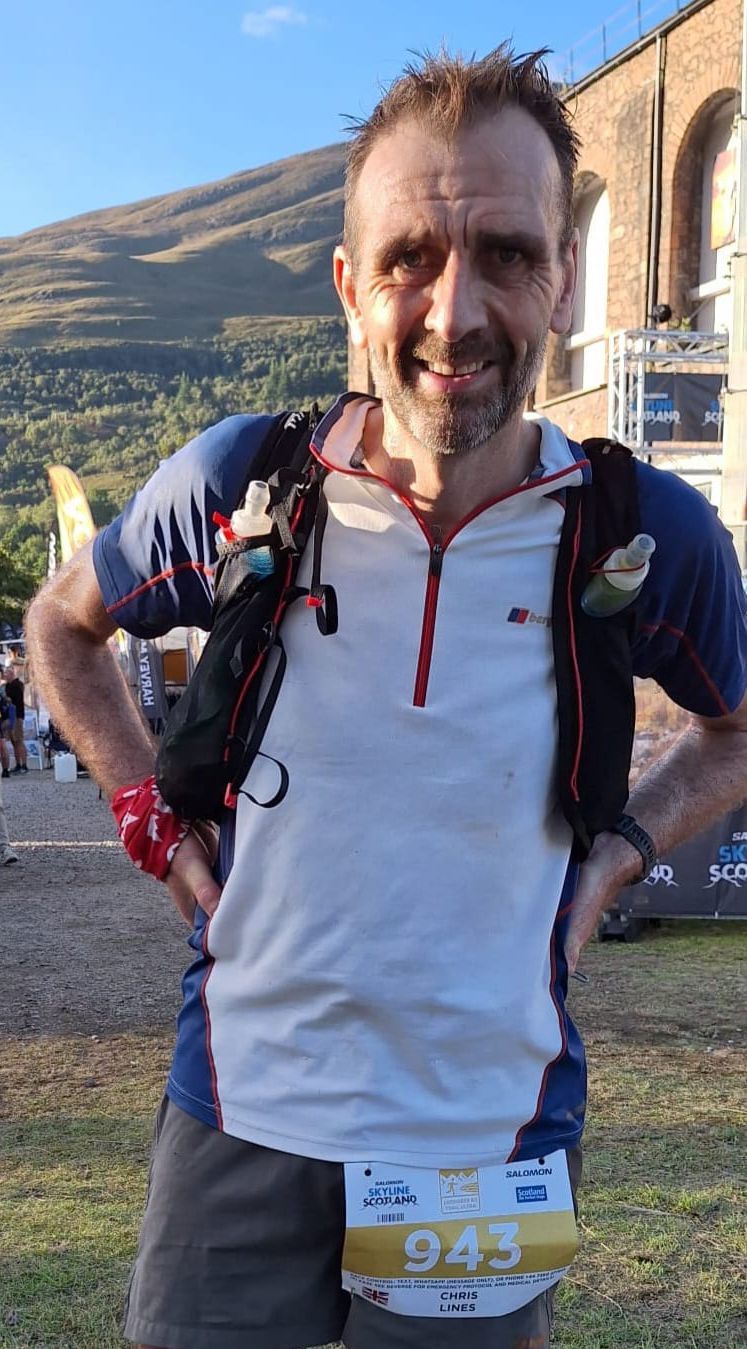 The last kilometre was along the road back into Kinlochleven and the extremely welcome finishing line, which I crossed in ninth place in 11:04:38, just under four minutes faster than in 2022. Marginal gains or lack of pork pie gains. I don't know which it was, but I was over the moon, first and foremost to have completed the race again, and particularly to have achieved what I set out to do. I can confirm that even many minutes later the ultra itch did not return (and still hasn't yet), though I did get bitten by a few midges that evening and am still scratching because of that.
Incidentally, I didn't eat the grated cheese sandwich. It weighed less than the two pork pies, but unlike with them, I did carry it with me for the whole race.
Finally, a big tip of the hat to the Ourea Events team, who organised the Lochaber 80 and the rest of the Skyline Scotland races (and the epic Dragon's Back Race that Gary Thwaites slayed recently). Everything was impeccably arranged and the volunteers out on the course were brilliant – of course, they will have had even longer days in the mountains than I did.
Would I recommend the Lochaber 80 to anyone else wishing to scratch the ultra itch? Well, it's a bit pointless, as this year's was the last event. Skyline Scotland has effectively outgrown its host location and will be moving to another part of Scotland in 2025, after a fallow year. Watch this space – a new ultra trail run opportunity might emerge! In the meantime, I can at least claim to have completed every single one of the editions of this particular race, albeit there were only two.
Chris Lines,
September 2023.