by Justin Cox.
Gary Thwaites and I took the trip out to Germany for the BMW Berlin Marathon, one of the Marathon Majors to tick off.  Arriving on Friday we went straight to registration at the wonderfully restored but disused Tempelhof Airport. Those familiar with London will recognise the exhibition that runs alongside but this time supplemented with beer and sausage stalls outside the terminal building on the old aircraft stands.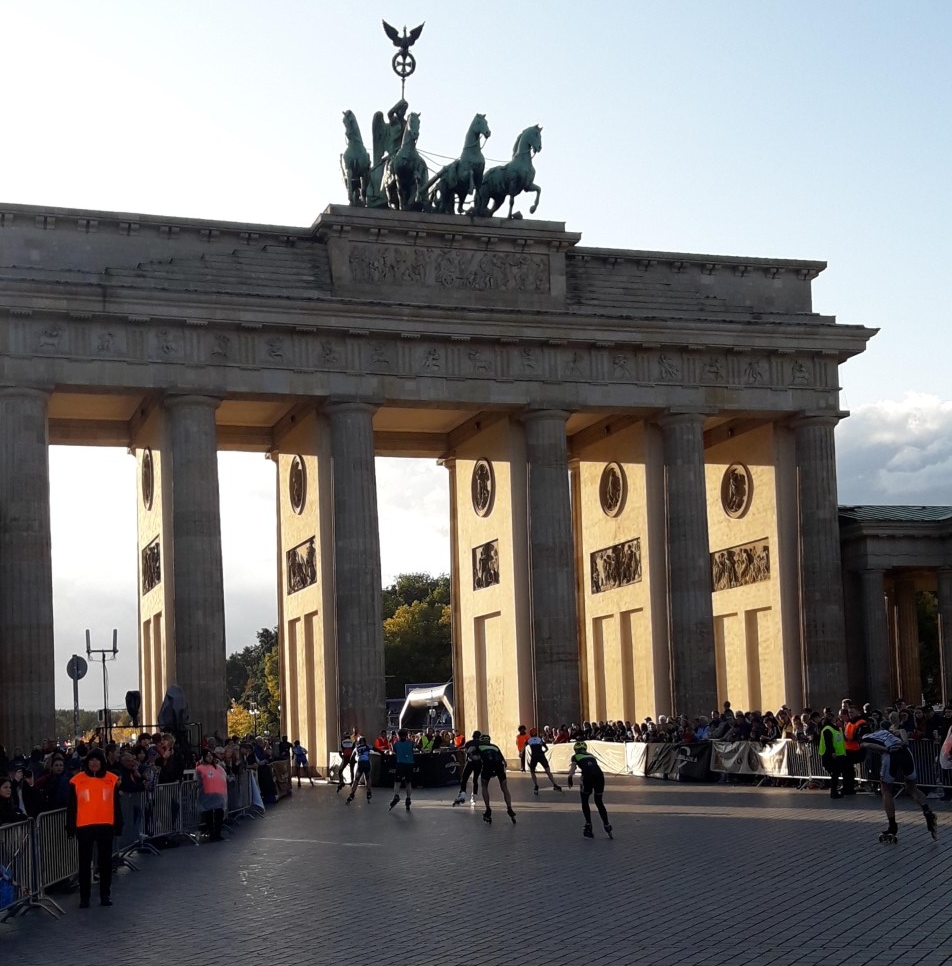 The real action started early on Saturday morning with the free Breakfast run starting at the Charlottenburg Palace and running to the Olympic stadium.  The pre event atmosphere was amazing, people gathered from every part of the world and many in fancy dress (including a couple of Danes dressed as a part of the male anatomy – photo not included in this report!).  Those hoping for a fast 6km run would be disappointed, a field of BMWs at the front booming out music and marshals linked across the front, keep the pace at a very social level and make for a wonderful pre marathon jog.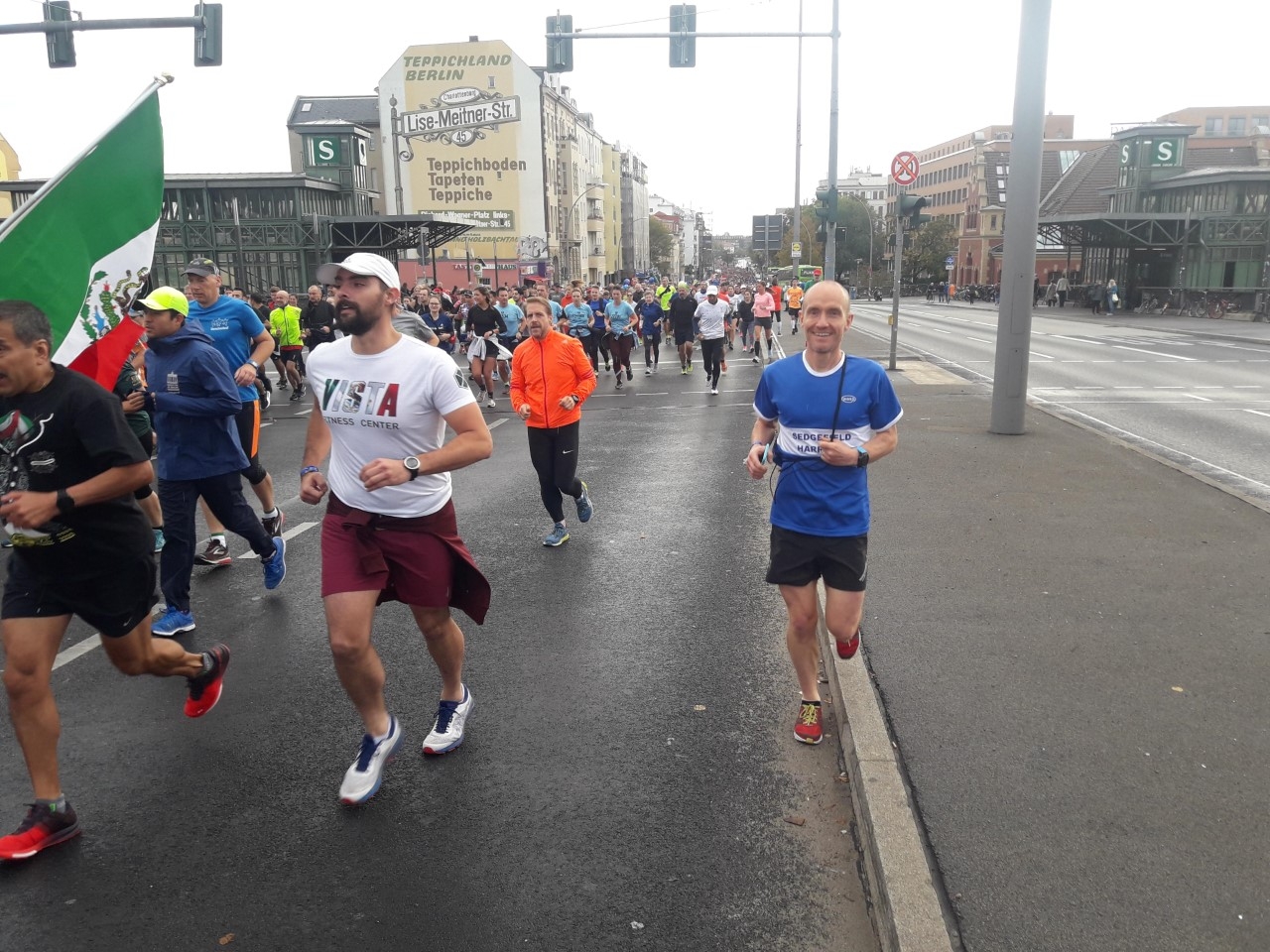 As we neared the Olympic stadium and saw the 5 rings suspended between 2 huge towers the atmosphere really built up, everyone cheering and singing through the tunnels before we ran under the stands and into the stadium, absolutely fantastic!!
Everyone does a lap of the track before climbing up the steps to the original part of the stadium complete with roll of honour from the 1936 Olympics.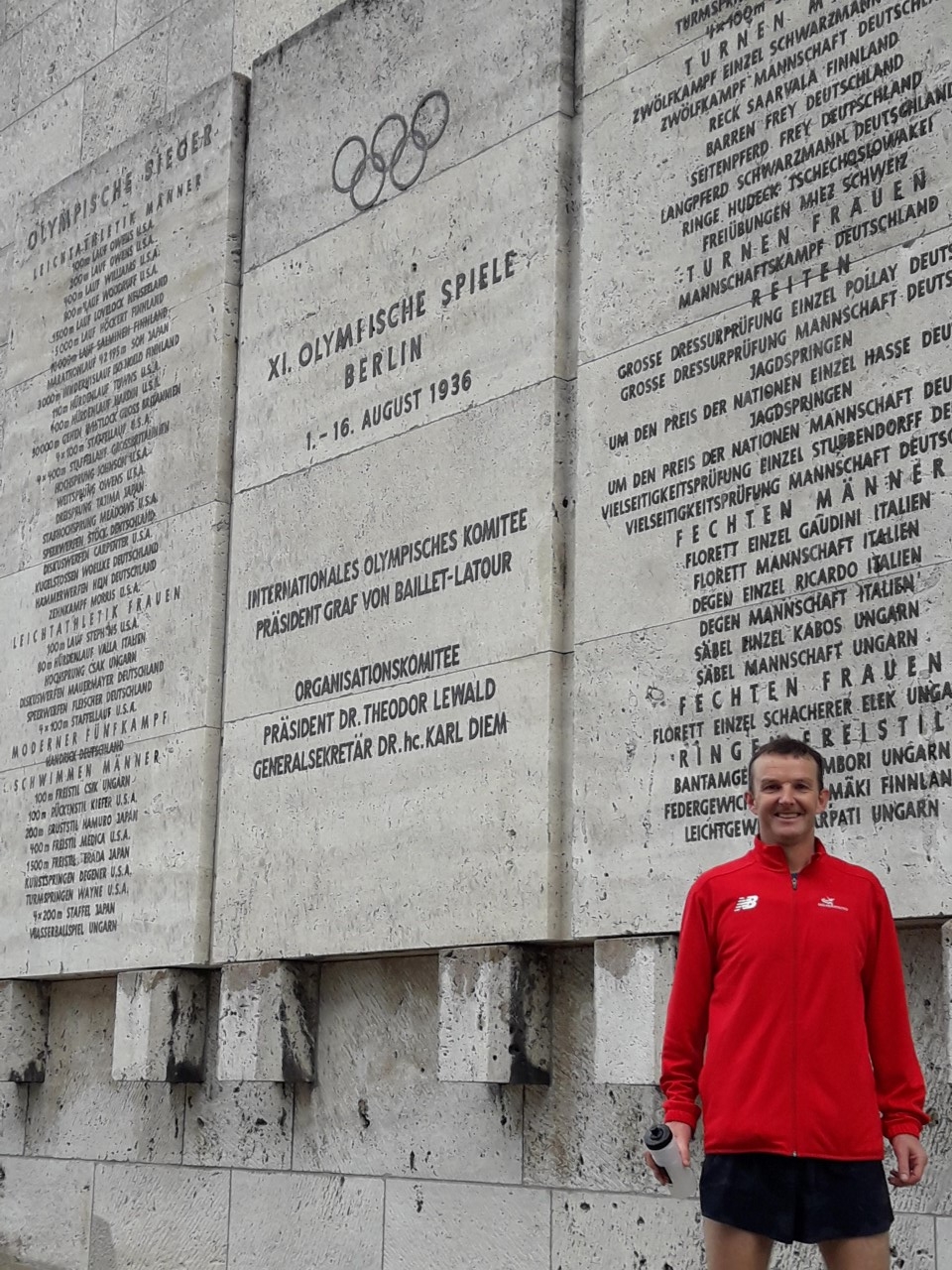 If that wasn't good enough the organisers then give everyone a free breakfast of doughnuts, croissants, yoghurt, fruit and drinks!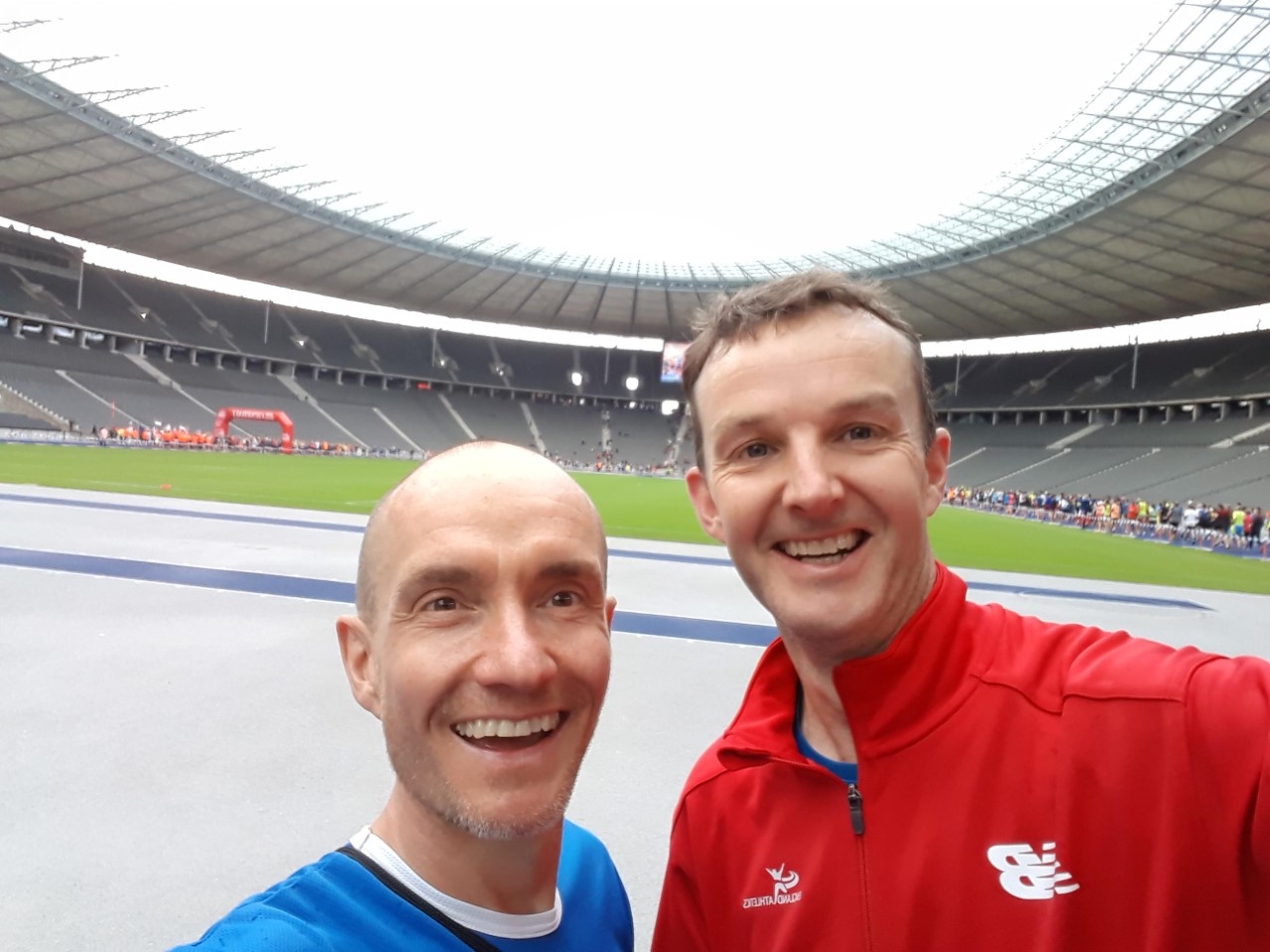 Saturday afternoon was spent visiting various sites including a trip to "Curry by the Wall" which as the name implies sells Currywurst next to the Berlin Wall – not the usual pre marathon nutrition for "Mr Nutrition" – Gary!  An exhibition running alongside a large section of the Wall dedicated to the city of Warsaw and in particular the suffering of the Poles during the war, made for sobering reading and time to reflect on the fortune of living where and when we do.
As Gary was raising money for Get Kids Going we went along to their pre-event reception which included a Q & A with Paralympic athletes David Weir, Shelly Woods and Justin Levene.  All were great company and it was great to get an insight into their athletic lives.
Finally race morning (cool and dry at least for now) and a short walk to the start with an excellent bag drop off similar to London, although the start and finish are at the same point.
The pre event atmosphere really built up and then after the wheelchair and handbike starts we were off.  I started OK but knew quite early on that a hip issue was probably going to bite later on.  Gary ran at a metronomic pace and passed me at about 9 mile.  Gary went on to run consistent 20:30-20:50 5km splits, a second half 5 seconds faster than the first half and a finishing time of 2:54:37.  That was a lesson on marathon running if ever there was one!  This marked off marathon number 97 for him with only Kielder, Yorkshire and then the Town Moor left before the end of the year so please don't forget his VIRGINMONEYGIVING site !  My leg finally gave up at mile 21 but after walking for a couple of miles I was determined to run the last mile and finished in 3.19.  After losing my little brother to cancer a few weeks before it was an emotional end and I was just so grateful to be able to enjoy experiences such as this.
After indulging in post-race beer and chocolate the trip home on Monday was made more eventful when a fast looking bloke sat next to me at Berlin's departure lounge.  When I asked him what time he'd ran he said 2:06 and finished in 4th place.  His name was Jonathan Korir from Kenya, training partner and friend to Eliud Kipchoge – his next run is the Ineos 2 hour challenge in Vienna as a pacer!  Amazing and so humble, he was happy to talk with us about all things running, a real inspiration.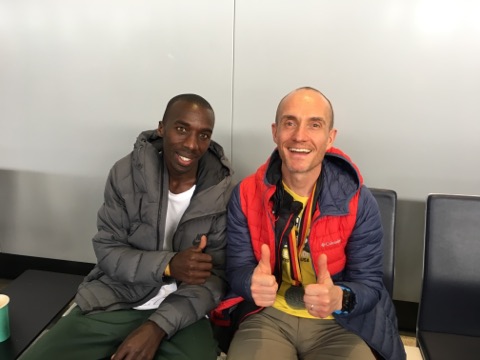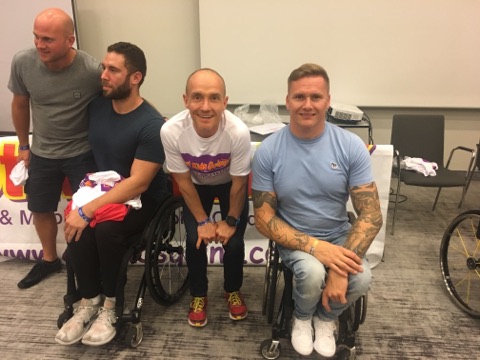 A great end to a marvellous weekend.  Berlin is possibly not quite at London's level of crowd support and organisation but don't let that put you off trying to get an entry.  The route takes in a city that has seen such changes and devastation, however the event is packed with a truly international field of runners all coming together to celebrate the joy that is running.