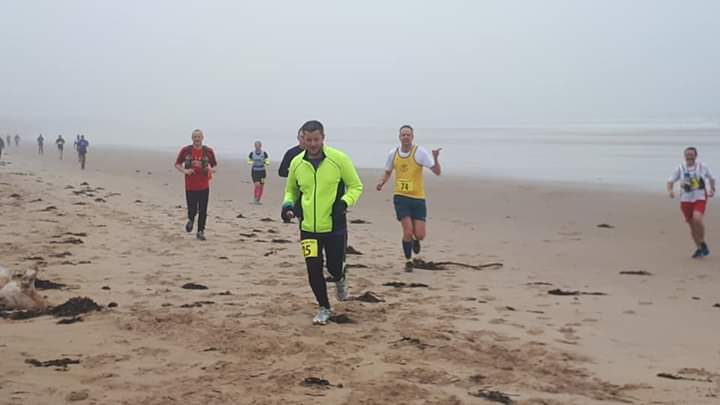 Here are some of my running stats:
Number of marathons completed ever: 4, all in 2017
Date of last marathon: September 2017, Hull
Number of times I've run further than half marathon distance in last 12 months: 1 (16 miles)
Months missed through injury in 2019: 2 (most of January and February)
Reason for entering Druridge Bay Marathon: Absolutely no idea
Well actually I do know why I entered, but nothing makes complete sense. I was inspired by Mike W running his first ever marathon at the Hardwick Winter Wonder in January, based on simply being in good running nick; I've been involved in a lot of marathon talk recently with the Manchester, London and York enthusiasts and it's quite seductive (John H: "Camm on Pete, you've gotta do Yawk mayt"); I am a member of the North East Marathon Club, the clue is in the name; I didn't take my free place at the Leas event nor was able to do the winter wonders due to injury, so I had this one for 'free'; due to tide times at Druridge, those doing the full marathon had to set off an hour earlier than those doing the half, so I couldn't start the half and just see if I could keep going, I had to state my aim.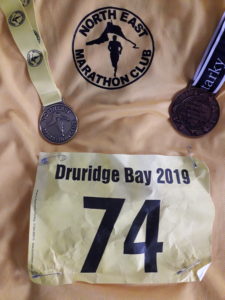 But apart from being in decent running nick for me and racking up a few miles in March, I really hadn't trained for it. I kept quiet about it, partly out of respect for those doing Manchester the proper way on the same morning, and made it to the start line.
I haven't done Druridge Bay before, but it's in keeping with NEMC's events in that a number of attractive laps are repeated, four in total. Each lap was like a squiggly figure of 8, with a mid point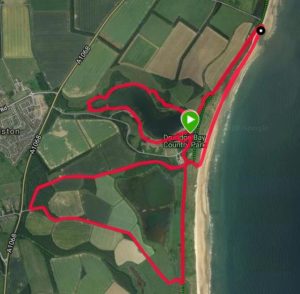 (an interchange, enabling refreshments twice each lap). Those who have done Druridge cross country would recognise the lake to be orbited each time, but there were also really nice sections of path and closed road, all at easy gradients. The highlight of each circuit was the mile or so stretch on the beach, on hard sand with the wind behind, a lovely bay.
Conditions were chilly and damp, ideal for long distance running. After a quick briefing and 'ready, steady go' we were off. I can honestly say that the first two laps (half marathon) were a dream. I ran at a steady pace (just over two hours) and felt great. I made several new friends. Ryan was doing his first ever marathon, loping along in a very easy style; he lives up in Weardale, his wife works in M&S in Durham. It was only when I needed a wee at the end of the first lap that we were parted. Debbie D and her Peterlee friends were discussing HR issues at work. On lap two I caught up with David. Recently turned 50, he was training for an ultra in a couple of months' time; should he go for a flat 47 miler or a Lakeland mountainous 32? We discussed the merits of each until I eased ahead of him on the second beach stretch.
In quieter moments I was also mentally writing my Rundown. At the halfway point it was all about how easy it was to run a marathon with no additional training. This new found revelation was despite me finding every long run difficult, ever, after about 16 miles…
There were no other Sedgefield runners in my race but I did spy Ben Smale at the interchange one time. He was doing the half, and flying along on his way to a brilliant 4th place and huge PB. Julia Atkinson-Tait was somewhere in the half field too. When I saw Ben, I bellowed a huge 'Good luck Ben Smale!' He told me later that he had heard and that it had really benefitted. The woman with the headphones alongside me that jumped out of her skin may have not felt so grateful. "Oh, sorry love".
Lap 3 and I definitely started to stiffen up. I felt it first as I got onto the beach and by the end of the lap was finding it hard to keep moving. Stopping to empty my shoe of small stones was probably as much about taking a breather, but I did keep running overall.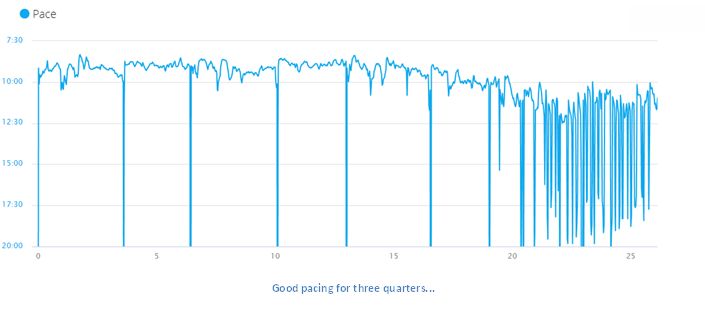 The start of lap 4, coming back through the public area was really tough. Had it just been a more informal winter wonder type event, I would have called it a day then. I was knackered. But I kept going. A short way into lap 4, and I walked for the first time and so began the most miserable hour or so of running/walking since the closing stages of Hull, 18 months ago. The triumphant mood of an hour previous was long consigned and gradually many of the people who I had passed in the earlier stages, steadily came back past me. I was so full of self pity. I thought enviously of Chris and Ciaran doing 3000m at Middlesbrough. 3000m, now that would have been much more sensible. I began to rewrite this rundown in my head, recognising the stupidity of not training properly. I aimed for trees and puddles and any other landmarks to run (shuffle) to before walking again. I counted 100 running strides to 40 walking. My glutes said no, my pride whispered yes. The only person I had passed early on in this final lap was Noel. I only know his name through the results. His feet were killing him, he muttered. But not so much, because he stayed close for all the last 5 miles. We played slow motion cat and mouse all the way back; he catching me with a faster walk, my shuffle run slightly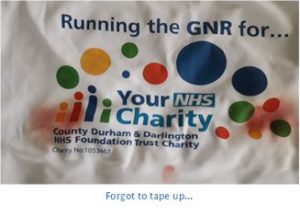 quicker. I never looked behind – now that would have betrayed my pretend nonchalance – but each time I heard him close I dragged myself into a jog. Once past the refreshment table (no final Haribo, I've had enough of those for a while!) I kept up a slow run for the last half a kilometre and thanked Noel once we'd both crossed the finish. 13 seconds separated us, he had really helped.
4 hours 31 is nothing to write home about, but neither was it a disaster. Feeling utterly fatigued I gratefully accepted both medals (yes two, one about 'World Bamnation Weekend'. No idea what it means, neither does Google, but I deserved it). I had a photo with my lap 1 friend Ryan who also had suffered latterly and the briefest of chats with the likes of Mel, Ian and Omar from the club. I was so wrecked, that I just wanted to go home and curl up. Sitting on the boot lid of the car, wrestling with stiffness and the lining of my track bottoms, a member of the public came over and asked if I wanted some help. I must have looked that pathetic. I remember hearing myself say "Thanks, it's okay. I've just run a marathon."
The volunteer marshals were great as always: Karl & co hunkering down behind the concrete beach blocks, Andy swatting away midges for five hours, Chris on his camping chair in one corner of the park, Anna and her friend unable to take a photo because they were too cold, Christine on the refreshment table (who pointed out my bleeding nipples at about half way!). Others too. Heroes, all.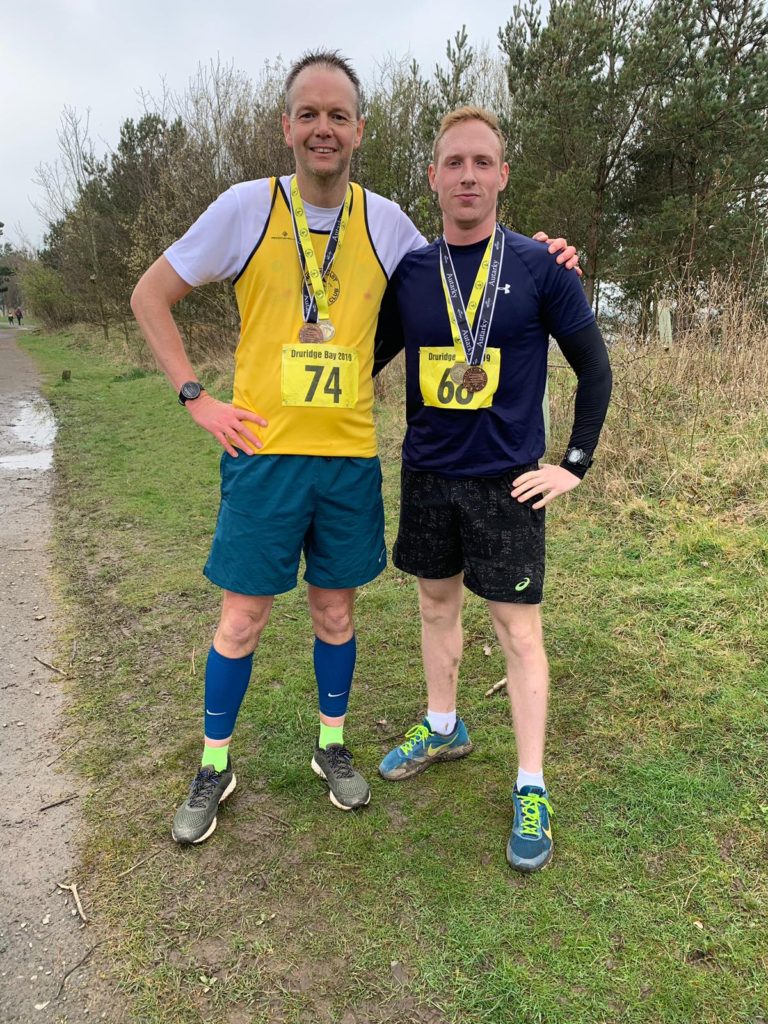 So would I recommend doing a marathon on minimal training? Absolutely not. Stupid idea. Running should be an enjoyable experience. Yet, as soon as I'd warmed up, grabbed a coffee, got a free electric charge at Stannington Services and thought about what I'd done, I realised I didn't regret it. I'm so not a long distance runner, but I was quite pleased with myself. Marathon #5: third quickest (or slowest, if your glass is half empty).
I'm definitely not doing Yawk though John, before you ask again.
By Pete King