My first Marathon was back in 2019 in Manchester and it didn't go completely as planned so felt I had unfinished business.  I got carried away at the start and tried to race the distance, which was fine until the 22nd mile when I blew up and shuffled the last four miles.  In the words of many – Lessons had been learned!
Fast forward a few years and with the Valencia Marathon under my belt a few months earlier, I approached the weekend feeling a lot more confident and prepared.  I'd read somewhere about setting yourself a target so I had Gold, Silver and Bronze times in mind (Sub 3, London Good For Age and Boston GFA times).  I also had the added incentive that if I didn't run well Chappers would let surface a photo of one of my life's low points!!
The morning of the race arrived and Beth and I set off to the start area at the Trafford Cricket Ground where we met up with fellow runners Sean and John.  The event is well organised and the queues were small, helped by the massively staggered start interval.  Sean and I set off to the start pens leaving Beth with a 90 min wait before she started.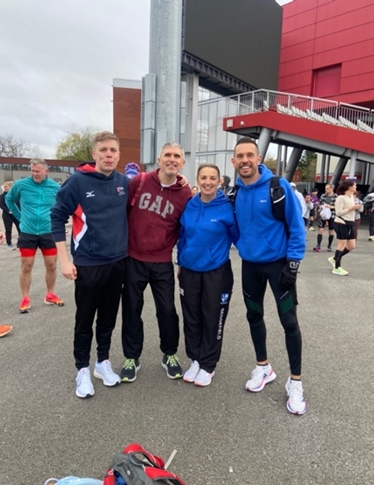 The first few miles went by quickly and smoothly and I soon got into a good rhythm. I had a plan to try and stick with the 3hr pacer and knew he'd gone off too quickly so had a little in hand.  The first few miles went back into the city before returning to the Start Area and a still waiting Beth. At this point feeling good I thought I'd get ahead of the pacer and worry about it later.  The furthest point out is at Altrincham, which has added some elevation since I was last there!
Now we are heading for home, or at least that's what I kept telling myself. Around mile 18 was probably my low point. Although I was still keeping a consistent pace another hour of running seemed quiet daunting especially as the demons of 2019 were starting to play on my mind and to be honest I was getting a little bored.  Then the thought of Chappers' photo spurred me on and if I finished well, Lisa might let me skip a few mid week runs for a bit!
So the dreaded mile 22 came and went and I knew I could do it.  One more gel and a slug of water and I was fast approaching the finish.  Marathon distance came and went on the Garmin but I still had a good distance to go but I knew I was on for a PB. Ten metres out  I punched the air and really started to smile, which my legs assumed was job done, so with just five metres to go they decided to throw some cramp into the mix and I crossed the finish line with legs out at all angles and a face of pain. It soon passed, a 13 min PB was achieved and the demons of 2019 were gone.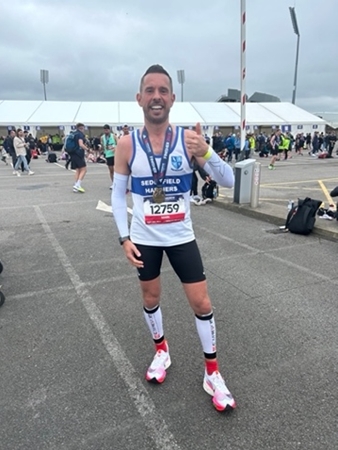 So what did I learn? Have a pace in mind and stick with it. Take on plenty of fluid and earlier than you think.  If Lisa asks if you want to go for a run, come up with an excuse quicker than I do!!!
Thanks for all the training runs Lisa.
What about the others you're thinking?
Beth 4:32:56 PB
Sean 3:38:58 PB
John 3:45:49 (A sterling effort carrying an injury)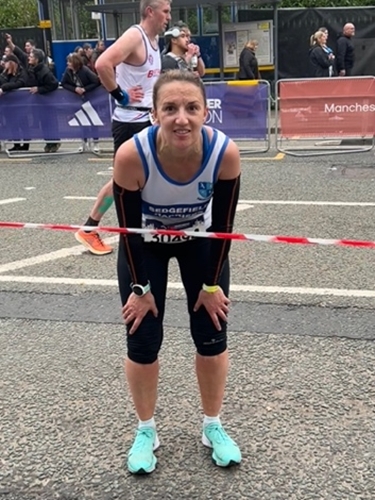 P.S. If you're still intrigued about the photo, come along to the Annual Dinner where I'm sure it"ll unfortunately make an appearance!