Brass Monkey has been a firm fixture in the northern running calendar for a number of years and is one of the most popular half marathons attracting runners from the Scottish Borders down to the Midlands. Fast and flat it's somewhat surprising only a handful of Harriers run it each year. This year saw myself and Ian Spencer running with Emma Featherstone (and the sprogs) and Jayne Freeman on supporting duties.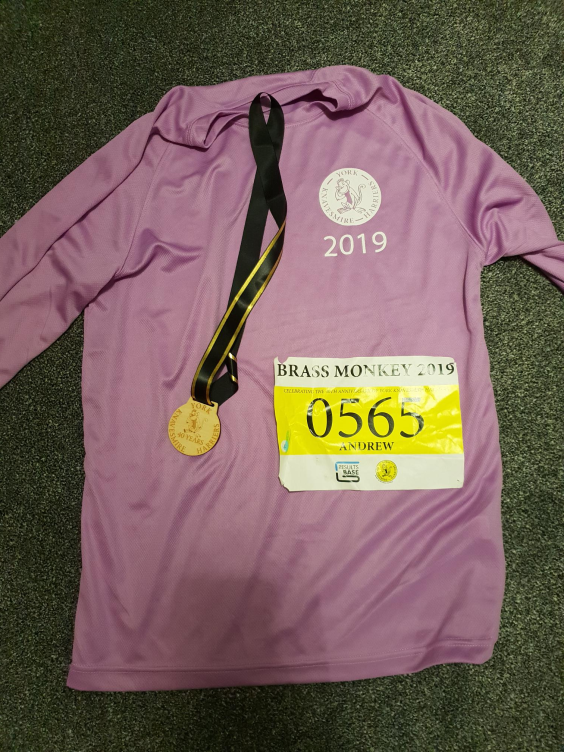 Starting at York race course and heading to Bishopthorpe, Acaster Malbis and Appleton Roebuck before heading back to the race course, it follows scenic country roads and is ideal for a fast time. Bit of fun running in gale force winds but at least carrying a few pounds meant I didn't get blown over.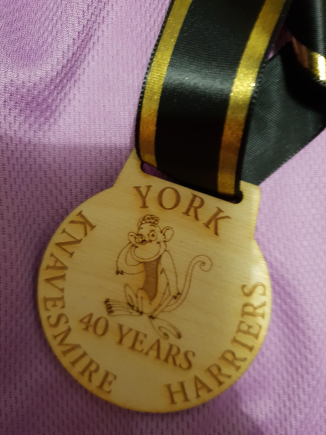 The race is hosted in excellent facilities in the Ebor stand at York Racecourse.
So this makes an eventful race report….after a steady 5 and a half miles battling strong winds and holding a steady pace my race took a downward turn. Running in a group I was unable to see a pothole and did my best pavement surfing routine and hit the deck. Covered in blood on hands, knee and head (due to hands) and with a set of sore ribs and bruised hip, after a minute on the floor I dusted myself off and continued on my way, getting some funny looks like I'd just been in a slasher movie.
Losing time and with adrenaline wearing off I dropped pace and managed to make it to the finish line having dropped 6 mins away from my goal and made it in 1h42 (not the 1h36 I was on for). Just over 7 minutes later Ian followed and met his goal of going sub 1h50 with 1h49.
The post race memento was the ever fantastic long sleeved Brass Monkey tee shirt, this year in a fetching purple shade. The t shirt allows for the creation of an 'Ass Monkey' shirt when worn under a short sleeved t shirt for a bit of fun. Was also nice to get a wooden medal to celebrate 40 years of York Knavesmire Harriers.
By Andy Featherstone