Having run this race last year I was looking forward to returning to the Town Moor in Newcastle to run the Valentine's 10km again this year. Due to concentrating on longer distances recently I was interested to see how I'd get on over a distance that I used to run regularly and on a course that is relatively fast.
Due to the leisurely 10.45am start time I didn't need to leave too early and picked up Nicola en route. Having found parking tricky last year we decided to park in Gateshead and have a jog to the start over the iconic Tyne Bridge and through the Toon to the start. This turned out to be a good move as the Central Motorway appeared to be closed causing the traffic to tail back as we jogged merrily on. We got to the start and I had expected to see a few Harriers out as it had been a Grand Prix event last year and was really well attended. However, having collected my number, there was only myself representing Sedgefield that I could see. I bumped into some friends from Hartlepool Tri and then having discussed the usual pre-race topics of "What time you expecting?" and "How's the injury feeling?" I headed off for a warm up. There was a 5k event just before the 10k this year so having run the first section of the route the first runners of the 5k were starting to cross the line as we stretched off and dumped clothing into the baggage drop.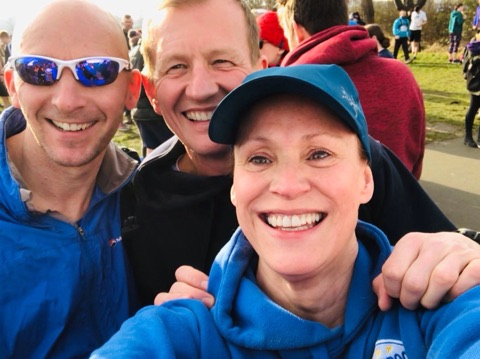 T he Run Nation events always seem well organised so we were in the Start chute on time and with a last 'Good Luck' to each other we were ready to go. The course is 2 laps of the Town Moor, heading from Wylam Brewery across to Gosforth and then working your way round the Moor and back to the Brewery. It was apparent coming over the Tyne Bridge that there was a substantial breeze but as I headed out on to the Town Moor for the first frantic mile I realised we were going to be battered coming back as I was getting pushed along by a very pleasant, but very strong, tailwind. This prediction came true about halfway through the first lap as I headed back to the brewery, looking at nothing but my feet as I kept my head down, trying to tuck in behind anybody close enough to offer any protection. Fortunately this didn't last too long and soon enough I was passing the start and heading out on my second lap. Once again I managed to pick up heading away from the start and was still hopeful of matching my sub-40 time of last year. These thoughts soon evaporated however as I really struggled turning into the wind again on the second lap.
I finished in just over 40mins which I was more than happy with considering the training I'm currently doing. Nicola however ran a massive PB, showing that it is a fast course, even in windy conditions. I'd definitely recommend the race as for 2nd year running it's been well organised and a pleasure to run in.
By Ian Blakemore
Results: http://www.racetecresults.com/results.aspx?CId=16685&RId=153&EId=1&dt=1
(editor's note: modestly, Ian doesn't mention a fine 3rd in his age category)