Scrolling through Facebook I noticed that my good friend Andy Corfied had entered a 10k trail race to be held at Slaley hall. With my interest piqued I mentioned it at parkrun and with only modest arm twisting I was persuaded to enter.
The event is organised by Wild Deer events and is a multi terrain 10k trail race.
Andy and I travelled up on a very wet Sunday morning and met up with Karen Killingly there. We had arrived early, but killing time wasn't an issue as we sat in the car park watching the concept of one way traffic destroyed, culminating in an amusing messy soft verge incident and exasperated officials.
Once the floor show had finished. It was time to address the 'which shoes to wear?' issue. With my spanking new Inov8 Trailtalons selected we made our way to the hall to collect our numbers and join the gathering athletes on the start line. On the start line a runner tells his friend he'll be happy with sub 60 and I concur. That's my target for today. The rain had mercifully stopped as we listened to the race briefing. The first time I've been asked not to make a mess of a golf course at a briefing.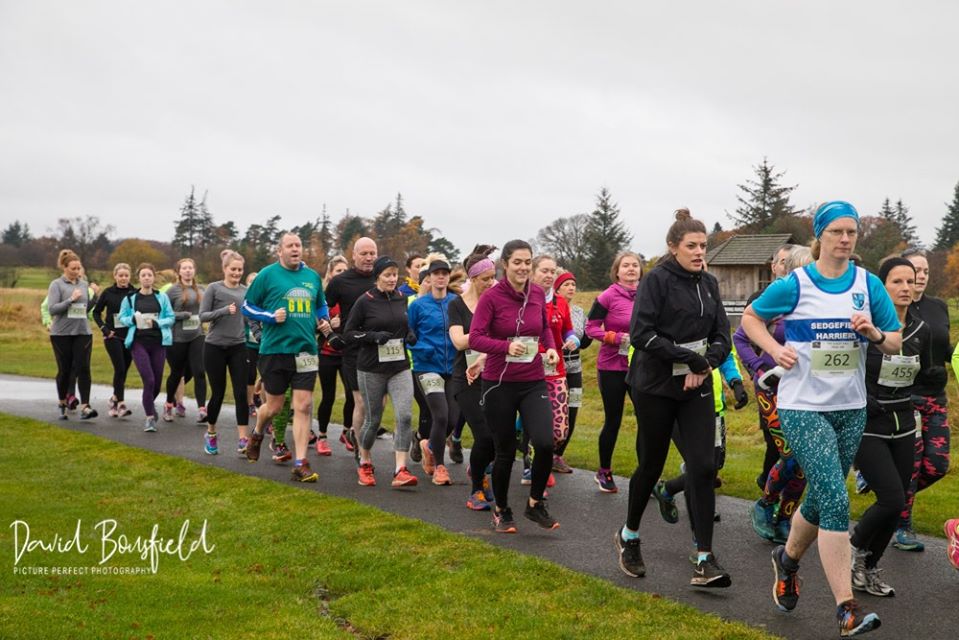 The rain may have stopped, but as the race started it was clear it was going to be a clarty affair. The first 3 km was a steady climb. I took it very steady, being unsure of my own fitness or what to expect on the route. A short section of tarmac became a forestry road, then narrowing trails. The Trailtalons were awesome. A little further though and it was a different story. With a clarty mashed up field to cross the pace slowed and the Trailtalons were now diving boots coated in swarfega and ball bearings. Relief came in the form of another hard trail and at the top we enjoyed a long decent stretch through pine woods with what turned out to be the last of the serious clart on the other end.
A very enjoyable and rapid decent followed, along the edge of the golf course. As I ran I couldn't help but wonder at who was daftest, us or the golfers hunched under their brollies and bags of golf bats. They were possibly as puzzled, but were very vocal and supportive.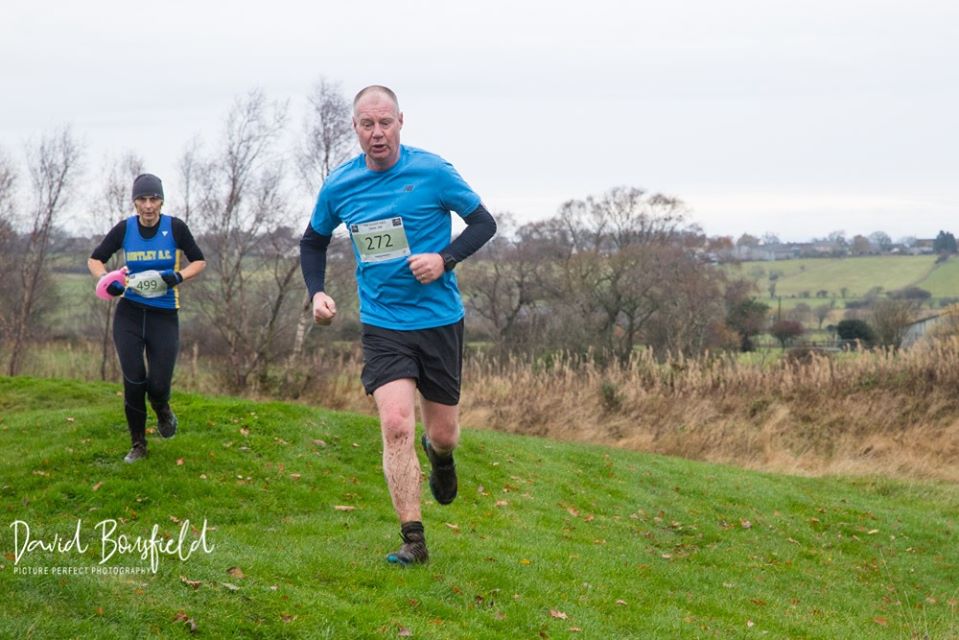 We've reached about 6km now and it's now a rollercoaster of very steep ups and downs for another 2km. We hit tarmac at 8km and with the scent of the finish in my nostrils I get a bit of a move on along this road. This turned out to be a cruel prank on the part of the organisers as a smiling marshal directed me back onto the clart for another 500m of ups and downs to 9km. From here in I can see that it's an unrelenting climb back to the hall and I'm regretting my earlier exuberance. Still it's nearly over and the Inov8s are returning to normal service. It's a real slog in now and I don't want to look at my watch at this point. There are a few more cruel twists and turns to negotiate before the now visible finish line can be reached, but I do in 57.27 and all of a sudden the world is a much nicer place.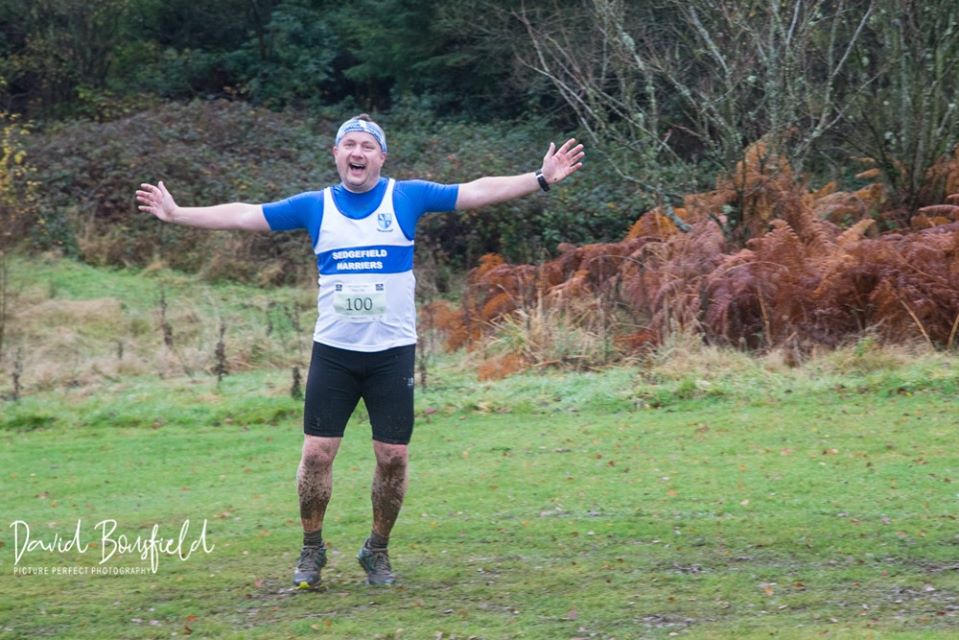 Karen, Andy and myself regroup and adjourn to the hall for a well earned T shirt and sausages sandwich.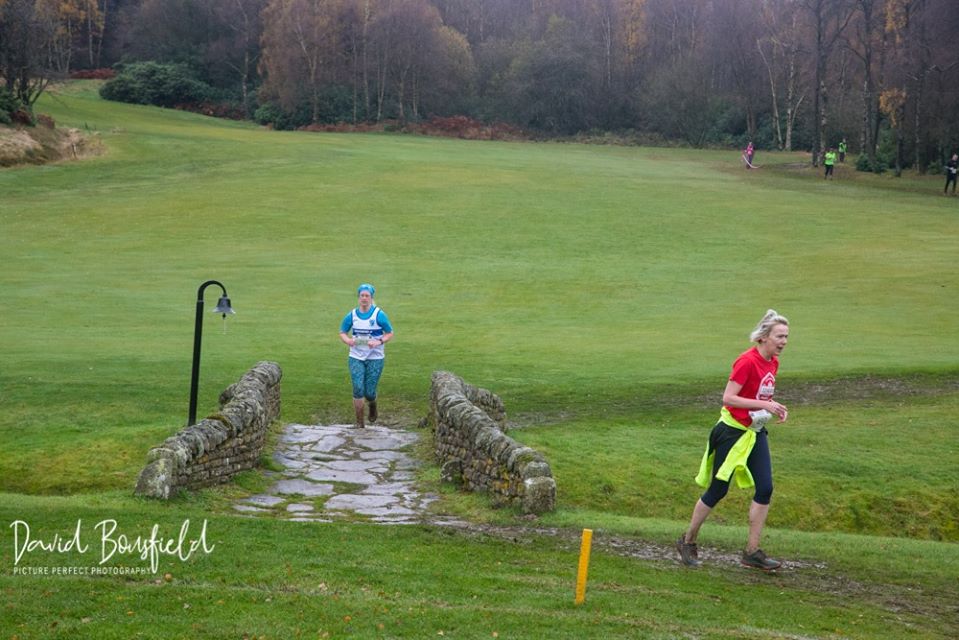 All in all a hard but very interesting route, well marshalled and organised. I'll definitely give it another go. Thanks Andy and Karen for your great company.
By Paul Lee.
http://www.timingupnorthresults.co.uk/results.aspx?CId=16576&RId=6013