It's taken me a week to get around to writing this and what a week it's been… Crazy times for everyone…To be honest I'm using this as a bit of an escape from events in the outside world, which have turned our normal lives upside down.
So rewinding a week to what was a great day out…
I had previously organised a lift to Thirsk with Mil and David W. Mil said he aimed to get there in good time and we did! The sun was nearly up when he arrived at mine. I think we beat most of the organisers to the course but this did result in an A1 position in the car park!
The race is centred at Thirsk Racecourse and the organisation from Thirsk and Sowerby Harriers was excellent. Efficient marshals were directing us to get our numbers from the large board outside before heading to the repurposed bar to get our numbers. With race number attached I went back outside and met several other Harriers who'd had the trip for the harrier league event.
It wasn't until 20 or so minutes before the race that Pete King "asked" me in his best teacher's manner to write the race rundown for this event. As this would be my first race rundown (he asked about doing the Lambton XC race rundown the following day…) I felt additional nerves as we ambled/jogged to the start line.
It was a cool, overcast day with fairly strong winds in parts. I'll come back to this later… Around a thousand runners gathered at the start line, on a country lane at the far side of the racecourse. I was really impressed with the number of clubs/areas represented; from Wakefield to Saltwell, Scarborough to Tyne Bridge, a real northern mix. It was also nice to see a few familiar faces from my old club 'Swiftees'.
As we stood in the cold, hopping around to keep warm I could feel the heaviness in my legs from the XC race the day before. Two races in two days, what was I thinking…?!? My thoughts now were a steady start and if I felt ok later I could pick up the pace a little.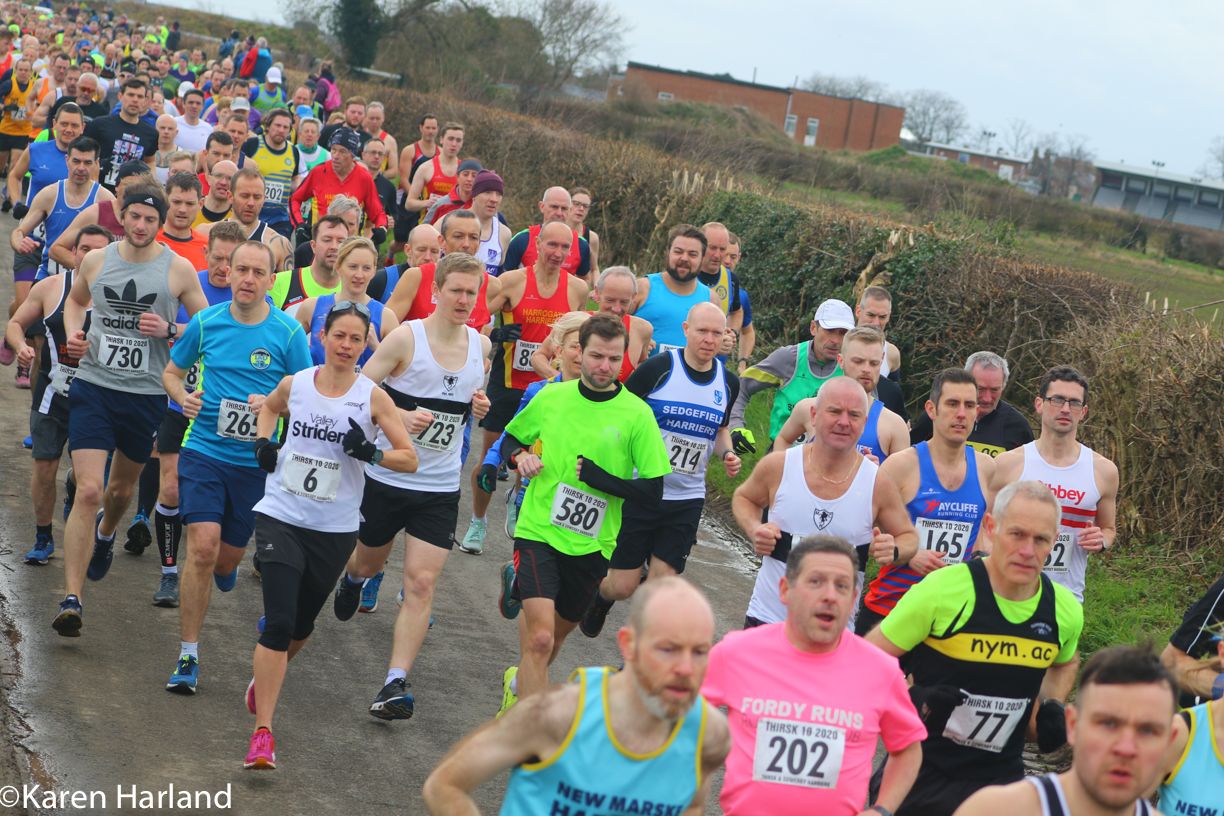 The first mile or so was run along a lane with high hedges either side, not much of a view but no wind either! I had a chat with Emma (Who was flying btw, well done Emma!) and Andy F as we headed through the first few miles. Just keeping up with them at this point hurt… Sam Rudd skipped past at about miles 3 on his way to great 10M PB. The soreness was still niggling and I just had to concentrate on knocking off the next mile.
Suddenly, we left the shelter of the hedgerows and entered the much more open land either side of the A167. Ahhhh, now the wind was there! Especially up a few of the long gradual uphill sections which were really hard going. I was feeling a bit better now though and tucked in behind Andy F and a runner from Hartlepool Burn Road Harriers.
We reached the switchback at mile 5 (which I hadn't realised until later) and I saw the race leaders looping back onto the 167. Incredible to see the pace they were going at. A lot of people hate switchbacks but I've got to say I quite liked this one… on the way out I was watching for other Harriers and shouted them on – Paul Weir, followed by Chris Lines, Gary Auston and Byron Walker. Only a minute or so behind them were David Walker and Mil Walton. We reached the end of the switchback turned and headed back, now I felt like I was being watched and had to kick on. I felt good and started to pick up my pace. Now other Harriers were shouting me on which was great to hear and kept me going!
At the end of the switchback I had my lowest low and highest high of the race…. I heard a marshal shout 'that's 5 miles'. I had lost track of markers and thought she was saying that to me not the people entering the switchback. My legs suddenly felt like lead, 5 more miles… No way! I need to slow down or I wasn't going to finish this…. But then almost instantly the 7 mile marker appeared. Get in there! Only 3 to go, I could do this! With this in mind I tried to keep up the pace with aScarborough AC pair as we went through the little village of Sandhutton.
It was when we reached the roundabout and joined the A61 that I realised we were close to Thirsk again. I felt good and was able to push on again as we entered Carlton Miniott. Even better the wind that was the bane of the first half of the race was now on our backs! As the traffic increased all the runners had moved onto the pavement so I was nipping on and off the road as I slowly reeled in runners from Stockton, Knaresborough and Richmond.
I'm blaming it on the tired legs but during the next overtaking manoeuvre I stumbled when going back onto the pavement, ended up arms flaying, full aeroplane style for a few metres before getting back into my stride. I heard shouts of 'are you ok?', I was too tired (and embarrassed) to turn around and just gave a thumbs up.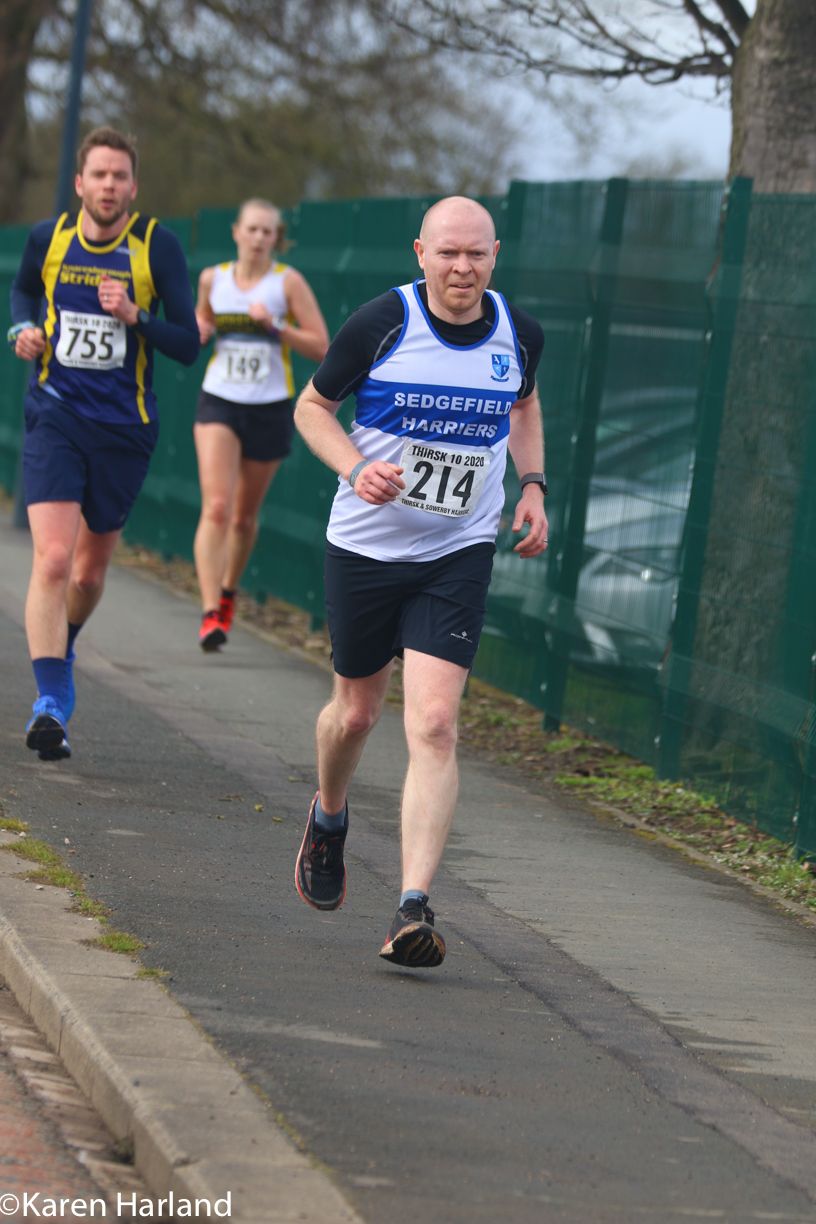 Approaching the racecourse now and still keeping up the pace. Paul Lee really helped with encouragement as I began to slow going up and over the railway bridge. Last couple of hundred metres and I expected to get caught by a fast finisher. I dug deep and held on, entering the racecourse, lots of noise, held the sprint up around the finishing hairpin… It was a strange finish but it worked.
I joined up with the other Harriers who had posted some great times, especially given the headwind at the start of the race. Sam Rudd's 1.10, superb and Mark Chapman picked up another PB. I downed my water in a few gulps before heading off for T-shirt. The lady handing out the shirts was telling everyone they were small fitting. I asked if a medium would fit, she smiled politely and said 'you can always give it a go…' The cheek! Speaking of the T-shirt I will be putting it aside for the dark winter nights, it would be hard to miss its 'migraine' orange colouring 😊.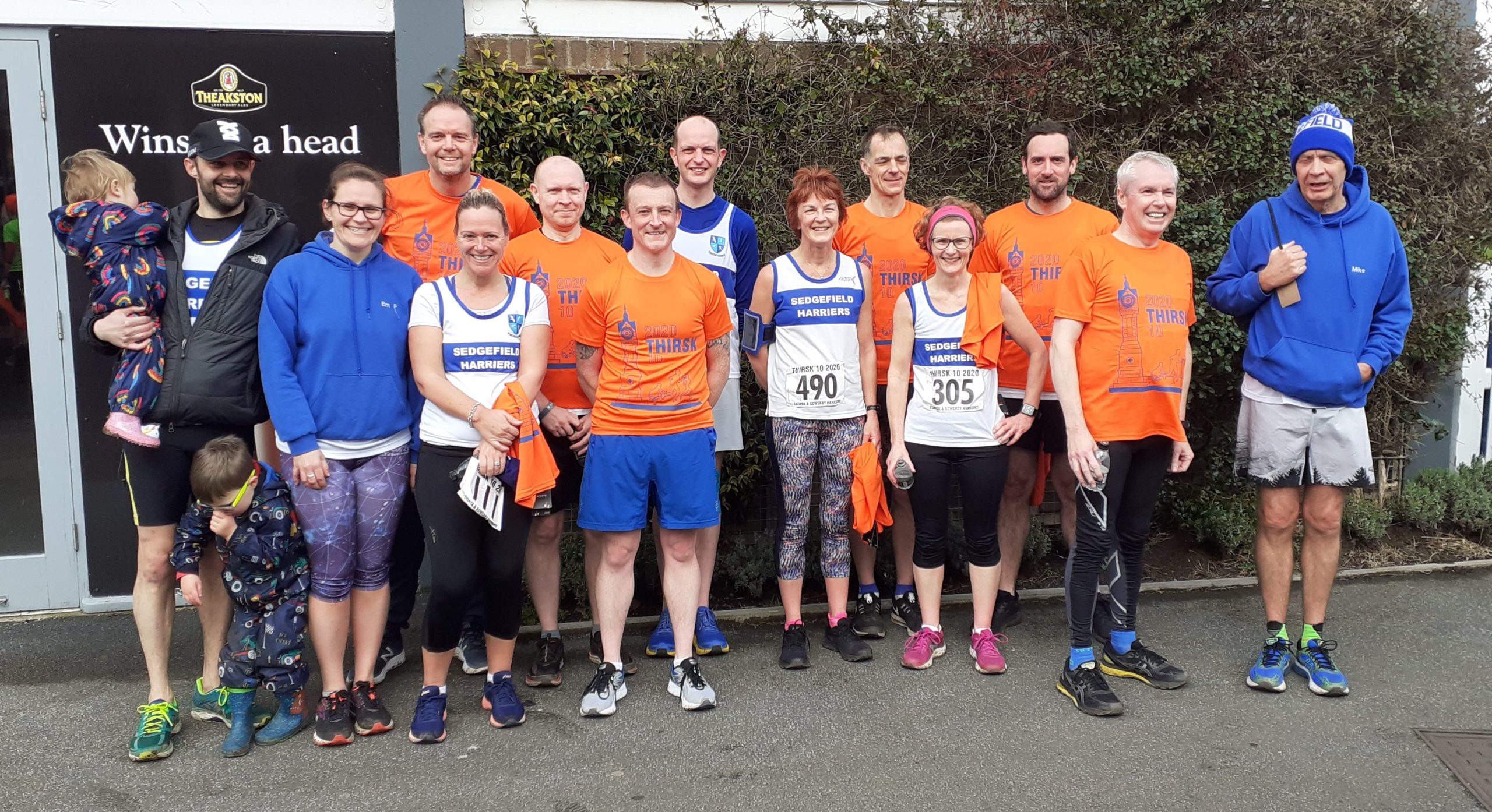 I really enjoyed the day and the race. Little did we know it would be the last one for the near future…
A week after the Harriers sessions have closed I'm already missing the hills on Tuesday and NetPark Thursdays. Which is something I didn't really think I'd ever say! It must be the good company that keeps me coming back…. And on that note everyone take care and hope to see you all on the other side…. Whenever that may be…..Who knows maybe we'll have our orange Thirsk shirts on!
Stay safe,
Matt