"…it's not about you joggers who go round and round and round"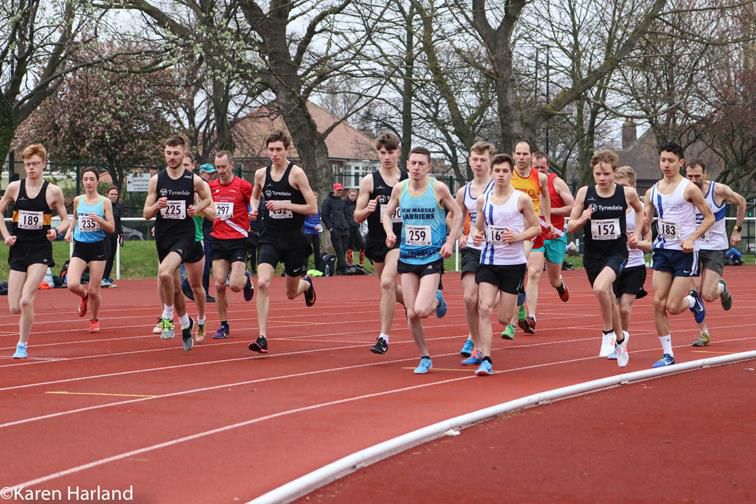 I always used to be more daunted by a 3,000m on the track than a road half marathon. There's nowhere to hide on the track – you can feel exposed, with all of your athletic shortcomings on display for anyone to see and judge. I also used to find the experience oddly claustrophobic. Hmm, I'm not really giving track and field the 'big sell' here am I?
The truth is that I am a convert, but the above paragraph is my attempt to avoid being that most annoying type of person – the atheist turned holier than thou evangelist, or the reverse for that matter. So now that I have got that out of the way, I will unashamedly eulogise about running on the track!
It's a great experience and what's more, it has helped me improve my performances on the road. The discipline of getting into a rhythm and consistent pace on the track can have a significant impact elsewhere. In 2018, after running distances from 1,500m to 10,000m on the track during the summer, I managed to set new PBs at both 5K and 10K on the road, having struggled to get close to my previous bests for several years. A coincidence? Of course not.
We're really fortunate that there is a well-established calendar of track and field events in the North East, and I particularly recommend the NYSD series over the summer, which this year will all be held at Middlesbrough Sports Village. You can register in advance, but you can also enter on the night, and they are extremely welcoming events that give anyone the opportunity to have a go at track and field without feeling like they're in the crucible of competition. That's not to say that the meetings are not competitive, just that the focus is as much on participation as it is on performance, and in that environment, it's much less daunting. Last year, as well as racing on the track, I had a go at long jump, triple jump, discus, shot and high jump (think less 'Fosbury Flop' and more 'Lines Lateral Leap' – note the crucial problem with the latter!).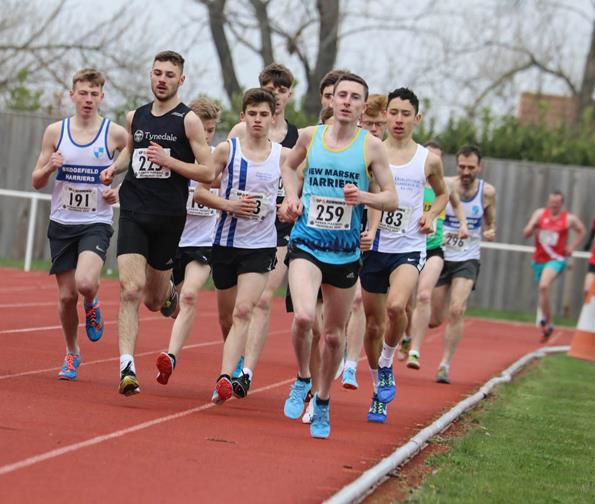 Another great aspect of the NYSD series is that it's open to people of all ages. Track and field is a vital element of any young athlete's development, so I have been trying to get my oldest son Ciaran along to as many meetings as possible – it's a bonus that I can participate too. The traditional outdoor season curtain raiser used to be the Anne Marie Readshaw event at Shildon, but that no longer takes place and in the last two years, the baton has been passed to the Kieran Maxwell Memorial Open, held in memory of an inspirational young man who I was fortunate enough to meet on a couple of occasions. Like the NYSD events, anyone could take part, though all registration was in advance and the event filled up quite quickly.
Ciaran and I both tackled the 3,000m, which was held in a single heat that attracted a mixed field of junior and senior men, and one lady. As I lined up, I realised that some pretty speedy young men had decided that this would be a great opener for their seasons. I was already reconciled to being towards the back of the field, but identified my own battles – with a couple of the other vets, with Ciaran, and versus my time of 10:35 from the same event in 2018.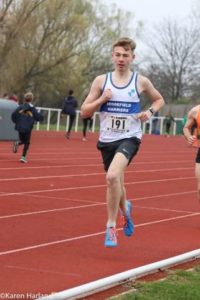 For those who don't know, the Linesy sub-text to all of this is the countdown to the (inevitable) moment when Ciaran (who will turn 16 in July) gets officially faster than his old man. He's been getting very close in recent months, but hasn't quite managed that at 5K or other longer distances. In the immediate lead up to Sunday's race, I predicted to a few folk that this could be the moment, but I was determined that Ciaran would have to work hard for it.
Back to the race. We set off and I kept close order with Ciaran…for about 200m. Then he scampered off up the track with a group and I was detached. I ran most of the race in splendid isolation, some way behind Ciaran and several young whippersnappers, but ahead of a few of the other older runners. My hope was that Ciaran had gone off far too fast and that I would gradually make ground on him. It didn't happen and while seven and a half laps can feel like a long way, it's not really, so there's not a great deal of time to claw back a significant gap. The overall winner of the race was New Marske's Dean Newton (in a rapid time of 8:52), who I am relieved to admit was the only person who lapped me. I crossed the line in 10:24, 11 seconds faster than at the same event last year (but a little behind my PB of 10:16). I don't think that I could have gone any quicker on the day.
As for Ciaran, well he was a minute faster than last year, finishing in 9:58, so not only did he comfortably beat me, but he also blitzed my PB. I call that pretty definitive. I am genuinely delighted for him (really!). I'm also glad that he's had to work hard to get ahead of me in the Lines pecking order at one distance, because that's how it should be, and I will now redouble my efforts to stay ahead of him at other distances. ?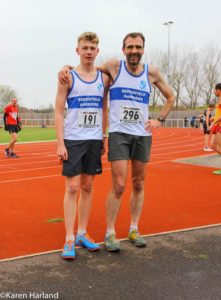 Finally, once again, I highly recommend that junior and senior Harriers have a go at track and field. It's fun, competitive, accessible, and can definitely help you improve in other aspects of your athletics. You can find full details of the NYSD series here and there's also a well established series for veterans called the North East Masters – full details here. If you really want to challenge yourself (and put yourself 'out there'), there's also the NECAA North East Track and Field Championships on 11th and 12th May – see details here.
The results from this year's Kieran Maxwell Memorial Open can be found at www.kieranmaxwellopen.co.uk.
Thanks to Karen Harland (Dean Newton's mum) for the photos.
Chris Lines.